Roef! vs. Les Comanches
Roef! faced a 2-0 deficit halfway the first inning, but answered with a 4-run rally and went on to record a comfortable victory.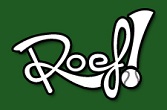 With one out in the top of the first inning, Carrie Pitcher reached on an infield-hit for Les Comanches off of starter Jessica Tolmie. She advanced to third base on a following double by Geraldine Puertas and scored the first run on a grounder by Yuruby Alicart. Puertas and Alicart are both experienced international players who participated with the National Team of Venezuela in the 2008 Olympic Games in Beijng (China). Puertas scored the second run for the French team on a single by Sandra Dymowiez.
Roef! reacted immediately in its first at bat and scored four runs off of Dutch pitcher Lisa Brink, who plays in the Dutch big league for Tex Town Tigers. With one out, she gave up a single to Kim Donkers, then a triple to Sterre den Duijn, which produced the first Roef!-run. Brink then faced her TTT-teammate Nadine Marinus, who delivered a runscoring double that tied the score. A walk for next batter Isa Los ended in a wild pitch, which enabled Marinus to score from second base. Los, who had moved to second base on the wild pitch, advanced to third base when Charlotte Drijvers flied out, then scored the fourth run in the at bat on a passed ball.
After a scoreless second inning, Roef! added three runs in the third. Sterre den Duijn and Nadine Marinus began with infield-hits and both scored on an one-out double by Charlotte Drijvers. With two outs, Drijvers scored the next run on a single by Eva van Knegsel.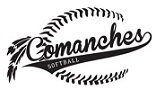 Roef! reached a mercy-rule run-difference in the bottom of the fourth via a 4-run rally. Lead-off hitter Wies Ligtvoet was hit by a pitch, stole second base and scored on a single by Kim Donkers. Sterre den Duijn then also singled and with one out, Isa Los delivered a 2-run triple. Moments later, Los scored on a wild pitch, which increased the lead to 11-2.
Les Comanches got some more runners in scoring position after the first inning, but was unable to add more runs. In the second inning, Jessica Tolmie hit lead-off hitter Elsa Munier with a pitch, but struckout the next two batters. An error on a grounder by Pauline Prade led to runners on second and third base, but a flyout ended the at bat.
In the top of the fourth inning, with a 7-2 lead, Kim Horsten took over the pitching from Jessica Tolmie and retired the side. In the fifth, Horsten gave up a lead-off single to Pauline Prade, who moved into scoring position on a grounder by Carrie Pitcher. But hereafter, the two Venezuelan players in the French team respectively flied out and grounded out, which ended the game.