(Story by Marco Stoovelaar; Photos by Fred Versluis, Franco Bagattini & WBSC)
IN MEMORIAM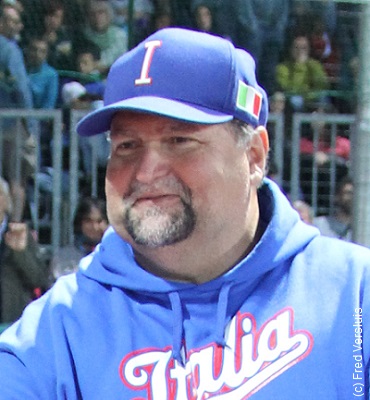 ...Enrico Obletter...
(1959 - 2021)...
(© Photo: Fred Versluis)

Enrico Obletter, Head Coach Italian National Softball Team, passed away
Nederlands

L'AQUILA (Italy) - Enrico Obletter, who was the Head Coach of the Italian National Women's Softball Team since 2017, unexpectedly passed away on Monday (February 22) at the age of only 61. It was reported that he was hospitalized a week earlier in intensive care with the coronavirus (COVID-19). Sadly enough, he passed away from complications several days later. Enrico Obletter was the most successful club-coach in Italian softball. Especially the Italian softball-family mourns the loss of Enrico Obletter, but there were many reactions of disbelief from the Netherlands, as well as from other Europen countries and worldwide, as the coach was a well-respected and much liked personality. In 2019, he led the Italian National Team to both the European title and qualification for the Olympic Games in Japan, which were scheduled for last year. Due to measures taken against the coronavirus, the event was postponed to this year.

Enrico Obletter was born on September 7, 1959 in Sydney (Australia). There, he grew up and attended St. Mary's Cathedral College. In the seventies, Obletter returned to Italy to the area where his parents had grown up. He initially played professional soccer, but later turned to baseball, became a catcher and played for Chieti, with whom he promoted to Serie A2 in 1984. Enrico then started to focus more and more on coaching, especially softball, and went on to coach the team of Parma. Obletter showed his coaching-skills and also underscored his knowledge of all aspects of the sport.

In 2000, he was the Pitching Coach of the Italian National Softball Team during the Olympic Games, which then were held in his home-city of Sydney (Australia). Back then, the team participated in its first Olympics and was led by Antonio 'Tonino' Micheli, who also was a very successful coach. For ten years, Obletter has been a member of the Italian coaching-staff led by Micheli, who passed away in 2017. Micheli led the Italian Team to four European titles. Obletter also was part of the coaching-staff for two years when Marina Centrone was the Head Coach.

In some years, Obletter combined his coaching-duties within the Italian National Team with coaching club-teams. He became the most successful coach ever for club-teams in Italian softball. Through the years, Obletter coached the teams of Macerata, Caserta and Bussolengo in the highest league. Combined, he led these teams to nine Italian Championship-titles, three Italian Cups and five European Cups. Obletter was the Head Coach of Macerata for ten years (1998-2007). In 1998-2001, he led the team to four consecutive Italian titles. In 1999-2001, Macerata won three European Cups in a row. He won two more with the team in 2005 and 2006.

In 1993, Obletter married Giovanna Palermi, who played for many seasons in the Italian Softball League, as well as for the Italian National Team. In her career (mostly at third base), she played for San Saba Roma, Lazio Roma, Bologna, Bussolengo, Lucca, Torino, Macerata, Caserta and Chieti. Giovanna won the Italian Championship-title thirteen times, including six with Macerata. With the Italian Team, she won two European titles and participated in two World Championships. In 2000, she was a member of the Italian Team that participated in the Olympic Games in Sydney (Australia). Giovanna Palermi is currently the Manager of the softball-team of Saronno and also is one of the coaches of the Italian National Under-21 Team.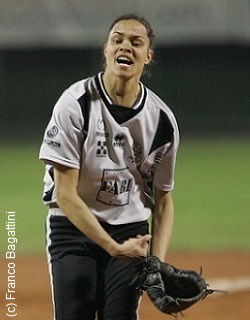 ...Rebecca Soumeru pitching...
...for Macerata in 2006...
(© Photo: Franco Bagattini)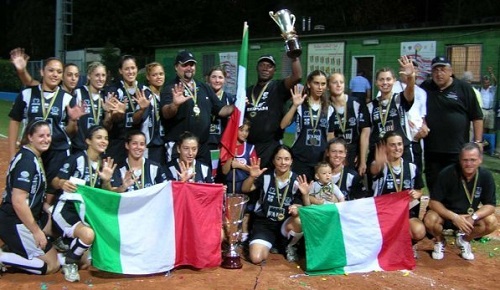 ...Macerata after winning the European Cup in 2006...
...Rebecca Soumeru stands besides Enrico Obletter...
...on the back row...

In 2006, Netherlands National Team-pitcher Rebecca Soumeru played for Obletter and Macerata in the Italian Softball League. In that year, she won the European Cup with the team. An emotional Rebecca Soumeru looked back to that season: ,,Enrico brought me to Italy, he was a father-figure to me during my season at Macerata. It was someone who was always there for me, just like Giovanna. He picked me up, took me to their home and cooked for us. I thought it was very special that he asked me to come to Macerata. This was Enrico Obletter, a top coach, and he asked me to come and play and take me into his family. As a coach he was driven and passionate, he was fanatic. It was sometimes difficult to play against him. But it was so nice to play for him. Someone who gives everything and stands behind his girls and wants to win with his team. He was always there for us and was always approachable. I could listen to his stories for hours. We have always kept in touch, send a message and of course on the field. Recently, I thought about him. That's when I made gnocchi for the first time myself. That was the first thing Enrico made for me when I was with him''.

Rebecca continues: ,,This is all very intense, a great loss. Especially for Giovanna, but of course also for his players, his girls. Enrico was a very nice man. When we saw each other, there was always a big hug. Yes, I am very emotional about this. It's so sad. He so deserved to go to the Olympics. I wished it so for him. It is so sad that he cannot do it with his girls, with this group. I hope this can only make the team stronger''.

In several publications, Obletter was named the 'heart and soul' and 'the symbol' of Italian softball. Enrico Obletter was named Manager of the National Team Programme in January 2017 during the annual Italian Coach Convention in Treviso. A the same time, he was named Coach of the Year for the previous season after having led Bussolengo to its second Italian Championship-title in a row. With his appointment, Obletter was the Manager or Head Coach of both the Italian National Softball Team, as well as the Italian Under-19 Softball Team.

In his first year as Head Coach of the Italian National Team, Obletter led the young, but very talented team during the 2017 European Championship in Bollate (Italy). In the Final, Italy lost 7-1 to the Netherlands, which then re-captured the title after Italy had won two years earlier in Rosmalen (Netherlands).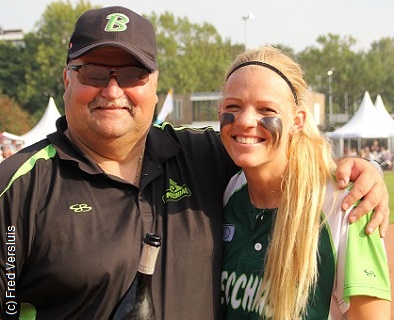 ...Enrico Obletter with Britt Vonk after winning...
...the European Premiere Cup with Bussolengo...
...in 2017 in Haarlem (Netherlands)...
(© Photo: Fred Versluis)

Also in 2017, Obletter again was the Head Coach of Bussolengo. At the site of Sparks Haarlem in Haarlem (Netherlands), Bussolengo won the European Premiere Cup by winning the Final of the tournament against Terrasvogels with an 8-0 shutout. During the event, Dutch National Team-player Britt Vonk played for the team as a pick-up player. She had just returned from the USA where she had won the National Pro Fastpitch (NPF) Championship Series with Scrap Yard Dawgs.

,,When I first met him, I was immediately impressed by him'', Britt Vonk said regarding playing for Enrico in 2017. ,,He was a very special man, for whom I had a lot of respect. I had already played against him, but now he was my coach. What always struck me was, that the team-spirit was extremely important to him. And that everyone played a role in a team, he made everyone on a team feel important. I was impressed by that. Especially, during an European Cup tournament where suddenly a few foreigners, like me, fly in, but he was very transparent. And he was super passionate about softball. That gave me a lot of energy. Yes, sometimes, he could shout, but everyone always listened to him. I have had very good experiences with him. The news that he had passed away came as a shock. After games of the Dutch Team, we always talked to each other, on the field, in the hotel. That that will not happen again and that he will no longer be on the field, that is so strange.''

After the 2017 season, Obletter stepped down as Head Coach and was succeeded by Craig Montvidas, who led Bussolengo in 2018 and 2019. Like Obletter, Montvidas was a very successful and active coach. After an earlier period as Head Coach of the Orange Team, Montvidas headed the National Team Programme in the Netherlands for six years (2009-2014), leading the Netherlands National Softball Team to three consecutive unbeaten European Championship-titles (2009, 2011, 2013). During the European Cup-tournament in Haarlem in 2017, Obletter and Montvidas were seen talking and being together frequently, sharing their thoughts about softball.

Craig Montvidas, who is the Camp Coordinator of the European Softball Coaches Association (ESCA), reacted: ,,Last Monday, we were planning a new activity for ESCA and of course, Enrico's name was mentioned to invite him to be one of speakers. Shortly thereafter, we learned of the terrible news. It is unbelievable and a big loss. In the last twenty years, we did several clinics and camps together. In those years, I got to know Enrico well''.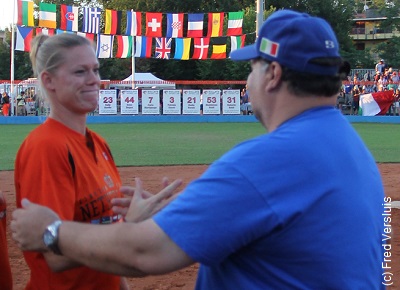 ...Enrico Obletter with Dutch Coach Saskia...
...Kosterink after the Final of the European...
...Championship 2017 in Bollate (Italy)...
(© Photo: Fred Versluis)

Montvidas continued: ,,I consider myself fortunate having had the opportunity to work together with Enrico and always enjoyed listening to his stories about the sport he loved so much. A man with a lot of passion for softball. Enrico will be greatly missed, but not forgotten! I know how proud he was of all of his players and staff for all they accomplished together and I'm certain his loss will make those who worked with him even stronger. I want to extend my deepest sympathy for Enrico's wife Giovanna and family during this extremely emotional and saddening time''.

Former Netherlands National Team-player Saskia Kosterink played in four seasons for Bollate in the Italian Softball League. With Bollate, she played against teams led by Obletter. Something, she also did when she participated in European Cup Tournaments with her Dutch club-team Sparks Haarlem. In most recent years, Saskia Kosterink became the Head Coach of the Netherlands Under-19 Team and an Assistant Coach of the Netherlands National Team. ,,Enrico was someone who asked for the full one hundred percent of everyone, but could also trigger someone in some way to achieve performance'', Saskia Kosterink reacted. ,,Enrico had a blue heart, he loved Italy, the game of softball. After a game, it didn't matter what color shirt you wore or what team you played for, whether it was a player or a coach, he always wanted to talk to everyone about softball. I also experienced that when I was an upcoming coach, he gave confidence and encouraged me to continue. If someone did something right, even though you were from other teams, he often gave a compliment. He always saw the good, the talent in the people. When with the Italian teams, he really was the leader of the team. He was in charge and he took everyone in tow.''

Juni Francisca faced Enrico Obletter when he was the Head Coach of Sparks Haarlem and the Netherlands Softball Team. Francisca: ,,Over the years, I've had a lot of contact with him and we faced each other several times as a coach. Enrico was a very prominent and emotional coach with a lot of passion. That is a difference with other coaches. He was always fully involved and had a lot of knowledge. If we were talking to each other after a game and there were no game-emotions, it was clear what an intelligent softball-coach he was. Team-atmosphere and a family-feeling was important for him. I feel the same, the togetherness, the love for the game. There are star-players in every team, so it is important to keep a team together, not to form an island within a team. Enrico also knew how to approach each individual player and knew what each player needed''.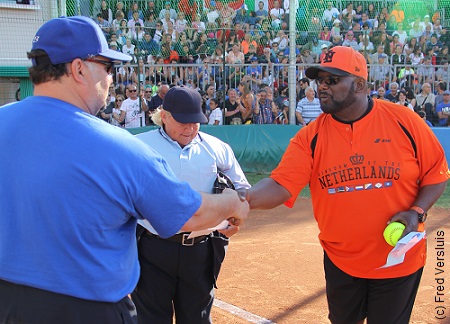 ...Enrico Obletter shakes hands with Netherlands Team...
...Head Coach Juni Francisca before the Final of...
...the 2017 European Championship in Bollate (Italy)...
(© Photo: Fred Versluis)

Laughing, Francisca adds: ,,I have never lost a game to Enrico with Sparks. I knew what he was doing because of his reactions and emotions. It was a real game of chess. But I think, it was the other way around also for him. Of course, all coaches learn from each other. During the 2016 World Championship in Canada, I spoke a lot with, together with Stanley Doney. There was mutual respect and he got along with everyone. After the game against the Netherlands in the tournament when Italy qualified for the Olympic Games, he said to me that it would have been a lot more difficult when I would have coached the Netherlands''.

Last year, Juni Francisca was the Head Coach of Bussolengo as the successor of Craig Montvidas. Francisca: ,,Of course, I often met him there. We then also talked a lot about the national programs. A big personality has left us. He has done a lot for European softball. Enrico has been working hard for it to reach the Olympics and now he was standing in front of the door, but then was stopped by that terrible disease. It's very sad''.

From 2018 on, the turn-around came in Italian softball. Early that year, Enrico Obletter was the Head Coach of the Italian Under-19 Team during the Asia Pacific Cup in Sydney (Australia). Italy was the lone European team in the tournament. While the team faced strong opponents and had no possibilities to prepare on a field in advance in the winter-period, it won two games. The team also included some National Team-players. For all players, the tournament was part of the preparations for three other international events later in the year.

In July of 2018, Obletter led the Italian Under-19 National Team to the title in the European Under-19 Championship. In the Final, played in Rochi dei Legionari, Italy won 7-3 against Ireland, which surprisingly had reached the Final after having played a strong tournament. A week later, there was more Italian success, as the Italian Under-22 Team also won the title at the European Under-22 Championship in Trnava (Slovakia). In the Final, Italy, led by Head Coach Andrea Longagnani, nipped the Netherlands, 5-4.

In August 2018, Enrico Obletter led the Italian Softball Team to the Play-Offs during the World Championship in Japan. On August 8, in Ichibara City, Italy shutout China 7-0 to reach the Top-8. After the team had qualified, a joyous Enrico walked back to the team-bus, celebrating with his fellow-coaches and players. On his face, that big characteristic smile.

In September of 2018, Obletter's Italian Team was to face the Czech Republic in the Final of the first-ever Super6, which then was played in Hoofddorp (Netherlands). However, the Final rained out and based on the preliminary round, the Czech Team was declared winner of the event.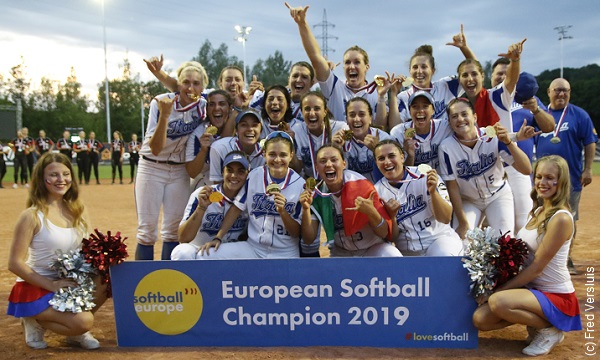 ...Enrico Obletter (standing 2nd right with cap) celebrates with the players...
...and coaches of the Italian Team after winning the title at the 2019...
...European Championship in Ostrava (Czech Republic)...
(© Photo: Fred Versluis)

2019 was a big year for Italian softball and again, Enrico Obletter underscored his winning mentality as a coach. First, Italy captured the title at the European Championship in Ostrava (Czech Republic). A month later, in Vleuten (Netherlands), Italy finished in first place of the Europe/Africa Olympic Qualifying Tournament. In all these years, Enrico Obletter became much loved by the players, who qualities and performances grew and he created a great team-atmosphere.

On July 6, 2019, in Ostrava (Czech Republic), the Final was played of the European Championship, which then also had games played in Poland. From the beginning, it became clear that the teams of Italy and the Netherlands were to be the favorite again for the title. In the preliminary round, both teams were 5-0. In the next round, the Netherlands handed Italy its first loss, winning 6-2. In the Championship Round, the two teams finished in first and second place to reach the Final. That became a thriller, which was won by Italy with a 3-2 score, thanks to a 2-run homerun by Laura Vigna in the fifth inning.

More success followed a months later, as a dream was realized. In Vleuten (Netherlands), the National Teams of Botswana, the Czech Republic, France, Great Britain, Italy, the Netherlands, South Africa and Spain participated in the Europe/Africa Olympic Qualifying Tournament. The winner of the event would qualify for the 2020 Olympic Games in Japan, where softball and baseball would return to the Olympic Programme. In the preliminary round, Italy won its games against Botswana (7-0), Czech Republic (2-0) and France (5-1) to reach the Super Round. In this Round, on July 26, Italy then faced the Netherlands, which had won two of its three games. In this crucial game, the Netherlands rallied for four runs in the first inning. Italy got one run back in its first at bat, but then struck in the second inning. Emily Carosone (3-run) and Erika Piancastelli hit back-to-back homeruns to put Italy ahead, 5-4. In the third inning, Giulia Longhi added a 2-run homerun to make it a 7-4 score. The remaining innings were nail-biters, but Italy hold onto the lead and won. During the game, Enrico Obletter kept on energizing his players.

A day later, Italy closed the event with a 5-0 win in the deciding game against Great Britain to qualify for the Olympic Games! Italy scored twice in the first inning on a single by Erika Piancastelli and an error. Beatrice Ricchi added an RBI-double in the third. And in the fourth at bat, two more runs were scored on an single by Laura Vigna and an error. Pitcher Greta Cecchetti dominated, strikes out 13 battes and gave up only three hits in seven innings. From the outside, it appeared that Enrico kept his calm himself in this game. But when the final out was made, he jumped out of the dug-out, two arms in the air, celebrating and embracing everyone. Italy was going to the 2020 Olympic Games! In August 2019, Obletter led the Italian Under-19 Team, of course accompanied by Andrea Marcon as Delegation Leader, during the Under-19 Softball World Cup in Irvine, California (USA). There, Italy finished in eleventh place, being the second-best European team in the tournament behind the Czech Republic (10th place). The Netherlands finished in 13th place, Ireland in 14th.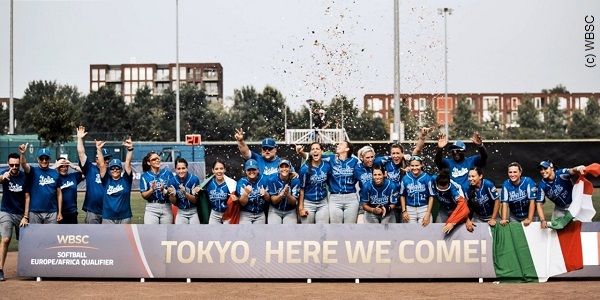 ...Enrico Obletter (standing in the middle) celebrates the qualification...
...for the Olympic Games in Japan during the 2019 Europe/Africa Qualifier...
...in Vleuten (Netherlands)...
(© Photo: WBSC)

But then things changed completely worldwide early 2020. Due to the coronavirus-pandemic (COVID-19) almost all international softball- and baseball-events were cancelled or postponed. And many other sports-events and other activicties. The Olympic Games were postponed to 2021. Last year, Italy also was to host the European Softball Championship, but that also was postponed to later this year.

For Enrico Obletter, it was to be his second Olympic Games, twenty years after being the Pitching Coach of the Italian Softball Team when it participated in the 2000 Olympics in Sydney (Australia).

Andrea Marcon, President of the Italian Baseball and Softball Federation (FIBS), announced the passing of Enrico Obletter in the social media channels of the Italian Federation. He wrote: ,,With a very heavy heart, I have to inform you that Enrico Obletter, manager of our National Softball Team, is no longer with us. Immense pain, an indescribable loss. My first thoughts are to Giovanna and all her loved ones. I have no words''.

Andrea Marcon, who is a former softball-umpire, and Obletter were close friends. Marcon wrote a moving and emotional letter to Enrico. In a tribute to Obletter, Marcon's letter was published on the website of the Italian Federation:

,,Dear Enrico,
In these hours, since I received the news of the worsening of your condition, I continue to read and re-read the latest messages we exchanged. Messages of affection, linked to the friendship that binds us for the past 30 years. Talking about you is not easy because in my role, I should remember the great coach, the leader who more than any other in Italy was able to bring the teams he coached to triumph. But I can't think of the league titles, the Cups, the titles with the National Team and the Olympic qualification. I can't do it, because in front of my eyes, I have only the generous man, with a big and sincere heart.
I will miss the chats in the physio room, with in front of us that coffee prepared with the mocha that Elio brings to every corner of the world and those loud laughs with your stories of your life on the softball fields. I will miss the times when you explained to me the reason for your choices, although I reiterated that you should not tell me anything, because it is not my duty to discuss them. And every time I answered you like this, you looked at me and repeated: ''You are my President and you must know''. I close my eyes and see Utrecht's embrace, after the victory over Great Britain, and I still hear your words: ""I'm glad I didn't disappoint you''.
Magnetic, competent, winning. But above all a great friend of mine and of Italian and world softball.
Dear Enrico, I re-read your messages again and, from the bottom of my heart, I tell you that I am immensely proud to have had you as my National Team coach.
Have a good trip, big brother.
I love you.''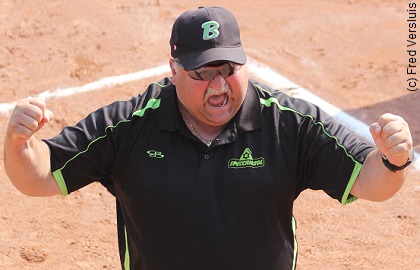 ...Enrico Obletter celebrates after winning the Final...
...of the 2017 European Premiere Cup with...
...Bussolengo in Haarlem (Netherlands)...
(© Photo: Fred Versluis)

Gabriel Waage, President of Softball Europe, reacted: ,,I am shocked. Enrico was one of the most respected coaches in Europe. Enrico united all the Italian National Teams achieving the big dream to get a ticket to the Olympic Games in Tokyo. I am so sad to see that he passed so close to seeing his dream becoming reality''.

Ami Baran, Secretary-General of Softball Europe, said: ,,I cannot believe it happened, I am very saddened by Enrico's passing and I am at a loss of words. We are all here now for his family, his friends, his team and will have him in our hearts forever''.

Through the years, the author of this story also spoke regularly with Enrico when we met each other again during an international event, when I was there either as an official scorer, team-official or reporter. That always were pleasant moments. Enrico was always smiling and was always positive. His enthousiasm, being with his players, his passion while coaching, whether it was from the third base box or from the dug-out. I remember the enjoyment on his face, but also his fellow coaches and the players when Italy qualified for the Play-Offs at the 2018 WBSC Women's Softball World Championship in Japan. And when Italy qualified for the Olympics, I remember how he raised his two arms in the air, yelling, cheering, celebrating and embracing, his coaches, his staff-members, his players, his good friend Andrea Marcon, who was always there as the team's Delegation Leader, and of course, the Italian fans who had traveled with the team to be part of this historic moment.

Enrico Obletter was a well-respected and beloved coach full of passion, something he frequently showed, yelling and cheering. Either with a club-team or with the National Team. Enrico was very approachable person, always available for a talk and stimulated his players during a game, which in the past years led to many successful games for the Italian National Team. Enrico will be missed by many. Not only in Italy, but worldwide.

The webmaster of Grand Slam * Stats & News offers his condolences to Enrico's wife Giovanna and other family and friends and wishes them a lot of strength with this enormous loss.

Addio Enrico, Riposa in Pace

(February 26)
...Left: Enrico Obletter as coach of Macerata during the 2005 European Cup Tournament...
...Right: Enrico greets Netherlands Team Head Coach Connie Clark and the umpires before...
...the crucial game of the 2019 Europe/Africa Olympic Qualifier in Vleuten (Netherlands)...
(© Photos: Franco Bagattini (left) & Fred Versluis (right)