www.grand-slam.nl
Softball
Headlines
Compiled and Copyright © 1997-2021 by Marco Stoovelaar

(Story by Marco Stoovelaar; Photo by Fred Versluis)




Netherlands Softball Team wins close game vs. Germany on Day 2 European Championship
Nederlands



CASTIONS DI STRADA (Italy) - The Netherlands Women's Softball Team won 9-6 in what became a suspenseful game against Germany on Monday-evening (June 28), Day 2 of the 22nd edition of the European Championship Women's Softball in Italy.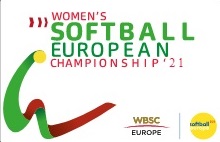 The Orange Team opened the tournament on Sunday-morning with a 16-0, mercy-rule, shutout against Austria.

The team closes the First Round on Tuesday-afternoon against Lithuania, which opened on Sunday with a 17-1 loss against Germany. Today, the team lost 17-0 against Austria.

Today, the Netherlands took an early lead, but suddenly faced a 3-2 deficit halfway the fourth inning. The Orange Team came alongside, re-took the lead, but saw Germany narrow the deficit to 7-6 in the sixth inning, before the Netherlands added two insurance runs.

The game, which was the 20th between the two countries, became the closest since the very first one was played in 2001. During the European Championship in that year, the Netherlands won only 2-0. The six runs scored by Germany are the most since the team scored three in a 12-3 loss during the 2007 European Championship. Since that year, the Netherlands won the next fourteen games before today with a mercy-rule run-difference, including ten shutouts. In nine of those games, the Orange Team scored ten or more runs.

Earlier this year, the Netherlands and Germany met in four exhibition games, which were played in two double-headers. All games were won by the Orange Team.

On May 2, in Enchede, the Netherlands recorded two convincing shutouts, winning 11-0 and 17-0. On June 6, in Hengelo, the Orange Team added another shutout-victory, winning 13-0. In the second game in Hengelo, Germany scored its lone run in the series, but lost 10-1.

In May, the German Postal Service (Deutsche Post), working together with the German Sport Foundation (Deutsche Sporthilfe), published a series of stamps to celebrate various Olympic sports. The series of stamps, called 'For Sport' (für den sport), also includes softball (95 cents) and baseball (80 cents).

With the win, the Netherlands finishes in first place in Group B, whatever the result against Lithuania on Tuesday in what is the last game of the First Round. With that, the Orange Team will play in Group F in the Second Round, which opens on Wednesday. On that day, the Netherlands will play two games, both in Castions di Strada, where the team also played today.

In the first game, which begins at 10 AM, the Netherlands meets the second best team from Group D. Who that will be will be decided in Tuesday's games. Due to the results today, all four teams in the group still have a chance to finish in either first or second place. These teams are Spain, France, Ukraine and Slovakia, which are currently ranked in this order.

Later on the day, at 5:30 PM, the next opponent will then be Israel, which will finish in first place in Group C. Israel opened on Sunday with a 7-0 win against Croatia. Today, the team surprised with a 5-4 win against the Czech Republic to seal first place. Trailing 1-0, Israel struck with four runs in the second inning and added a run in the fourth. Although, the Czechs came back, Israel hold onto the lead. The team was outhit 10-3, but the Czech defense committed three errors. Two years ago, the Czechs finished in fourth place, while Israel ended up in ninth position.

Besides winning the European title, there are several other qualifications at stake in this year's tournament. The European champion also will qualify for participation in the 2022 World Games, the three best teams will qualify for the 2023 WBSC Women's World Cup and the six best teams will qualify for the second edition of the Super6, which will be organized again next year.

(June 28)

Other scores of Day 2:
Croatia vs. Denmark 3-2; Bulgaria vs. Poland 0-10 (5 inn.); Czech Republic vs. Israel 4-5; Hungary vs. Russia 0-18 (4 inn.); Austria vs. Lithuania 17-0 (2½ inn.); Spain vs. France 10-2 (4½ inn.); Ukraine vs. Slovakia 8-7; Poland vs. Italy 0-10 (4 inn.).



Tonight's game started almost 30 minutes later than scheduled due to the length of the previous game that was played in Castions di Strada, which today hosted five games. The game between Ukraine and Slovakia took two hours and 25 minutes to complete and ended just before 8 PM. Ukraine won 8-7 to set up a deciding day in Group D on Tuesday.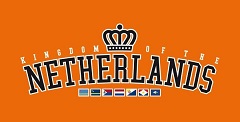 When the game went underway, Germany got its first two batters on base off of Ginger de Weert, but was held scoreless. Lead-off hitter for Germany was Katharina Szalay, who since 2017 plays in the highest Dutch league. Through last year, she played for Terrasvogels, which merged with Onze Gezellen after last season. Hannah Held, who was the starting pitcher for Germany tonight, also plays for the Haarlem-based team. She also played for Terrasvogels last year.
In the top of the first inning, Katharina Szalay reached on an error, then next batter Milena Böttger walked. Hereafter, Ginger de Weert retired the next three batters, two of them with a strikeout.
Moments later, the Orange Team opened the score. Britt Vonk led off with a double, Brenda Beers walked and the two moved another base when next batter Jessie van Aalst flied out. Both scored when Maxime van Dalen doubled.
In the top of the second inning, Ginger de Weert retired the side and again struckout two batters. This time, the righthander struckout Lee Lankhorst and Lara Brockmeyer, who both also played in the Dutch big league. Lankhorst played in 2018 and 2019 for Tex Town Tigers, Brockmeyer played for Roef! during last season.
Germany got a chance to do something again in the top of the third inning, as the team again got its first two batters on base. This time, Mara Sandner was hit by a pitch, then Katharina Szalay reached on an error, which already was the second one by the Orange defense in less than three innings. The two were moved via a sacrifice bunt by Milena Böttger, but were left behind on second and third base, as Ginger de Weert added two more strikeouts.
After giving up the two runs in the first inning, Hannah Held recovered. She did get two more baserunners in the second at bat, but also struckout two batters and kept the Orange Team scoreless. The righthander added two more strikeouts in the third inning.

After already coming close to a run in the first and third inning, Germany did do some scoring in the top of the fourth. The team even took over the lead thanks to a 3-run rally off of Lisa Hop, who took over the Orange-pitching in this inning. However, the scoring was done on only one basehit and two more errors, which made all three runs unearned. In this at bat, German Head Coach Udo Dehmel inserted three pinch-runners and one pinch-hitter. Two of the pinch-runners scored. Fiona Brosch led off with an infield-hit, then her pinch-runner Larissa Keller moved into scoring position when Lioba Biswas walked. The latter was then also replaced by a pinch-runner, Anne Rathjen. It was then planned to move both runners on a sacrifice bunt by next batter Lee Lankhorst. She indeed put down the bunt, but it appeared to end up in a force play at third base. However, a throwing error by 3B Lizzie Clarijs followed, which enabled Keller to score. Hereafter, the Netherlands appeared to avoid more runs, as Rathjen was forced out at third base on a grounder by Lara Brockmeyer and pinch-hitter Rebecca Hillebrand struckout. In the meantime, Lisa Kälblein had been inserted as pinch-runner at first base for Brockmeyer. And so, there were now two outs, but there were still runners on first and second base. Next batter Katharina Szalay then grounded to short stop Britt Vonk for what appeared to become the third out. However, Vonk made a throwing error, which enabled both runners to score and put Germany ahead, 3-2. A grounder ended the at bat, but suddenly it had become a different (and close) game.
The German lead was shortlived, as Dinet Oosting led off the bottom of the fourth inning with a homerun. With one out, Suka Van Gurp singled and advanced on a grounder by Britt Vonk, but was left behind on second base.
After Germany was retired in order in the top of the fifth inning (two strikeouts), the Orange offense took charge of the game again in the bottom of the at bat by scoring four runs with two outs.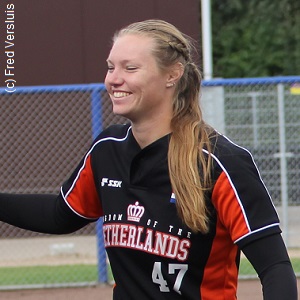 ...Laura Wissink...
...important 3-run homerun...
(© Photo: Fred Versluis)

Jessie van Aalst led off the bottom of the fifth with a walk and moved into scoring position when next batter Maxime van Dalen flied out. Van Aalst advanced to third base on a wild pitch, then was eliminated at the plate trying to score on a grounder towards first base by Cindy van der Zanden. And so, there were two outs, but the Netherlands then broke the 3-3 tie thanks to a following double by Mariëlle Vleugels, as Van der Zanden scored all the way from first base. Annemiek Jansen was then inserted as pinch-runner at second base for Vleugels and with first base open, the German coaching opted to walk Dinet Oosting intentionally to set up a force play, but also to pitch around the powerful batter. However, that brought another powerhitter in the batter's box, as Laura Wissink now faced pitcher Hannah Held. Jansen and Oosting first advanced on a passed ball, then scored when Wissink drove the ball into deep centerfield for a 3-run homerun, which put the Orange Team ahead 7-3.

The suspense got back into the game in the top of the sixth which also saw a light failure, but afer a delay, the game continued. In the sixth, Germany scored three more runs to narrow the deficit to 7-6! With one out, the bases got loaded when Lee Lankhorst singled, Lisa Kälblein walked and Mara Sandner reached on an infield-hit. That led to a pitching change and veteran Lindsey Meadows took over from Lisa Hop. She got a force play-grounder from Katharina Szalay, which led to the elimation of Lankhorst at the plate. But with two outs, Milena Böttger hit a double down the leftfield-line to clear the bases and bring in all three runners! With Böttger in scoring position, Meadows closed with a strikeout, but it had become another close game.

But in the bottom of the sixth inning, the Netherlands added two more insurance runs off of new pitcher Claudia Volkmann, who also has played in the Dutch big league (Terrasvogels, Roef!). Britt Vonk led off with a triple and scored on a following single by Brenda Beers. After the latter was caught stealing, Jessie van Aalst followed with a solo-homerun. The next two batters were retired, but the Orange Team now led 9-6.

In the top of the seventh, Lindsey Meadows retired the side. She struckout the first two batters, then a grounder ended this eventful game, which ended around 11:30 PM.


Netherlands - Germany 9-6
| | | | | | | | | | | | |
| --- | --- | --- | --- | --- | --- | --- | --- | --- | --- | --- | --- |
| | 1 | 2 | 3 | 4 | 5 | 6 | 7 | | R | H | E |
| Germany | 0 | 0 | 0 | 3 | 0 | 3 | 0 | - | 6 | 4 | 1 |
| Netherlands | 2 | 0 | 0 | 1 | 4 | 2 | X | - | 9 | 10 | 4 |
pitchers Germany
inn.
SO
BB
H
R
ER
Hannah Held, L (0-1)
5
4
4
7
7
7

---

Claudia Volkmann
1
1
-
3
2
2

---

pitchers Netherlands
inn.
SO
BB
H
R
ER
Ginger de Weert
3
6
1
-
-
-

---

Lisa Hop, W (1-0)
2.1
4
2
3
6
3

---

Lindsey Meadows, SV (1)
1.2
3
-
1
-
-

---

Homeruns: Netherlands: Dinet Oosting (2)(4th,solo,0 outs,off Held), Laura Wissink (1)(5th,3-run,2 outs,off Held), Jessie van Aalst (2)(6th,solo,1 out,off Volkmann).
Umpires:
HP-Gianluca Magnani (taly), 1B-Franck Lautier (France), 3B-Ibón Arévalo Lafuente (Spain).
Official Scorers-Mario Fedele (Italy), Tamara Todaro (Italy).
Play-by-Play Scorer-Maurizio Ronchi (Italy).
Technical Commissioner-Anna Di Luca (Italy).
Umpire-in-Chief-Stefano Russi (Italy).
Starting Time-8:28 PM.
Time Played-2:37 hrs.
Site-Campo da Softball, Castions di Strada (Italy) (site Softball Club Castionese).

Game Notes:


30-minute delay due to light-failure in top of 6th inning.


645th international game of the Netherlands Women's Softball Team.


20th game in history between the Netherlands and Germany.


20th victory in history of the Netherlands against Germany.
Weather conditions at game time:
Sunny, 29° C (84,2° F); wind direction southeast; wind speed 8 kmh (4,9 mph); wind force 1 Bft; humidity 48%.

Thank you for visiting this site.
Mail your suggestions and questions to stoov@wxs.nl
Copyright © 1997-2021 Marco Stoovelaar / Grand Slam * Stats & News.