(Story by Marco Stoovelaar; Photo by Fred Versluis)




Netherlands Softball Team closes First Round European Championship with big shutout
Nederlands



CERVIGNANO DEL FRIULI (Italy) - The Netherlands Women's Softball Team shutout Lithuania 16-0 in a 2½ inning mercy-rule game on Tuesday (June 29) to close the First Round of the 22nd edition of the European Championship Women's Softball in Italy. On Wednesday, Day 4 of the event, the Second Round begins, which is the next step towards the Play-Off Round and the all-deciding Final, which will be played on Saturday-evening.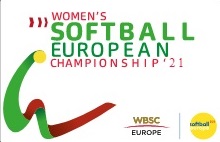 The Orange Team opened the tournament on Sunday-morning with a 16-0, mercy-rule, shutout against Austria. On Monday-evening, the team recorded a 9-6 victory in what was an unpexted suspenseful and close game against Germany.
With today's win, the Netherlands remained unbeaten in Group B after already securing first place with Monday-evening's win.
The Orange Team now will continue in Group F in the Second Round. On Wednesday, the team will play its first two games in this Group in Castions di Strada. In the first game, at 10 AM, the Netherlands meets France, which finished in second place in Group D. The final ranking in this Group was decided today after Spain remained unbeaten by winning 4-1 against Ukraine. With that, France ended up in second place. Later on the day, at 5:30 PM, the next opponent for the Netherlands will be Israel, which became the unbeaten winner in Group C after winning 13-3 against Denmark this afternoon.
On Thursday-morning (10 AM), the Orange Team closes Group F against Russia, which tonight finished in second place in Group A. Russia secured second place by winning 11-0 against Poland, which therefore ended in third place. Reigning champion Italy remained unbeaten in the Group and will continue the Second Round in Group E.
Groups E and F are the two Groups in which teams will play for first through eighth place. These Groups are formed by the two best teams from each of the four Groups from the First Round. The teams in third and fourth place in Groups A, B, C and D will now continue in Groups G and H to play for ninth through seventeenth place.
The three best teams from the Group E and F will advance to Group X (six teams), which is the Play-Off Round. Depending on the ranking in Group F, the Netherlands will play its first game in Group X on Thursday-evening.
Besides winning the European title, there are several other qualifications at stake in this year's tournament. The European champion also will qualify for participation in the 2022 World Games, the three best teams will qualify for the 2023 WBSC Women's World Cup and the six best teams will qualify for the second edition of the Super6, which will be organized again next year.
(June 29)
Other scores of Day 3:
Hungary vs. Bulgaria 2-8; Ukraine vs. Spain 1-4; Slovakia vs. France 0-13 (4 inn.); Croatia vs. Czech Republic 0-8 (5 inn.); Denmark vs. Israel 3-13 (5 inn.);
Bulgaria vs. Italy 0-27 (3 inn.); Germany vs. Austria 7-3; Russia vs. Poland 11-0 (4 inn.); Italy vs. Hungary 19-0 (2½ inn.).
Final Standings First Round:
Group A: 1. Italy, 2. Russia, 3. Poland, 4. Bulgaria, 5. Hungary. Group B: 1. Netherlands, 2. Germany, 3. Austria, 4. Lithuania.
Group C: 1. Israel, 2. Czech Republic, 3. Croatia, 4. Denmark. Group D: 1. Spain, 2. France, 3. Ukraine, 4. Slovakia.
Group-alignments Second Round:
1st - 8th place:
Group E: Czech Republic (C2), Germany (B2), Italy (A1), Spain (D1). Group F: France (D2), Israel (C1), Netherlands (B1), Russia (A2).
9th - 17th place:
Group G: Denmark (C4), Hungary (A5), Lithuania (B4), Poland (A3), Ukraine (D3). Group H: Austria (B3), Bulgaria (A4), Croatia (C3), Slovakia (D4).