(Story by Marco Stoovelaar)



Netherlands Slowpitch Team wins Semi-Final, then ends up short in EC-Final
Nederlands



COLORNO (Italy) - The Netherlands Men's Slowpitch Softball Team defeated Great Britain 18-12 on Saturday-morning (June 18) in the Semi-Final of the European Championship in Italy. With that, the Orange Team became the first finalist, then had to wait whom it would face later in the day in the Final.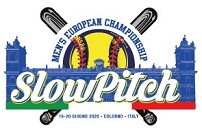 For defending champion Great Britain, the loss meant it had to play an extra game. In the second Semi-Final, Germany outscored Ireland 21-7 to advance to the backdoor Semi-Final against the British Team. In that game, Great Britain had a productive outing and recorded a convincing 33-13 victory to become the second finalist.
In the Semi-Final, the Netherlands got 24 basehits, including two homeruns by Bryan Engelhardt and one by Bas de Jong.
The Final of the second European Championship became a very highscoring game, as Great Britain defeated the Netherlands with a 47-31 score! The British Team rallied for 16 runs in the first inning and had a 15-run rally in the third at bat. Trailing 37-14, the Orange Team staged an 11-run rally in the bottom of the fourth. But the comeback was not enough, as the British added ten more runs from the fifth inning on.
Besides 78 runs, there were 79 basehits in the Final! Great Britain collected 42 basehits, the Netherlands got 37, but also committed eight errors.
For Great Britain, catcher Chris Yoxall was 6-for-7 with three homeruns and batted in seven runs. Mike MacDowell also hit three homeruns (one grand slam) and batted in nine runs. In total, the British Team produced thirteen homeruns. Joe Grantham scored seven British runs.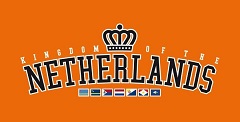 For the Netherlands, Luensey Laken collected the most basehits and was 5-for-6. Four batters collected four basehits. One of them was Bryan Engelhardt whose four basehits all were homeruns! He batted in eight runs and hit two 2-run homeruns in the fourth inning. The Netherlands hit eight homeruns in this game, which lasted almost 2½ hours.
The Netherlands used three pitchers, but Roger Grooms went the distance and threw all seven innings for the British. And so, he gave up 37 basehits (8 homeruns) and 31 runs, 28 of which were earned. Oh, he had no strikeouts and also walked none.
Several EC-records were set in the Final. The 78 runs scored combined, the 79 basehits combined, the 41 runs scored and 42 basehits by Great Britain were all single-game records.
Bryan Engelhardt led the tournament with 14 homeruns, but finished in second place in RBI's with 33 behind Michael MacDowell (Great Britain), who had 35. Bas de Jong was the best Dutch hitter with a .727 batting average.
With his 14 homeruns, Engelhardt tied the EC-record. Four years ago, during the first edition, it was Michael MacDowell, who hit 14 homeruns. This time, he hit 'only' ten.
(more later)
(June 18)