Dutch Team honoured; Royal Decorations
Nederlands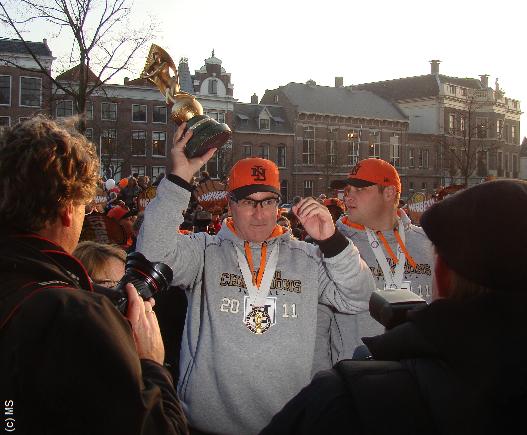 ...Manager Brian Farley with the World Cup...
...arrives at Teylers Museum...
(© Photo: Marco Stoovelaar)

HAARLEM (Neth.) - The Dutch Baseball Team that captured the World Title on October 15 was honoured by the City of Haarlem and the Dutch Association KNBSB today, Friday, November 11. In the afternoon, all 24 players of the National Squad, as well as Field Manager Brian Farley and Technical Director Robert Eenhoorn received a Royal Decoration and were knighted in the order of Orange-Nassau. In the evening, all players and staffmembers were named Honorary Member of the KNBSB.

The day for the Dutch Baseball Team started early in the afternoon by attending a BeeBall-clinic near the Pim Mulier Baseball Stadium. Next, the players and staffmembers, accompanied by their families, members of the press and dignitaries, made a boatride over the Spaarne-river. During the boatride, a lot of baseball fans had lined up on both sides of the river to applaud the World Champion.

The boatride, which lasted almost one hour, ended in front of Teylers Museum. Inside the oldest museum in the Netherlands, the team was addressed by Haarlem's Mayor Bernt Schneiders, KNBSB-President Bob Bergkamp and Edith Schipppers, the Dutch Minister of Sports. The latter then called Field Manager Brian Farley and Team-captain Sidney de Jong to her and announced that on behalf of Queen Beatrix they were both knighted in the Order of Orange-Nassau. Moments later, Technical Director Robert Eenhoorn received the same honour. Minister Schippers then announced that all other players will receive the same Royal Decoration later, being handed out by their respective Municipality, or Governors at the Antillian islands of Aruba and Curaçao, or Ambassador in Canada. It marks the first time in history that a complete sports teams received a Royal Decoration. In the past, when teams were decorated, only the team-captain and head coach were knighted. The Ministry of Sports changed the ruling some time ago and stated that the winning of the world title by the Dutch Baseball Team was a great opportunity to put the policy into effect.

...Manager Brian Farley and Captain Sidney de Jong...
...are knighted by Sports Minister Edith Schippers...
(© Photo: Marco Stoovelaar)

About an hour later, the team was publicly honoured at the Grote Markt, the historic city-center of Haarlem. Thousands of fans from around the country had come together to celebrate the world title with the players. The staffmembers and players walked one by one from the City Hall over a red carpet to a big stage in the middle of the square.

In the evening, more honouring was done. During the KNBSB Stars Awards Gala, where the best players of the previous season are annually honoured, the Dutch Baseball Team was the last to enter the stage of the Philharmonie Theater in Haarlem after watching a video-compilation of highlights throughout the years.

KNBSB-President Bob Bergkamp and Boardmember Baseball Frits Mulder then announced that all players and staffmembers will receive a personal championship ring, as is done annually to the winners of the Major League World Champion. The entire squad also was named Honorary Member of the Dutch Association.

(more photos will be added in the weekend)

(November 11)





...The team traveled by boat to the Museum...
(© Photo: Marco Stoovelaar)

...Lots of fans lined up for the boatride...
(© Photo: Marco Stoovelaar)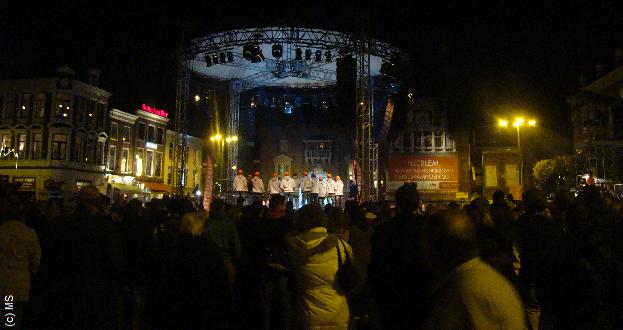 ...The team is honoured at the Grote Markt...
(© Photo: Marco Stoovelaar)