Spel, Rooi MVP; Scheele, Cordemans Best Pitcher
Nederlands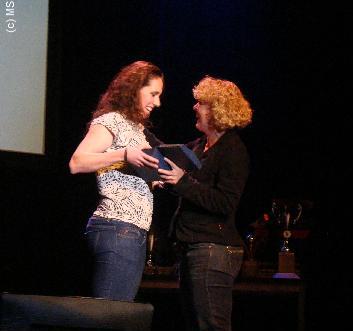 ...Areke Spel receives the MVP Award...
...from former pitcher Fredy van Offeren...
(© Photo: Marco Stoovelaar)

HAARLEM (Neth.) - Areke Spel and Vince Rooi are the Most Valuable Players of the 2011 season. The winners of the two most important awards of each season were announced on Friday-evening, November 11, during the annual KNBSB Stars Awards Gala. The event took place in the Philharmonie Theater in Haarlem and followed the public honouring of the world champion Dutch Baseball Team in the afternoon.

Areke Spel, who plays for Dutch champion Oolders Omaco Sparks Haarlem, was one of three players nominated for the Award. The others were Marisèla de Wind (Iber Lengua Terrasvogels) and Elena Leon (Olympia Haarlem).

Vince Rooi also played for the Dutch champion, L&D Amsterdam Pirates, and got more votes that the other two nominees Nik Gumeson (Vaessen Pioniers) and Dirk van 't Klooster (Corendon Kinheim).

Kirsten Scheele (Sparks Haarlem) was named Best Pitcher out of three nominees, including Jenna DeLong (Tex Town Tigers) and Amanda Lindsey (Olympia Haarlem). Rob Cordemans (Amsterdam Pirates) won the baseball pitching honours. Also nominated were Eddie Aucoin (Vaessen Pioniers) and David Bergman (Corendon Kinheim).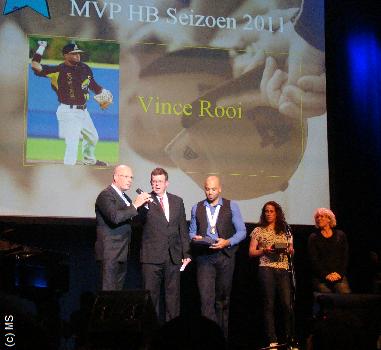 ...Amsterdam's Head Coach (and former player)...
...Charles Urbanus addresses MVP Vince Rooi...
...In the center is MC Andy Houtkamp...
(© Photo: Marco Stoovelaar)

All other softball-awards also went to players of Sparks Haarlem, as Areke Spel was the Batting Champion, Debby Connor the Homerun Queen and Chantal Versluis stole the most bases. In baseball, Dirk van 't Klooster (Kinheim) was the Best Hitter, Bryan Engelhardt (Kinheim) the Homerun King and Dwayne Kemp (DOOR Neptunus) stole the most bases.

Also honoured were the Holland Series MVPs, who already were annnounced earlier after completion of the final championship game. It was an unique combination as brother and sister Wesley and Debby Connor won the Awards.

Dwayne Kemp was named the recipient of the Guus van der Heijden Memorial Trophy for the best National Team-player under 23. In softball, the same award, named after Egbert van der Sluis, went to Nathalie Timmermans (Sparks Haarlem).

There also were four youth awards for the best junior-players.

Marjolein Merkx (Gryphons) won the Riet Vermaat Trophy for Best Junior Pitcher and Dinet Oosting (Olympia Haarlem) won the Bep van Beijmerwerdt Trophy for Most Promising Junior Player.

Jerremyh Angela (Amsterdam Pirates) won the Roel de Mon Award for Best Junior Pitcher and Stijn van der Meer (PSV, but a player of UVV in the new season) won the Ron Fraser Award for the Most Promising Junior Player.

(more details and photos will be added this weekend)

(November 11)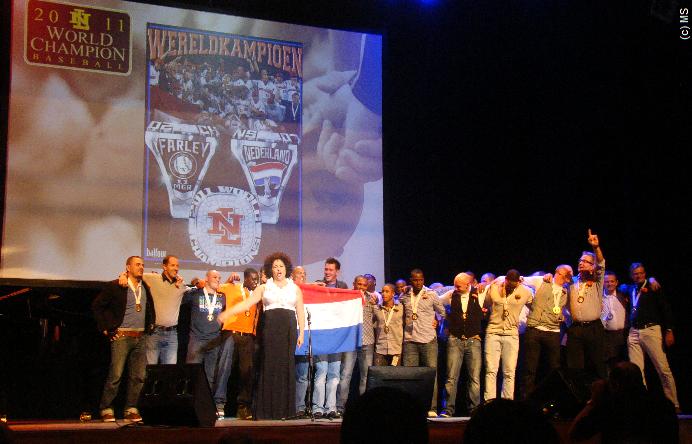 ...The Dutch Baseball Team receives the Championship Ring...
...Singing in front of them is mezzo-soprano Taria Kross...
(© Photo: Marco Stoovelaar)