Brian Farley European Coach of the Year
Nederlands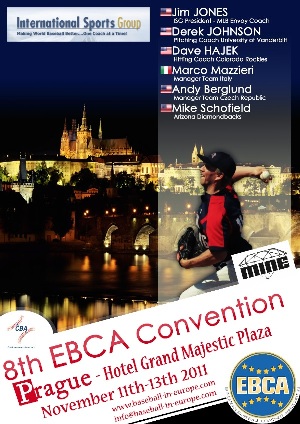 PRAGUE (Czech Republic) - A day after the Dutch National Baseball Team was honoured in Haarlem for its historic world title and a day after he received a Royal Decoration and was Knighted in the Order of Orange-Nassau, Dutch Team Manager Sir Brian Farley was named European Baseball Coach of the Year.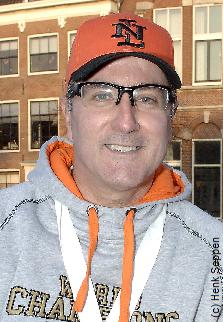 ...Brian Farley...
...EBCA Coach of the Year...
(© Photo: Henk Seppen)

During its annual convention, this time held in Prague, the European Baseball Coaches Association named Brian Farley its fourth Coach of the Year for leading the Dutch Baseball Tea to the World Title on October 15.
Also nominated for the award were:
- Andy Berglund, who since March of this year is a coach with the Czech Baseball Federation and was the Head Coach of the Junior Team that won the Silver Medal during the European Junior Championship in Gijon (Spain), the first medal in Czech history; with his clubteam Prague Eagles he reached the Play-Offs in the Czech competition;
- Doriano Bindi, the Head Coach of T&A San Marino, which this year won the Italian Championship, as well as the European Cup Final Four;
- Ivan Rodriguez, who was a member of the coaching staff of the Dutch Junior Team that won the European Championship in Gijon (Spain), led the Junior-team of Scimitars the the Dutch championship and participated with a Little League-team in the Big League World Series in the USA;
- Ulli Wermuth, who was Head Coach of Mainz Athletics in the German Bundesliga and improved its record as opposed to last season.

The announcement originally was scheduled for Friday, November 11, but on that day, Farley of course was with the Dutch National Team, which on that day was honoured in Haarlem for capturing the world title.

The previous winners of the EBCA European Coach of the Year Award were Christophe Dassy (2008), Steve Janssen (2009) and Greg Frady (2010). Janssen won the award for his accomplishments in 2009 with then Dutch champion DOOR Neptunus.

The EBCA also announced that Sam Dempster, the coach of the British National Team, the recipient of this years Career Achievement Award. He led the British Team to a win over Israel in this years European Championship Qualifier, which meant the team qualified for next years Championship, to be held in September in the Netherlands. The Canadian had only one losing season during his 19 years tenure as the Head Coach of the Durham College Lords in Ontario.
In 2005, during the second convention, which also was held in Prague, Robert Eenhoorn won the Career Achievement Award.
This years speakers on the convention were Jim Jones (International Sports Group and Clinic Leader), Derek Johnson (Vanderbilt University), Dave Hajek (Minor League Coach Colorado Rockies), Marco Mazzieri (Head Coach Italian National Team), Andy Berglund (Head Coach Czech National Team) and Mike Schofield (Medical Staff Arizona Diamondsbacks).
(November 12)