Neptunus wins big again; 4 teams remain unbeaten
Nederlands




AMSTERDAM / HAARLEM / ROTTERDAM / BUSSUM (Neth.) - After shutting out Sparta-Feyenoord 20-0 in the opening game on Thursday, DOOR Neptunus handed the team another huge loss on Saturday-afternoon by winning 22-1 this time. Reigning champion L&D Amsterdam Pirates also registered its second win and opened its home season with a 5-2 victory vs. UVV. Corendon Kinheim was the third team that won its second game, beating Vaessen Pioniers, 8-5 in its home opener.

After their first game on Thursday-evening lasted three hours and 15 minutes (in which only seven innings were played), Mr. Cocker HCAW and AamigoO ADO Lakers played another marathon on Saturday. Today, it took three hours and 55 minutes to come to a decision and it was HCAW that won 5-4 in the tenth inning. Like Thursday, HCAW came from behind and thus became the fourth team to win its second game of the young season.
---

Sparta-Feyenoord vs. DOOR Neptunus
At Rotterdam, DOOR Neptunus and Sparta-Feyenoord both did somewhat better than Thursday-evening. Neptunus scored two more runs and Sparta-Feyenoord wasn't shutout this time, as it scored once. But in the end, the result was the same, as Neptunus again handed Sparta-Feyenoord a huge loss, this time winning 22-1.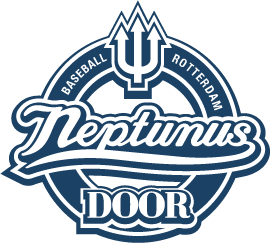 In the previous eleven seasons (2001-2011), a team scored 20 or more runs in one game only three times, two in 2001, one last year. But in the young 2012 season, Neptunus became the first team to score at least 20 runs in a game twice for the first time since 1998. In that year, Neptunus set the record by scoring 20 or more runs in three games. The record for most runs in one game was set on August 9, 1998, when HCAW scored 28 against PSV.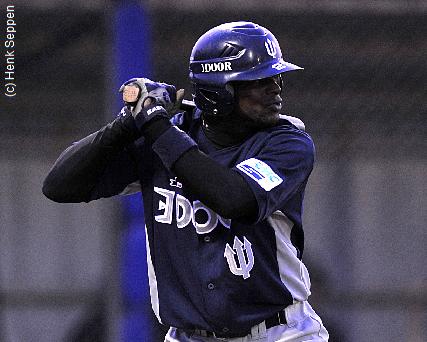 ...Shaldimar Daantji...
...4 Hits, 2 Runs, 3 RBI's...
(© Photo: Henk Seppen)

Neptunus immediately set the tone for today's game by scoring five runs in the first inning. Dwayne Kemp led off with a single and reached second base safely when an error was made during his steal-attempt. Next, RafaŽl Jozefa was hit by a pitch. The first runs were then scored when Raily Legito singled and Jeffrey Arends doubled. With one out, Rien Vernooij added a 2-run double and scored himself of a 2-out single by Adrian Anthony. Hereafter, Shaldimar Daantji doubled, but a flyout ended the at bat leaving runners on second and third base. Neptunus added three runs in the next at bat on singles by Legito and Vernooij and a grounder by Benjamin Dille.

Trailing 8-0, Sparta-Feyenoord got one run back in the home of the second inning. Rookie Michiel Ruiter led off with a single and scored when Churandy La Cruz followed with a double. The team then got into scoring position only one more time and that happened in the sixth at bat. Neptunus-starter Kevin Heijstek gave up two more additional hits in his next three innings and struckout four batters to win his first game of the season.

After being held scoreless for two innings by veteran lefthander (and starter) Gregory Gustina, Neptunus rallied for nine runs in the fifth inning off new pitcher Lenko Elisabeth. The rookie would give up 14 runs and 12 hits in his two innings of work. In the fifth, Daantji and Kemp hit back-to-back triples with one out, while Vernooij added a 2-run double. Dille and Daantji also contributed with 2-run singles. In the sixth, the third time this afternoon that Neptunus batted around, five unearned runs were scored with two outs, highlighted by a 2-run single by Anthony and another RBI-triple by Kemp to increase the lead to 22-1. Neptunus was then retired in order in the seventh by Reynaldo Sarmiento Claro.

In the bottom of the sixth, Sparta-Feyenoord got the bases loaded with two outs off Kevin van Veen. Ruiter and La Cruz then walked and Klaas Baldee singled, but a flyout left the bases loaded.

In the seventh, Theodore van Heijningen led off with a single off Berry van Driel, but he then struckout the next three batters to end the 'game'.

Shaldimar Daantji went 4-for-5, scored twice and had three RBI's. The centerfielder only missed the homerun to go 'for-the-cycle'. All nine players in the Neptunus-order scored at least two runs and had at least one run batted in. Eight of the nine players hit at least two basehits. Lennart Koster was the lone player without a basehit. Vernooij and Dille each had four RBI's.

Standings & Schedule
Line Score, Box Score & Play-by-Play
---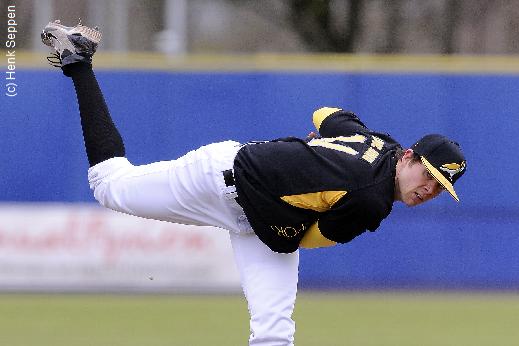 ...Winning pitcher Jos de Jong...
(© Photo: Henk Seppen)

L&D Amsterdam Pirates vs. UVV
At Amsterdam, the reigning Dutch champion opened its home season with a 5-2 victory in front of 350 spectators.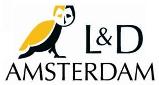 Amsterdam-starter Jos de Jong allowed only three UVV-batters to reach base in six-plus innings. The righthander gave up a lead-off double to Danny Rombley in the second inning, but stranded at third base. In the third inning, De Jong gave up an one-out single to Norbert Jongerius (who was left at second base), but hereafter, he retired the next 12 batters in a row. With one out in the seventh and Amsterdam leading 2-0, De Jong gave another double to Rombley and was relieved by Rik Geestman. The lefthander walked Giovannie Samboe with two outs, but then closed with a strikeout.
Offensively, Amsterdam opened the score with two (unearned) runs in the second inning off Jurjen van Zijl, who had retired the side in the first at bat. In the second, Vince Rooi led off with a walk, then an error was made on a force play-grounder by Bas de Jong. After the two runners advanced on a sac-bunt by Percy Isenia, Rooi scored the first run on a wild pitch. With two outs, De Jong scored when rookie Jesse Aussems singled in his first at bat.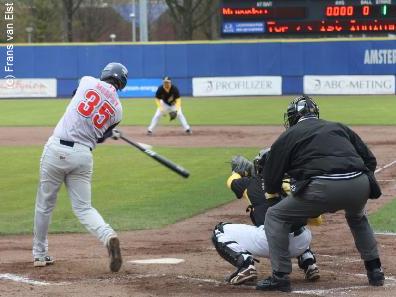 ...Former Pirate Ryan Murphy connects for UVV...
(© Photo: Frans van Elst)

It then took until the eighth inning for Amsterdam to increase its lead. In the third, Roelie Henrique walked and stole second base, but was then picked off second base. In the fourth, Rooi led off with a walk, but then the UVV-defense turned a double play. In the fifth, Aussems led off with his second single.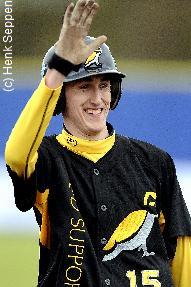 ...Jesse Aussems...
(© Photo: Henk Seppen)

With two outs, Kyle Ward took over the pitching from Van Zijl, was greeted with a single by Henrique, but this time a force play ended the inning. In the sixth, UVV turned another double play, but then the home team added three runs in the eighth at bat. With one out, Roelie Henrique and Sidney de Jong singled, then the bases got loaded when Vince Rooi walked. Next, Bas de Jong singled in a run and kept the bases loaded. A force play-grounder by Percy Isenia then accounted for an out, but also produced a run and led to a throwing error in an attempt to make a double play, but instead resulted in another run and a 5-0 score.

Strong pitching held UVV from scoring, but in the final at bat, the Utrecht-squad scored twice off closer Jurrian Koks. Stijn van der Meer and Danny Rombley (who hit three of UVV's six hits) singled. A throwing error on a force play-grounder by Ryan Murphy then gave UVV it's first run and a double play-grounder by Giovannie Samboe led to the second. But a groundout then ended the game.

Standings & Schedule
Line Score, Box Score & Play-by-Play

...Opening Day in Amsterdam...

...Players, Umpires line up for National Anthem...

...Ronald Mauer, Alderman of city-borough Nieuw-West throw ceremonial first pitch...
(© Photos: Henk Seppen)
---

Corendon Kinheim vs. Vaessen Pioniers
At Haarlem, Corendon Kinheim won its first home game of the season with an 8-5 score. The home team got some effective pitching, as four pitchers combined on 13 strikeouts.

Kinheim opened the score in the first inning. Pionier-starter Kevin Miner walked lead-off hitter Renť Cremer, who then tried to score on a single by Mervin Gario, but was thrown out at the plate. Gario advanced on the throw and then did score the first run when Dirk van 't Klooster followed with a single, but a double play ended the at bat.

In the next inning, the home team added a run. Kinheim got the bases loaded when Ramiro Balentina walked with one out, Niels van Weert singled and Rachid Engelhardt reached on an error. A sac-fly by Remco Draijer then made it 2-0, but two runners were left behind.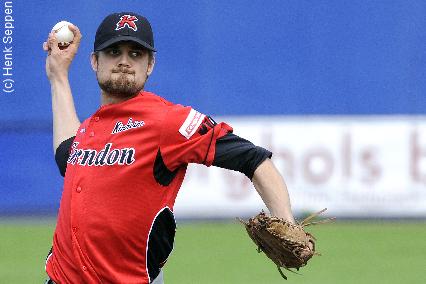 ...Pim Walsma - second victory in relief...
(© Photo: Henk Seppen)

Kinheim took more distance by scoring three runs in the third. Gario led off with a walk and Van 't Klooster, the batting champion of last season, followed with his second single. With two outs, a single by Balentina produced the third Kinheim-run. Van Weert then also hit an RBI-single, which was followed by an error that led to another run. Hereafter, Miner was relieved by Swen Huijer, who earlier this week was released by the Boston Red Sox. While it was initially announced that the righthander would join Pioniers after this weekend, he already made his Dutch big league-debut today. Huijer ended the inning with a groundout.

In the fourth inning, Kinheim increased its lead to 7-0. Huijer started by walking Draijer and Cremer, who then advanced on a grounder by Gario. A sac-fly by Van 't Klooster and single by Bryan Engelhardt then gave Kinheim two more runs.

Trailing 7-0 in the fifth, Pioniers suddenly came back scoring four runs off Kinheim-starter Luke Sommer. The American righthander gave up a lead-off single to Kevin Dirksen, then the bases got loaded when Michael Pluijmers walked and Zerzinho Croes also singled. The bases were then cleared when Michael Duursma delivered a 3-run double. That marked the end for Sommer, who therefore was unable to complete his fifth inning, which he needed to win his debut-game as a starter in the Dutch big league. Steven van Groningen took over and started by walking Gyenuar Lopez. A sac-bunt by Mark Duursma then moved the runners and a grounder by Jourick Blanco led to the fourth Pioniers-run. But then Van Groningen ended with a strikeout.

Pioniers narrowed the deficit to 7-5 by scoring another run in the sixth inning. With one out, Dirksen and Pluijmers walked, which led to another pitching change. Rookie Dion Steijl took over, but walked Croes and gave up a sac-fly to Michael Duursma that made it 7-5. A flyout followed, stranding two runners.

In the home of the sixth, Kinheim added an insurance run. With two outs, Huijer gave up a single to Bryan Engelhardt, then an RBI-triple to Quintin de Cuba. The former pro was relieved by Dennis Buring, who closed the inning with a flyout.

In the top of the seventh inning, Pim Walsma became the fourth pitcher for Kinheim and threw three strong innings. The righthander struckout five batters and gave up no hits. In the seventh, he walked lead-off hitter Mark Duursma, then issued an one-out walk to Norbert Lokhorst, but finished with two strikeouts. Since the starting pitcher no longer was in line for the win, Walsma was credited with the win, which was his second in two games.

Standings & Schedule
Line Score, Box Score & Play-by-Play
---

Mr. Cocker HCAW vs. AamigoO ADO Lakers
At Bussum, HCAW and ADO Lakers played another long game. On Thursday, three hours and 15 minutes weren't enough to complete the game, as it was halted after seven innings when the curfew-rule was reached (no new inning after 10:30 PM). Today, the 10-inning game lasted three hours and 55 minutes, which also saw the first ejections of the season. HCAW again came from behind and won 5-4.

Just like Thursday-evening, ADO opened the score but failed to hold onto it. In the first inning, with one out, HCAW-starter Dennis Burgersdijk gave up a triple to Ludwin Obispo, who then scored when Phil Ortez followed with a double. The American stranded on second base when two outs followed. The second run was added in the third inning. Aldrich Isenia led off with a walk and advanced on a sac-bunt by Gregory Hassell and a single by Obispo. Isenia then scored on a throwing error on a failed pick-off to third base.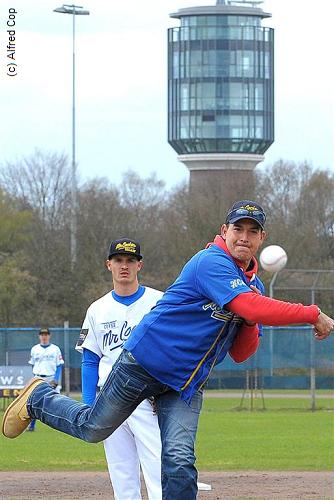 ...Clive Mendes throws ceremonial 1st pitch...
...Mendes played in 561 big league-games...
...in 1988-2002, including 521 for HCAW...
(© Photo: Alfred Cop Fotografie)

Facing rookie Ibrahim Redan, HCAW appeared to come alongside in the first inning, but left the bases loaded. Redan hit lead-off hitter Jasper Keijzer, who then advanced on a wild pitch, which was followed by a walk for Linoy Croes. Moments later, Croes was forced out on a grounder by JuriŽn Overman. Another walk followed, this time for Randy Reiph to load the bases, but a force play-grounder by Seb Visser then eliminated Keijzer at home. Redan ended with a strikeout and thus three runners were left behind.

In the next three innings, three HCAW-runners were caught stealing. In the second, Barry Mastenbroek reached on an error with two outs, but was caught stealing and in the third, Linoy Croes singled with one out, but also was caught stealing.

Things got a little heated in the home of the fourth. Redan hit lead-off hitter Reiph with a pitch, with led to some exchanging of words. The benches emptied, leading to some shuffling, but the umpires got things under control quickly and ejected both Redan and Reiph. And so, Redan was ejected in his debut-game in the Dutch big league, meaning he probably is the first rookie to have been ejected in his first game. Martijn Riphagen took over the pitching and Rick Kuipers became the pinch-runner, but he was caught stealing moments later.

In the top of the fifth inning, Burgersdijk started with his fifth and sixth strikeout. Next batter Gregory Hassell then argued a strike call and also was ejected during his at bat. Remco Seitzinger took over as pinch-hitter and walked, then Ludwin Obispo doubled, but a grounder ended this scoring chance for ADO.

In the home of the fifth, HCAW scored its first run. The home team got the bases loaded when Mastenbroek and Keijzer walked and Croes singled. After an infield-fly, Mastenbroek scored when Kuipers also walked, but a grounder left the bases loaded. HCAW came alongside in the sixth inning, but again stranded three runners. Glenn Romney led off with a walk and Dylan de Mello followed with a single. With two outs, an error was made on a force play-grounder, then a walk for Linoy Croes enabled Romney to score the tying run. Martijn Riphagen was then relieved by Carlos Tavares Castro, who closed the inning with a strikeout.

ADO re-took the lead in the seventh inning, but also left three runners. Bob Klaarenbeek took over the pitching for HCAW, but hit Anthony Hooi with a pitch and walked Aldrich Isenia. Rookie Sander Helmendach was brought in as new pitcher and was supported with a double play. Remco Seitzinger flied out to rightfield, with both runners advancing, but rightfielder Linoy Croes threw out Hooi at third base to complete a double play. After Isenia stole third base, Ludwin Obispo walked and Phil Ortez followed with a single that gave ADO a 3-2 lead. Obispo moved to third base and Ortez advanced on the throw, then a force play was created by walking Enrique Tromp intentionally. A flyout ended the inning, leaving the bases loaded.

After leaving two runners in scoring position in the seventh, HCAW tied the score again in the eighth. Pinch-hitter Kevin Gerard led off with a double, advanced on a sac-bunt by Keijzer and then scored on a wild pitch to make it 3-3.

ADO left two runners in scoring position in the top of the ninth and HCAW was retired in order in the bottom half and so, the tie-break rule came into effect. ADO took the lead for the third time in the 10th inning. Tie-break runners Gino Hersilia (pinch-runner) and Remco Seitzinger advanced on a sac-bunt by Ludwin Obispo (who missed the homerun for hitting for-the-cycle), then a double play on a grounder by Phil Ortez gave ADO a run and a 4-3 lead. But again, HCAW was able to come alongside and this add another run to win. Tie-break runners Jorin van Amstel and Ken Rinkema (pinch-runner) moved on a bunt-single by Jasper Keijzer to load the bases. Linoy Croes followed with a sac-fly to tie the score. A force play was then set up by walking JuriŽn Overman intentionally and brought rookie Jim Froberg into the batter's box. The son of former HCAW-coach Bill Froberg connected for a sacrifice fly to score Rinkema and gave HCAW a 5-4 victory.

At ADO's side, only two players accounted for their team's five basehits, Obispo hit three, Ortez two.

Standings & Schedule
Line Score, Box Score & Play-by-Play

...Jasper Keijzer is forced out in 1st inning...

...CF Jasper Keijzer makes an unsuccessful catch-attempt...

...Jasper Keijzer puts down a bunt-single in 10th inning...

...Jorin van Amstel scores the tying run in 10th...
(© Photos: Alfred Cop Fotografie)
(April 7)