www.grand-slam.nl
Baseball
Headlines
Compiled and Copyright © 1997-2015 by Marco Stoovelaar

(Story by Marco Stoovelaar; Photos by Henk Seppen)

Neptunus captures 3rd consecutive championship-title; Scorers Steijger, Duin honored
Nederlands


HAARLEM (Neth.) - Curaçao Neptunus captured its third consecutive Dutch Championship-title on Sunday-afternoon (September 20) by winning 6-2 at Corendon Kinheim to win the best-of-seven Holland Series, 4-1. For Neptunus, this was its 16th championship in club-history, extending its own league-record.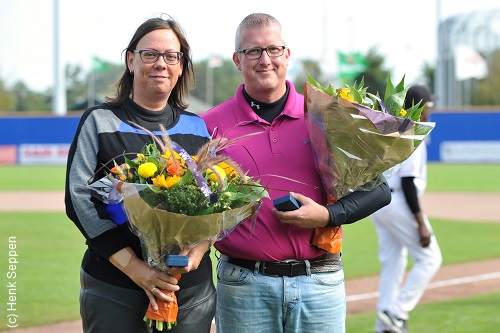 ...Official Scorers Linda Steijger and Dennis Duin are...
...honored before the start of the game...
(© Photo: Henk Seppen)

It was the third championship in a row since Evert-Jan 't Hoen took over as Head Coach in 2013. Benjamin Dille was named Most Valuable Player of the Holland Series for the third time in his career.

Before the game started, Official Scorers Linda Steijger and Dennis Duin, who were assigned to this game, were honored by KNBSB-boardmember Frits Mulder. Both received the Golden Pin, which belongs the their naming as Honorary Member of the Royal Netherlands Baseball and Softball Association (KNBSB).

Dennis Duin is an Official Scorer since 2003 and is in his 29th season as a game-official. Initially he was a baseball-umpire. After some years at a lower level, he officiated in games at the national level in 1993-2002, including five seasons in the Dutch big league (1998-2002). Due to an injury, he had to stop as an umpire and became an official scorer.

Linda Steijger is in her 18th season as a game-official after making her debut as an Official Scorer in 1998. She served as Scoring Commissioner from 2002 through last year. Linda and Dennis are members of the Scoring Committee of respectively the European Baseball Confederation and European Softball Federation.

Dennis Duin already was named Honorary Member during the KNBSB-Council Meeting on October 4 last year, but received his decoration today. Linda Steijger was named Honorary Member during the Council Meeting in June.

The two join several other Officials Scorers, who have been decorated recently. On June 14, in Amsterdam,Marco Stoovelaar received his Golden Pin for being named Honorary Member, while Dieks Bannink received the Silver Pin of Merit. Like Duin, Stoovelaar also was named Honorary Member on October 4, along with Official Scorers Feiko Drost and Ben Goorts and Softball Umpire Bert Loggen. Official Scorer Huub Nelissen was named Member of Merit on October 4. Drost, Goorts, Loggen and Nelissen received their pins during earlier meetings of game-officials in October and March. Drost, Goorts and Stoovelaar are active in their record-extending 39th season in the Dutch big league.

(September 20)
Most Championship-titles, Head Coaches
Titles
Head Coach
Club(s)
6
Jan-Dick Leurs
Haarlem Nicols
4
Jan Collins, Paul van den Oever,
Ben Thijssen (coaching-trio)
Neptunus
4
John Heyt
Sparta
4
Henk Keulemans
Schoten
3
Robert Eenhoorn
Neptunus
3
Evert-Jan 't Hoen
Neptunus
3
Gé Hoogenbos
EHS (2), Haarlem Nicols (1)
3
Charles Urbanus, Jr.
Neptunus (2), Pirates (1)
It was the third championship in a row since Evert-Jan 't Hoen took over as Head Coach in 2013. With that, he became only the second Head Coach in history to lead a team to a championship-title in his first three full seasons. The other coach to have accomplished that was Robert Eenhoorn, who led Neptunus to the championship in his first three full seasons as a Head Coach in 1999-2001. Eenhoorn had taken over as coach in August 1998 to make his coaching-debut in the big league, but then lost the Holland Series.

The record for most consecutive titles for a Head Coach is four and is held by Jan-Dick Leurs, who won the championship with Haarlem Nicols in 1982-1985 after having finished in third place in his rookie-season. Leurs is the most successful coach in history with six championship-titles.

It marks the seventh time in history that a team wins three consecutive titles. Neptunus accomplished the feat for the second time after having won a record seven titles in a row in 1999-2005. The only other team to have won at least three consecutive titles twice is Haarlem Nicols, who did it in 1975-1977 (3x) and 1982-1985 (4x). Amsterdam-based OVVO won the championships five years in a row in 1949-1953, while Blauw-Wit (Amsterdam, 1943-1946) and Sparta (Rotterdam, 1971-1974) won four consecutive years.
Most Championship-titles, Clubs
Titles
Club
16
Neptunus
12
Haarlem Nicols
9
Blauw-Wit, Sparta
6
OVVO
5
SC Haarlem, Kinheim, Schoten
4
Ajax, Pirates
With 16 national championships, Neptunus is the most successful team in history. In 2010, when the team captured its 13th title, it broke the all-time record held by Haarlem Nicols. In 2004, it set another record with a sixth consecutive title. With that, Neptunus broke an 51-year old record, as OVVO had won five titles in a row in 1949-1953.
Most Championship-titles, Cities
Titles
City
33
Amsterdam
32
Haarlem
25
Rotterdam
2
Bussum
1
The Hague
1
Hoofddorp
The championship of Neptunus was the 25th captured by a Rotterdam-based club. With 16 titles, Neptunus is the most successful club, however, the most successful baseball-cities remain Amsterdam and Haarlem. Amsterdam leads the list with 33 titles, while Haarlem follows closely with 32.

In 1922, Amsterdam-based Quick won the first title. Since then, 94 clubs have been crowned Dutch champion, coming from only six different cities. Amsterdam, Haarlem and Rotterdam combined won 90 of these championships!

The 94 titles have been won by 21 different teams. Nine of the came from Amsterdam, seven from Haarlem and only two from Rotterdam.

Neptunus settled things quickly today in the Pim Mulier Stadium in Haarlem, scoring four runs in the top of the first inning off of starter Glenn Wassink. That not only chased the righthander off the mound, it also decided the lopsided game, as only four more runs were scored in the remaining innings, two by each team.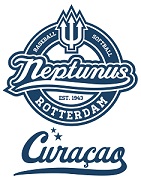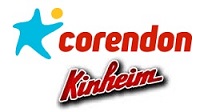 Wassink's second delivery of the game hit lead-of hitter Dwayne Kemp, who then stole second base on the next pitch. Wassink's fifth pitch was hit into rightfield by Benjamin Dille for a runscoring single and with that Neptunus took a very quick 1-0 lead. With one out, the next run was scored when Gianison Boekhoudt doubled. Christian Diaz followed with a single and a sacrifice fly by Rien Vernooij accounted for the third run. Next, Gyenuar Lopez walked and Shaldimar Daantji reached on an error by short stop Dudley Leonora that made it 4-0. A pop-up ended the at bat, but Neptunus had taken a decisive lead, as Kinheim was unable to erase that.
That was underscored moments later. Kevin Moesquit led off for Kinheim with a walk, but hereafter Mervin Gario's grounder was turned into a double play and a flyout ended the inning.
In the second inning, Wassink stayed behind in the dug-out and veteran David Bergman took over the pitching for Kinheim. The righthander, who also pitched 2 2/3 inning in relief on Friday-evening, did very well, allowing only four hits and one run in 5 2/3 inning. However, in the seventh inning, he was forced to leave the game with back-problems.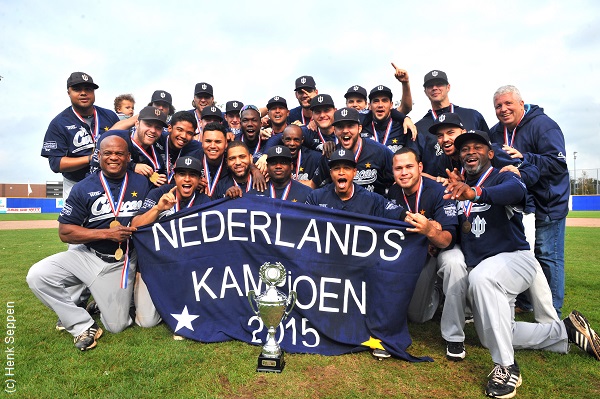 ...Neptunus celebrates its 3rd consecutive championship title...
(© Photo: Henk Seppen)

Bergman gave up two of his hits and the run in the second at bat. With one out, Benjamin Dille and Raily Legito singled, then the bases got loaded when Gianison Boekhoudt walked. A force out on a grounder by Christian Diaz then enabled Dille to score.

In the next four innings, Bergman did very well. Neptunus got a runner on third base twice, but Bergman held the Rotterdam-squad scoreless. In the third, Urving Kemp tripled with two outs, but stranded. Neptunus was then retired in order in the fourth.

In the fifth, Bergman gave up a lead-off single to Christian Diaz, who stole second base with one out and advanced on a throwing error, but he also was left behind. The righthander retired the side again in the sixth.

In the meantime, Orlando Yntema pitched well for Neptunus and only encountered some problems in the second inning when Kinheim scored once and got the bases loaded with one out. Yntema walked lead-off hitter Kalian Sams, then gave up a single to Dashenko Ricardo. With one out, Phil Ortez also singled to produced Kinheim's first run. The bases got loaded when Yntema gave up another single, this time to Dudley Leonora. But hereafter, Jochem Koedijk fouled out and Kevin Moesquit lined back to Yntema to end the inning. With some juggling, Yntema kept control over the caught ball to end the inning.

In the next three innings, Yntema got three baserunners, but only one of them got into scoring position. In the third, with two outs, Kalian Sams singled and stranded on first base. In the fourth, Phil Ortez singled with one out, but also didn't got beyond first base. And in the fith, with two outs, Bryan Engelhardt walked and stole second base, but he was left behind when Sams flied out. Yntema then retired the side in the sixth.

In the top of the seventh, Neptunus got the bases loaded, but was unable to add more runs. David Bergman struckout lead-of hitter Raily Legito, then walked Gianison Boekhoudt. He followed by striking out Christian Diaz, but was bothered by back-problems. With an 1-0 count on next batter Rien Vernooij, Bergman, who also is the Pitching Coach of Kinheim, was unable to continue throwing and it was clearly visible that he was in pain as he slowly walked back to the dug-out. Arshwin Asjes took over, but he got the bases loaded when Rien Vernooij walked and Gyenuar Lopez singled. The three runners were left behind when Shaldimar Daantji fouled out.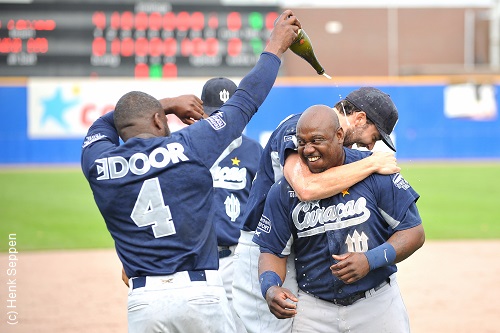 ...Raily Legito wins another title with Neptunus...
(© Photo: Henk Seppen)

Kinheim then added its second run in the bottom of the seventh inning. Dudley Leonora led off with a double and moved when Jochem Koedijk followed with a single. The latter was forced out on a grounder by Kevin Moesquit, who had not much luck hitting in this series. However, on his grounder Leonora was able to score. Moesquit himself was also forced out on a grounder by Mervin Gario, then the home team got the bases loaded when Bryan Engelhardt walked. That brought Kalian Sams into the batter's box. With the bases loaded and a 5-2 score, one mighty swing could have turned the game Kinheim's way. Sams is known for his power, but maybe he was a little bit to eager in this at bat. He fouled off the first two pitches, then swung and miss on third one to strikeout and end the inning. And with that, Kinheim's chances to come back in the game.

Arshwin Asjes retired the Neptunus-side in the eighth, as did Berry van Driel, who relieved Orlando Yntema, in the bottom of the eighth.

Neptunus then added one more insurance run in the top of the ninth to seal the win. With one out, the bases got loaded when Gianison Boekhoudt walked, Christian Diaz singled and Rien Vernooij also walked. A sacrifice fly by Gyenuar Lopez then brought in the run. Neptunus stranded two runners when Shaldimar Daantji struckout, but now led 6-2.

In the bottom of the ninth, closer Loek van Mil took over the pitching for Neptunus. He got two quick outs, then struckout Kevin Moesquit to end the game and the season. Celebrations began and catcher Gianison Boekhoudt ran towards Van Mil, but had to make a huge leap to jump into the arms of the 7' 1'' righthander.

Benjamin Dille was 2-for-5 today, scored twice and batted in one run. With that, he lifted his average to .458 (11-for-24) to lead the Series. The Belgian second baseman also led in slugging average (.667), on-base percentage (.480), runs scored (8), basehits (11) and runs batted in (6). With that, Dille of course was the right choice to be named Series MVP. It was the third time that he was named Most Valuable Player of the Championship Final after 2009 and 2013.
Corendon Kinheim - Curaçao Neptunus 2-6
R
H
E
Curaçao Neptunus
410
000
001
-
6
9
0
Corendon Kinheim
010
000
100
-
2
7
2
pitchers Neptunus
inn.
SO
BB
H
R
ER
Orlando Yntema, W (2-0)
7
4
4
7
2
2
Berry van Driel, H (2)
1
-
-
-
-
-
Loek van Mil
1
1
-
-
-
-
pitchers Kinheim
inn.
SO
BB
H
R
ER
Glenn Wassink, L (0-2)
1
-
1
3
4
3
David Bergman
5.2
2
2
4
1
1
Arshwin Asjes
2.1 (*)
1
3
2
1
1
(*) - Asjes took over with an 1-0 count on the batter in the 7e inning, due to an injury for Bergman
Umpires: HP-Winfried Berkvens, 1B-Henri van Heijningen, 2B-Olav Steijger, 3B-Roy van de Wateringen.
Official Scorer-Linda Steijger.
Play-by-Play Scorer-Dennis Duin.
Technical Commissioner-Johan Brandsma.
Public Address Announcer-Yvonne de Vries.
Time-2:36 hr.

Game Notes:
Game Five, best-of-seven Holland Series.
Neptunus wins Series, 4-1 to become Dutch National Champion.
Neptunus captures 3rd consecutive title and 16th in club-history.
Neptunus is the 94th Dutch baseball-champion in history.
Benjamin Dille (Neptunus) Most Valuable Player of Holland Series.
Weather conditions at game time: Cloudy, 17,4° C (63,3° F), western wind 29 kmh (18 mph), wind speed 4,5 Bft, humidity 72%.

...Neptunus-starter Orlando Yntema...

...Kinheim-starter Glenn Wassink...

...Gianison Boekhoudt is forced out on 2nd base in 2nd inning...
...Short stop Dudley Leonora tries to complete a double play...

...Kalian Sams scores Kinheim's first run in the 2nd inning...


...Dwayne Kemp flies out in 3rd inning with his brother...
...Urving (triple) on third base...
...David Bergman throws 5-plus fine innings, but leaves with...
...an injury; at right, he waves to the fans...
...Veteran Raily Legito is about to make contact...


...Loek van Mil pitches the final inning for Neptunus...
...Gianison Boekhoudt has to make a giant leap to celebrate...

...Kevin Moesquit leaves the field disappointed...
...while Neptunus starts to celebrate...

...The players of Neptunus celebrate their...
...third consecutive championship-title...

...The celebration continues...
...and the champagne flows...



...Kinheim congratulates Neptunus with the title...
...In the front, pitcher Pim Walsma hugs Benjamin Dillle,...
...who was named Holland Series MVP...
(© All Photos: Henk Seppen)

Thank you for visiting this site.
Mail your suggestions and questions to stoov@wxs.nl
Copyright © 1997-2015 Marco Stoovelaar / Grand Slam * Stats & News.