The Netherlands opened the game the same way the USA did the day before, hitting a homerun on the first pitch. In the bottom of the first inning, Roger Bernadina connected well on the first delivery by Dominican starter Ervin Santana and drove the ball into deep leftfield for a lead-off homerun. The American run-production was limited to only one run in the opening at bat against the Netherlands on Saturday, but the Orange Team took more distance against the Dominicans in its first at bat. After Bernadina's homerun, Calten Daal singled and moved on a wild pitch. With two outs, he scored when Chadwick Tromp hit a line drive homerun into leftfield to lift the lead to 3-0. Tromp did the catching today instead of Hendrik Clementina, who now was the designated hitter.

Dominican starter and former Major Leaguer Ervin Santana has a long career in professional baseball. The 36-old righthander made his professional debut in 2001 in the organization of the Anaheim Angels (the current Los Angeles Angels). Since 2005, Santana pitched in the Major League, including this season. Santana pitched for Los Angeles Angels (2005-2012), Kansas City Royals (2013), Atlanta Braves (2014), Minnesota Twins (2015-2018) and Chicago White Sox (this year). The righthander appeared in 387 Major League-games (384 starts) and in his 15 seasons, he was 149-127 with a 4.09 ERA. Santana struckout 1,926 batters in 2,421 1/3 inning. This season, Santana pitched in three games for the White Sox (0-2, 9.45 ERA), all in April. At the end of that month, he became a Free Agent and was signed in May by New York Mets, who assigned him to its Single-A team for whom he pitched in three games. Santana then played in the Triple-A Team and was 4-4 in 15 games. In 2008 and 2017, Santana pitched in the Major League All Star Game.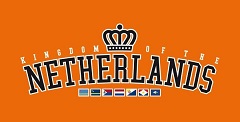 The Netherlands also had a former Major Leaguer as its starting pitcher, as Jair Jurrjens took the mound for Manager Hensley Meulens. The 33-year old Jurrjens pitched parts of eight seasons in the Major League for Detroit Tigers (2007), Atlanta Braves (2008-2012), Baltimore Orioles (2013) and Colorado Rockies (2014). In 130 games (128 starts), Jurrjens was 53-38 with 514 strikeouts. When Jurrjens first pitched for Atlanta, star-outfielder Andruw Jones has just left. Jones played for Atlanta in 1996-2007. When Jurrjens played for Atlanta, Jones played for Los Angeles Dodgers. During this tournament, Jones is one of the Bench Coaches in the staff of Manager Hensley Meulens.
Jurrjens walked two batters in the top of the first inning. He issued a lead-off walk, then walked another batter with two outs, but closed with his second strikeout in the inning.
Trailing 3-0, the Dominican Republic got one run back in the top of the second inning when Charlie Valerio (Double-A, Cleveland Indians) led off with a homerun. With two outs, Gilberto Celestino (Single-A, Minnesota Twins) hit a line drive into rightfield. There, Ray-Patrick Didder attempted to make a diving catch, but the ball was out of his reach and rolled to the warning track, enabling Celestino to reach third base with a triple. He stranded there, as a grounder ended the at bat.
In the bottom of the second inning, Sharlon Schoop led off with a walk, but Ervin Santana then retired the next three batters.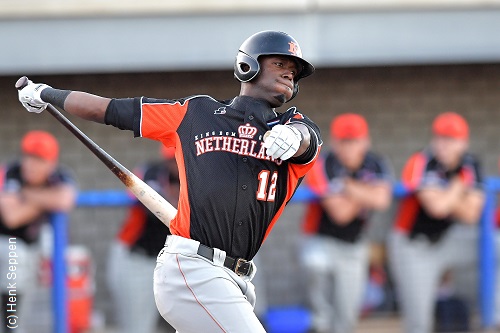 ...Roger Bernadina led off with a homerun...
(© Photo: Henk Seppen)

Moments later, the Dominicans struck off of Jurrjens in the top of the third inning, reaching base on two infield-hits. Otto Lopez (Single-A, Toronto Blue Jays) led off with an infield-hit in front of the catcher and scored all the way from first base on a double down the leftfield-line by Alfredo Marte (Mexican League). Like Lopez, next batter Carlos Peguero (Mexican League) also didn't hit the ball well, but it ended up between home and third base, resulting in another infield-hit and brought Marte to third base. It also resulted in a pitching change, as Orlando Yntema took over for Jurrjens. He began with a strikeout, then got a grounder from Charlie Valerio. Second baseman Calten Daal fielded the ball, appeared to throw the ball to second base, but turned and eliminated Valerio at first base. However, Marte was able to score the tying run.

In the bottom of the third inning, the Dominican Republic also went to the bullpen after the Orange Team got two baserunners. With one out, Hendrik Clementina singled and Chadwick Tromp walked. Hereafter, a pitching change followed, as Henry Henry (Single-A, San Diego Padres) was brought in to face Ademar Rifaela, who greeted him with a single. Clementina was waved home, but was eliminated at the plate on a great throw from rightfielder Carlos Peguero. The inning then ended when Juremi Profar lined out to Peguero.

The Dominicans took over the lead in the top of the fourth inning, but that at bat also ended with a great defensive play. Yntema walked lead-off hitter Edwin Espinal (Double-A, Detroit Tigers), then gave up a double into deep left-centerfield by Gilberto Celestino. Espinal scored from first base to put the Dominicans ahead, 4-3. Moments later, Celestino stole third base, then Geraldo Perdomo (Single-A, Arizona Diamondbacks) walked. The latter then moved to second base on a wild pitch. With one out, Alfredo Marte drove the ball into centerfield, where it was caught by Roger Bernadina. Celestino took off from third base, but a great throw from Bernadina followed to eliminate him at the plate.

Another defensive highlight came in the bottom of the fourth inning, if not THE highlight. With one out, Ray-Patrick Didder reached on a double down the rightfield-line. Hereafter, Roger Bernadina drove the ball into deep centerfield. There, centerfielder Gilberto Celestino ran backwards, jumped up, reached with his glove and made a great catch falling backwards on the ground. Didder, who had taken off on contact, had to return to second base. The inning then ended when Henry Henry struckout Calten Daal.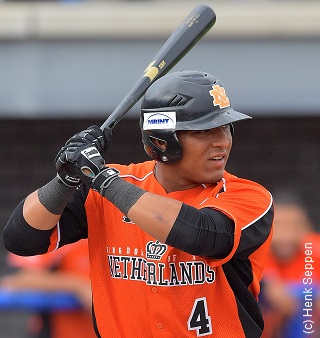 ...Chadwick Tromp hit a 2-run homerun...
(© Photo: Henk Seppen)

The Dominicans took more distance in the top of the fifth inning of the slow-paced game. Carlos Peguero and Elehuris Montero (Double-A, St. Louis Cardinals) led off with singles. With one out, they moved on a grounder, then both scored on a single by Edwin Espinal. That led to the next Orange pitching change. Kevin Kelly took over, but he also ran into problems and got the bases loaded when he was greeted with a single by Gilberto Celestino and walked Geraldo Perdomo. Another run was then added on an infield-hit by Otto Lopez. The long inning ended with a force play-grounder from the ninth batter in this Dominican at bat. After having played more than two hours, the game now was finally official.

With the Dominicans now leading 7-3 in the bottom of the fifth, Cristofer Ogando (Single-A, Tampa Bay Rays) became their third pitcher. He walked lead-off hitter Yurendell De Caster, but retired the next three batters.

In the top of the sixth, the Dominicans rallied for six runs (10 batters, 4 hits, 3 walks) and started to put the score out of reach for the Netherlands. Shairon Martis started the inning as new pitcher for the Netherlands, but he gave up a lead-off homerun to Carlos Peguero. With one out, the righthander walked Charlie Valerio and gave up a ground-rule double to Jeison Guzman (Single-A, Kansas City Royals). Edwin Espinal then contributed with a runscoring single and another pitching change followed. With runners on first and third base, Orsen Josephina took over. But the 24-year old righthander, who made his debut a few days ago in an exhibition game, also encountered problems. He had some problems finding the strikezone and got the bases loaded when he walked Gilberto Celestino, then also walked Geraldo Perdomo, which led to a run. After the next batter had popped out into rightfield, the bases were cleared when Alfredo Marte followed with a 3-run double that increased the Dominican lead to 13-3. Josephina closed with a strikeout.

In the bottom of the sixth, the Orange Team erased the 10-run difference off of new pitcher Samuel Adames (Rookie League, Kansas City Royals). With one out, Sharlon Schoop singled, advanced on a single by Ray-Patrick Didder and a grounder, then scored on a wild pitch.

The Dominicans immediately re-gained a 10-run difference lead in the top of the seventh off of new pitcher Franklin Van Gurp, who also debuted a few days ago. With two outs, the 24-year old Van Gurp gave up a homerun to Jeison Guzman.

In the bottom of the seventh, Adames retired the side to end this lopsided game.

Playing for the Netherlands were:
Roger Bernadina (CF, 1-for-4, homerun, run, RBI), Calten Daal (2B, 1-for-3, run, strikeout), Dwayne Kemp (PH-2B, 0-for-1), Yurendell De Caster (1B, 0-for-2, walk), Curt Smith (1B, 0-for-1), Hendrik Clementina (DH, 1-for-4, 2 strikeouts), Chadwick Tromp (C, 1-for-3, homerun, run, 2 RBI's, walk), Ademar Rifaela (LF, 2-for-3), Juremi Profar (3B, 0-for-3), Sharlon Schoop (SS, 1-for-2, run, walk), Ray-Patrick Didder (RF, 2-for-3, double, strikeout) and pitchers Jair Jurrjens, Orlando Yntema, Kevin Kelly, Shairon Martis, Orsen Josephina and Franklin Van Gurp.