(Story by Marco Stoovelaar; Photo by Henk Seppen)









BB Americas Qualifier: USA, Dominicans opens Super Round with big win
Nederlands




PORT ST. LUCIE / WEST PALM BEACH, Florida (USA) - The teams of the USA and the Dominican Republic recorded big wins in their first games of the Super Round of the WBSC Baseball Americas Qualifier on Friday (June 4).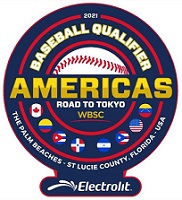 In the afternoon, the Dominicans won 14-4 against Venezuela and in the evening, the USA won 10-1 against Canada. Both scores appear to be convincing, but the two teams decided the games late. Both games were played in West Palm Beach.
With the win, the USA remained unbeaten. The team now leads the Super Round with two wins.
On Saturday, the final day of the event, the Dominican Republic closes against Canada and in the evening, the USA meets Venezuela. These games will be played in Port St. Lucie.
When the USA wins, it will qualify for the Olympic Games. But when the Dominicans win against Canada and the USA should lose to Venezuela, that will create a 3-way tie, while Canada is eliminated.
In case Canada wins and the USA also wins, the latter will go to the Olympics, but there then will be a 3-way tie between the other teams. When Canada wins and Venezuela also wins, there is another scenario. In that case, Venezuela will go to the Olympics based on the head-to-head result against the USA. So, there is still a lot possible on the final day of the event. The teams in second and third place with participate in the Baseball Final Qualier later this month in Mexico.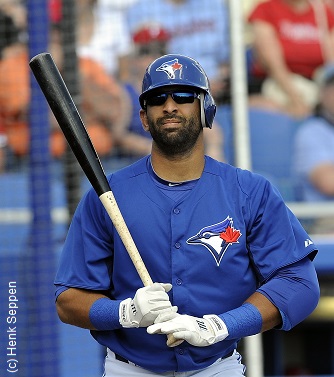 ...José Bautista playing for...
...Toronto Blue Jays in 2012...
(© Photo: Henk Seppen)

The Dominican Republic collected 17 basehits against Venezuela, including three by Julio Rodríguez, José Bautista, Luís Liberato and Jeison Guzmán. Bautista, Liberato and Guzmán all homered, as did Yefri Pérez and Juan Francisco. Rodríguez, Bautista and Francisco all batted in three runs.

Venezuela got only six basehits, but one of them was a grand slam homerun by Hernán Pérez in the seventh inning, which at that moment narrowed the deficit to 7-4. The Dominicans then added three runs in the eighth and four more in the ninth.

The Dominicans opened the score in the second inning. The first run was scored when Melky Cabrera reached on an error. A 2-run single by Julio Rodríguez followed. In the third inning, Liberato and Guzmán both homered and in the sixth, Bautista added a 2-run homerun.

Melky Cabrera and José Bautista are two former Major League-veterans. Both played in 15 Major League-seasons. The 40-year old Bautista played for eight clubs in 2004-2018, including ten with Toronto Blue Jays. The 36-year old Cabrera also played for eight clubs (but twice for Kansas City Royals) in 2005-2019, including five seasons for New York Yankees. In 2013-2014, the two were teammates in Toronto. After Venezuela had scored four runs on the grand slam by Pérez, the Dominicans took more distance in the eighth on consecutive runscoring singles by Rodríguez, Bautista and Francisco. Four more runs were then added in the ninth on 2-run homeruns by Yefri Pérez and Juan Francisco.

In the evening, the USA led only 3-1 after seven innings, but then rallied for seven runs in the eighth to take a decisive lead. Jarren Duran recorded three of the ten American basehits and only missed the homerun to hit for-the-cycle. Luke Williams and former Major Leaguer Todd Frazier homered. The lone Canadian run was scored on a homerun by Jacob Robson in the fourth inning.

A single by Eric Filia gave the USA its first run in the third inning, but then Canada came alongside when Robson homered. In the fifth, the USA re-took the lead on the homerun by Williams, then added a run in the sixth on a triple by Eddy Alvarez.

In the seventh inning, the USA took more distance with the 7-run rally. That began with an RBI-double by Triston Casas. After a run was scored on an error, Luke Williams added a 2-run double, Jarren Duran an RBI-triple and Todd Frazier a 2-run homerun.

(June 4)

Related Articles:


WBSC Baseball Americas Qualifier opens in Florida; No-Hitter Canada. (May 31)


WBSC Baseball Americas Qualifier: First win Nicaragua; Cuba eliminated. (June 1)


WBSC Baseball Americas Qualifier: Teams set for Super Round. (June 2)


WBSC Baseball Americas Qualifier: Final game Opening Round rains out again. (June 3)