(Story by Marco Stoovelaar; Photo by Robert Bos)


Mexican season Tom de Blok ends after one start
Nederlands



PUEBLA (Mexico) - The professional career of Dutch pitcher Tom de Blok in Mexico was shortlived. A week after he made his first appearance for Pericos de Puebla in the Liga Mexican de Béisbol, the righthander was released on Thursday (July 8) after having pitched in only one game. The Mexican club announced that De Blok 'will not be able to continue with the team due to an injury'. His spot on the roster was taken by Dominican lefthander and former Major Leaguer Frank Yeury Garcés, who was signed on July 8. With that, depending on the severity of his injury, De Blok might return to L&D Amsterdam Pirates for whom he pitched this season in the Dutch big league.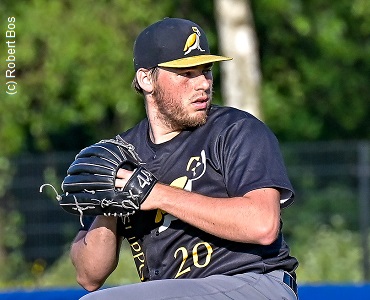 ...Tom de Blok pitching this season...
...for L&D Amsterdam Pirates...
(© Photo: Robert Bos)

On June 27, the 25-year old De Blok signed a contract with the team from Puebla after completion of the WBSC Baseball Final Qualifier. In that event, De Blok was one of the pitchers of the Netherlands Baseball Team and the games were played at Estadio Hermanos Serdán, the home of Pericos de Puebla.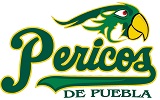 Before traveling to Mexico with the Orange Team, the righthander was 3-2 for Dutch reigning champion L&D Amsterdam Pirates. De Blok was scouted during the tournament in which he had a strong outing against the Dominican Republic. He then threw five scoreless innings in a game that was eventually won by the Dominicans with a 4-3 score on an error in the ninth inning.
On July 1, De Blok made his debut for the team from Puebla when he was the starting pitcher in a home-game against Tigres de Quintana Roo in what was the first game of a double-header. In his Mexican debut, De Blok gave up a run in the first and fifth inning, both on a sacrifice fly. De Blok threw five innings in which he struckout four batters, but he ended up being the losing pitcher. He also walked five and gave up seven basehits. Puebla lost the game with a 5-2 score.
It was to be Tom de Blok's lone appearance in the Mexican League, as he was released seven days later.
De Blok pitched professionally in the organization of the Detroit Tigers in three seasons (2017-2019) playing in the Rookie League and Single-A. After the entire 2020 Minor League-season was canceled due to the coronavirus pandemic (COVID-19), De Blok was a Free Agent since November of that year. Instead of pitching in the Minor League last year, the righthander pitched for Amsterdam Pirates in the Dutch big league. This season, De Blok returned to the mound for the Amsterdam-squad.
(July 8)
Related Articles:


Tom de Blok losing pitcher in Mexican debut. (July 1)


Pitcher Tom de Blok signs professional contract in Mexico. (June 27)