www.grand-slam.nl
Baseball
Headlines
Compiled and Copyright © 1997-2021 by Marco Stoovelaar

(Story by Marco Stoovelaar; Photos by Henk Seppen & EuroBaseball 2021)




Netherlands captures 24th European title after come-from-behind win vs. Israel
Nederlands





TORINO / AVIGLIANA / SETTIMO TORINESE (Italy) - The Netherlands Baseball Team came from behind to win 9-4 against Israel in the Final on Sunday-evening (September 19) to capture its 24th title at the 36th edition of the European Championship. For the Orange squad, this was its fourth European title in a row. By finishing in second place, Israel won its first medal at an European Championship. Two years ago, the country participated for the time and then finished in fourth place.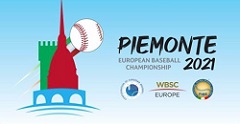 Initially, the game appeared to go the way of Israel, which dictated the game and led 4-1 after six innings on only three basehits. But the Netherlands then turned the game around thanks to a 4-run rally in both the seventh and eighth inning. It was veteran Roger Bernadina, who tied the score with a 3-run homerun in the seventh. But it was Sharlon Schoop, who was 4-for-5 and delivered the deciding basehits. His single in the seventh gave the Orange Team a 5-4 lead, then his double in the eighth gave the team two important insurance runs, which started the second rally. Hereafter, Schoop scored himself when Dashenko Ricardo homered.

During the Award Ceremony afterwards, Roger Bernadina won two individual awards. He won the award for Most Stolen Bases and was named Most Valuable Player.

By capturing the title, four players won their second European title in less than a month. Last month, Raf Cocu, Jayden Gonesh, Aaron de Groot and Julian Rip were part of the Netherlands Under-23 Team that won the title at the European Under-23 Championship, which also took place in Italy.

For Dwayne Kemp, the Final was his 150th international game for the Netherlands National Team. The infielder became the tenth player to reach this milestone.

The Orange Team opened the Championship on Sunday with an 11-0 shutout-victory against Slovakia, then added an 11-1 win against the Czech Republic the next day. On Tuesday, the team closed the Preliminary Round with a 15-5 win against Sweden to finish in first place of Group D and qualify for the Quarter Finals.

In the Quarter Final on Thursday, the Netherlands briefly trailed against Great Britain and recorded a small 7-5 victory. In the Semi-Final on Friday, the Orange-squad experienced a narrow escape, but won 9-8 againt Spain to reach the Final.

Israel opened the tournament with a 2-1 win in ten innings against Russia in Group C. The next day, the team recorded a 10-0 shutout-win against France, then won convincingly with an 11-4 score against Great Britain in its final game in the Preliminary Round. In the Quarter Final, Israel nipped the Czech Republic with a 3-2 score. And in the Semi-Final on Friday, Israel upset Italy and won convincingly, 11-5, to advance to the Final.

Two years ago, Israel stunted during the Africa/Europe Olympic Qualifier in Italy. There, the team won 8-1 against the Netherlands and also shutout Spain, 3-0. Israel finished in first place to qualify for the 2020 Olympic Games in Japan. As we all know, the multi-sports event was then postponed to this year due to coronavirus-pandemic (COVID-19).

In July, Israel finished in fifth place in the Olympic Baseball Tournament. Twelve players on the current roster participated with Israel in the Olympic Games.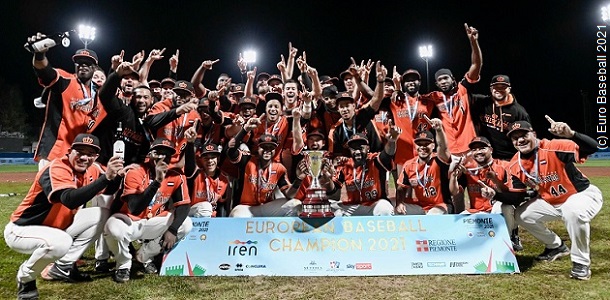 ...The Netherlands Team celebrates winning its 24th European title...
(© Photo: EuroBaseball 2021)

On Sunday-afternoon, Italy finished in third place after winning only 2-0 against Spain in a game that started 30 minutes later due to rain and remained scoreless in the first six innings. Italy, which was outhit 10-6, then scored both runs with two outs in the bottom of the seventh inning. However, the runs were scored not on basehits, but due to control-problems and after starting pitcher Elian Leyva Delgado had left the game. Leyva threw six innings, struckout seven batters and gave up only three basehits. In these six innings, Italy got into scoring position only twice. The team was retired in order three times. Italy then struck in the seventh. With one out, Vito Friscia and Alberto Mineo both singled off of new pitcher Jorge Balboa Miguel. After an infield-fly accounted for the second out, Italy got the bases loaded when Leo Ferrini walked. That led to a pitching change. Fernando Baez Aybar took over from Balboa, but he began with a walk for Alessandro Deotto, which gave Italy its first run. Two pitches later, Baez uncorked a wild pitch that enable Mineo to score the second run.

Spain got the most scoring opportunities in this game. The team got a chance to open the score in the top of the fourth. Oscar Angulo Gamez and Jesus Ustariz Luis then led off with a single, but a force out and a double play followed. Spain got another runner in scoring position in the top of the fifth. With one out, Yancarlo Franco Santa placed a bunt towards the third base-side. On his way towards first base, Franco kept running inside the base-line almost on the grass and collided with first baseman Vito Friscia, who was awaiting the throw and had no chance to get out of the way. Friscia fell to the ground with an apparent injury to his lower left leg, while Franco also was injured. The two players both remained in the game. While this looked like interference by runner Franco, he was not called out and remarkably enough, the Italian coaches didn't come out to argue the decision and there was no challenge. When the game resumed, pitcher Tiago Da Silva hit next batter Leomartires Rodriguez Reyes with his first delivery, making it clear what Italy thought of the situation. With runners on first and second base, a double play ended the at bat.

Spain came close to the opening run in the top of the sixth. Edison Valerio Abreu led off with a walk and with one out, Jesus Ustariz Luis singled. Valerio then tried to score when Daniel Jimenez Cruxent also singled, but he was eliminated at the plate. Spain left runners behind on second and third base. In the seventh, Spain again came close to do some scoring. Gabriel Lino Correa led off with a double and Yancarlo Franco Santa followed with a single. But again, a runner was eliminated at the plate when Lino tried to score on a grounder towards first base. Two runners were left behind. With a 2-0 lead, Italy turned a double play in the eighth inning, then closer Alex Bassani retired the side in the ninth inning, striking out the final two batters.

Four Dutch game-officials were assigned to the Bronze Medal-game. Martijn Bosschaart was the Home Plate Umpire and Edwin Louisa was at second base. Winfried Berkvens was the Replay Umpire and Paul Bokern was one of the two Technical Commissioners.

(September 19)

Final Standings:
1. Netherlands, 2. Israel, 3. Italy, 4. Spain, 5. Czech Republic, 6. Great Britain, 7. Croatia, 8. Belgium,
9. Germany, 10. Russia, 11. Austria, 12. Sweden, 13. Ukraine, 14. Greece, 15. France, 16. Slovakia.

Individual Awards:
Best Hitter: Edison Valerio Abreu (Spain, .737).
Best Pitcher (ERA): Alexander Webb (Great Britain, 0.00, 10.2 inn.).
Best Pitcher (W-L): Ben Wanger (Israel, 2-0, 7.2 inn.).
Most Runs Batted In: Alberto Mineo (Italy, 12).
Most Homeruns: Vito Frischia (Italy, 3).
Most Stolen Bases: Roger Bernadina (Netherlands, 6).
Most Runs Scored: Edison Valerio Abreu (Spain, 12).
Outstanding Defensive Player: Mattia Mercuri (Italy).
Most Valuable Player: Roger Bernadina (Netherlands).

Related Articles:


Twelve positions European Championship decided; Slovakia relegates. (September 18)


Netherlands in EC-Final after narrow escape; Italy eliminated. (September 17)


Netherlands to Semi-Final EC after small win vs. Great Britain. (September 16)


Netherlands advances to Quarter Final EC after win vs. Sweden. (September 14)


Netherlands wins convincingly vs. Czechs on Day 2 Euro Champ. (September 13)


Netherlands opens European Championship with shutout-win vs. Slovakia. (September 12)


Roster-change Netherlands Team: Raf Cocu replaces Franklin Van Gurp. (September 10)


Netherlands Team shuts out Sweden in exhibition game. (September 10)


Netherlands Team wins exhibition game against Spain. (September 9)


Roster Netherlands Team announced for European Championship. (September 7)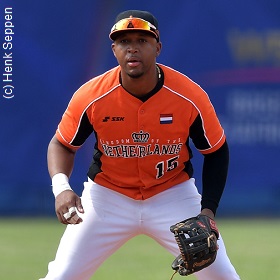 ...Sharlon Schoop...
...4-for-5, double, run...
...4 important RBI's...
(© Photo: Henk Seppen)

For today's game, Manager Evert-Jan 't Hoen had made some changes to his starting line-up. After having played at first base in the previous three games, Sharlon Schoop returned to second base, where he played in the first two games. There, he took over from Calten Daal, who was the second baseman in the previous three games, but tonight was not in the starting line-up. Returning as first baseman was Juremi Profar, who had not played in the previous three games. And Denzel Richardson started as designated hitter instead of Dwayne Kemp.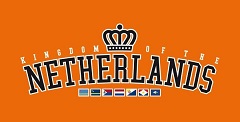 Israel, which used only 16 of its 23 players on its roster before today's game (four of them pitched also played in the field), started with Joey Wagman. The righthander didn't really had a fastball (it didn't eyed like that) and sometimes threw sidearm. However, he was effective and retired the side.
Wagman was clearly used as an opener, as Ben Wanger took over the Israeli pitching in the second inning. But he gave up a run. Sharlon Schoop led off with a single, but was forced out on a grounder by Denzel Richardson. He stole second base, then scored on a 2-out single by Juremi Profar. However, the lead was shortlived.
Juan Carlos Sulbaran started for the Netherlands. The righthander had a solid start, as he retired the first nine batters he faced. However, in the top of the fourth, Sulbaran suddenly couldn't find the strike-zone. He walked Ty Keller and Mitch Glasser, then got the bases loaded with one out when he also walked Assaf Lowengart. Moments later, Kelly scored the tying run on a sacrifice fly by Rob Paller. A pitching change followed and Kevin Kelly took over from Sulbaran, who had not given up a basehit. But Kelly was greeted with a runscoring single to Jordan Petrushka that put Israel ahead. Kelly closed with a strikeout, two runners were left behind, but Israel led 2-1.

The Orange Team left a runner behind on first base in the third inning, then got into scoring position again in the fourth. Sharlon Schoop led off with a single, but again, he was forced out on a grounder by Denzel Richardson. The team then got runners on first and second base when Dashenko Ricardo followed with a single. However, the inning ended when Juremi Profar grounded into a double play.
The Netherlands got another runner on second base with two outs in the bottom of the fifth when Jiandido Tromp hit a ground-rule double. Ben Wanger then pitched around Roger Bernadina, who walked. The inning ended when Tromp was forced out at third base on a grounder by Ray-Patrick Didder.
After the Netherlands had failed to advance its runners, Israel took more distance in the top of the sixth. Ben Wanger led off with a single, then scored when Assaf Lowengart followed with a homerun into deep leftfield, which was his fourth in the tournament. After the next batter had flied out, Aaron de Groot was inserted as new pitcher, taking over from Kevin Kelly. He began with a walk, but then a strikeout and flyout followed.
150 or more international games Netherlands Team
G
Player
Pos
Years
257
Raily Legito
IF
1999 - 2011
235
Dirk van 't Klooster
OF
1998 - 2011
210
Danny Rombley
OF
1998; 2001; 2003 - 2015
203
Sidney de Jong
C
1998; 2000 - 2011
188
Bryan Engelhardt
OF/1B
2002 - 2014
176
Michael Duursma
IF
2000; 2003 - 2015
169
Johnny Balentina
C/OF
1992 - 2001; 2004 - 2007
167
Percy Isenia
1B/DH
1999 - 2009; 2013
167
Marcel Joost
OF
1980 - 2001
150
Dwayne Kemp
IF/OF
2009 - current
In the bottom of the sixth, Sharlon Schoop led off for the third time and reached base for the third time, this time when an error was made after he struckout. Schoop had delivered two of the five Orange-basehits. With Schoop on first base, Dwayne Kemp entered the game as pinch-hitter for Denzel Richardson. With that, Kemp appeared in his 150th international game for the Netherlands Team and became the tenth player to reach this milestone. Kemp popped out, then next batter Dashenko Ricardo struckout. Schoop moved into scoring position when next batter Juremi Profar was hit by a pitch. But again, the runners were left behind, as Junior Martina's pop-fly was caught in foul territory, which ended the at bat.

Israel two more baserunners in the top of the seventh off of new pitcher Mike Groen. With one out, the righthander hit Ty Kelly with a pitch, then gave up a single to Mitch Glasser. But no runs were given up, as a double play was completed with a closed play at first base to end the inning. Glasser's basehit was only the fourth for his team, but nevertheless, Israel led and was nine outs away from what would have been a huge surprise victory.

In the bottom of the seventh inning, the Netherlands got its first two batters on base and this time, the basehits it needed did come! The first five batters all got a basehit and that created a 4-run rally that turned the game around! First, John Polonius and Jiandido Tromp both singled. A pitching change followed, as Charles Rossman took over from Ben Wanger, who stayed in the game as first baseman, where he also had started. This time, it was not possible to pitch around Roger Bernadina, who was the next batter. The powerhitter connected well on Rossman's third pitch and drove the ball deep over the rightfield-fence for a 3-run homerun! And that tied the score at 4-4. Hereafter, Ray-Patrick Didder reached on an infield-hit, stole second base, reached third base on a wild pitch, then scored the go-ahead run on Sharlon Schoop's third basehit in the game. Schoop then also moved into scoring position when a sacrifice bunt by Dwayne Kemp ended in an error. And there still were no outs. That changed, as both Dashenko Ricardo and Juremi Profar hit a foul pop-fly that was caught by the catcher. With two outs, the bases got loaded when Junior Martina delivered the sixth basehit in this inning. However, the inning then ended and three runners were left behind when John Polonius struckout.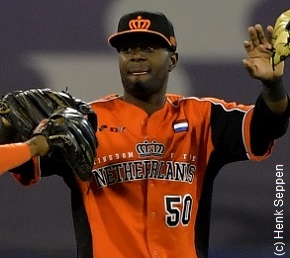 ...Roger Bernadina...
...game-tying homerun...
(© Photo: Henk Seppen)

With a 5-4 lead, Wendell Floranus took over the Orange-pitching in the top of the eighth and struckout three batters.

In the bottom of the eighth, 42-year old veteran Shlomo Lipetz became the new pitcher for Israel and another 4-run rally followed, which gave the team some insurance runs. With one out, he hit Roger Bernadina with a pitch. He then moved to third base when Lipetz made a throwing error during a pick-off. Bernadina slid into third base and appeared to touch the base before he was tagged, but a challenge followed. After reviewing the replays, the call was confirmed and so, Bernadina was at third base. Hereafter, Ray-Patrick Didder was also hit by a pitch. Sharlon Schoop then drove the ball into deep leftfield on the warning track for a 2-run double, which made it a 7-4 score. Schoop moved to third base when Dwayne Kemp flied out and scored when Dashenko Ricardo homered into deep leftfield! With the score now at 9-4, another pitching change followed. Ivri Margolin became Israel's fifth pitcher. He walked Juremi Profar, then a flyout ended the at bat.

In its final two at bats, the Netherlands offense collected eight basehits after having his only five in the previous six innings.

In the top of the ninth, Wendell Floranus retired the side again (adding a strikeout) to seal the win and earn his third save. A few minutes before midnight, after a 3½ hours game, the Netherlands captured its 24th European title!

The following players came into action for the Netherlands:
Jiandido Tromp (LF, 2-for-5), Roger Bernadina (CF, 1-for-2), Ray-Patrick Didder (RF, 1-for-4), Sharlon Schoop (2B, 4-for-5), Denzel Richardson (DH, 0-for-2), Dwayne Kemp (PH/DH, 0-for-2), Dashenko Ricardo (C, 2-for-5), Juremi Profar (1B, 1-for-3), Junior Martina (3B, 1-for-5), John Polonius (SS, 1-for-4) and pitchers Juan Carlos Sulbaran, Kevin Kelly, Aaron de Groot, Mike Groen and Wendell Floranus.


| | | | | | | | | | | | | | |
| --- | --- | --- | --- | --- | --- | --- | --- | --- | --- | --- | --- | --- | --- |
| | 1 | 2 | 3 | 4 | 5 | 6 | 7 | 8 | 9 | | R | H | E |
| Israel | 0 | 0 | 0 | 2 | 0 | 2 | 0 | 0 | 0 | - | 4 | 4 | 3 |
| Netherlands | 0 | 1 | 0 | 0 | 0 | 0 | 4 | 4 | X | - | 9 | 13 | 1 |
pitchers Israel
inn.
SO
BB
H
R
ER
Joey Wagman
1
1
-
-
-
-

---

Ben Wanger
5 (*)
3
2
7
3
3

---

Charles Rossman, BS (1), L (1-1)
1
1
-
4
2
2

---

Shlomo Lipetz
0.2
-
-
2
4
4

---

Ivri Margolin
0.1
-
1
-
-
-

---

(*) - Wanger pitched to two batters in the seventh inning

---

pitchers Netherlands
inn.
SO
BB
H
R
ER
Juan Carlos Sulbaran
3.2
2
3
-
2
2

---

Kevin Kelly
1.2
3
-
3
2
2

---

Aaron de Groot
0.2
1
1
-
-
-

---

Mike Groen, W (1-0)
1
-
-
1
-
-

---

Wendell Floranus, SV (3)
2
4
-
-
-
-

---

Homeruns: Israel: Assaf Lowengart (4)(6th,2-run,0 outs,off Kelly); Netherlands: Roger Bernadina (1)(7th,3-run,0 outs,off Rossman), Dashenko Ricardo (3)(8th,2-run,2 outs,off Lipetz).
Umpires: HP-Alessandra Spera (Italy), 1B-Mojmir Jankovic (Slovakia),
2B-Jens Waider (Germany), 3B-Serge Makouchetchev (France).
Replay Umpire: Oswald Tscharf (Austria).
Official Scorers: Fabio Zaccaria (Italy), Stephanie Winkler (Germany).
Play-by-Play Scorer: Anita Manca (Italy).
Technical Commissioners: Frantisek Bunta (Slovakia), Stephen Lesfargues (France).
Starting Time-8:30 PM.
Time Played-3:27 hrs.
Site-Stadio Baseball Paschetto, Campo Comunale, Torino (Italy) (site Grizzlies Torino 48 Baseball Club).

Game Notes:


Final 2021 European Championship.


Netherlands European champion (24th title), Israel wins Silver.


Dwayne Kemp plays in his 150th international game for the Netherlands.


Fifth international game of the Netherlands against Israel.


Third victory of the Netherlands against Israel.
Weather conditions at game time:
Clear, 23° C (73,4° F); wind direction northwest; wind speed 8 kmh (4,9 mph); wind force 2 Bft; humidity 77%.

Thank you for visiting this site.
Mail your suggestions and questions to stoov@wxs.nl
Copyright © 1997-2021 Marco Stoovelaar / Grand Slam * Stats & News.