(Story by Marco Stoovelaar; Photo by Henk Seppen)


Pitcher Donny Breek released by Minnesota Twins
Nederlands



FORT MYERS, Florida (USA) - Dutch righthanded pitcher Donny Breek has been released by the Minnesota Twins-organization on Monday (July 26). Breek, who turns 22 next month, was playing in his third professional season. When he is not signed by another club, Breek probably will return home to the Netherlands and then will re-join L&D Amsterdam Pirates for whom he also pitched last year. Earlier this month, Dutch pitcher Tom de Blok's professional season in Mexico ended after just one start.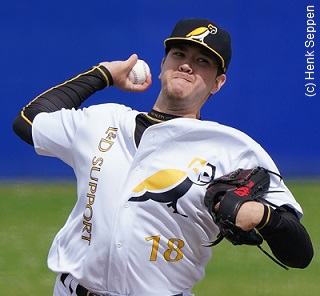 ...Donny Breek pitching in 2020...
...for Amsterdam Pirates...
(© Photo: Henk Seppen)

Donny Breek was signed by Minnesota Twins in September 2017, then made his professional debut in 2018, playing for GCL Twins in the Rookie League. He also played for this team in the 2019 season. Last year, Breek was scheduled to pitch again in the Rookie League for the Twins-organization. However, due to the coronavirus pandemic (COVID-19), the entire Minor League-season was canceled. Instead, Breek pitched in the Dutch big league last season for L&D Amsterdam Pirates.

This year, Breek returned to the USA and after Minor League Spring Training, he promoted and started the season with Fort Myers Mighty Mussels, which plays in Low-A. This season, the Minor League has been re-arranged, especially from the Single-A level on. Beneath Triple-A and Double-A, instead of having Single-A Advanced, Single-A and Single-A Short Season, there is now High-A and Low-A. The lowest professional level remains the Rookie League, but instead of having several leagues in this level, there are now only two, the Arizona Complex League and the Florida Complex League. Teams in these leagues play their home-games at the Spring Training-facilities of the Major League-clubs.

On May 9, Donny Breek made his first appearance of the season and pitched 2 1/3 inning in relief, striking out one batter and walking two. He also hit two batters and gave up two basehits and three earned runs.

In his next outing on May 14, Breek threw 2/3 inning in which he walked three batters. The righthander clearly had some problems finding the strike-zone, as five days later, he walked four batters and gave up four earned runs in only 1/3 inning. Three days after that (May 22), Breek again threw 1/3 inning and this time, he walked three batters, but also gave up four basehits and four earned runs.
On May 24, Breek was assigned from Fort Myers to FCL Twins, which plays in the new Florida Complex League (Rookie League) and is led by Japanese Manager Takashi Miyoshi. Former professional pitcher and former Netherlands Team-player Calvin Maduro is one of the four Pitching Coaches of the team.
So far this season, 46 players have been part of the roster of FCL Twins, including 29 from Spanish-speaking countries. 18 of the players are from the Dominican Republic, ten from Venezuela and one was born in Cuba. Thirteen players are from the USA and one each was born in Australia, Canada, Germany and the Netherlands. The German-born (Berlin) player is 22-year old righthanded pitcher Niklas Rimmel, who is currently injured.
Breek pitched in his first game for FCL Twins on July 3, when he was the starter, walking two batters and giving up one unearned run in one inning. It then took two weeks before he was inserted in his next game. On July 17, Breek again was the starting pitcher and this time, he walked two batters, hit two and gave up five runs (only one earned) in 2/3 inning to become the losing pitcher.
Last Saturday, Breek made his last appearance, this time as reliever. Unfortunately, he again walked three batters, got no outs and gave up three earned runs. Two days later, he was released.
In the seven games Breek pitched this season for the two Twins-teams, he threw in 5 1/3 inning. In those innings, he walked 19 batters, hit four with a pitch and gave up 20 runs (15 earned). He struckout three batters. Breek gave up only six basehits, but the free passes he issued led to many baserunners and eventually runs. He was 0-1 with a 25.31 ERA.
In his first professional season in 2018, Breek made a good debut. He pitched in ten games (eight starts) and was 2-1, striking out 41 batters in 37 1/3 inning, while walking only 17 and allowing only 14 runs.
In the 2019 season, Breek also pitched in ten games (seven starts) for GCL Twins. He again had a fine season with 38 strikeouts and 19 walks in 36 1/3 inning, giving up ten runs. Breek was 1-2 with an 0.74 ERA. Also in 2019, Breek made his debut in the Netherlands National Baseball Team, pitching in the European Championship.
Unfortunately, his return to the Minor Leagues was less successful this year.
(July 27)
Related Article:


Tom de Blok's Mexican season ends after one start. (July 9)