(Story & Photos by Marco Stoovelaar)
IN MEMORIAM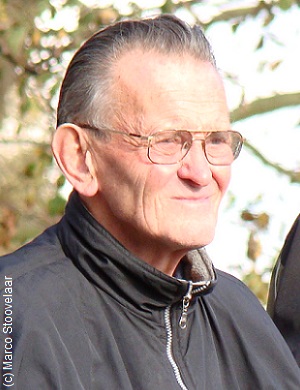 ...Toon Verzijlberg...
(1927 - 2021)
(© Photo: Marco Stoovelaar)

Longtime Umpire, Coach, Orange Equipment Manager Toon Verzijlberg passed away
Nederlands

HAARLEM (Neth.) - Toon Verzijlberg, who has been a baseball- and softbal-umpire for 45 years, passed away on Tuesday, May 25 at age 93. In his long career, Mister Verzijlberg was mostly active in softball. He was a longtime softball-coach and guided the women's softball-team of DSS to the National Championship-title three times. And he was the Equipment Manager of the Netherlands Softball Teams for fifteen years.

Due to the current measures, the memorial service was held privately.

It is the second time in two months that DSS has to say farewell to a club-icon. On March 25, Hélène Angermann, who has been active for many years for the club, passed away at the much too young age of 63. Through the years, she also had done a lot of work for the softball-section. With the passing of Toon Verzijlberg, the Dutch baseball- and softball-family again has to say goodbye to a colorful and beloved personality this year.

Antonius Johannes Ignatius (Toon) Verzijlberg was born on October 27, 1927 in Haarlem. In his home-city, Toon has always been active and interested in sports, especially baseball, softball, soccer and cycling. He started playing baseball for Haarlem-based club EHS for whom he became a regular player in its main-team in 1949. Back then, the team played in the Second Division, which was the third highest league. Amongst his teammates were Joop Schuitemaker, Nico van Heemskerk and future Netherlands Team-players Piet de Nieuwe and Nico Tromp. In 1950, Verzijlberg promoted with EHS to the second highest league (Overgangsklasse). Another successful season was 1953 when the team promoted again to make its debut in the highest division in 1954. Toon's prime position was playing at first base and he surely had some talent. He was selected for the Haarlem Regional All Star Team, with whom he played on June 24, 1951 in a city-game against The Hague. Amongst his teammates during that game were Piet de Nieuwe, Joop Schuitemaker and Nico Tromp. Playing for the team from The Hague was future Dutch Baseball Association board-member John Oosterbroek.

With the team of EHS, Verzijlberg played in the highest baseball-league in the fifties, but in the meantime, he started focusing more on umpiring in these years. Although he then was not a regular player in the main-team, Toon showed he also could handle the ball well in a crucial game during the 1956 season. Against Kennemerland, EHS trailed 2-0, but the team came alongside in the sixth inning thanks to a double by Verzijlberg. EHS went on to win the game with a 5-3 score on a double by Roel Hopman.

After the 1959 season, when he played for TYBB, Verzijlberg retires as a player and becomes the Head Coach of the baseball-team of SC Haarlem. In 1960, the that team plays in the second highest league and its pitching ace was Gé van Berkel, who later became a coach himself. Van Berkel went on to play an important role in player development in the Province of North Holland and he was elected into the Netherlands Hall of Fame.

In 1961, Verzijlberg made his debut as a coach in the highest baseball-league and also returns to EHS, which is coached by Gé Hoogenbos. In that season, Toon was one of the two Assistant Coaches, the other being Nico van Heemskerk.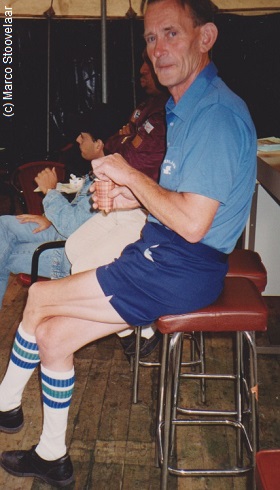 ...Toon has time for a coffee...
...during a break of his activities...
...as Equipment Manager of the...
...Netherlands Women's Softball...
...Team during the 1992...
...European Championship...
...in Bussum (Netherlands)...
(© Photo: Marco Stoovelaar)

From the late fifties on, Toon Verzijlberg also coached women's softball-teams. In 1959, he coached the team of Haarlem-based TYBB, where he also played baseball. In June of that year, Toon led the team to first place in the 'Bondstoernooi', organized by the Netherlands Women's Softball Association. In the final of the tournament, TYBB won 1-0 against Rooswijk and Rie van Vessem scored the lone run.

In 1962, Toon Verzijlberg became the new Head Coach of the softball-team of DSS. That was the beginning of a long association with this club, also from Haarlem. After winning the title in the second highest league in 1961, DSS promoted and made its debut in the highest division in 1962. This was the first of nine seasons that Toon Verzijlberg coached the softball-team of DSS. In those years, he created a team that became very successful in following years. Amongst his players in his first seasons were Toos van Galen, Tini Hardebelt, Ria Heeremans, Corrie Hoogeboom, Hanny Horn, Wil Hurkmans, Lenie van Huizen, Jeanet Lacourt, Betsy Nederstigt, Ineke van der Veldt, Marja van der Veldt and Dini Zwaneveld. Ineke van der Veldt later married (umpire) Frits Mulder and became one of the best pitchers in the league, as well as in the National Team.

Toon Verzijlberg experienced several successful seasons in his ten years as Head Coach of DSS. The team captured the Dutch Championship-title in three consecutive years (1966-1968), becoming only the second team in history to accomplish this feat. HHC, also from Haarlem, won the title three years in a row twice.

After capturing the title for the third time in 1968, Toon stepped down, but he returned again in 1970 and led the team of DSS for two more seasons. After the 1971 season, Verzijlberg was succeeded as Head Coach by Piet de Nieuwe, who passed away on March 8 at age 88. Toon Verzijlberg returned as coach in the highest league in 1973 when he led the team of EDO. The following season, he coached the softball-team of De Foresters. Another big league-season followed in 1975 when he coached Onze Gezellen.

Since 1948, Toon Verzijlberg was an umpire for 45 years in both baseball and sofball. In both sports, Toon officiated in the highest league. In his long career, Toon Verzijlberg became a respected umpire and worked games with many other wellknown umpires from this era.

Verzijlberg was a baseball-umpire through 1964. He initially officiated regional (youth) games, but he started umpiring games in national leagues from 1952 on. In the late fifties and early sixties, he also led several games in the higheste league.

Amongst the other longtime umpires from the Haarlem-area in these seventeen years were Teun van den Berg, Hennie van Dalen, Piet van Deenen, Nico van Heemskerk, Co Hetem, Cor Jonker, Luuk Kensen, Ernst Kerkman, Bert Lauer, Jo Pleijt, Henk de Ruiter, Piet Schijvenaar, Ron Voerman, Aart Wedemeijer and Joop van Wendel de Joode.

During Toon's baseball-umpiring career, amongst his colleagues from outside of Haarlem were M.C. Bakker, Cor Blitterswijk, Cees Boer, Sr., Hans Boersma, Frans Broekhuis, Bertus Caldenhove, Piet de Goede, Paul Goode, Jan-Willem van der Horst, Dick van der Klaauw, Gerard van Klingeren, Jaap Kuggeleijn, Lou Meijer, Rinus Onderwater, Lex Rimini, Henk Ronnenbergh, Hans Schotel, Evert van Tuyl, Jan van de Vegte and Al Vogel.

At the end of the fifties, Toon Verzijlberg also started umpiring softball-games and he switched completely after the 1964 season. Toon continued officiating softball-games through 1992, then retired at age 65.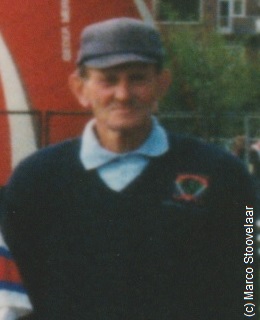 ...Toon Verzijlberg has been...
...an umpire for 45 years...
(© Photo: Marco Stoovelaar)

In his softball-seasons, Toon led many games in the highest league, but in later years, he officiated games at a lower level. When Verzijlberg switched to softball, he became a longtime colleague of Dries de Zwaan, who led games through 1984. De Zwaan also has been very active for the then-Softball Association and already in the early sixties, he led the Umpiring Committee. In the late fifties, softball started to grow rapidly, which also meant a growth of games that were played. However, in the early years, De Zwaan only had some seven umpires for all these games. Toon Verzijlberg was one of them and he became one of the most loyal umpires, as he was always available to officiate games. In those early years, it was even possible to be an umpire and a coach in the same league in the same season.

In his more than 30-year career as a softball-umpire, Toon Verzijlberg got a lot of colleagues from the Haarlem-area and he led games together with most of them. Besides Dries de Zwaan, others included Teun van den Berg, Wim Drullman, Paul Egner, Harm de Fonkert, Peter van Geijlswijk, Nico van Heemskerk, Ruud van Houten, Cor Jonker, Rob Kerkman, Jan Lievense, Cees Maerten, Roel Meijering, Frits Mulder, Rob Oene, Aad Peperkoorn, Jo Pleijt, Leon Ravestein, Hennie de Roos, Willem Schutterop, Jan Termaat, Ton Verton, Jan Vlasveld, Marjan Vlasveld, Ron Voerman, Jan van der Wardt and Willem de Wijs.

Other wellknown softball-umpires from the seventies and eighties, who were active for a longtime and with whom Toon led games, include John Barrett, Erik Bokern, Wil ten Bosch, Bert Brebde, Anne de Bruijne, Wim van Damme, Cor van Elst, Piet Gabes, Dirk Jong, Greet Karsmakers, Herman Kok, Jaap Lind, Ton Meijer, Marianne van Peelen, Gilbert Peloz, Pieter van der Ploeg, Gerrit Preker, André Prins, Jean Rijksen, Rob Smit, René Sterkenburg, John Stevens, Ruud Stolting, Wil van Vliet, Al Vogel and Co van de Wateringen. The latter is the father of current baseball-umpire Roy van de Wateringen.

After he had retired as an umpire at the national level, Toon Verzijlberg kept on leading some games of DSS as a club-umpire or in the Haarlem-area when an umpire was needed in a lower, regional division.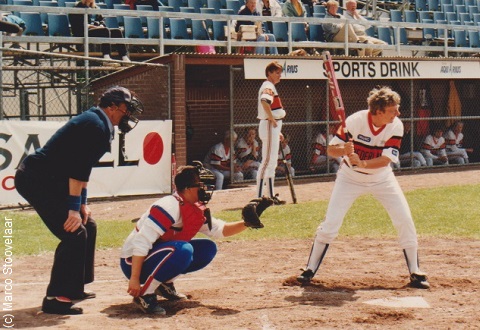 ...Toon Verzijlberg as umpire in an Old Timers Game...
...during the 1997 Haarlem Softball Week in...
...Haarlem (Netherlands); Suze van Breukelen is...
...the hitter, Linda Landwehr the catcher...
(© Photo: Marco Stoovelaar)

In the meantime, Toon Verzijlberg also was a member of the Game Affairs Commission of the then-Rayon Haarlem in 1971-1974. In these years, Dries de Zwaan also was a member of this Commission and he succeeded chairman Hennie van Dalen in 1972.

One of the activities he added in the eighties was his involvement with the Netherlands Baseball and Softball Museum. The Museum and its Hall of Fame was founded in 1983. A special committee started to collect equipment, photos, memorabilia, costumes and more. In November of that year, the inaugural Hall of Fame-class was announced. Gé Hoogenbos was the chairman and former National Team-pitcher Jan Smidt designed the Hall of Fame plaques.

From the beginning, the Museum was a success, but it was not possible to show the exhibits, as there was no site yet to do so. That dream became true in 1988. On August 13, during the Haarlem Baseball Week of that year, the Netherlands Baseball and Softball Museum opened its doors at a location on the complex of the Pim Mulier Stadium in Haarlem. With that, it became the first sports museum in the Netherlands, as well as in Europe. During the opening of the Museum, chairman Gé Hoogenbos gave an emotional speech in which he recognized the many volunteers who contributed to the realisation of the Museum and he especially named Toon Verzijlberg. It was thanks to Toon and his son that the Museum could be opened as in the three previous weeks, they worked from the early morning to the late night doing a lot of carpentry. A teary-eyed Verzijlberg listened to the nice words of Hoogenbos. Since the opening of the Museum, Toon was the contactperson for nine years, along with his good friend and former umpiring colleague Teun van den Berg. When someone wanted to visit the Museum, Toon or Teun had to be contacted and they would then open the doors.

In 1987, Toon Verzijlberg became in charge of the equipment for all National Softball Teams of the Netherlands, a position he held for some fifteen years. He stored the equipment and made sure, the teams got whatever they needed for games or for international tournaments. Toon was truly performing this position with a lot of dedication and passion. When the National Team or the National Junior Teams were practicing or playing, Toon was always there.

When he started to take care of the equipment, American Diane Schumacher was the Head Coach of the Netherlands National Women's Softball Team in 1987-1990, assisted by Craig Montvidas and Ans Kroon. Bram van der Werf and Ton Hendriks were the Pitching Coaches in these years with Truus Ruiter being the Team Manager.

In the next three years (1991-1993), George Presburg was the Head Coach. In those years, Marian van Deursen and Linda Landwehr were the Assistant Coaches and Andrea Nelson and Petra Goedkoop were the Pitching Coaches. Marco Stoovelaar was the team's Media Officer and Statistician, while Truus Ruiter initially served as Team Manager. Jan Vermeer succeeded her in 1992.

Hereafter, Ruud Elfers was the Head Coach in the next three years (1994-1996), assisted by Don Wedman and Ton Hendriks (Pitching Coach). Gerjanne Treuren joined the coaching-staff in 1996, while Jan Vermeer also was the Team Manager in these three years.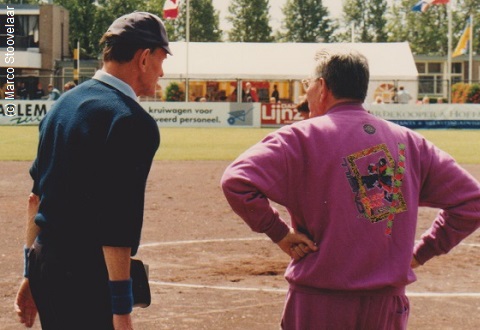 ...Toon Verzijlberg with his umpiring colleague...
...Teun van den Berg during the Old Timers Game...
...that was played during the 1997 Haarlem Softball...
...Week in Haarlem (Netherlands)...
(© Photo: Marco Stoovelaar)

In these ten years, Toon was with the team as much as possible, which included practice sessions, exhibition games and international tournaments. Due to budgetary reasons, there was no Equipment Manager with the team when it played abroad. With that, Toon only was with the team when it participated in events that were held in the Netherlands, which included five Haarlem Softball Weeks (1987, 1989, 1991, 1993, 1995) at the Noordersportpark in Haarlem and the 1992 European Championship, which then was held in Bussum. In 1991, the Netherlands won the Softball Week for the first time. In 1995, the Softball Week also served as Olympic Qualifying Tournament. The Netherlands won the event to qualify for the 1996 Olympic Games in Atlanta (USA).

Besides keeping track of all the equipment, Toon Verzijlberg also was very skilled in repairing gloves, balls, shoes and bases. During games, he always was repairing something. Toon checked with the players when some piece of equipment was missing, but he always put himself at the service of the team. He had good contacts with the coaches and was also well-respected by the players, despite the fact he wasn't the easiest person when it concerned the equipment.

Amongst the players who played for the National Team in Toon's first four years as Equipment Manager were Jacqueline Bakker, Anita Bank, Renee van den Berg, Karin Brookhuis, Jolanda Droog, Judith van Erk, Caroline Fris, Monique Fris, Luciène Geels, Mereille Hammink, Francis Handgraaf, Marion van den Heijkant, Jeanet van den Heijkant, Annemiek van Kappel, Woudi van der Molen, Irene Nijssen, Fredy van Offeren, Marlies van der Putten, Willy Rietman, Carolien Smit, Ilse van Toorn, Diana Verhoef, Jacqueline van der Vlugt and Marjan de Vries.

Daugters of some of these players are currently playing in the Dutch Softball big league. They are Jessica Waasdorp (Onze Gezellen), daughter of Anita Bank, Ilse Stoovelaar (Hoofddorp Pioniers), daughter of Judith van Erk, Tess Remmers (Tex Town Tigers), daughter of Diana Verhoef and Babs de Jonge (Onze Gezellen), daughter of Jacqueline van der Vlugt. Lisa Waasdorp, the sister of Jessica, played in the big league for Terrasvogels (as did Jessica), Britt Remmers, the sister of Tess, played for Roef! and Anouk in den Kleef, the daughter of Jeanet van den Heijkant, played for Twins.

Hereafter, several new players went on to play for the National Team. Amongst the players from this new group in most of the following six years were Madelon Beek, Petra Beek, Luciène Geels, Inez Hollander, Marjolein de Jong, Anita Kossen, Anouk Mels, Margot Mels, Sandra Nieuwveen and Marlies van der Putten.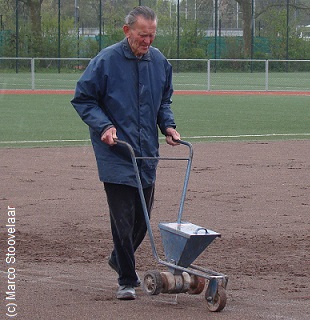 ...Toon puts down the lines before...
...a home-game of the softball-team...
...of DSS during the 2010 season...
(© Photo: Marco Stoovelaar)

Although Toon Verzijlberg was still responsible for the storage of the team's equipment through 2001, he was less with the team during the games in the last five years. In 1997-1999, Toon continued working together with then-Head Coach Craig Montvidas, who was assisted by Ineke Wessels, Annemiek van Kappel and Robyn Green. Handling the Team Management in these years were Dianna Groot and Willem Nuijten, while Willem Verkerk was the Equipment Manager during the games. Ruud Elfers returned as Head Coach in 2000-2001. Gonny Farley, Rob Walgien and Monique Sanches assisted Elfers, while Paul Boonstra became the Team Manager in 2001. In these years, there was the same construction as in the previous three seasons. Toon stored and took care of the equipment, kept in touch with the coaches, but there was a separate (or none) Equipment Manager at the games.

As can be concluded from this article, Toon Verzijlberg has been very active in both baseball and softball through the years. He just loved to be on a playing site, watching games and talking with friends. Toon devoted many hours of his long life primarily to softball. Since joining DSS in the sixties, he has done a lot of things for the club. Besides umpiring games, he also took care care of the club's equpment, took care of the clubhouse and regularly served as groundskeeper. For many years and until a high age, Toon put the lines on the field for the home-games of the DSS softball-teams. For his many activities at DSS, Toon Verzijlberg was Member of Merit of the club.

On July 21, 1991, during the Haarlem Softball Week, the Royal Netherlands Baseball and Softball Association (KNBSB) decorated Toon Verzijlberg for his many contributions and activities through the years.

Toon Verzijlberg remained a frequent visitor of softball-games in Haarlem, mostly at the sites of DSS and Sparks Haarlem. But he also attended many games of both the Haarlem Baseball Week and Haarlem Softball Week. During many of these visits, he watched the games together with former National Softball Team Head Coach Nol Houtkamp, with whom he also made several cycling trips in and around the city of Haarlem. One of the characteritic pieces of clothing he was noted for was that he loved to wear shorts, as soon as the weather allowed him to do so, with long socks.

While watching a game, Toon always made clear how he thought of something. When needed, he critized a game, a coach, a player or an umpire. But he always enjoyed watching games. When you sat besides Toon Verzijlberg, you were guaranteed of a pleasant afternoon. He could tell several stories from the past, had a lot of humor, was always friendly and loved to be on a field amongst friends. Toon Verzijlberg was one of the colorful personalities in our baseball and softball-family. He will surely be missed by many.

The webmaster of Grand Slam * Stats & News offers his condolences to Toon's family and friends and wishes them a lot of strength with this big loss.

(June 3)