(Story by Marco Stoovelaar)
IN MEMORIAM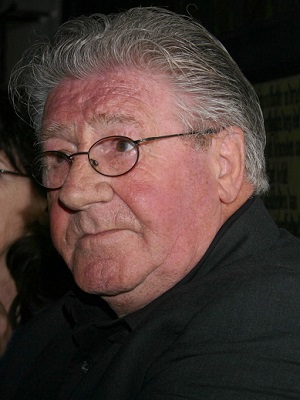 ...Piet de Nieuwe...
(1932 - 2021)...

Former Netherlands Team-player, former softball-coach Piet de Nieuwe passed away
Nederlands

HAARLEM (Neth.) - Former Dutch big league-player Piet de Nieuwe passed away on Monday, March 8, three weeks before he would have turned 89. With the Netherlands National Baseball Team, he captured three European titles. Piet de Nieuwe also coached several years in the women's softball big league. The memorial and cremation ceremony took place in private on Monday (March 15).

Petrus (Piet) de Nieuwe was born on March 29, 1932 in Haarlem. It was there that he went on to play baseball and soccer for EDO. He developed into a talented infielder and although he saw action at second base, third base and as short stop, he mostly played as third baseman. In the fifties, he also frequently was used as a pitcher. Beside being a solid fielder, he also was a good contact-hitter and a speedy baserunner. De Nieuwe was known for his gestures while being a baserunner. While being on the bases, he frequently left the base and then jumped up and down to distract the pitcher or to provoke a throw. A similar way of running the bases was done by Teun van den Berg, who also played for EDO.

The baseball-team of EDO was one of the best in the forties with players such as Teun van den Berg, Sjoerd Feenstra, Bud van Leuven, Joop Odenthal, Theo van der Putten, Henk Schijvenaar, Ben Vrenegoor and Dolf de Zwart. However, the team relegated from the highest league in 1948. The next season, the team captured the title in the second highest league and so, it returned in the First Division (then highest league) in 1950. During the 1950 season, the 18-year old Piet de Nieuwe made his debut in the main-squad as well as in the highest league. Also joining the team in the early fifties were the brothers Jan and Leo Kops.

However, EDO relegated again in 1951 and then played for two seasons in the second highest league, but made its comeback again in 1954 In the opening game of the season against RCH, EDO won 5-1 and its were Piet de Nieuwe and Dries Mul who accounted for the most memorable moments in the game. De Nieuwe with a triple and Mul by striking out fifteen batters. Also during the 1954 season, De Nieuwe had one of his best pitching outings for EDO. In a game against HFC Haarlem, he struckout fifteen batters, but despite that, his team trailed 4-1. However, in the ninth inning, EDO not only came alongside, but took a 5-4 lead. In the bottom of the ninth, De Nieuwe secured the win.

In these years, EDO is often described as a group of young, energetic and mentally strong players, who show their enthousiasm regularly. Also players included Roel Hopman, Jan Molleman, Dries Mul, Doby Peters and Gé Smit. The team was coached by Bud van Leuven, who also played himself.

Through 1957, the First Division was the highest Dutch baseball-league. A year later, the Dutch big league was established. In 1957, the First Division had two divisions of eight teams each. The four best teams of each league would play in the new highest league in 1958. After the regular season ended, EDO shared fourth place with Ajax in Pool A of the First Division. In an one-game play-off on September 28, 1957, at the site of Zeeburgia in Amsterdam, EDO nips Ajax 1-0 to qualify for the new big league. EDO scores the lone run in the fourth inning on a hit by Jan Kops. There are two moments that the minimal lead gets into jeopardy. With one out in the eighth inning, Ajax got runners on second and third base off of 18-year old pitcher Doby Peters. Ajax-hitter Herre Kok hits a comebacker to Peters, who then makes it appear that he throws the ball the first base. But instead, he turns around, throws the ball to catcher Dolf de Zwart, who then tags out the approaching baserunner. In the ninth inning, De Zwart, Jan Kops and Piet de Nieuwe make a nice double play to end the game.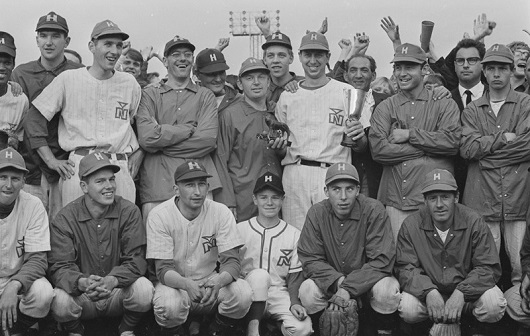 ...Haarlem Nicols celebrates winning the European Cup in 1966...
...Standing: Ricky Placidus, Ton Terneuzen, Boudewijn Maat,...
...Jan Molleman, Joop Schuitemaker, Dolf de Zwart,...
...Jan-Dick Leurs, Leo Kops, Mr. Venema (board), Rickey Kersout,...
...Robin Broer Sr. (board) and Menno Weidema...
...Sitting: Herman Beidschat, Cees Kuijer, Simon Heemskerk,...
...bat-boy, Robert Maat and Piet de Nieuwe...

On August 16, 1958, EDO, which then is in first position, shuts out OVVO 5-0. Doby Peters throws a No-Hitter against the strong OVVO-team in this game, which is played at the site of EDO in Haarlem and is attended by more than 5,000 spectators. EDO collects eight basehits off of Han Urbanus, who passed away on February 5. The Haarlem-team scores two runs in the fifth inning on some errors. In the sixth, Jan Molleman scores the third run on a squeeze-bunt by Piet de Nieuwe, then Dolf de Zwart follows with a homerun. In the eighth, Molleman scores the fifth run on a wild pitch. In the top of the eighth, Max Rietbergen (walk) is on base for OVVO, then pinch-hitter Aart Kruys drives the ball into deep centerfield. There, Jan Molleman makes a great catch against the fence to save both the No-Hitter and the ShutOut. This is an important win and EDO wins his lone Championship-title in club-history.

After the 1963 season, EDO and EHS merge to become Haarlem Nicols. Piet de Nieuwe is one of the EDO-players who continues to play for the new club, with whom he captures its first Dutch Championship-title in 1965. The next year, on September 3, 1966, Nicols wins the European Cup, winning 10-4 against Europhon Milano from Italy to become the first Dutch club to win the Cup. In this game, Robert Maat, Herman Beidschat, Boudewijn Maat and Ton Terneuzen hit homeruns for Nicols.

In 1967, former player Ben Tromp is the new Head Coach of Haarlem Nicols, which in that season adds some younger players. Veterans like Piet de Nieuwe and Dolf de Zwart become back-up players, while experienced short stop Leo Kops moves to the outfield to make room for younger Johnny Jonkers. Pitching-ace Herman Beidschat throws less, becomes a back-up infielder and is used as a reliever. Jan-Dick Leurs becomes the new pitching-ace for Nicols.

Amongst De Nieuwe's teammates at Nicols were Herman Beidschat, Simon Heemskerk, Rickey Kersout, Leo Kops, Cees Kuijer, Jan-Dick Leurs, Boudewijn Maat, Robert Maat, Jan Molleman, Ricky Placidus, Joop Schuitemaker, Ton Terneuzen and Dolf de Zwart with Gé Hoogenbos initially being the coach.

In the fifties, Piet de Nieuwe also played several games for the representing team of Haarlem against Amsterdam. In those years, there was an annual All Star Game between the two cities. From 1957 on, De Nieuwe played four years in the Netherlands National Team with whom he won three European titles.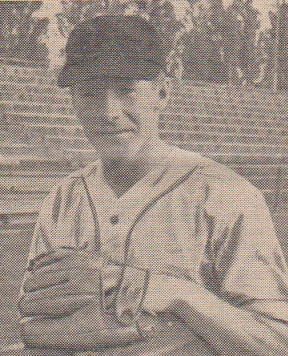 ...Piet de Nieuwe in 1964...

He makes his debut in the Netherlands Team during the 1957 European Championship, which is held in Mannheim in what was then West-Germany. De Nieuwe is one of fifteen players selected for the National Team, which wins its four games against West-Germany (9-0), Italy (3-1), Spain (10-1) and Belgium (14-0) to capture its second consecutive European title. The team first participated (and won) in 1956. In the game against Belgium, Piet de Nieuwe is the defensive star of the game. The Netherlands leads only 1-0 in the fifth inning when Belgium has a runner on first base. Star-player Jos Robijn is the next batter and he hits a line drive towards third base. There, De Nieuwe reacts immediately and makes a great catch. He immediately makes a strong throw to first baseman Henny Regeling to complete a double play, which is mentioned as the defensive highlight of the tournament. Moments later, the Orange Team scores two runs in the sixth inning, then rallies for eleven runs in the seventh.

The successful team in Mannheim is compiled of pitchers Joop Bakker, Nico Brands, Jan Smidt and Han Urbanus, catchers Joop Geurts and Dolf de Zwart, infielders Henk Keulemans, Leo Kops, Henny van Lieshout, Piet de Nieuwe and Henny Regeling and outfielders Nol Houtkamp, Martin Jole, Herre Kok and Henk Lukkien. Keulemans also is the Head Coach, Ad Kraal is the Assistant Coach. During the Championship, Piet de Nieuwe is the third baseman and forms the infield with Regeling (1B), Keulemans (2B) and Kops (SS).

In 1956 and 1957, the winner of the European Championship qualifies to participate in the Global World Series in the USA. Two months weeks after winning the title in 1957, the same team travels to Detroit. There, the team plays against Venezuela and Canada.

In 1958, most players participate in the next European Championship, which is then held in Dutch capital Amsterdam. Joining the team are Gé Oosterbaan, Martin Rosenkrantz, Ben Tromp and Nico Tromp. Again, the Netherlands remains undefeated, but needs extra innings twice. The Orange Team wins in twelve innings against Italy (6-5) and in ten innings against West-Germany (4-3). Next, the team again defeats Italy (5-2) to capture the title. This time, Piet de Nieuwe is the short stop. He replaces Leo Kops, who fractured his leg a month before the tournament. Like a year ago, Henk Keulemans is the Head Coach, but he wasn't to play himself this time. However, with Kops injured, he moves De Nieuwe to short and plays at second base himself, while Henny Regeling returns as first baseman and Herre Kok takes over third base. Assistant Coach Charles Urbanus handles the coaching duties during the event.

In 1959, De Nieuwe travels with the Netherlands Team to Trieste in Italy to participate in the Euro Cup Tournament. The following year, he wins his third European title with the Netherlands Team. This year, besides playing at third base and as short stop, De Nieuwe also is inserted at second base. In Barcelona (Spain), the Netherlands wins against Italy (1-0), West-Germany (12-1) and Spain (11-0). For the first time, the National Team is led by an American coach, which is Ron Fraser, who is assisted by Charles Urbanus, Sr.. De Nieuwe is one of the veteran players in the team, which also includes Simon Arrindell, Herman Beidschat, Flip le Cuivre, Ton Fabrie, Joop Geurts, Simon Heemskerk, Cees Hiele, Rob Hoffmann, Nol Houtkamp, Henk Keulemans, Leo Kops, Ruben Leyssner, Henny Regeling, Jan Smidt, Ben Tromp, Nico Tromp, Han Urbanus, Wim Vrenegoor and Ruud Zijlstra. After completion of the Champonship in Barcelona, De Nieuwe doesn't play again for the National Team in following years. Since 1957, he appeared in 18 official international games.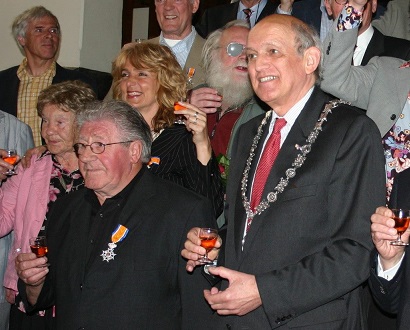 ...Piet de Nieuwe stands besides Haarlem-Mayor...
...Jaap Pop after having received a...
...Royal Decoration in 2006...

Towards the end of his playing career, Piet de Nieuwe turned to coaching. He first coaches the second baseball-team of Haarlem Nicols and then is the Head Coach of the baseball-team of Terrasvogels in 1968. From 1972 through 1981, he leads three different teams in the highest women's softball-league. Thereafter, in 1982, De Nieuwe returns to coaching baseball and then heads the team of Heiloo. He also coached the baseball-team of Onze Gezellen. In the mid-eighties, De Nieuwe coaches softball again, this time the team of SHELL in the second highest league.

In 1972 and 1973, De Nieuwe was the Head Coach of the women's softball-team of DSS. He is immediately successful in his first season, as DSS captures the Championship-title, winning 15 of the 18 games played. Amongst the players who won the title with DSS were Erna van Ewijk, Ans Kroon, Jeanet Lacourt, Joke van der Peet and Ineke van der Veldt (later Ineke Mulder). De Nieuwe was also to be the Head Coach in the 1974 season, but shortly before the start of the season, he had to withdraw due to illness. He was succeeded by Hans Janssen, who leads the team to the Championship-title.

De Nieuwe returned as coach in the highest softball-league in 1977 when he leads the team of Onze Gezellen, which finishes in fifth place. Amongst the players are Tineke Hoenderdos and Ineke Wessels. The daughters of both these players also went on to play in the big league for Onze Gezellen and Terrasvogels, being Linda Hoenderdos and Nicole Wessels.

In 1979, Piet de Nieuwe was the Head Coach for the first time of Bloemendaal, whom he coached in three seasons. In that year, the team finished in seventh place, but then is a title-contender in the following two seasons. In 1980, Bloemendaal finished in third place and in 1981, the team finished in second place behind champion Terrasvogels. In those seasons, Bloemendaal had a solid team which players such as Jacqueline Bakker, Loes Brocken, Carolien Fris, Monique Fris, Christian Jansma (later Christian Oudendijk), Wilma Mostermans, Monique van Schie, Ilona Smit and Jolande Steijn. Monique Fris was one of the leading players in the team. The National Team-short stop hit five homeruns in both 1980 and 1981 for De Nieuwe's squad. She would lead the league in homeruns in eight consecutive seasons (1980-1987) and nine times overall. In 1983, she hit seven, which remained the single-season record through 2012.

In 2006, Piet de Nieuwe received a Royal Decoration from Haarlem-Mayor Jaap Pop. Annually, there is a decoration-ceremony in April to celebrate the Queen's (through 2013) or King's birthday (since 2014) to honor persons for their many years of voluntarily activities in communities, sports, organizations, foundations etc. For his many activities, De Nieuwe was Knighted in the Order of Orange-Nassau.

Through the years, Piet de Nieuwe always remained a frequent visitor of both baseball- and softball-games. He visited games of Kinheim, DSS and Onze Gezellen and always was in the stands during the biennial Haarlem Baseball Week. While attending the game or walking around on a baseball/softball-site, Piet always showed his optimistic and happy character. Even when he something grumbled, he always did with a smile on his face and stayed cheerful. His presence on the fields will surely be missed.

The webmaster of Grand Slam * Stats & News offers his condolences to Piet's wife Bartha, children, grandchildren, great-grandchildren and other family and wishes them a lot of strength with this big loss.

(March 18)