Grand Slam
Baseball & Softball Headlines
December 2006
Compiled and Copyright © 1997-2007 by Marco Stoovelaar
Index News Archive DECEMBER 2006
Miscellaneous


Site sets new record; enters 10th year! (December 3)
Dutch Baseball


Official Site European Championships Juniors 2007 online. (December 4)


Gerard Wijbrandts passed away. (December 4)


Bill Froberg returns as AAA-manager. (December 7)


National teams Cuba and USA to participate in WPT. (December 7)


Game Official Henk Wolffenbuttel passed away. (December 8)


Smeets MVP 2006; Markwell Best Pitcher. (December 9)


Baseball Coach Chicho Jesurun passed away. (December 16-19)


Former Executive/Umpire Lex Rimini passed away. (December 22)
Dutch Softball Women


American pitcher for DSC '74. (December 4)


Dates European Championship, Olympic Qualifier announced. (December 8)


American pitcher for Amsterdam Pirates. (December 8)


Monti VanBrunt new Head Coach Tex Town Tigers. (December 9)


Kluijskens MVP 2006; Autry Best Pitcher.


Sparks to organize European Cup Tournament 2007. (December 26)
Dutch Softball Men


Ricardo MVP 2006; Visser Best Pitcher. (December 9)
International Baseball


National teams Cuba and USA to participate in WPT. (December 7)


Taiwan wins first Asian Games gold! (December 7)
International Softball Women


Dates European Championship, Olympic Qualifier announced. (December 8)


Japan wins softball-gold on Asian Games. (December 21)


Sparks to organize European Cup Tournament 2007. (December 26)
News Archive 2006


January


February


March


April


May


June


July


August


September


October


November
---

Miscellaneous

Site sets new record; enters 10th year!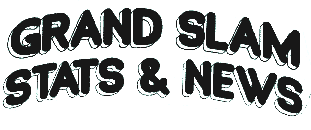 Nederlands
AMSTERDAM (Neth.) - Grand Slam * Stats & News entered its tenth year on the World Wide Web and closed its ninth season in November with a new record of visitors.

For the ninth consecutive year, the site attracted more visitors, this time more than 180.000. This brings the total to more than 670.000. The magical 500.000 mark was passed in February.
Also, visitor records were set again for single days, weeks and months.

Grand Slam * Stats & News opened in November 1997 and still is the only site which combines Dutch baseball AND softball news with statistics and news from around the world.
The Webmaster thanks everyone for visiting and hopes you again enjoyed the previous year and looks forward to see you back in another exciting baseball and softball season in 2007.
(December 3)
---

Dutch Baseball

Official Site European Championships Juniors 2007 online

Nederlands
ROSMALEN (Neth.) - Eight months before the first pitch is thrown, the Organizing Committee of the European Championships Juniors Baseball 2007 has opened its official site.
While the site is still under construction, it already is accessible and will be expanded in the coming weeks and months when more information becomes available.

Next years Junior European Championships will take place from Monday July 30 through Sunday, August 5 at the new complex 'De Groote Wielen' at Den Bosch/Rosmalen, which is the home site of First Division-club Gryphons. Ten teams, including the Dutch Juniors, will participate in the event which has the status of qualifyer for the upcoming Junior World Championships.
(December 4)

Official Site: www.ecbaseballjuniors2007.nl
---
IN MEMORIAM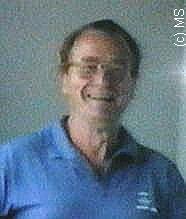 ...Gerard Wijbrandts...
(1921 - 2006)
(Photo: Marco Stoovelaar)

Gerard Wijbrandts passed away
Nederlands
BOSCH EN DUIN (Neth.) - Gerard Wijbrandts, the former Equipment Manager of the Dutch National Baseball Team, passed away on November 25 at the age of 85 years old.
In 1978, Mr. Wijbrandts was decorated by the Royal Dutch Baseball and Softball Association for his services. The memorial ceremony took place on Thursday, November 30 at Bilthoven.

In 1970, Gerard Wijbrandts first handled all equipment for the national team, including uniforms. He remained the team's Equipment Manager until the beginning of 1984. In his 15 years with the national team, Mr. Wijbrandts served under seven different Managers: Charles Urbanus Sr., Hal Smeltzly, Bill Arce, Ron Fraser, Ernie Myers, Hamilton Richardson and Jim Stoeckel. In this period, the national squad participated in six World Championships, seven European Championships, one Intercontinental Cup and seven Haarlem Baseball Weeks.
Gerard Wijbrandts was very secure with his equipment and watched over it from the start of a practice or a tournament until the end. But he did it with a smile, as humor was a big part of his life. While he could be very serious during games, he often joked with players and the coaching staff before and after. Besides handling the equipment for the national team, he did the same for the National Junior Team.

Before becoming part of the national teams, Gerard Wijbrandts was very active in the Amsterdam region. After a baseball and soccer-career, he was a member of the Youth Committee of the Amsterdam Region from 1965-1969, then was a member of the Board for this region from 1969-1971. In 1972 and 1973, Gerard Wijbrandts also was a member of the Commission for Organizing Youth Baseball Camps.
(December 4)
---

Bill Froberg returns as AAA-Manager
Nederlands

...Bill Froberg...

(Photo: Marco Stoovelaar)

NIEUWEGEIN (Neth.) - Bill Froberg returns as Manager of the National AAA Baseball Team, the Royal Dutch Baseball and Softball Association announced.
Next year, the national AAA-team will participate in the European Championships, which will be held in Den Bosch/Rosmalen (Netherlands), July 30-August 5.

The American-born Froberg already headed the coaching staff of the national juniors from 1999 through 2003. He succeeds Eric de Bruin, who led the team in 2005 and 2006. Recently, De Bruin was named Manager of Dutch big league-team DOOR Neptunus. After his coaching with the junior-squad, Froberg was the Head Coach of Mr. Cocker HCAW in 2004 and 2005. In the first year, HCAW won the regular season, but then lost in the Holland Series vs. Neptunus, who also defeated them in the championship series a year later. With HCAW, Froberg heads the successful Mr. Cocker HCAW Baseball School, which started its second year in October and concentrates on instructions for players from the central region of the country. The last session of this years practices is scheduled for December 17. Besides coaching at HCAW, Froberg also coached for HMS, Haarlem Nicols, Twins, Quick Amersfoort and Neptunus.

As Manager of National AAA-team, Froberg headed the team during two Kingdom Games (first place in 2001, third place in 2003), two European Championships (third place in 2001, first place in 2003) and three World Championships (11th place in 1999, 9th place in 2000, 10th place in 2002). Besides leading the squad to the European title in 2003, he also saw his team win the Apeldoorn Baseball Series in 1999 and 2000.
(December 7)
---

National Teams Cuba and USA to participate in WPT
Nederlands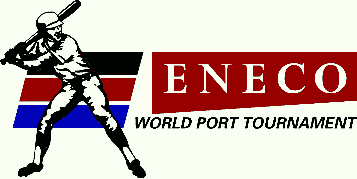 ROTTERDAM (Neth.) - The national teams of Cuba and USA will participate next year in the eleventh edition Eneco World Port Tournament in Rotterdam (Netherlands), the Organising Committee of the bi-annual event announced on Thursday.
Next years tournament, in which the Dutch National Team of course also participates, will take place from Thursday, August 2 through Sunday, August 12 in the Neptunus Family Stadium. The two remaining participating countries will be announced later. Two years ago, there was no WPT, as the World Cup was then held in The Netherlands.
National Team Cuba on Dutch tournaments
Haarlem Baseball Week
1972, 1974, 1978,
1990, 1998, 2000
World Port Tournament
2001, 2007
Last month, reigning Olympic and World champion Cuba had to play eleven innings to defeat the strong playing Dutch team in the final of the Intercontinental Cup in Taiwan. Cuba won 6-3, but the Netherlands played outstandingly and won the silver medal, its highest ranking ever in a global tournament. Last year, the Dutch team secured itself of its highest ranking on a World Cup by finishing in fourth place.
The Foundation Rotterdam Baseball has close ties with Cuba. Therefore, the successful baseball nation participated in nine of the ten events held so far. The only time, Cuba didn't come to Rotterdam was in 1993. In the first seven tournaments (1985-1997), Cuba was represented by Ciudad Habana, a selection team from the Havana-area. Since 1999, Cuba sends a national selection team, but only in 2001, the official national team participated. In 1999, the Cuban team lost the final to Netherlands, but then captured the title in 2001 and 2003. This Summer, Cuba send its strongest team, including 17 national team players, in years to participate in the Haarlem Baseball Week, but lost the final to the Netherlands.

National Team USA on Dutch tournaments
Haarlem Baseball Week
1982, 2000, 2002
World Port Tournament
2007
In the last edition of the WPT in 2003, the Dutch team beat Cuba twice in the preliminary round, 2-1 and 7-1, but then lost the final, 3-2. In 2001, the Cuban national squad won all three games against the Dutch, including a spectacular 17-inning game which was won 5-4. The other scores were 5-2 and 7-2 (final).

The national (amateur) team of the United States will participate for the first time in the World Port Tournament. In earlier editions, the USA was represented by college, club or semi-prof teams. The national team of the USA did participate three times in the Haarlem Baseball Week.
(December 7)
---
IN MEMORIAM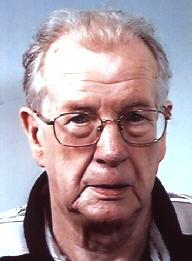 ...Henk Wolffenbuttel...
(1927 - 2006)

Game Official Henk Wolffenbuttel passed away
Nederlands
ROTTERDAM (Neth.) - Henk Wolffenbuttel, who served Dutch baseball for over forty years as a game official, being both an Umpire and an Official Scorer, passed away on November 24. He had turned 79 on October 7. According to Henk's wishes, the memorial and cremation ceremony took place in private at the end of last week.

Henk Wolffenbuttel's long career in baseball started in 1964 when he debuted as a baseball-umpire. In the sixties, he also was a member of the Umpire Committee in the Rotterdam-region, as well as the local league-commissioner. As an umpire, Henk reached the Dutch big league in the late sixties. In 1979, he umpired his last game in the big league, but remained active as an umpire on a lower level afterwards and retired after the 1985 season. However, he didn't say goodbye to the sport, as he became an umpire reviewer a year later and remained that until last year.

Henk even became more involved in baseball again after successfully taking a course to become an Official Scorer and went on to combine that with his reviewing duties. On May 19, 1990, at age 62 (!), Henk made his debut as Official Scorer at the game between Neptunus and HCAW-Tijgers, making his comeback in the big league as a game official after ten years. This season, Henk was active in only two games. On Saturday, April 22 of this year, Henk scored what would be his last game which was the meeting between ADO and Almere '90. Hereafter, he had to withdraw due to a severe illness. As always, Henk remained optimistic and hoped to return again next season.
After making his international debut as an Official Scorer in 1993 during the Rotterdam World Port Tournament, Henk participated in 15 international event held in the Netherlands: one Olympic Qualifying Tournament, two European Championships Juniors, one European Championships Cadets, five World Port Tournaments, one Haarlem Baseball Week and five European Cup-tournaments (European, CupWinners, Super Cup). In 2003, he scored his last international game during the Olympic Qualifier.
In his 17 seasons as an Official Scorer, Henk was available almost daily. On May 29, 2001, he became only the sixth scorer in history to reach the 200-mark. A month later, he had to withdraw during the World Port Tournament due to an illness, but returned again in August. His two games this year brought his total to 269.

Henk Wolffenbuttel can be characterized as very secure and precize. He was that way as an Umpire, Reviewer and Official Scorer. In this last function, nothing could disturb him in the Scorer's Box, as he would focus entirely on what was happening on the field, whatever was happening or said around him in the box. He would be mad at himself when he made an error or wrong decision. But his decisions stand and he always had an explanation why. Henk knew the rules from A to Z, the game rules, the umpire rules and mechanics as well as the scoring rules. While talking to umpires after a game, all of them would listen what Henk said, no mather how long they were active. But besides being serious, Henk also had a sense of good humor. His rule-knowledge was also used in the magazine of the BUBS (Association for Dutch Baseball and Softball Umpires and Scorers). In each edition the last few years, he would give examples of scoring situations and how to score that.

Henk loved the sport and he frequently traveled to the USA with his wife Gré to watch Major League-games. Not only his knowledge, but also his friendly personality will surely be missed by a lot of us. In a statement, the Royal Dutch Baseball and Softball Association (KNBSB) said ''that with the passing of Henk, it looses someone with a golden (baseball)heart''. In November 1992, Henk Wolffenbuttel was decorated by the KNBSB for his long contribution to Dutch baseball.
(December 6)
---

Smeets MVP 2006; Markwell Best Pitcher
Nederlands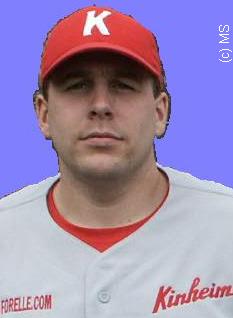 ...Tjerk Smeets...
...Most Valuable Player...
(Photo: Marco Stoovelaar)

ROTTERDAM (Neth.) - Tjerk Smeets has been named Most Valuable Player of the 2006 season. The catcher of Dutch champion Corendon Kinheim was honored Saturday-evening during the annual Awards Evening, which was held in Rotterdam. Diegomar Markwell of DOOR Neptunus was named Best Pitcher.

Earlier, some statistical awards already were known, but the respective players also were honored Saturday-evening. Raily Legito (Neptunus) captured the Batting Title on the last day of the season. Legito batted 59-for-161 to finish with a .366 average, beating teammates Benjamin Dille and Johnny Balentina. Both got no chance of getting back on top as their remaining make-up game against Instant Holland Almere '90 was not played anymore. Bryan Engelhardt (Almere '90) was the Homerun King by hitting six homeruns, while veteran Johnny Balentina (Neptunus) won the award for most Stolen Bases with 23 (which coincidentally also is his uniform number). An award was also handed out to Danny Beljaards (Kinheim), the Holland Series MVP.
Neptunus' Best Pitchers
1981
Steve Donovan
1987
Harry Koster
1989
Eric de Vries
1990
Eric de Vries
1996
Geoffry Kohl
1999
Rob Cordemans
2002
Rob Cordemans
2003
Rob Cordemans
2004
Eelco Jansen
2005
Rob Cordemans
2006
Diegomar Markwell
(Grand Slam * Stats & News / MS)
Nominated for Best Pitcher were Patrick Beljaards, David Bergman (both Kinheim) and Diegomar Markwell (Neptunus). It was a close contention between the three. Bergman, who struckout 72, led the league with the best Won-Loss record with 12-1, while the other two finished with a 12-2 record. Beljaards, who struckout 62, threw the most innings of this trio (122 2/3). The edge finally went to Markwell, who led the three with 82 strikeouts and had the lowest ERA with 1.58, which was the third best ERA in the league. Markwell threw 108 1/3 inning and walked 34 batters, while giving up 89 hits. Bergman's ERA was 1.94 and that of Beljaards 1.76.
It was the fifth year in a row that the Best Pitcher comes from Neptunus, which ties a record. From 1959-1963, EHS had the Best Pitcher in its team five consecutive seasons and every year it was Herman Beidschat. Neptunus tied another record, as this was the eleventh time overall that the team from Rotterdam had the Best Pitcher. It now shares the record with Haarlem Nicols.
Kinheim's MVPs
1989
René Rijst
1992
Darryl Brinkley
1996
Mike Crouwel
1997
Mike Crouwel
2001
Marcel Joost
2004
Gregory Halman
2006
Tjerk Smeets
(Grand Slam * Stats & News / MS)
Nominated for Most Valuable Player were Johnny Balentina (Neptunus), Mark Duursma (Konica Minolta Pioniers) and Tjerk Smeets (Kinheim). Duursma again had a leading role with Pioniers, as had Balentina for Neptunus. Balentina also led the league with 40 Runs Scored and 63 Basehits. But the honor went to Smeets, who helped Kinheim finish in first place in the regular season and shared the league-lead with 36 RBI's. Besides that, Smeets, who batted .349, led the league with a .482 average with runners in scoring position. Smeets scored 25 runs, had 53 basehits and was third in on-base percentage.
Tjerk Smeets is the sixth player from Kinheim who won the MVP-trophy, with Mike Crouwel winning it twice. He also is the third Kinheim-player in the last six years to win its. Besides that, Smeets is only the fourth catcher to win the trophy since it was handed out for the first time in 1953. The other catchers were Joop Geurts (Schoten, 1957), Paul Smit (Amstel Tijgers, 1979, 1984) and Sidney de Jong (HCAW, 2002).

The Guus van der Heijden Memorial Trophy for the best national team player under 23 years old went to pitcher Tom Stuifbergen (Amsterdam Pirates), who made a fine debut this year in the national team, pitching for them in the European Baseball Series, Haarlem Baseball Week and Intercontinental Cup. Stuifbergen recently signed a professional contract and next year will play in the organization of the Minnesota Twins.
The Ron Fraser Award for best youth player was awarded to outfielder Ferd van Stekelenburg, who this season made his big league-debut with Almere '90, but will play for Amsterdam Pirates next season.
The Roel de Mon Award for best junior pitcher went to righthander Kevin Miner of Amsterdam Pirates. He initially started the season in Pirates-2 in the First Division, but was added in the beginning of season to the big league-staff and went on to become their leading pitcher.

National Team Manager Robert Eenhoorn was named Coach of the Year for his outstanding season with the national squad on four big events: World Baseball Classic, where the Dutch team No-Hit Panama, European Baseball Series (winner), Haarlem Baseball Week (winner) and Intercontinental Cup (silver). Eenhoorn also was awarded the annual Leen Volkerijk Award for his contributions to player development. Since 2000, Eenhoorn has won the Coach of the Year Award four times. He won it earlier in 2000 (while coaching Neptunus), 2001 (combining Neptunus and Dutch Team) and last year when the Dutch team finished in fourth place on the World Cup.
(December 9)
---
IN MEMORIAM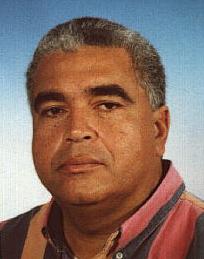 ...Chicho Jesurun...
(1947 - 2006)

Baseball Coach Chicho Jesurun passed away
Nederlands
ALMERE (Neth.) - Wellknown Antillian baseball coach Arthur 'Chicho' Jesurun, who has been active in baseball for almost 50 years and was the current Bench Coach of Mr. Cocker HCAW, passed away on Saturday-morning, December 16 due to a heart attack at the age of 59. Chicho Jesurun had an impressive career in both amateur and professional baseball and was a wellknown personality. Not only in The Netherlands and the Antilles and Aruba, but on many international baseball fields.
The Dutch baseballworld paid there respects on Saturdaymorning, December 23 during a crowded memorial ceremony in Amsterdam. After a touching Antillian farewell song by Alwin Toppenberg, we said goodbye to Chicho. After the warm and emotional ceremony, Chicho was brought to Schiphol Airport from where, on December 25, he flew to Curaçao. There, the funeral took place on December 29.

As a youngster, Chicho started his long baseball career with Korporaal Cardinals in Willemstad, Curaçao, where he was born in 1947. In 1966, during his seventh season with the Cardinals, Jesurun moved to Groningen, in the northern part of the Netherlands. There, he went on playing for Caribe, one of the oldest and most successfull clubs in the north. Chicho always has had the interest in coaching and developing young and talented players and developed his coaching skills during his years with Caribe. While playing for this club, he became the coach and instructor for the Northern District, which he did until 1972.

Hereafter, Chicho returned back to Curaçao, where he started to coach with the the wellknown Wildcats Felipe II. He became the team's Head Coach in 1974 and led them first to a second place, then to the Curaçaon title for three consecutive seasons (1975-1977), underscoring his success and qualities as a baseball coach. His skills were quickly recognized, as he was named Assistant Coach for the national team of Curaçao in 1978. The next year, the Baseball Federation of Curaçao (FeBeKo) appointed him as hitting and infield instructor for national teams, a position he held until 1986. Besides his playing and coaching career, Chicho Jesurun also was a baseball umpire on Curaçao from 1978-1986.

As he had a good eye for (young) talent, in 1986, Chicho became a scout for the Los Tiburones de la Guairia, one of the teams in the professional Venezuelan Winter League. The next season, Chicho made an interesting career move, as he was named one of the Assistant Coaches for Los Tiburones and a year later, he even was appointed Assistant to the Owner of this club. After combining coaching and scouting with his executive job in 1988, he only focused on the latter in 1989.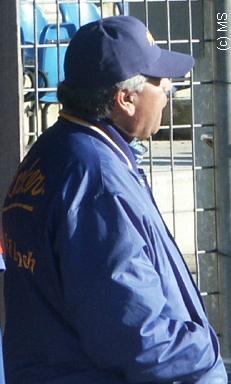 ...Chicho Jesurun...
...concentrates as HCAW's...
...Bench Coach this season...
(Photo: Marco Stoovelaar)

Between 1989 and 1992, Chicho was not active as a coach, but remained scout, as he was Caribbean Scout for the Atlanta Braves on Aruba from 1990-1994. In tis period, he got good acquainted with future Atlanta Braves-centerfielder Andruw Jones, who is from Curaçao and was about to make his Major League-debut. In 1993, Chicho returned to the Netherlands and started coaching a youth-team with Hoofddorp Pioniers. In July of the same year, he was added to the coachingstaff of Dutch big league-team ADO, which went on to reach the Play-Offs.

A 2-year non-coaching period followed, in which he became Caribbean Scout for the Montreal Expos on Aruba and Curaçao, a position he held in 1995-1996. He then was scout for the Expos in the Netherlands (1996-1997), before being named scout and Director of the Expos Academy in the Netherlands in 1998, which he was until 2001. In the meantime, he started coaching again and was the Assistant Coach with Amsterdam Pirates in 1996 and 1997, which then played in the so-called Overgangsklasse (second highest level) and promoted back to the big league in 1997. After promotion, Amsterdam Pirates and Montreal Expos signed a working agreement which resulted in a name change, Amsterdam Expos. Chicho was named Manager and led the Amsterdam-team for four seasons (1998-2001).

After his period in Amsterdam, Chicho became scout with the Florida Marlins and was named Technical Director and General Manager with Almere '90. The Marlins and Almere '90 signed a working agreement and in April 2002, Chicho was named European Scouting Supervisor for the Marlins. Because of his good contacts, Jesurun was able to organize training camps for both Pirates and Almere '90 in Florida on the Spring Training-sites of Major League-clubs Montreal Expos and Florida Marlins. In August of 2002, he took over as interim Head Coach with Almere '90, but returned to his duties as General Manager the next year. Coaching was a passion for Chicho, so he returned in uniform as Head Coach of Almere '90 for the 2004 season, but had to withdraw in May due to health problems. After suffering a heart attack in November last year, Chicho recovered and this year was the Bench Coach with HCAW, which had a tumultuous season. Late May, there was a change of Head Coach, but Chicho remained on as Bench Coach and was to return in the same position next year.

As mentioned before, Chicho loved coaching and instructing young players, which he also did for a lot of years as one of the instructors for the European affiliate of 'Play Ball' Baseball Acadamy, which stage annual youth training camps in Amsterdam, Almere and Germany. As scout of the Expos and Marlins, Chicho signed Dutch players like Vince Rooi, Danny Rombley, Tim van Pareren, Rogearvin Bernadina (all Expos), Rick van den Hurk, Kenny Berkenbosch and Jeffrey de Vrieze (all Marlins) to professional contracts with these Major League-organisations. The last years, Chicho also was the Field Manager of the Curaçao All Stars for the Antillian All Star Game against the Aruban All Stars, which is played annually during the Haarlem Baseball Week or World Port Tournament. Besides being active in coaching, Chicho also was a reporter for a Curaçaon Radio Station as well as Radio Nederland Wereldomroep, informing the Antillian baseball fans of Dutch baseball and big international events, such as the Haarlem Baseball Week and World Port Tournament. In March of this year, he also covered the World Baseball Classic from Puerto Rico for the Antilles. Baseball was his life. Chicho had a lot of baseball knowledge and very valuable experience, but above all his warmth, friendship and loyalty will be missed by a lot of us, all around the world.
Chicho WAS baseball.
(December 16)
---
IN MEMORIAM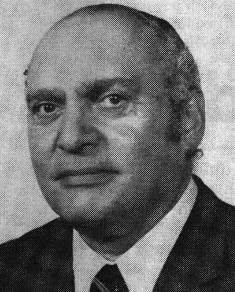 ...Lex Rimini...
(1925 - 2006)

Former Executive/Umpire Lex Rimini passed away
Nederlands
AMSTERDAM (Neth.) - The Dutch baseball and softball family again has to say farewell to one of its prominent personalities, as former Executive and Umpire Lex Rimini has passed away on December 20 at the age of 81 years old. He would have turned 82 on January 18. Lex Rimini has been active for a lot of years for both the former District Amsterdam as well as the Royal Dutch Baseball and Softball Association. The memorial and funeral ceremony took place on Friday, December 29 at the Nieuwe Ooster Begraafplaats in Amsterdam.

Mr. Rimini, who always carried his characteristic pipe, started his umpiring career in 1959 and led baseball games in both the district, as well as the national level, for thirty years. In at least sixteen seasons, Rimini made his calls in national divisions. After he retired as a national umpire, he remained active for three more years on the district-level in Amsterdam.

In the District Amsterdam, Lex Rimini held several positions between 1967 and 1989. From 1967 through 1973, he was the league commissioner baseball and between 1968 and 1975 secretary of the Umpiring Committee.
In 1973, Rimini became a member of the Board for the Rayon Amsterdam (district) and became its Chairman a year later. The always modest and polite Rimini remained Chairman until 1983 and then also was the District's representative in the General Council of the Dutch Association. In this period, he also was the Amsterdam Board's Secretary in 1977 and 1979 and also was a member of the Field Sports Committee of the Municipal Sports Council of Amsterdam. Besides that he was a member of the Youth Committee in 1980 and 1982 (secretary). Rimini always said that youth was important and made a strong point within his District of improving the quality of youth games with a spreading throughout the country. Rimini was a man of few words, but he voiced his opinion, he often made the right remarks.
This were busy years for Mr. Rimini. Besides his executive duties in Amsterdam and umpiring his games, he also was a member of the national Committee for Development and Exams of the Dutch Association between 1976 and 1981. In this period, he started decorating the certificates which were handed out to those who successfully passed exams in different fields (coaching, umpires, scoring), as well as to championship-teams. He kept on doing that for a lot of years. For his long period of activities, he was decorated by the Dutch Association in 1980. After retiring as Amsterdam's Chairman early 1984, Rimini was named Honorary Member of the Amsterdam District.

His retirement, however, was brief, as in June 1985, he returned as Chairman in Amsterdam, after internal problems within the Board and went on to lead the District for four more years. In these years, Rimini also was a member of the Amsterdam PR-Committee, as well as the Game Committee Baseball for the Dutch Association. Besides that, in these years he also was one of the persons who helped realize the Dutch Baseball and Softball Museum and Hall of Fame. When he stepped down as Chairman in Amsterdam in 1990, he was named Honorary Chairman of the Amsterdam District. Lex Rimini remained active on the club-level, as he also held several positions within his club Thamen, where he also was a Honorary Member. He was the club's Chairman from 1990 through 1994, before definitively retiring as an executive. Thamen wasn't the only club, he was active for. Since 1938, Rimini was a member of the Amsterdam soccer-club AFC and closely associated with baseball- and softballclub ABC, which played on the same complex. Here, he also was a member of different committees, mostly in the fields of publicity and journalism, was an enthousiastic contributor to the clubmusicals and created all kind of illustrations, one of his big hobbies. With the passing of Lex Rimini, we loose one of those hard workers who mostly remain in the background, but who are very valuable for our sports.
(December 22)
---

Dutch Softball Women

American pitcher for DSC '74
Nederlands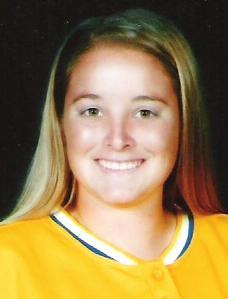 ...Christie Hill...
(Photo: CSUBak)

HAARLEM (Neth.) - Dutch big league-team Van der Peijl DSC '74 announced it has an agreement with American pitcher Christie Hill. The almost 24 year old righthander will join the team in May next year.

In May of this year, Christie Hill completed her career at California State University at Bakersfield. In her Senior-year, Christie posted a 26-8 record, had an 1.59 ERA and threw a No-Hitter for the Roadrunners. As a pitcher, she appeared in 36 games (30 complete games) and threw 211 innings in which she struckout 139 batters, while walking only 43. Besides being the leading pitcher for her team, she also was productive with the bat. Christie played in all 64 games of her team and went 90-for-228 for a .395 batting average. She scored 56 runs, had 50 RBI's and belted 12 homeruns.

After the season, Christie was chosen in the All-CCAA (California Collegiate Athletic Association) First Team as a Utility Player. In her career with the Runners, she was an All-American three times and is second in victories all-time.

After the regular season, Christie Hill participated with American Pastime in this year Canada Cup, as well as playing in Australia. In 2005, she toured through France, Belgium and the Netherlands.

When Christie Hill joins DSC '74 in May next year, she will replace American pitcher Cheyenne Daries on the roster. Cheyenne last year and this season pitched for Amsterdam Pirates, but returned back to the States after completion of the season in which Pirates won the First Division-title and promoted back to the Dutch big league. In 2005, Cheyenne was second in the Dutch big league with 127 strikeouts. That year, Pirates lost a decisive Play-Off and relegated to the First Division. Before the November 1 deadline, Cheyenne Daries transfered to DSC '74. She plans to return to the Netherlands briefly in April and May and then will be eligible to pitch for DSC '74.
(December 4)
---

American pitcher for Amsterdam Pirates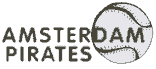 Nederlands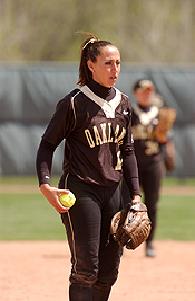 ...Laura Chomokos...
(Photo: Mid-Continent Conf.)

AMSTERDAM (Neth.) - Amsterdam Pirates announced that American righthanded pitcher Laura Chomokos will play for their team in the 2007 season. This year, Pirates won the First Division-title to promote back to the Dutch big league, from which it relegated last year.

On the Pirates-roster, Laura Chomokos will replace Cheyenne Daries, who pitched for the team in 2005 and 2006, but returned home to the States after the season. She transfered to Van der Peijl DSC '74 before the November 1 deadline, making her eligible to pitch for this Haarlem-team when she will return briefly in April and May next year. In May, DSC will replace her with recently announced Christie Hill.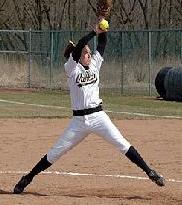 ...Laura Chomokos...
(Photo: Mid-Continent Conf.)

In May of this year, 22-year old Laura Chomokos completed her college-career with her Senior-season for the Golden Grizzlies, the softball-team of Oakland University in Rochester (Michigan), who play in the Mid-Continent Conference (Mid-Con). In her final season, she appeared in 52 games and batted .253 (39-for-154). As a pitcher, she threw in 34 games, 30 as a starter (28 complete), and won 20 games, setting a school-record. Her 217 strikeouts in 221 2/3 inning also were a record. She only walked 30 batters and led the league with an 1.58 ERA. As she had a great season, Laura was named Pitcher of the Week four times, as well as Mid-Con Pitcher of the Year after the season. Besides that, she was named in the All-Conference first team and later in the Great Lakes All-Region second team.

In the 2005 season, Laura struckout 125 batters in 166 1/3 inning. Before coming to Oakland, she pitched two years for Mesa Community College in Mesa (Arizona), where she also was born. There, she set a school-record by winning 35 games in these two seasons, while striking out 172 batters. In her two years at Mesa, she had an 0.82 ERA and was named Mesa's Female Athlete of the Year. From 1999-2002, Laura pitched for Gilbert High School in her home town of Gilbert (Arizona). In four seasons, she won 22 games, struckout 192 and had an 0.42 ERA.
(December 8)
---

Monti VanBrunt new Head Coach Tex Town Tigers
Nederlands
ENSCHEDE (Neth.) - American Monti VanBrunt will be the new Head Coach with Dutch big league-team Computer SOS Tex Town Tigers in 2007, the club confirmed and officially announced on Saturday. The 29 year old VanBrunt already will arrive in Enschede on December 28 to start working with the group of players.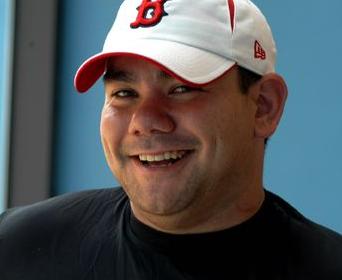 ...Monti VanBrunt...
...New Head Coach Tex Town Tigers...

VanBrunt has been signed for one season, but continuation after that is possible after evaluation. VanBrunt succeeds Ank van der Sluis, who herself took over early September from Leo Poorthuis. Earlier in the season, Poorthuis had taken over from Jan Beugelaar. This year, Tex Town Tigers finished in fourth place in the regular season and therefore reached the Play-Offs for the first time in this format. In the Play-Offs, it was swept in three games by A4 Terrasvogels.

Monti VanBrunt started his baseball career as a catcher in Idaho and Salt Lake City. After his college-career, he briefly played professionally in minor league-teams of the New York Mets and Anaheim Angels. In 1997, he started combining baseball with coaching softball at High Schools in Pocatello (Idaho) and Salt Lake City. Between 2000 and 2003, VanBrunt worked for Major League Baseball and coached youth baseball players in Utah and Arizona.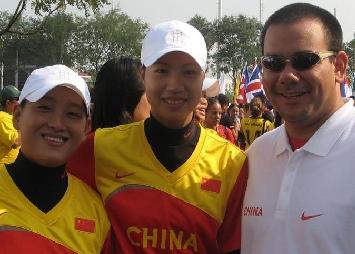 ...Monti VanBrunt with Chinese players...
...Zhang Ai (RF)(left) and Tan Ying (3B)...

His coaching career got an international flavor in 2004 when he was contacted and named Hitting and Bench Coach for the National Women Softball Team of China to develop the sport more. In the past China already had played an important role internationally. It won the bronze medal on the World Championships in 1990 in Normal (USA) after losing 1-0 to New Zealand in a 9-inning game. Four years later, China captured the silver medal after losing 6-0 in the final vs. the USA on the World Championships in St. John's (Canada). But after that, China dropped in the ranking, finishing fifth in 1998 and fourth in 2002 on the World Cup. The team wanted to improve more with the 2008 Olympic Games in its capital Beijing approaching. During the 2004 Olympic Games in Athens (Greece), China finished in fourth place, just as they did during this years World Championships, which was held in Beijing. Last month, China won twice against the Netherlands during the Japan Cup in Yokohama (Japan). In the first game, China came back from a 7-2 deficit to win 8-7, followed by 6-0 shutout in the next game to finish in third place.

VanBrunt also coached baseball on the International School in Beijing. Monti VanBrunt also was the Commissioner of the Beijing Softball League, which is an organisation open to amateur teams, men and women, such as corporate teams. Mostly Americans and Canadians played softball in this league.

In its press release, Tex Town Tigers mentions that VanBrunt learned the players of the Chinese national team to be more complete batters. In the past, Chinese batters relied more on bunting and slapping, but now they also can hit for power.
VanBrunt's experience to improve young and talented players was an important part for the board of Tex Town Tigers to come to an agreement with the American. With VanBrunt, it hopes that the level of the team can continue and increase in 2007.

Contacted by Grand Slam * Stats & News, Monti VanBrunt said: ,,I have a Dutch heritage and have been to Holland before. That was a big reason for me to go there as a coach. Besides that, it will give me a chance to be a Softball Ambassador in the world and help softball get back in the Olympic Games.'' Next year, VanBrunt will not be involved in Chinese softball. ,,But in case I'm not with TTT in 2008, I should be able to come back again with the Chinese team.''
(December 9)
---

Kluijskens MVP 2006; Autry Best Pitcher
Nederlands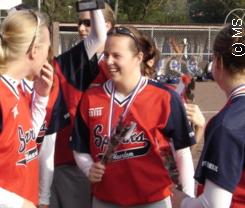 ...Kim Kluijskens...
...Most Valuable Player...
(Photo: Marco Stoovelaar)

ROTTERDAM (Neth.) - Kim Kluijskens has again been named Most Valuable Player of the season, just as last year. The first baseman of Dutch champion Sparks Haarlem was honored Saturday-evening during the annual Awards Evening, which was held in Rotterdam. Crissy Autry, who also played for Sparks Haarlem was named Best Pitcher.

Also honored were the players in some earlier known statistical categories. Kim Kluijskens (Sparks Haarlem) was the Best Hitter with a .477 average (53-for-111), while Blake Hoorelbeke, another player of Sparks Haarlem was the Homerun Queen with five. Marieke Jansen of A4 Terrasvogels won the Award for most Stolen Bases with six. An award was also handed out to Crissy Autry (Sparks Haarlem), the Holland Series MVP.
Sparks' Best Pitchers
1972
Marianne van Ginhoven
1973
Marianne van Ginhoven
1978
Fredy van Offeren
1982
Fredy van Offeren
1986
Fredy van Offeren
1987
Fredy van Offeren
2001
Jacqueline Knol
2002
Rebecca Soumeru
2005
Rebecca Soumeru
2006
Crissy Autry
(Grand Slam * Stats & News / MS)
Nominated for Best Pitcher were Crissy Autry (Sparks Haarlem), Judith van Kampen and Kirsten Scheele (both Terrasvogels). The choice to name Autry wasn't that difficult, as the American righthander led the league with an 0.30 ERA, 17 victories (only two losses), 176 strikouts and the best Won-Lost Percentage. She ranked sixth with 117 2/3 inning. Judith van Kampen had the second best record with 16-2 and also was second in ERA with 0.34 and strikeouts with 128. Kirsten Scheele finished with a 14-2 record and had the third best ERA with 0.98.
Since 2001, four times the Best Pitcher came from Sparks Haarlem. Last season, Rebecca Soumeru won the title. Overall, its the tenth time that the Best Pitcher comes from this team, which was known as HHC before 1991. Terrasvogels holds the record with 15.
Sparks' MVPs
1973
Marianne van Ginhoven
1978
Fredy van Offeren
1979
Betty Veenstra
1984
Fredy van Offeren
1998
Wendy Kort
1999
Jacqueline Knol
2004
Rebecca Soumeru
2005
Kim Kluijskens
2006
Kim Kluijskens
(Grand Slam * Stats & News / MS)
Nominated for Most Valuable Player were Dana Horeman (Terrasvogels), Kim Kluijskens (Sparks Haarlem) and Lindsey Meadows (Computer SOS Tex Town Tigers). With 27, Dana Horeman had the third highest total of RBI's in the league and led her team with this total. Lindsey Meadows had an important role both as a pitcher and offensively in helping Tex Town Tigers reach the Play-Offs. Winner Kim Kluijskens was the league's best hitter with .477, but also scored the most Runs (40) and had the most Hits (53).
It is the record-tying ninth time that the MVP comes from Sparks Haarlem (it shares the record with HCAW) and the third time in a row. For the ninth consecutive year (since 1998), the MVP comes from a Haarlem-area based team. Kim Kluijskens is only the fourth player since the award was handed out for the first time in 1971 who wins the MVP-trophy two years in a row. In 1991-1992, Luciène Geels (Twins) won it two times in a row and from 1993-1995, Anouk Mels was the MVP in three consecutive years, followed by Sandra Gouverneur (Terrasvogels) who won it twice in 2000-01.

The Egbert van der Sluis Memorial Trophy for best national team player under 23 years old was for catcher Ellen Venker (Van der Peijl DSC '74), who played with the Dutch national team in the Canada Cup, World Championships and Japan Cup. Next year, she will play for Euro Stars. The Bep van Beijmerwerdt Trophy for best youth player went to infielder Chantal Versluis (Sparks Haarlem). The Riet Vermaat Trophy for best junior pitcher went to Ginger de Weert from De Zuidvogels.

American Darwin Tolzin, who made his debut this year with A4 Terrasvogels as well as in the Dutch big league was named Coach of the Year for guiding his team to first place in the regular season. The Nol Houtkamp Award for contributions in player development went to Herman Thomas.
(December 9)
---

Sparks to organize European Cup Tournament 2007

Nederlands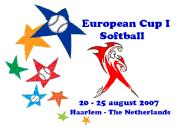 HAARLEM (Neth.) - Sparks Haarlem, which captured the Dutch championship title for the third consecutive year in October, will organize next years European Cup Tournament, which will then be held for the 30th time after the first was being staged in 1978.
The event will take place from Monday, August 20 through Saturday, August 25 with Sparks' homefield at the Noordersportpark being the prime playing site. For the second field, which is necessary for this competition, the Organizing Committee, presided by Sparks' former coach Johan Kluijskens, announced on Tuesday, that it is talking to another Haarlem softball-club.
Dutch cities that hosted
EC-Tournaments
Haarlem
1978, 1979, 1997, 2007
Santpoort
1983, 1990, 2001
Bussum
1994, 1999
Nuenen
1984
Oosterhout
1986
As of now, ten national champions, including of course Sparks, will participate in the European Cup Tournament. During the Congress of the European Softball Federation (ESF) in February in Zagreb (Croatia), it will become clear which teams will come to Haarlem next year. As of now, there will be two poules, existing of five teams each.
Sparks, which captured the Dutch title five times since 2001, won the European Cup in 2003 and 2004.

In July of this year, Macerata from Italy won the European Cup for the second consecutive year and fifth time overall in Bollate (Italy). Of the first 19 events, only one (1991) was one by an Italian team, the other 18 by a Dutch squad. Of the last ten tournaments, only three were won by a Dutch team, with the other seven being won by Italian teams. Overall, this means that Dutch teams won the Cup 21 times, while the other eight were won by Italians.

This will be the first time since 2001 (Santpoort) that the event will be played in the Netherlands again, where the tournament was played ten times before, including the first two (1978, 1979) on next years site at Haarlem. The Noordersportpark last was the location for the European Cup-tournament in 1997.
(December 26)
---

Dutch Softball Men

Ricardo MVP 2006; Visser Best Pitcher
Nederlands
ROTTERDAM (Neth.) - Ciro Ricardo was named Most Valuable Player of the 2006 season. The player of Centrals was honored Saturday-evening during the annual Awards Evening, which was held in Rotterdam. Erwin Visser of DeMo EHS was named Best Pitcher.

Also honored were players who led three statistical categories. Angelo Clemensia of TIW-Survivors was the Batting Champion with a .620 average (31-for-50), while teammate and almost namesake Angelo Clementina was the Homerun King with 10. Just as last year, Julius Veeris of Kokolishi won the award for most Stolen Bases with seven. An award was also handed out to Ed Hoet (Storks), the Holland Series MVP.
Best Pitchers EHS
2001
Glen Moreland
2002
Jesper Panduro
2003
Jesper Panduro
2006
Erwin Visser
(Grand Slam * Stats & News / MS)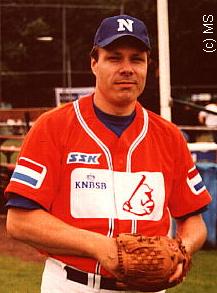 ...Erwin Visser...
...Best Pitcher...
(Photo: Marco Stoovelaar)

Nominated for Best Pitcher were José Guerrero (Kokolishi), Roman Matuska (Centrals) and Erwin Visser (EHS). Guerrero had a 10-3 record and therefore the second best percentage. He finished in third place with a 3.38 ERA. Matuska had a 12-6 record, but led the league with 118 1/3 inning and 167 strikeouts. But veteran Erwin Visser won the award for leading the league with a 2.22 ERA, a 13-3 record (best percentage) and second-best 128 strikeouts.
Since 2001, the award for Best Pitcher went four times to a pitcher from EHS. The last two years it was won by Botswanian pitcher Tony Moyo, who played for Storks.
MVPs since 2002
2002
Kenny Dame
Storks
2003
Michel Groenhart
EHS
2004
Eugene Martha
Thamen
2005
Julius Veeris
Kokolishi
2006
Ciro Ricardo
Centrals
(Grand Slam * Stats & News / MS)
Nominated for Most Valuable Player were Darren Davies (EHS), Ciro Ricardo (Centrals) and Julius Veeris (Kokolishi). There was no real leader this season in the big league. Davies hit 8 homeruns and had 25 RBI's, while batting .477. Last years MVP Veeris scored 27 runs, had 25 RBI's and five homeruns. Winner Ricardo led the league with 31 hits, including five homeruns, was second with a .517 average and had 20 RBI's, but had an important contribution in helping Centrals reach the Play-Offs for the first time.
A remarkable fact is that since 2002, the MVP Award, which was handed out for the first time in 1992, went to a player from a different club annually. The last time, one club won the award in back-to-back years was in 2001 and 2002 when Kenny Dame won it twice as a player of Storks. This is the first time a player of Centrals wins the award.
(December 9)
---


Taiwan wins first Asian Games gold!
Nederlands

DOHA (Qatar) - Taiwan has won the gold baseball medal on the Asian Games, as they closed the 8-day tournament on Thursday with an exciting 8-7 come-from-behind victory against Japan. Before the game, both teams were unbeaten, with this being the last game of the round-robin tournament. There was no final, as the number one in the final standings win the gold. Korea, which won the gold medal four years ago in Busan (Korea), as well as in 1998 in Bangkok (Thailand), again was the favorite, but this time had to settle with bronze. Japan, which won the silver medal, had won the gold medal in 1994 in Hiroshima (Japan), when baseball first was played during the Asian Games. China finished in fourth place, followed by Thailand and the Philippines. Next Sunday, the Asian Games softball-tournament will open with five participating countries. Baseball and softball are two of the 39 sports being played during the Asian Games, which are currently underway in Doha (Qatar) and opened on November 29. The Games will run through December 15.

China participated in Doha with almost the same team as with whom they played two games against the Netherlands before last months Intercontinental Cup-tournament, but without their American coaches Jim Lefebvre and Bruce Hurst. The Philippines also was in Qatar with the same team as during the Intercontinental Cup, but Japan, Korea and Taiwan participated with changed selections. Japan and Korea mostly had players from corporate teams, with only a few who also participated in the Intercontinental Cup. A remarkable fact: there was no player on Korea's roster with the last name Kim, which is a very common name in the Asian country. On Japan's roster were eight players who this Summer participated in the Haarlem Baseball Week in the Netherlands, while Taiwan had three players from the Haarlem-tournament. Taiwan brought at least ten players from the IC-tournament to Qatar and mixed amateur players with professional players, including five who play in the American minor leagues.

While it rained steadily at the Al-Rayyan Baseball and Softball Venue in Doha, Japan was leading 5-2 in the seventh inning when Taiwan started to come back and went on to win the game and the tournament. Japan scored once in the first and twice in the second inning for a quick 3-0 lead, but Taiwan answered with two runs in its third at bat. Japan extended its lead to 5-2 by scoring a run in the sixth and seventh inning. But in the home seventh, Taiwan scored four runs to take a 6-5 lead. In the seventh, Taiwan got the bases loaded on three consecutive singles, after which Japan brought in reliever Yasutaka Hattori, who started against the Dutch team during the Haarlem Baseball Week. However, Hattori started with a runscoring wild pitch, then gave up a 2-run single to Chien-Ming Chang, which tied the score. Hattori was replaced by Kentaro Takasaki (who threw 3 innings in relief in the lost semi-final vs. the Dutch on the Intercontinental Cup), who gave up a sac-fly that gave Taiwan the lead.

In the eighth inning, Japan re-took the lead when Yoshiura Takashi hit a 2-run homerun, but again Taiwan would come back and this time for good. In the home of the ninth inning, Chien-Ming Chang led off with a walk, then moved to third base on an one-out double by Chin-Feng Chen. With runners on second and third, Chih-Sheng Lin (one of the players who was in Haarlem) delivered a 2-run single to win the game and capture the gold medal.
(December 7)
---
International Softball Women

Dates European Championships, Olympic Qualifier announced
Nederlands
European Championships
Year
Site
Champion
1
1979
Rovereto (Ita.)
Netherlands
2
1981
Haarlem (Neth.)
Netherlands
3
1983
Parma (Ita.)
Netherlands
4
1984
Antwerp (Bel.)
Netherlands
5
1986
Antwerp (Bel.)
Italy
6
1988
Hørsholm (Den.)
Netherlands
7
1990
Genoa (Ita.)
Netherlands
8
1992
Bussum (Neth.)
Italy
9
1995
Settimo Torinese (Ita.)
Italy
10
1997
Prague (Cze.)
Italy
11
1999
Antwerp (Bel.)
Italy
12
2001
Prague (Cze.)
Italy
13
2003
Caronno / Saronno (Ita.)
Italy
14
2005
Prague (Cze.)
Italy
15
2007
Amsterdam (Neth.)
AMSTERDAM (Neth.) - Next years 15th European Softball Women Championships Seniors A-Pool will take place earlier then ever before, as the dates for the event are set for May 28 through June 3. The Championship will be organized in Dutch capital Amsterdam at Sportpark Ookmeer, the site of Major League-club Amsterdam Pirates. There is a slight difference of the exact dates, as the European Softball Federation (ESF) states the dates are Sunday, May 27-Saturday, June 2 on its calender, while the magazine of Amsterdam Pirates talks of Monday, May 28-Sunday, June 3. Both are probably right, as May 27 will almost surely be the date for the technical meetings and passport registrations, while June 3 will be an eventual make-up date for the final. Anyhow, the dates of the EC were moved forward to make room for the Olympic Qualifying Tournament, which will be played from June 11-16 in a to be named location in Italy. The European Championships Men Softball will take place July 2-7 in Beveren (Belgium).
Final Standings EC 2005
1
Italy
2
Greece
3
Netherlands
4
Great Britain
5
Russia
6
Czech Republic
7
Germany
8
Sweden
9
Spain
10
Belgium (*)
(*) - relegated
The previous earliest European Championships Women was held in 1995 when the ninth edition of the event opened on June 26 in Settimo Torinese (Italy). Before that date, five tournaments were staged in August, two in September and one in July. Since 1995, the tournament takes places earlier in the year with the first two in June and the last four (since 1999) in July.

It marks only the third time that the European Championships will be organized in the Netherlands. The first time was in Haarlem in 1981, the second time 15 years ago in 1992 in Bussum. Since 1992, reigning champion Italy won the title seven times in a row. So, it's not only time that the tournament comes to the Netherlands again, but that also the European title again will return to the Dutch team, which captured the championship in six of first seven tournaments. The last time, the Dutch team won the title was in 1990 in Genoa (Italy).

When all ten eligible countries will send a team, the field of participants will exist of Czech Republic, Germany, Great Britain, Greece, Italy, Netherlands, Russia, Slovakia, Spain and Sweden. Two years ago, Belgium finished in tenth and last place in Prague (Czech Republic) and relegated to the B-Pool. In that Pool, Slovakia won the title and promoted to the A-Pool.

Next years European Championships B-Pool will be held July 16-21 in Zagreb (Croatia). Besides the European Championships, the A-Pool European Cup Tournament also will be held in the Netherlands. Between August 20-25, Dutch champion Sparks Haarlem will organize the event on its home site on the Noordersportpark in Haarlem.
(December 8)
---


Japan wins softball-gold on Asian Games
Nederlands

DOHA (Qatar) - Japan has won the gold softball-medal of the 15th Asian Games last week, winning the Grand Final vs. Chinese Taipei with a 7-0 shutout, as pitcher Yukiko Ueno threw a 5-inning Perfect Game.
The Asian Games were closed on Friday, December 15. The sixteenth edition of the Asian Games will be held in 2010 in Guangzhou (China).

Japan remained unbeaten in the preliminary round in which it defeated China, Chinese Taipei, People's Republic of Korea (North Korea) and Korea (South Korea). In the game between the two Korea's, the North won 4-1, resulting in the South remaining winless and finishing in last place. In the semi-finals, Japan clinched a spot in the Grand Final after shutting out China, 3-0. North Korea was eliminated by Taiwan, which narrowly won 2-1 and therefore had to play against China to decide the second place for the final. In this game, China held a 7-3 lead after three innings, but lost 10-7. Taiwan came alongside in the fourth inning by scoring four runs. In this inning, Qi Li became the new pitcher for China. Last month, Li threw five innings in which she gave up two hits and was the winning pitcher in the bronze medal game against the Netherlands on the Japan Cup in Yokohama (Japan). This time, Li ran into problems. With one out, she walked a batter, then gave up two singles, which resulted in a run, as an error also was made. Another RBI-single followed to make it 7-5. After a strikeout, Hsueh-Mei Lu delivered a 2-run single which tied the score. In the sixth inning, Taiwan added three more runs. After Tzu-Hui Pan led off with a double, a pitching change followed, but two singles and two errors gave Taiwan three runs and the lead.

In the Grand Final, Yukiko Ueno struckout seven batters and allowed no baserunners in this game, which lasted only five innings, because of the international 7-run difference mercy-rule. Japan opened the score in the first inning by scoring two runs on an RBI-double by Eri Yamada and an RBI-single by Sachiko Ito. Two runs were added in the third inning on RBI-singles by Eri Yamada and Satoko Mabuchi. The latter also contributed in a 3-run fifth inning with a 2-run double, after Rei Nishiyama singled in a run earlier.
(December 21)
---
Thank you for visiting.
Mail your suggestions and questions to stoov@wxs.nl

Last Update: February 24, 2007
Copyright © 1997-2007 Marco Stoovelaar.