Grand Slam
Baseball & Softball Headlines
April 2006
Compiled and Copyright © 1997-2006 by Marco Stoovelaar
Index News Archive APRIL 2006
Miscellaneous


Grand Slam * Stats & News reaches milestone. (April 10)
Dutch Baseball


First loss Almere; Kinheim leads in Nijmegen. (April 1)


Venezuelan pitcher for Pioniers. (April 2)


ADO wins Jan van de Vegte Tournament. (April 2)


Official Scorer Margriet Stolp passed away. (April 2)


Starters named for tournaments. (April 6)


Corendon confirms agreement with Kinheim. (April 5)


Pirates, Sparta/Feyenoord homer to victory. (April 7)


Pirates, Neptunus lead in tournaments. (April 8)


Kinheim, Neptunus win tournaments. (April 9)


Japanese Outfielder for Neptunus. (April 10)


Opening Day Starters & Rosters. (April 13)


Surprising scores on Opening Day. (April 15)


Richard Orman sets record; First win ADO. (April 16)


Japanese pitcher for ADO. (April 18)


Starting pitchers announced. (April 20)


Field of participants announced for Haarlem Baseball Week. (April 20)


Big shutout Neptunus vs. Kinheim. (April 22)


First loss Neptunus; HCAW, Pioniers unbeaten. (April 23)


Pioniers, Neptunus announce starters. (April 26)


Starting Pitchers announced for weekend. (April 27)


Neptunus hands Pioniers first loss. (April 27)


Netherlands, Italy meet in European Baseball Classic. (April 27)


Preliminary Roster Dutch team announced. (April 28)


Big wins HCAW, Pioniers; ADO almost perfect. (April 29)


Another win for HCAW. (April 30)
Dutch Softball Women


Season opens on Saturday. (April 13)


Centrals make debut two wins. (April 15)


2005 Finalists win again. (April 17)


Two more wins for Sparks, Terrasvogels. (April 22)


Soumeru, Gouverneur successful in Italy. (April 27)
Dutch Softball men


Season starts Saturday. (April 13)


Dutch champion opens with two losses. (April 15)


Kokolishi remains unbeaten. (April 22)


Kokolishi remains on top. (April 29)
International Baseball


Royal Greys lead Belgian season. (April 13)


Royal Greys remains unbeaten. (April 20)


Four teams open Italian season with two wins. (April 20)


First loss Royal Greys. (April 26)
International Softball


Seedings World Championships announced. (March 28)
News Archive 2006


January


February


March
---

Miscellaneous

Grand Slam * Stats & News reaches milestone
Nederlands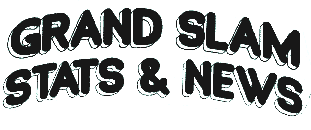 AMSTERDAM (Neth.) - Grand Slam * Stats & News has reached a milestone in its history on Monday, April 10 when the site was visited for the 500.000th time.

Since this site made its debut on the World Wide Web in November 1997, it has set visitors-record every year since. In the three months of this year, new records were set again.
The 500.000th visitor came by somewhere in the afternoon on Monday. As most visitors are coming from The Netherlands, this site has attracted visitors from 117 countries or territories from around the world.

The webmaster thanks all visitors who came by through the years and hopes to see you back soon en route to the one-millionth visitor, as this site is constantly being updated with news, facts and stats about Dutch (and international) baseball and softball.
Grand Slam * Stats & News remains your guide to Dutch baseball and softball.
(April 10)
---

Dutch Baseball

First loss Almere; Kinheim leads in Nijmegen
Nederlands
ALMERE / ROTTERDAM / NIJMEGEN (Neth.) - On Saturday, five exhibition games were played.

At Almere, Konica Minolta Pioniers handed Instant Holland Almere '90 its first loss of the season. The team from Hoofddorp collected 22 basehits, including three homeruns, to win 21-3. Before Saturday, Almere had won three games in a row.

At Rotterdam, Amsterdam Pirates won its second consecutive game, beating Sparta/Feyenoord 5-4.

At Nijmegen, Corendon Kinheim leads after the first day of the annual Jan van de Vegte Memorial Tournament.
Kinheim opened the day with an 8-5 win vs. host De Hazenkamp. In the second game, De Hazenkamp hit three homeruns in the fourth inning to take a 7-1 lead vs. Mr. Cocker HCAW, but the team from Bussum came back and won 11-7. The day was closed with a 2-2 tie between Kinheim and ADO, after Kinheim led 2-0 in the fifth inning.
(April 1)
---

Venezuelan pitcher for Pioniers
Nederlands
HOOFDDORP (Neth.) - Konica Minolta Pioniers announced it has added Venezuelan pitcher Erkly Esteban Hinojosa Viloria to its roster.

The lefthander, 23-year old pitcher played in the Venezuelan League the last five seasons. Pioniers had different options, but Hinojosa's statistics were good, so the club opted for him.
Pioniers plans to use Hinojosa in relief for the first games. ,,After that, we might going to use him as our third starter for the Thursday-evening games'', Head Coach Trevor Rooper said on Sunday.
Hinojosa will arrive around April 15.
(April 2)
---

ADO wins Jan van de Vegte Tournament
Nederlands
NIJMEGEN (Neth.) - On Sunday, ADO for the first time won the annual Jan van de Vegte Memorial Tournament in Nijmegen. The team from The Hague dethroned Mr. Cocker HCAW, which has won the event five times in a row since 2001 and participated for the record 15th time.

The second day of the event started with a 9-2 win by ADO vs. host club De Hazenkamp. Starting pitcher Tjibbe van Dijk pitched four hitless innings, but then De Hazenkamp registered its lone basehit in the fifth inning when Maikel Benner (the regular catcher) took over and pitched one inning.
In the next game, Mr. Cocker HCAW led 3-0 vs. Corendon Kinheim after the first inning when Sidney de Jong hit his third homerun of the exhibition season. Trailing 3-2 in the seventh, Kinheim turned the game around when Dirk van 't Klooster hit a 2-out, 2-run double to win it 4-3.
In the last game of the tournament, ADO won 7-2 vs. Mr. Cocker HCAW to end in a tie for first place with Kinheim. As the game played between the two teams ended in a 2-2 tie on Saturday, ADO won the tournament on its run-ratio, which was the next tie-breaker.

At Hoofddop, Konica Minolta Pioniers handed Instant Holland Almere '90 its second big loss in two days.
Pioniers won 14-2, as three Almere-pitchers combined on 14 walks, while its defense committed eight errors, including five by the third baseman.

At Amsterdam, the two scheduled games for Amsterdam Pirates were both canceled because of heavy rain.
In the morning, Pirates was to play against Montigny Les Cougars from France. In the afternoon, Sparta/Feyenoord was to be their opponent.
(April 2)
---
IN MEMORIAM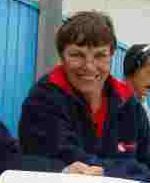 ...Margriet Stolp...
(1945 - 2006)
(Photo:
Marco Stoovelaar)

Official Scorer Margriet Stolp passed away
Nederlands
KROMMENIE (Neth.) - Official Scorer Margriet Stolp passed away on Thursday, March 30. She was only 61 years old.
While Margriet had been ill for awhile, her passing came unexpected and much too soon. The memorial and cremation ceremony was held on Tuesday, April 4 at Driehuis.

Writing these kind of articles are never easy. Especially as it was a great shock to us when we learned of Margriet's passing in the weekend, despite the fact we knew she was ill. Margriet suffered from Amyotrophic Lateral Scleroris (ALS) or Lou Gehrig's Disease, named after the legendary first baseman of the New York Yankees. ALS is an incurable neuromuscular disease. Just like Lou Gehrig, Margriet was modest and never on the foreground. But she became a very valuable member of the scoring corps of the Royal Dutch Baseball and Softball Association (KNBSB), as she scored games in the Dutch Major League for baseball, softball women and softbal men. She was one of those game officials who were always available for games or to fill in when a spot became vacant, even at the last moment.

Margriet, who played softball herself for Cromtigers and Odiz Frogs, made her debut as an Official Scorer on June 8, 1991 in Hoofddorp, scoring the game between Hoofddorp Pioniers and Kinheim. Coincidentally, she also scored her last game in Hoofddorp. On September 20 last year, Margriet scored Game Five of the Play-Offs between Pioniers and HCAW. In her scoring career, she was also assigned to work international games. She participated as an Official Scorer in 14 international tournaments, including the European Championships Seniors Baseball in 1995 and 2003, European Championships Juveniles Baseball in 1999, European Championships Juniors Softball in 2000, European Championships Cadets Baseball in 2002, the Haarlem Baseball Week in 2000 and 2002 and six European Cup Tournaments (baseball and softball). A few years ago, Margriet briefly worked at the Head Office of the KNBSB when it was located in Santpoort.
Margriet was loved by everyone. Not only by her colleague scorers, but also by the clubs to whose games she was assigned. In the beginning of this year, Margriet informed the Head Office and the Scoring Committee that she retired as an Official Scorer after 14 seasons, because of her illness, but had plans to visit games during the season. She wasn't given that time. Margriet Stolp will be missed by all of us.
(April 2)
---

Corendon confirms agreement with Kinheim

Nederlands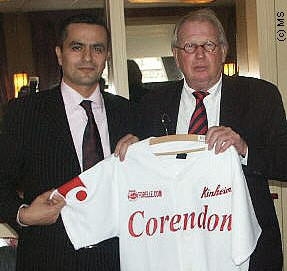 ...Atilay Uslu (left) and Peter Jager...
...show the new Kinheim-shirt...
(Photo: Marco Stoovelaar)

HAARLEM (Neth.) - On Wednesday-evening, Corendon and Kinheim officially became partners for the coming three seasons, as a sponsor contract was signed in the 'Backstop', the home of Kinheim in the Haarlem Pim Mulier Stadium. The signing ceremony was attended by members of the 'Friends of Kinheim', the business club of the Haarlem-based organization.

It already was announced that Corendon was to sponsor Kinheim. During the exhibition games, the name already was readable on the shirts of the players. But the contracts still had to be signed and that officially happened on Wednesday. The contracts were signed by Atilay Uslu, the Director of Corendon B.V. and Peter Jager, Chairman Topsport of Kinheim.

Corendon (and Corendon Airlines), which is active since 2000, is specialized in low cost holiday travel to Turkey, as well as golf trips to this popular holiday country. Corendon, a Turkish company, has its Head Office in Haarlem (Netherlands) and other offices in Brussels (Belgium), DŁsseldorf (Germany), Antalya, Bodrum and Istanbul (Turkey). In the past, Corendon also sponsored soccer, but now choose baseball. ,,Our market is families and family holiday trips. With soccer you see less women in attendance than in baseball, thus less families, so this completes each other and that's the business-side of this agreement'', Mr. Uslu explains why his company sponsors a baseball club. ,,On the other side, I was made enthousiastic by co-workers within the company for baseball.''

Corendon was welcomed as main sponsor by Peter Jager, who also announced that Randstad Uitzendbureau became one of the subsponsors of the club. Jager also said that there are high expectations this season for Kinheim, which acquired strong players in the off-season and is mentioned as one of the serious contenders for the Dutch title.

Baseball also is being played in Turkey. In 2001, the Turkiye Beyzbol Federasyonu was founded. This year, the Turkish national team participates in the European Championships Seniors Qualifier in Moscow (Russia), while the national Cadets Team participates in the European Championships Cadets Qualifier in Utena (Lithuania).
(April 5)
---

Starters named for tournaments
Nederlands
AMSTERDAM (Neth.) - Starting on Friday, the final preparations begin for the upcoming season, which opens on Saturday, April 15.
This weekend, the final exhibition games are played on two annual tournaments, one in Bussum, one in Rotterdam, in which the eight Dutch big league-teams are participating.

At Bussum, Mr. Cocker HCAW organizes its annual In Memoriam Charles Urbanus Sr. Tournament with participation of Amsterdam Pirates, Corendon Kinheim and Konica Minolta Pioniers.
The opening game on Friday-evening between HCAW and Pirates will be an interesting match-up as two brothers will face each other. RHP Nick Stuifbergen will start for HCAW, while his brother RHP Tom Stuifbergen takes the mound for Pirates.
On Saturday, RHP Jurjen van Zijl will make his first exhibition-start for HCAW, as he will face Pioniers.
Kinheim will use the same three starters it used last weekend during the Jan van de Vegte Memorial Tournament in Nijmegen.
Pioniers assigned rookie RHP Erik Jan Lind to his first start of the season on Saturday. He will face RHP Pim Walsma, who also makes his first start for Pirates.

At Rotterdam, Sparta/Feyenoord organizes its annual Hudson John Tournament with participation of ADO, Instant Holland Almere '90 and reigning Dutch champion DOOR Neptunus.
Hudson John, the legendary player of the sixties and seventies, who played for Sparta and gave his name to the tournament, will be in the opposing dug-out on Friday-evening, as he is the Bench Coach for ADO, which opens the tournament against Sparta/Feyenoord.
On Saturday, Japanese RHP Satoru Fujii will make his first start for Sparta/Feyenoord. The righthander arrived last weekend, but didn't pitch yet for the team where he also played last season.
ADO also has a pitcher in the rotation who makes his first start, being RHP Jimmy Summers, who also is the Manager for the The Hague-team. Summers will throw against Neptunus on Saturday.
For Neptunus, two pitchers will make their first exhibition start. LHP Gregory Gustina starts on Saturday vs. Almere, while LHP Diegomar Markwell starts on Sunday vs. Sparta/Feyenoord. Markwell arrived earlier in the week in Rotterdam.
Almere uses three pitchers who already started before, but LHP Nick Veltkamp's start was three weeks ago, on March 19. He will start in Almere's first game on Saturday vs. Neptunus.
(April 6)
---

Pirates, Sparta/Feyenoord homer to victory
Nederlands
BUSSUM / ROTTERDAM (Neth.) - Amsterdam Pirates and Sparta/Feyenoord both won their opening game on two annual tournaments on Friday-evening thanks to a homerun.

At Bussum, Amsterdam Pirates led 3-0, but saw Mr. Cocker HCAW come alongside in the seventh. In the eighth, Pirates re-took the lead on a homerun to win 4-3 in the opening game of the In Memoriam Charles Urbanus Sr. Tournament.

At Rotterdam, Sparta/Feyenoord trailed 1-0, came alongside, then took the lead on a homerun en route to a 5-1 win vs. ADO in its opening game of the Hudson John Tournament.
(April 7)
---

Pirates, Neptunus lead in tournaments
Nederlands
BUSSUM / ROTTERDAM (Neth.) - Amsterdam Pirates and DOOR Neptunus are the leaders after two days of playing in the annual tournaments in Bussum and Rotterdam that form the final preparations for the eight Dutch big league-teams for the upcoming season.
One day is left in both the two tournaments as well as the exhibition season. In both tournaments, the winner will be decided on Sunday, but in Bussum there will also be a decision on which team wins the exhibition season. The next games for the teams after Sunday are scheduled for next Saturday, April 15, which is Opening Day.

At Bussum, Sunday-morning's game between Amsterdam Pirates and Corendon Kinheim will be decisive for two reasons. It is not only of influence on who will win the In Memoriam Charles Urbanus Sr. Tournament, but also which team will win the exhibition season. When Pirates wins, it will win both the tournament and the exhibition season. When Kinheim wins, it also wins the exhibition season, but doesn't secures yet the tournament win.
On Saturday, Pirates won its second game of the event, beating Konica Minolta Pioniers, 2-1. Tyson Arishenkoff hit his second homerun in two days, while starter Pim Walsma pitched five shutout innings and gave up no hits.
In the afternoon, Kinheim trailed 1-0 vs. Mr. Cocker HCAW, came alongside in the sixth, then rallied for five runs in the seventh to win 6-1.
In the morning, the game between Kinheim and Pioniers rained out and was re-scheduled for Sunday-afternoon.

At Rotterdam, Neptunus and Sparta/Feyenoord will face each other on Sunday-afternoon in the last game of the Hudson John Tournament, with the winner taking first place.
On Saturday, Neptunus won twice. First, the Dutch champion won 6-2 vs. ADO, which scored both runs on homeruns.
Next, Neptunus led 8-0 in the seventh inning vs. Instant Holland Almere '90, which then rallied for seven runs, but eventually lost 11-7.
In the third game on Saturday, Almere and Sparta/Feyenoord played a 4-4 tie.
(April 8)
---

Kinheim, Neptunus win tournaments
Nederlands
BUSSUM / ROTTERDAM (Neth.) - Corendon Kinheim for the first time won the In Memoriam Charles Urbanus Sr. Tournament in Bussum, while DOOR Neptunus was the winner of the Hudson John Tournament, just like last year. Both teams went unbeaten in three games.

At Bussum, Kinheim shutout Amsterdam Pirates, 7-0, then won 7-1 vs. Konica Minolta Pioniers to win the tournament.
At the end of Day Three, organizer Mr. Cocker HCAW shutout Pioniers, 2-0.

At Rotterdam, DOOR Neptunus won the first prize by winning 7-1 vs. host Sparta/Feyenoord.
The day started with an 8-0 shutout win by ADO vs. Instant Holland Almere '90.
(April 9)
---

Japanese Outfielder for Neptunus
Nederlands
ROTTERDAM (Neth.) - A week before the start of the new season, DOOR Neptunus added Japanese Outfielder Yuji Nerei to its roster. The 32-year old lefthander hitter arrives next Friday, in time for the Opening Weekend in which Neptunus plays vs. Amsterdam Pirates.
Earlier, Neptunus came to an agreement with Czech pitcher Leoö KubŠt. The righthander went home after a trial period end on March 29, but he will part of Neptunus' staff this season. The Czech national team-pitcher also will be in Rotterdam in time for the new season.

Yuji Nerei, who comes from Kanagawa in Japan, came to the USA in the early nineties and tried out for the Toronto Blue Jays, but they didn't sign him. After returning back to Japan, he played for Hosei University. Having not played professionally before Nerei signed a minor league-contract with the Montreal Expos when he was 26 years old in January 2000 after being 'discovered' on 'Playball' Baseball Academy in Florida. In that year, he started in Single-A, moved to Double-A and was promoted to Triple-A where he played in 56 games for the Ottawa Lynx. After the season, he was released by the Expos.
Since 2001, Nerei played in different Independent Leagues, such as the Canadian Baseball League (London Monarchs), Northeast League (Elmira Pioneers) and Northern League (St. Paul Saints). Besides that, he played one season in the Mexican League (Puebla Parrots).
Nerei can play in the outfield as well as on 1st Base. Last season, he primarily played at first base when he was with the Japan Samurai Bears, a team compiled of Japanese players in the USA. The team played in the inaugural season of the Golden Baseball League in which former Major Leaguer Rickey Henderson played for the San Diego Surf Dawgs. Nerei, who was a player/coach with the Bears, appeared in 86 games, batted .282 with 5 homeruns and had 50 RBI's. As a coach, he assisted Manager Warren Cromartie, a former Major Leaguer (Montreal Expos, Kansas City Royals), who also played six seasons in Japan for the Tokyo Yomiuri Giants.
(April 10)
---

Team Previews
Nederlands
AMSTERDAM (Neth.) - With less than two months to go before the first exhibition game is scheduled and exactly three months before Opening Day, Grand Slam * Stats & News starts its annual series of team previews, as the new season is now approaching fast.
Last year, the series was published right after the transferperiod in November, but this time it is moved to January, as teams are preparing for the new season and started their indoor practices. In the series, the eight teams that play in the Dutch Major League will be previewed. A look ahead to a probable starting line-up will be provided, as well as how the teams are looking at the moment.

The series opens today (Sunday) with Dutch champion DOOR Neptunus.
Following Neptunus will be the other teams in order of their 2005 ranking: Mr. Cocker HCAW, Konica Minolta Pioniers, Sparta/Feyenoord, Corendon Kinheim, ADO, Amsterdam Pirates and Instant Holland Almere '90.
(April 11)

Preview DOOR Neptunus (January 15)
Preview Mr. Cocker HCAW (January 21)
Preview Konica Minolta Pioniers (February 5)
Preview Sparta/Feyenoord (March 2)
Preview ADO (March 11)
Preview Corendon Kinheim (March 19)
Preview Amsterdam Pirates (March 27)
Preview Instant Holland Almere '90 (April 11)
---

Opening Day Starters & Rosters
Nederlands
AMSTERDAM (Neth.) - Opening Day is around the corner. The exhibition season has ended and now its playing for real with the first regular season games being scheduled in the Easter Weekend on Saturday and Sunday. There are no games scheduled for Monday.
Since Quick Amsterdam captured the first-ever Dutch title in 1922, the teams will start the 85th consecutive season on Saturday en route to a new national championship.

Reigning champion DOOR Neptunus will defend the title, which it has won a record seven times in a row since 1999. But the exhibition games already underscored that everything seems to be possible this year and that all teams can win from each other. It proved that the eight teams in the highest league are more balanced than in previous years, meaning the season will be attractive and unpredictable.
Coming up is Opening Day Weekend with the eight teams playing a 2-game series, meeting each other twice on Saturday and Sunday.
The starting pitchers have been announced, as well as the Opening Day Rosters. Everyone is ready for an exciting and interesting new season.

DOOR Neptunus opens the season on Saturday at Amsterdam Pirates and sends lefthander Diegomar Markwell to the mound, who will face RHP Tom Stuifbergen. On Sunday, youngsters RHP Kevin Heijstek (Neptunus) and RHP Pim Walsma (Pirates) got the assignment.

Mr. Cocker HCAW starts the season with three suspended players: RHP Nick Stuifbergen, SS Ralph Milliard and Utility Rodney Michel. HCAW named RHP Patrick de Lange its Opening Day-starter ot face Instant Holland Almere '90, the team he pitched for last season, while RHP Jurjen van Zijl starts on Sunday. Almere '90 will start with RHP Forstin Coenraad (Saturday) and LHP Nick Veltkamp (Sunday).

Konica Minolta Pioniers will go with veterans RHP Roger Kops (Saturday) and LHP Richard Orman (Sunday) against Sparta/Feyenoord, which named RHP Daan Baecke (Saturday) and RHP Satoru Fujii (Sunday) as its starters. Richard Orman will go after his 114th career victory on Sunday to set an All-Time record for lefthanded pitchers. He now shares the record with Craig McGinnis. Pioniers announced its Venezuelan LHP Erkly Esteban Hinojosa Viloria will arrive on April 24.

LHP Patrick Beljaards will start the opening game of the season on Saturday at home for Corendon Kinheim, facing ADO, whose Field Manager Jimmy Summers takes the mound himself. On Sunday, ADO's ace RHP Rob Cordemans throws at home vs. Kinheim, which named RHP David Bergman to start that match-up.

The First Division opens its season on Friday-evening with the game between Sparta/Feyenoord 2 and Mr. Cocker HCAW 2 at Rotterdam. On Saturday and Sunday, 17 more games will follow in that league.
(April 13)
---

Surprising scores on Opening Day
Nederlands
AMSTERDAM (Neth.) - The season for the 85th Dutch national title opened on Saturday, April 15 with four games.
The scores underscored what have been said already before, that teams are more equal and balanced and it will be an interesting season.

At Amsterdam, Amsterdam Pirates led 1-0 after seven innings vs. Dutch champion DOOR Neptunus, but eventually lost 3-1.
A recap of this game was broadcasted on NOS Studio Sport on Saturday-evening between 9:35 and 10:35 PM on Nederland 2 (channel 2) with commentary by Charles Urbanus.

At Rotterdam, Sparta/Feyenoord trailed 1-0 vs. Konica Minolta Pioniers, came alongside, but lost 3-2.
At Haarlem, Corendon Kinheim started well with a surprisingly big shutout, 10-0, vs. ADO, whih had gained strenghth in the off-season.
At Almere, Mr. Cocker HCAW also won big vs. Instant Holland Almere '90, 9-1.
(April 15)

Game Recaps, Line Scores & Box Scores
---

Richard Orman sets record; First win ADO
Nederlands
HOOFDDORP (Neth.) - Richard Orman became the All-Time leader in victories by a lefthanded pitcher on Sunday, as he registered his 114th career win in a 4-0 shutout by Konica Minolta Pioniers vs. Sparta/Feyenoord.

At The Hague, after a surprisingly big 10-0 shutout loss on Saturday, ADO came back with a 3-2 win on Sunday vs. Corendon Kinheim.
After trailing 2-0, ADO came alongside and scored the winning run in the eighth inning.

At Rotterdam, DOOR Neptunus trailed twice vs. Amsterdam Pirates, then broke a 5-5 tie in the fifth inning and went on to win 16-6.
At Bussum, Mr. Cocker HCAW led only 5-4 vs. Instant Holland Almere '90 when it rallied for six runs in the fifth inning en route to a 17-7 victory.
(April 16)

Game Recaps, Line Scores & Box Scores
---

Japanese pitcher for ADO

Nederlands
THE HAGUE (Neth.) - ADO has added Japanese pitcher Akira Okamoto to its roster. The 32-year old righthander (he turns 33 in May) will arrive at the end of the week, making him eligible to pitch coming weekend against Instant Holland Almere '90.

Okamoto had a succesfull professional career in Japan, where he pitched for the Osaka Kintetsu Buffaloes in the Nippon Professional Baseball League. He made his debut for the Buffaloes in 1997 and was used as both starter and reliever. He threw almost 800 innings on the highest level in Japan.

In October 2002, Okamoto was part of history, when Alex Cabrera of the Seibu Lions hit a homerun off him in the ninth inning. The homerun was the 55th for Cabrera that season and tied the single-season record which was set in 1964 by legendary Sadaharu Oh and equaled in 2001 by Tuffy Rhodes.

Okamoto will be the third Japanese player this season in the Dutch big league. The others are RHP Satoru Fujii (Sparta/Feyenoord) and OF Yuji Nerei (DOOR Neptunus).
(April 18)
---

Starting Pitchers announced
Nederlands
AMSTERDAM (Neth.) - The starting pitchers have been announced for the second weekend of play in the Dutch big league.

Since this also will be a 2-game series, most coaches come back with the same starters as last weekend. Konica Minolta Pioniers, Mr. Cocker HCAW, Sparta/Feyenoord and Corendon Kinheim all will use their starters of last weekend in the same order. Amsterdam Pirates uses the same starters also, but in a reversed order. DOOR Neptunus is going with LHP Diegomar Markwell in the first game, just as last weekend, but hasn't announced a starter for Sunday yet.

ADO and Instant Holland Almere '90, who will meet each other, have made changes to their rotations. ADO, which opened the season with RHP Jimmy Summers and started RHP Rob Cordemans the next day, will use two pitchers who threw last Sunday. Cordemans now will start on Saturday, while rookie RHP Jurrian Koks, who won in relief in the second game, starts on Sunday.
Almere assigned RHP Forstin Coenraad again for the Saturday-game, but named a surprise starter for Sunday's game, as RHP Renť Rijst takes the mound. The veteran will start his first game in the big league since June 10, 2003 when he went the distance against Kinheim and lost 2-0. Since then, he threw 29 games in relief in the 2004 and 2005 seasons combined. He did start more games in the 2003 season, but that was when he played with Almere in the promotion/relegation pool in the second part of the season. Rijst was a regular starter in the eighties, but has been used primarily in relief since 1989. In the last eight seasons, Rijst appeared in 128 games, but started only six of them!
(April 20)
---

Field of participants announced for Haarlem Baseball Week
Nederlands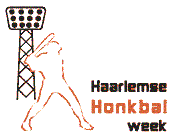 HAARLEM (Neth.) - The organization of the bi-annual Haarlem Baseball Week has announced its field of participants for this years 23rd edition.
A week after it confirmed the participation of The Netherlands, Chinese Taipei and Japan the Organizing Committee announced the remaining three national teams for the 10-day event, which will takes place July 21-30 in the historic Pim Mulier Stadium in Haarlem.
Two years ago, the Dutch team won the event for the first time in history.
The national team of The Netherlands will meet three teams from Asia in this years event. Besides Chinese Taipei and Japan, China will complete the Asian trio. Also participating will be Cuba and the USA. This years field of participants is one of the strongest ever.

Japan comes to Haarlem for the eighth consecutive time and ninth time overall. It first participated in 1978, then returned every tournament since 1992. Japan won the event in 1978, 1992 and 1994.

Cuba is participating in its sixth Baseball Week in a row since 1996 and its tenth overall. The team won the event in 1972 and 1974 when it participated in its first two tournaments. It also won in 1996 and 1998.

Chinese Taipei is another frequent visitor and will play in its fourth consecutive HBW and seventh overall. Taipei never won the event.

The United States, which will send its official national amateur team, comes to Haarlem for the fourth time. It has won the event everytime it participated: 1980, 2000 and 2002.

China, which is one of the growing baseball countries in Asia and will organize the 2008 Olympic Games, will be present for the first time in the Haarlem Baseball Week.

The Netherlands participated in all Baseball Weeks, since the first was organized in 1961.
(April 20)
---

Big shutout Neptunus vs. Kinheim
Nederlands
ROTTERDAM (Neth.) - DOOR Neptunus opened the second (chilly) weekend of play with a big 10-0 shutout vs. Corendon Kinheim on Saturday. Neptunus collected 15 basehits, including four by Benjamin Dille. Diegomar Markwell went the distance foor the Rotterdam-club.

At Hoofddorp, Konica Minolta Pioniers scored enough runs in the beginning and end of their game against Amsterdam Pirates to win 12-2. Three Pirates-pitchers issued eleven walks.

At Bussum, Mr. Cocker HCAW had two 4-run rallies to defeat Sparta/Feyenoord, 8-1.

At The Hague, Rob Cordemans won his first game in a new uniform, as ADO won 6-1 vs. Instant Holland Almere '90.
(April 22)

Game Recaps, Line Scores & Box Scores
---

First loss Neptunus; HCAW, Pioniers remain unbeaten
Nederlands
HAARLEM (Neth.) - With an 11-8 victory, Corendon Kinheim handed DOOR Neptunus its first loss of the season on Sunday. Trailing 7-3, Kinheim rallied for eight runs in the sixth inning to win the game.

At Amsterdam, Konica Minolta Pioniers scored four unearned runs to win 4-1 vs. Amsterdam Pirates and remain unbeaten after four games.

At Rotterdam, Mr. Cocker HCAW also won its fourth game in a row, nipping Sparta/Feyenoord, 3-2.

At Almere, Instant Holland Almere '90 won its first game of the season, beating ADO 5-4 in the last inning.
(April 23)

Game Recaps, Line Scores & Box Scores
---

Pioniers, Neptunus announce starters
Nederlands
HOOFDDORP / ROTTERDAM (Neth.) - Konica Minolta Pioniers and DOOR Neptunus will open a 3-game series on Thursday-night in Rotterdam.
This is the first 3-game series of the season. The first match-up between the two teams is a game that has been moved to an earlier date to make room in June when Neptunus (Champions' Cup) and Pioniers (CupWinners Cup) participate in the European Cup-tournaments.

Pioniers has announced its rotation for the three games, while Neptunus only announced the starter for the first game.
On Thursday, Pioniers send LHP DaniŽl Overbeek to the mound, who will face RHP Kevin Heijstek.

Last Monday, Venezuelan pitcher Erkly Esteban Hinojosa Viloria arrived in Hoofddorp. The lefthander, coming from 30 degrees Celsius and recovering from a jet-lag, participated in the team's practice session on Tuesday-evening. Hinojosa, who will be used as a reliever, is available to pitch on Thursday-evening, if needed.
(April 26)
---

Starting Pitchers for weekend announced
Nederlands
AMSTERDAM (Neth.) - Most starting pitchers for the upcoming games in the weekend have been announced, but there are some open spots.

Because of different reasons DOOR Neptunus and Amsterdam Pirates have not announced all their starters yet. Therefore it is always possible that announced starters can change on specific game days due to a variety of reasons. It seams that most teams have some small problems with their pitching staff so far after two weeks of competition. Including Thursday-evening's game, 48 different pitchers have issued 150 walks so far in the 17 games played so far. The league ERA is 4.59. The most successful staffs so far are the ones of Mr. Cocker HCAW and Konica Minolta Pioniers. But on Thursday-evening, four Pionier-pitchers gave up eight earned runs and walked eleven batters. In its first four games, Pioniers had given up only one earned run.

There will be an interesting match-up next Sunday when Japanese pitchers RHP Satoru Fujii and RHP Akira Okamoto will face each other in the second game between Sparta/Feyenoord and ADO. On Saturday, RHP Elton Koeiman will make his first start of the season for Sparta/Feyenoord.
All other named pitchers have started before this season. Corendon Kinheim and Instant Holland Almere '90, who will face each other, will use the same starters as last weekend, but in a reversed order.
(April 27)
---

Neptunus hands Pioniers first loss
Nederlands
ROTTERDAM (Neth.) - DOOR Neptunus on Thursday-evening handed Konica Minolta Pioniers its first loss of the season. With the 8-1 victory, Neptunus broke the 4-game winning streak of Pioniers.
While Pioniers outhit Neptunus 10-8, four Pionier-pitchers issued eleven walks, which contributed to eight earned runs.
Mr. Cocker HCAW is now the lone unbeaten team in the league.
(April 27)

Game Recap, Line Score & Box Score
---


Netherlands, Italy to meet in European Baseball Classic
Nederlands
NIEUWEGEIN (Neth.) / ROME (Italy) - The Federations of the Netherlands and Italy have confirmed that the national baseball teams of both countries will meet each other annually in a new series of games, which was given the name European Baseball Classic.

The inaugural edition of this event will be held in July of this year with a series of six games.
On July 7, 8 and 9, the Dutch and Italian teams will play three games in Rotterdam.
On July 10, 11 and 12, the two national squads are playing against each other in Italy. The site or sites for these games have not been announced yet.

The series underscores a strenghtening of cooperation between the two leading baseball countries in Europe and has to lead to more events on a high level. Major League Baseball supports the European Baseball Classic.
There are possibilities that a same kind of series will be organized in then future for the national women softball-teams of the two countries.
(April 27)
---

Preliminary Roster Dutch team announced
Nederlands
NIEUWEGEIN (Neth.) - Manager Robert Eenhoorn has announced the names of 24 players who are on the preliminary roster for the Dutch National Team. Nineteen players participated with the national team last month in the World Baseball Classic.
There are three new players on the roster, who will make their debut in the national team when they make the final selection: RHP Tom Stuifbergen (Amsterdam Pirates), RHP Jurjen van Zijl (Mr. Cocker HCAW) and Catcher Mark Duursma (Konica Minolta Pioniers).
RHP Kenny Berkenbosch, who currently plays in the outfield for Mr. Cocker HCAW, also will make his official international debut. But he already was a member of the Dutch squad that participated in the World Baseball Classic in March, but then he didn't play. In did appear in an exhibition game in Florida during the preparations for the Classic.
Two players are returning to the national squad: Catcher Tjerk Smeets (Corendon Kinheim), who was a member of the team that captured the European title last year in the Czech Republic and Outfielder Bryan Engelhardt (Instant Holland Almere '90). He last played for the national team in 2004. Last year, he missed because of an injury. He was on the preliminary roster for the WBC earlier this year, but didn't made he final roster.
Most players are coming from Corendon Kinheim, which has five players on the squad. ADO, DOOR Neptunus and Mr. Cocker HCAW have four national team-players. Three players will represent Instant Holland Almere '90 and Konica Minolta Pioniers, while Amsterdam Pirates has one player on the Dutch roster. The lone big league-team without a national team-player is Sparta/Feyenoord.

The first action for the Dutch national team will be early July when it will participate in the inaugural European Baseball Classic. This will be a 6-game series between the Netherlands and Italy, with three games being played in both countries.
Later in the month, the Dutch team is one of six participating teams in the 23rd Haarlem Baseball Week, which takes place from July 21-30. In November, the Dutch team is participating in the Intercontinental Cup-tournament in Chinese Taipei.
(April 28)
PRELIMINARY ROSTER
Pitchers (11)
Club
Int. Games
Catchers (3)
Club
Int. Games
David Bergman
Corendon Kinheim
11
Mark Duursma
Konica Minolta Pioniers
-
Kenny Berkenbosch
Mr. Cocker HCAW
-
Sidney de Jong
Mr. Cocker HCAW
66
Rob Cordemans
ADO
48
Tjerk Smeets
Corendon Kinheim
7
Robin van Doornspeek
ADO
20
Dave Draijer
Konica Minolta Pioniers
43
Infielders (4)
Club
Int. Games
Gregory Gustina
DOOR Neptunus
7
Ivanon Coffie
Instant Holland Almere '90
42
Michiel van Kampen
Corendon Kinheim
29
Michael Duursma
Konica Minolta Pioniers
30
Diegomar Markwell
DOOR Neptunus
12
Percy Isenia
ADO
117
Nick Stuifbergen
Mr. Cocker HCAW
7
Raily Legito
DOOR Neptunus
128
Tom Stuifbergen
Amsterdam Pirates
-
Jurjen van Zijl
Mr. Cocker HCAW
-
Outfielders (6)
Club
Int. Games
Johnny Balentina
DOOR Neptunus
139
Coaching Staff
Bryan Engelhardt
Instant Holland Almere '90
36
Robert Eenhoorn
Field Manager
Eugene Kingsale
Instant Holland Almere '90
34
Brian Farley
Bench / Pitching Coach
Dirk van 't Klooster
Corendon Kinheim
144
Marcel Joost
1B / Hitting Coach
Harvey Monte
ADO
75
Ben Thijssen
3B Coach
Danny Rombley
Corendon Kinheim
44
Team Staff
Kees Sleegers
Business Manager
Rob Tamminga
Physical Therapist
Frans Bergman
Equipment Manager / Video
Steve Matthew
Scout
Duco Abspoel
Press Affairs
---

Big wins HCAW, Pioniers; ADO almost perfect
Nederlands
AMSTERDAM (Neth.) - League-leader Mr. Cocker HCAW remained unbeaten on Saturday won won big vs. Amsterdam Pirates, 14-2. Leading 6-2, HCAW rallied for eight runs in the ninth inning to increase its lead.

At Hoofddorp, Konica Minolta Pioniers recovered from Thursday's loss and came back to win comfortably against DOOR Neptunus, 11-2.

At Rotterdam, ADO almost had a Perfect Game against Sparta/Feyenoord and won only 1-0.
Starting pitcher Rob Cordemans gave up only one hit in the seven innings he pitched. Moments later, the runner was caught stealing. All other Sparta/Feyenoord-batters were retired. Jimmy Summers and Robin van Doornspeek completed the game.

At Almere, Instant Holland Almere '90 lost to Corendon Kinheim 13-4 on Saturday-evening. Kinheim had 12 hits, including a grand slam homerun by Denny Beljaards.
(April 29)

Game Recaps, Line Scores & Box Scores
---

Another win for HCAW
Nederlands
BUSSUM (Neth.) - Mr. Cocker HCAW won its sixth game in a row on Sunday to remain the unbeaten league-leader. The Bussum-team on Sunday won big vs. Amsterdam Pirates, 12-1.

At Rotterdam, DOOR Neptunus failed to hold onto a lead twice, but won 9-8 in the ninth inning vs. Konica Minolta Pioniers.

At The Hague, ADO scored twice in the ninth inning to defeat Sparta/Feyenoord and win a match-up between two Japanese pitchers.

At Haarlem, Corendon Kinheim shutout Instant Holland Almere '90, 7-0.
(April 30)

Game Recaps, Line Scores & Box Scores
---

Dutch Softball Women

Season opens on Saturday
Nederlands
AMSTERDAM (Neth.) - Coming Saturday, April 15, the new softball women season will open.

Eight teams not only will play a 35-game schedule, but may set a record for the longest season ever. At the end of the regular season, the top-four meets in the best-of-five Play-Offs, followed by the best-of-five Holland Series. When these series go all the way, Game Five of the Holland Series is scheduled for Sunday, October 22 (!), which will be the latest date in history to play a game. Last year, the season ended on October 8.
No games are scheduled in August, when the Dutch National Team prepares for and participates in the World Championships in Beijing (China). The new season opens with two double-headers in the Easter Weekend, one scheduled for Saturday, the other for Monday.

Defending champion Sparks Haarlem opens the season on Saturday at home vs. Twins. On Monday, it will against Van der Peijl DSC '74, which is also from Haarlem. Sparks Haarlem has to do this season without RHP Rebecca Soumeru, who left the team in February to play in Italy, where she will wear the shirt of Macerata. Last year, she was named Best Pitcher in the Dutch big league.

Last years runner-up A4 Terrasvogels opens the season on the road in Enschede to face Computer SOS Tex Town Tigers. They will play at home on Monday vs. Centrals, which will make its big league-debut. The team takes the place of Amsterdam Pirates, which relegated last season to the First Division after having played 15 consecutive seasons on the highest level. Terrasvogels also will miss an important player this season, as Infielder Sandra Gouverneur also will play in Italy this season. She is going to play for Nuoro.
(April 13)
---

Centrals make debut with two victories
Nederlands
AMSTERDAM (Neth.) - The softball women season opened on Saturday with a surprise, as Centrals made its big league-debut with two victories.

At De Bilt, Centrals opened the new season with a 1-0 win in the eighth inning vs. Van der Peijl DSC '74. In Game Two, the debuting team added a 3-1 win, including two runs on a homerun by FabiŽnne Stuart. Pitcher Randi Nelson won both games.
At Haarlem, Dutch champion Sparks Haarlem began the new season with two shutout-wins vs. Twins, 4-0 and 7-0.
At Enschede, A4 Terrasvogels won twice vs. Computer SOS Tex Town Tigers, 4-0 and 5-1. In the opener, veteran Nicole Wessels came out of retirement and played at second base for Terrasvogels.
At Capelle a/d IJsel, Euro Stars defeated Birds twice, 4-1 and 5-1.
(April 15)

Game Recaps, Line Scores & Box Scores
---

2005 Finalists win again
Nederlands
AMSTERDAM (Neth.) - On Monday, Sparks Haarlem and A4 Terrasvogels, the two finalists of last season, also won their second double-header of the season.

At Santpoort, Terrasvogels won 1-0 in the tie-break vs. Centrals, then won Game Two easily 12-3.
At Haarlem, Jolanda Kroesen homered twice to lead Sparks Haarlem to a 10-3 and 7-0 win vs. Van der Peijl DSC '74, the only winless team.
At Zoetermeer, Computer SOS Tex Town Tigers won its first game of the season, winning 4-2 vs. Birds, which then won its first game, 3-1.
At Oosterhout, Twins won twice vs. Euro Stars, 3-2 and 4-2.
(April 17)

Game Recaps, Line Scores & Box Scores
---

Two more wins for Sparks, Terrasvogels
Nederlands
CAPELLE a/d IJSSEL / HAARLEM (Neth.) - League-leaders Sparks Haarlem and A4 Terrasvogels both added two victories on Saturday to remain unbeaten.

At capelle a/d IJssel, Sparks Haarlem shutout Euro Stars, 9-0 and 4-0. Blake Hoorelbeke homered for Sparks.

At Haarlem, A4 Terrasvogels, where Nina van Huissteden homered, won 7-0 and 8-2 vs. Van der Peijl DSC '74, which remained winless.

At De Bilt, Centrals again won twice, this time against Birds, 5-4 (in the tie-break) and 5-1.

At Enschede, Computer SOS Tex Town Tigers needed an extra inning to win 1-0 vs. Twins, then won Game Two, 3-1.
(April 22)

Game Recaps, Line Scores & Box Scores
---


Soumeru, Gouverneur successful in Italy
Nederlands
MACERATA / NUORO (Italy) - Dutch players Rebecca Soumeru and Sandra Gouverneur have successfully began their new season in Italy. Besides these two Dutch national team-players, Belgian international Brenda De Blaes also plays in Italy.
STANDINGS
W
L
1
DES Caserta
6
2
Fabi Macerata
6
2
3
Terra Sarda Nuoro
5
3
4
Fiorini Forlž
4
4
L'Albero d'Argento Old Parma
4
4
Rhea Vendors Caronno
4
4
Sanotint Bollate
4
4
Team Axia New Bologna
4
4
9
AGMA Legnano
2
6
10
Giovanne Porpetto
1
7
Righthanded Pitcher Rebecca Soumeru, who last year led Sparks Haarlem to the Dutch title and was named Best Pitcher of the league, is 3-1 after four weekends of playing with Fabi Macerata.
Since opening the season on April 1, Macerata has won six of its eight games and shares first place with DES Caserta. So far, Rebecca has pitched in all second games of the double-headers Macerata played.
In the first weekend, the team won twice vs. L'Albero d'Argento Old Parma, 9-2 and 5-1. Rebecca went the distance in Game Two, struckout four and gave up four hits.
Next, Macerata won twice vs. AGMA Legnano, 6-4 and 9-0. In the shutout, Rebecca struckout 18 batters and gave up only two hits.
In the third series, Macerata lost the opener to Rhea Vendors Caronno, 10-6, but then won Game Two, 4-1, in which Rebecca struckout eight batters.

Sandra Gouverneur, who played for Terrasvogels the last seasons, has played at short stop all games so far, is in third place with Terra Sarda Nuoro, which plays on the island of Sardinia.
Nuoro opened with two wins vs. Legnano, 10-3 and 1-0. In the opener, Sandra went 2-for-2 and scored three runs, in the second game she had a tripled and batted in the lone run in the first inning.
In the next weekend, Nuoro won 8-5 vs. Sanotint Bollate, but then lost 1-0 in eight innings. Sandra went 2-5, scored twice and had an RBI.
In the third series, Nuoro split with Parma, winning the opener 4-2, but then losing the next game, 3-1. Sandra scored once but went 0-for-5.

Last weekend, Macerata and Nuoro met each other and split their double-header. In the opener, Macerata won 1-0, then lost 6-2 which was Rebecca's first loss of the season. She gave up seven hits, but none to Sandra, who went 0-for-5 in the double-header, but scored a run in the second game.

Brenda De Blaes, who has played in the Dutch league with Twins, is 9-for-26 with a homerun for Bollate, scored four runs and has four RBI's.
(April 27)
---

Dutch Softball Men

Season starts on Saturday
Nederlands
AMSTERDAM (Neth.) - The new season in the Men Softball Major League opens on Saturday with three double-headers.

There will be seven teams this season in the big league, but one team will be missing. That's Raggers Thamen, which played in the highest division every year since it was founded in 1990. But after last season, the team was confronted with the departure of almost all players, forcing it to withdraw. Thamen, which reached the Play-Offs last season, will surely be missed.
The other five teams all return and are getting company from two teams that played in the First Division last season: RCH-PinguÔns and Spikes. Because of the uneven total of teams, one will have no games scheduled on every game day. There will be no First Division this season.

Defending champion Screenhouse Storks opens the season Saturday at home with a double-header against Kokolishi.
Runner-up EHS is playing in Spijkenisse vs. Spikes.
(April 13)
---

Dutch champion opens with two losses
Nederlands
THE HAGUE (Neth.) - Dutch champion Screenhouse Storks opened the new season on Saturday with two losses vs. Kokolishi, 11-1 and 10-7.

At Diemen, TIW-Survivors and Centrals split their double-header. After a 14-6 loss in the opener, TIW-Survivors won Game Two, 13-5.
At Spijkenisse, AIMS EHS won twice vs. Spikes, 5-2 and 11-1.
The six teams that played on Opening Day combined on 22 homeruns!
(April 15)

Game Recaps, Line Scores & Box Scores
---

Kokolishi remains unbeaten
Nederlands
THE HAGUE (Neth.) - Kokolishi remained unbeaten and moved into first place after winning 6-5 and 8-0 on Saturday vs. Spikes.

At Haarlem, AIMS EHS won 11-2 vs. TIW-Survivors, then lost its first game of the season, 10-3.

At Heemstede, Screenhouse Storks won twice at RCH-PinguÔns, 5-3 and 15-12.
(April 22)

Game Recaps, Line Scores & Box Scores
---

Kokolishi remains on top
Nederlands
THE HAGUE (Neth.) - Kokolishi remained the unbeaten league-leader by adding two victories on Saturday, but winning twice with only a one-run difference vs. Centrals, 5-4 and 3-2.

At Haarlem, AIMS EHS won twice vs. RCH-PinguÔns, 6-0 and 8-1.

At Spijkenisse, Screenhouse Storks won two highscoring and long games vs. Spikes, 18-6 and 16-6.
(April 29)

Game Recaps, Line Scores & Box Scores

---

Royal Greys lead Belgian season
Nederlands
MERKSEM (Belgium) - Reigning Belgian champion Royal Greys is off to a good start in the new season, which opened on April 1.
STANDINGS
W
L
1
Royal Greys
3
0
2
Brasschaat Braves
2
1
Borgerhout Squirrels
2
1
4
Pioneers
2
2
5
Gent Knights
1
1
6
Namur Angels
1
2
Mortsel Stars
1
2
8
Antwerp Eagles
0
3

The team from Merksem (close to Antwerp) opened the new season on Saturday, April 1 with a big 19-9 win vs. Antwerp Eagles. Playing at home the next day, the Greys shutout the Eagles 11-0.
Last Saturday, a 6-3 victory followed in a road game at Gent Knights. Sunday's game was postponed. Coming weekend, the team will meet Namur Angels.

Brasschaat Braves opened the season two weeks ago with a 5-3 loss at Pioneers, but came back with a 10-2 win the next day. The team added 13-4 win last Saturday at Mortsel Stars. Sunday's game was postponed. In the Easter Weekend, Brasschaat is playing vs. Antwerp Eagles.

Sharing second place with Brasschaat is Borgerhout Squirrels, which played two close games in the opening weekend vs. Mortsel Stars. After winning 13-11 in the opening game, they lost 7-6 the next day. Last weekend, Borgerhout won 11-5 vs. Antwerp Eagles, which is 0-3 and the only winless team. This weekend, Borgerhout meets Gent Knights.

Pioneers is the fourth team with two or more wins so far. After splitting with Brasschaat Braves in the opening weekend, the team split again last weekend vs. Namur Angels. After losing 4-3 on Saturday, they came back with a 10-1 win at home on Sunday.

Gent Knights, which is in fifth place, is the lone team that played only two games. The team opened with a 6-5 win vs. Namur Angels with the second meeting being postponed. Last weekend, Gent was beaten by Royal Greys, while Sunday's again was postponed.
(April 13)
---

Royal Greys remains unbeaten
Nederlands
MERKSEM (Belgium) - Royal Greys also remained unbeaten in the third week of the Belgian season, which opened on April 1. The Greys were not the only team that won twice, as all four teams that lead the league won their games in the Easter Weekend.
STANDINGS
W
L
1
Royal Greys
5
0
2
Brasschaat Braves
4
1
Borgerhout Squirrels
4
1
4
Pioneers
4
2
5
Gent Knights
1
3
6
Namur Angels
1
4
Mortsel Stars
1
4
8
Antwerp Eagles
0
5

Last weekend, league-leader Royal Greys extended its winning streak to five games when it won twice vs. Namur Angels. On Saturday, playing at Namur in Wallonia, the French-language part of Belgium, the Greys won only 8-7, but at home, on Sunday, the team shutout Namur, 11-0.

Brasschaat Braves won big twice against Antwerp Eagles, 10-1 and 18-0. Antwerp Eagles is still without a victory in the young season and is now in last place with an 0-5 record.

Brasschaat shares second place with Borgerhout Squirrels, which registered two huge victories against Gent Knights, 11-1 and 20-0.

Pioneers, which is in fourth place, also won twice, beating Mortsel Stars, 6-2 and 3-0.

This weekend, the Greys will face Pioneers. Brasschaat meets Gent, Borgerhout is playing against Namur and Mortsel will play vs. Antwerp.
(April 20)
---

Four teams open Italian league with two wins
Nederlands
BOLOGNA (Italy) - Italian champion Italeri Fortitudo Bologna will play its first games of the new season coming weekend, meeting Telemarket Rimini. Last weekend, the regular season opened, but Bologna didn't play, as there are nine teams in the Serie A/1, meaning one team will have a weekend off weekly. In the Easter Weekend, four teams won two of their three games.
STANDINGS
W
L
1
CaffŤ Danesi Nettuno
2
1
Cantine Ceci Parma
2
1
Telemarket Rimini
2
1
T&A San Marino
2
1
5
Orel Anzio
1
2
De Angelis Rimorchi Godo
1
2
Colonie Della Maremma Grosseto
1
2
Comcor Modena
1
2
9
Italeri Fortitudo Bologna
-
-
The season opened on Thursday, April 13 with the match-up between Cantine Ceci Parma and Colonie Della Maremma Grosseto. At Stadio Europeo in Parma, the opening game was exciting and ended with a walk-off homerun. Trailing 4-1 in the home of the ninth inning, Parma came back to win the game. The game was decided when Rafael Ozuna hit a 3-run, walk-off homerun.
The next day, Parma won again, 7-3. On Saturday, Ozuna hit his second homerun of the season, but despite that, Parma now lost 10-2 to Grosseto, which will organize the European Cup Tournament this year in June.

CaffŤ Danesi Nettuno also opened the season with two wins. On Friday-evening, the team shutout Comcor Modena, 3-0. On Saturday-afternoon, a 7-3 win followed, but in the evening, Modena came back with a 4-0 shutout.

Telemarket Rimini needed eleven innings to win their opener, 3-2, against De Angelis Rimorchi Godo, which made its debut on the highest level. On Saturday, Rimini won 5-2 in the afternoon, but lost 6-4 in the evening.

T&A San Marino lost its home opener against Orel Anzio, 5-2, then won twice on Saturday, 6-5 and 8-7.
(April 20)
---

First loss Royal Greys
Nederlands
HOBOKEN (Belgium) - In last weekends action in the Belgian Major League, Hoboken Pioneers handed leader Royal Greys its first loss of the season. Pioneers won 2-1 by scoring twice in the ninth. The winning run came after a disputed call.
Brasschaat Braves and Borgerhout Squirrels both won twice, meaning there are now three teams in first place.
STANDINGS
W
L
1
Brasschaat Braves
6
1
Borgerhout Squirrels
6
1
Royal Greys
6
1
4
Pioneers
5
3
5
Mortsel Stars
3
4
6
Gent Knights
1
5
7
Namur Angels
1
6
8
Antwerp Eagles
0
7

Royal Greys entered the weekend with a 5-0 record and was the only team without a loss. On Saturday, playing in Hoboken, the Greys took a 1-0 lead in the third inning and that was to be the lone run until the ninth. The game was a pitching duel between Kenny Van Den Branden and Tom Lorrentop (Pioneers) and Dennis Van Hoof (Greys). In the home ninth, Czech Jan Drabek led off for Pioneers with a basehit, then two outs followed. Hans Heyrman then singled to put runners on first and third base. Drabek scored the tying run when Alain Lambeau also hit a single on which Heyrman advanced to third base. Heyrman scored when next batter Jurgen Doose grounded towards second base. The second baseman approached the ball, but collided with runner Lambeau. The umpire ruled obstruction, as the second baseman didn't had control over the ball, meaning everyone was safe and Pioneers won the game. The call was disputed, but didn't change. On Sunday, the Greys recovered and won 4-1.

Brasschaat Braves defeated Gent Knights convincingly, 13-3 and 14-4.
Borgerhout Squirrels won 8-5 and 13-5 against Namur Angels.
Antwerp Eagles remaind winless, as the team this lost 7-1 and 11-9 to Mortsel Stars.
(April 26)
---


Seedings World Championships announced
Nederlands
PLANT CITY, Florida (USA) - The International Softball Federation (ISF) on Monday announced the seedings for the ISF XI Women's World Championships, which will be held August 27-September 5 in Beijing (China).
Sixteen national teams are participating in this years event, which will be played in the new softball stadium that currently is being built for the 2008 Olympic Games in the Chinese capital. It will be the first event on the Olympic site, meaning the World Chanpionships also will be an Olympic Test Event.
The World Championships also is a qualifying tournament for the 2008 Olympics, as the four best teams will qualify.

The seedings are as follows:

Pool A:
Canada, China, Democractic People's Republic Korea (=North Korea), Great Britain, Italy, New Zealand, South Africa and USA.

Pool B:
Australia, Botswana, Chinese Taipei, Colombia, Greece, Japan, Netherlands and Venezuela.

DPR Korea will make its first appearance in a World Championship. In December last year, the team qualified for the event by finishing in fourth place on the Asian Games in the Philippines. In the preliminary round, the Korean team won four of its five games. Softball is on the rise in this country. Last weekend, American softball-coach Linda Wells conducted a three day-coach clinic in Pyongyang, the capital of North Korea. In 2004, Wells was the Head Coach of Greece during the Olympics in Athens.
China currently is on a trip in the USA, where it plays 20 games against college-teams in 27 days, while Australia will meet Japan in a 3-game series next month. Australia already played a series against New Zealand recently.

In 2002, when the World Championships were held in Saskatoon, Saskatchewan (Canada), the USA won the title after winning 1-0 vs. Japan.
(March 28)
---
Thank you for visiting.
Mail your suggestions and questions to stoov@wxs.nl

Last Update: June 2, 2006
Copyright © 1997-2006 Marco Stoovelaar.