Alcmaria Victrix captures first Dutch title!
Nederlands

ALKMAAR (Neth.) - Alcmaria Victrix is the new softball-champion of the Netherlands. The team from Alkmaar completed a stunning Holland Series on Sunday winning Games 3 and 4 to win the final 3-1 and dethrone Oolders Omaco Sparks Haarlem, which had captured the title the last two seasons. For Alcmaria Victrix, this is its first championship in club-history and is a remarkable accomplishment, as the team made its comeback on the highest level last year. The team then immediately qualified for the Play-Offs and in its second year back in the big league, Alcmaria Victrix not only reached the final, but also captured the championship. In doing do, Alcmaria eliminated Dutch softball powerhouses Hotel Ambassador c.c. Terrasvogels and Sparks Haarlem.

The road to the final started two weeks ago when Alcmaria Victrix won twice against Terrasvogels to eliminate that team, which was favorite to reach the Holland Series. A week ago, the Alkmaar-squad split the opening double-header of the best-of-five final against Sparks and today completed its stunning series of games, winning five of its last six games after completion of the season.

For Sparks Haarlem, this was its eighth trip to the Holland Series in the last nine years, capturing five championships in that span. Alcmaria's surprising championship can be put in the same category of two earlier championships in the last ten years. In 2003, DSC '74 (now Olympia Haarlem) became the surprise Dutch champion when it swept Twins in three games. In 2008, the talented team of Tex Town Tigers also handed Sparks Haarlem a surprising Holland Series-defeat, winning three of four games.

Sparks Haarlem, which has eight current and three former Dutch National Team-players in its team, was unable to produce in the series against Alcmaria Victrix, which showed enthousiasm and underscored its form of the last weeks. After Alcmaria eliminated Terrasvogels to reach the Holland Series, it had accomplished its goal. Therefore, the team was the underdog and played without pressure in the final, instead putting the pressure on Sparks Haarlem.

Canadian pitcher Ashley Lanz was the winning pitcher in today's second game and earned a save in the opener, after also being the winning pitcher a week ago. That earned her the title of Most Valuable Player of the Series, an award which will be handed out later during the Award Gala.

At De Bilt, Centrals today won 2-0 and 6-2 vs. Twins to win their best-of-five Promotion/Relegation Play-Off 3-1. With this, Centrals returns to the Dutch big league after an one-year absence. For Twins, the double loss means it relegates from the Dutch big league after having played 27 consecutive season on the highest level since 1986. In that span, Twins played in 16 Play-Offs, reached five Holland Series and won the championship in 1994.
More details of this double-header.
---
Game One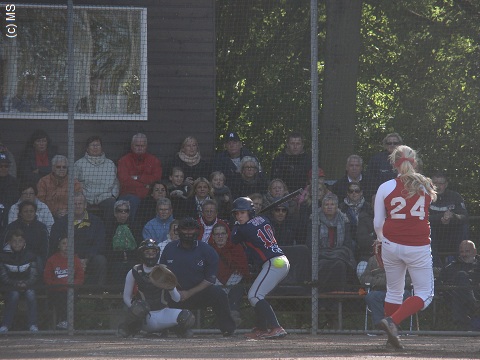 ...Winning pitcher Femke van Dusschoten delivers...
...to Nathalie Gosewehr...
(© Photo: Marco Stoovelaar)

While Sparks Haarlem outhit Alcmaria 7-5 in the end, the team was held to only three basehits in the first five innings by starting pitcher Femke van Dusschoten. The righthander struckout seven batters, before being relieved in the seventh inning.

Sparks Haarlem threatened to open the score in the first inning, but stranded a runner at third base. Lead-off hitter Chantal Versluis reached when an error was made on her bunt, which enabled her to advance to second base. She then moved to third base on a sac-bunt by Nathalie Gosewehr, but was left there as a groundout and strikeout followed.

Alcmaria then set the tone for today by scoring the first run in its first at bat off veteran starter Rebecca Soumeru. With one out, Maaike Blaauwgeers singled, then an error followed on a sac-bunt by Kimberly Jones, which brought the runner to third base. Hereafter, Kym Turnell grounded to Soumeru and Blaauwgeers appeared to beat the throw to catcher Karin Tuk, but was called out. Jessie van Aalst followed with a single which scored Jones from second base to give Alcmaria an 1-0 lead.

In the next three innings, Sparks got three runners in scoring position, but failed to move them around. In the second at bat, Karin Tuk doubled with one out, but then Femke van Dusschoten struckout the next two batters. In the third, Nathalie Gosewehr doubled with two outs, but another strikeout followed. In the fourth, Debby Connor led off with a single, then her pinch-runner Celine van Roon reached third base on a sac-bunt and grounder, but also stranded.

In the meantime, Rebecca Soumeru silenced the Alcmaria-offense, retiring 12 batters in a row from the second through fifth inning. But in the sixth inning, Alcmaria added an insurance run. Maaike Blaauwgeers reached on a bunt-single, moved on a sac-bunt by Kimberly Jones and a single by Kym Turnell, then scored on a sac-fly by Jessie van Aalst.

In the top of the seventh, the Sparks-offense finally was able to do something back, collecting three basehits, but scoring only once. With one out, Karin Tuk singled, then her pinch-runner Silea Bos advanced on a single by Shannah van der Kaaij. This led to a pitching change, as Ashley Lanz took over for Van Dusschoten. She was greeted with a single by Michelle van Driel that scored Bos and led to runners on second and third base with only one out. But the two runners were unable to advance as, Beau van Gelder and Chantal Versluis both grounded out to end the game and give Alcmaria a 2-1 lead in the Series.
---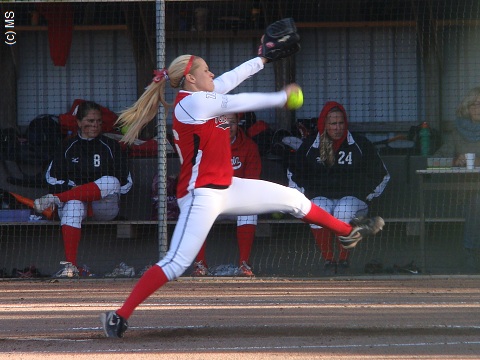 ...Game 2 winner Ashley Lanz - MVP...
(© Photo: Marco Stoovelaar)
Game Two
In the second game today, Alcmaria left a runner at third base in the first inning, then Sparks Haarlem opened the score with two runs in the third at bat. Alcmaria-starter Ashley Lanz gave up a lead-off single to Shannah van der Kaaij, but then two outs followed. Next, Chantal Versluis doubled to open the score and scored herself moments later when Nathalie Gosewehr singled.
While it was thought generally that the 2-0 lead was the overture for an apparent win for Sparks Haarlem, the situation changed quickly moments later. In the home of the third inning, Alcmaria immediately came alongside, but failed to take the lead, leaving the bases loaded. NoŽmie Brandjes led off with a single, then Anne Blaauwgeers followed with a bunt-single. Next, an error was made on a sac-bunt by Maaike Blaauwgeers, which was followed by another error, enabling both runners to score. With Blaauwgeers on second base, two outs followed, then Jessie van Aalst was walked intentionally, but Maxime van Dalen followed with a single to load the bases. Pitcher Dagmar Bloeming then struckout the next batter to end the inning, but Alcmaria had made it a new ballgame.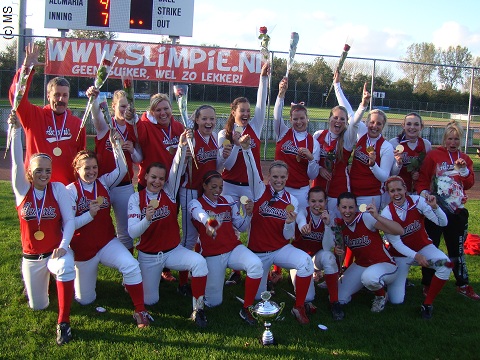 ...Alcmaria Victrix - Champion 2013...
(© Photo: Marco Stoovelaar)

After Ashley Lanz retired the side in the top of the fourth inning, Alcmaria took a 3-2 lead in the home fourth. With one out, NoŽmie Brandjes singled, then Anne Blaauwgeers' bunt-single was followed by a throwing error. After the latter advanced on a fielder's choice, the bases got loaded when everyone was safe on a bunt-single by Maaike Blaauwgeers. Kimberly Jones was then retired at first base on a nice play by 2B Silea Bos, but Brandjes scored to give Alcmaria a 3-2 lead.

Ashley Lanz then retired the side again in the fifth and sixth inning. In the home of the sixth, Alcmaria again scored an insurance run to make it a 4-2 score. NoŽmie Brandjes led off with her third single of the game and moved on a sac-bunt by Anne Blaauwgeers (who also had three hits). A throwing error on a grounder by Maaike Blaauwgeers then enabled Brandjes to score her third run of the game.

The additional run was much needed, as Sparks Haarlem again did something back in the seventh inning, just as in the first game. With one out, Karin Tuk doubled down the leftfield-line, then scored when Virginie Anneveld followed with a single. When Debby Connor also singled, Alcmaria's Head Coach Gonny Farley made a pitching change and brought in Femke van Dusschoten. With runners on first and second base, she struckout Shannah van der Kaaij, then got a grounder from Michelle van Driel that ended the inning, the game, the Holland Series and the season. Alcmaria Victrix had dethroned Sparks Haarlem and was the new champion!

After the celebrations, it was announced that Ashley Lanz was voted Most Valuable Player of the Holland Series. Next, the silver and gold medals, as well as the Championship Trophy were handed out by Hans Meijer, Director of the Dutch Baseball and Softball Association.

And so, the softball-season ended with a big surprise. Not favorites Oolders Omaco Sparks Haarlem and Hotel Ambassador c.c. Terrasvogels won the championship, but Alcmaria Victrix. And that brought back memories of a few weeks ago, as the same happened in the closing of the baseball season. Not favorites L&D Amsterdam Pirates or DOOR Neptunus became Dutch champion, but Corendon Kinheim, which was almost eliminated when it started the play-offs. Did Kinheim eliminated Pirates and Neptunus, Alcmaria eliminated Terrasvogels and Sparks Haarlem en route to the championship to end another exciting season.
GAME ONE

...Rebecca Soumeru started Game 1 for Sparks Haarlem...
...Standing in the back is 3B Umpire Patrick Reus...

...Femke van Dusschoten delivers to Shannah van der Kaaij...
...Standing at left is 2B Kimberly Jones...

...Rebecca Soumeru pitches to Anne Vlietstra...
...Karin Tuk is the catcher; Rob Veldkamp the HP Umpire...

...Alcmaria Victrix celebrates...
...its second run in the 6th inning..

...Outfielders Jessie van Aalst, Anne Vlietstra and...
...Maaike Blaauwgeers standing in the sun...

...Ashley Lanz took over in the 7th inning...
...Here she pitches to Michelle van Driel...

...Chantal Versluis is the final out of Game One...
...and leaves the field while Alcmaria celebrates the win...

...A bright sun enlighted the field...
...and sometimes bothered the players...

...Games 3 and 4 in Alkmaar were well-visited by over 500 spectactors...
GAME TWO

...With Anne Blaauwgeers on 3rd, Jessie van Aalst connects...
...3B is Virginie Anneveld...

...In the third inning, Sparks Haarlem opens...
...the score and takes a 2-0 lead...

...Anne Blaauwgeers scores the tying run...
...in the bottom of the 3rd inning...

...After Alcmaria tied the score, Head Coach Juni Francisca...
...has a meeting with his entire team...

...Maxime van Dalen and Suzanne Meiring make noise...

...Kimberly Jones looks to the signs...

...Maxime van Dalen hitting for Alcmaria...

...Sparks' Game 2 starter Dagmar Bloeming...

...Alcmaria-fans support the players...

...The players celebrate the championship...

...Disappointed faces at Sparks Haarlem...

...And happy faces at Alcmaria Victrix...

...Winning coach Gonny Farley is congratulated...
...by husband Brian Farley...

...The players of Alcmaria Victrix...
...thank their supporters...

...Time to celebrate...

...and uncork the champaign...

...Waiting for the award-ceremony...
...Left to right: bullpen-catcher Brenda Beers, Laura Treurniet, Maxime van Dalen, Anne Vlietstra, Malou van Dusschoten,...
...Femke van Dusschoten, NoŽmie Brandjes, Suzanne Meiring, Maaike Blaauwgeers, Kym Turnell, Manoa Weijgertse,...
...Jessie van Aalst, Ashley Lanz, Anne Blaauwgeers, Kimberly Jones, Head Coach Gonny Farley,...
...1B Coach Carola Untied and 3B Coach Frans van Dusschoten...

...KNBSB Director Hans Meijer addresses the teams...

...The silver medals are handed out to Sparks Haarlem...

...The Alcmaria Victrix-players wait their turn...

...Captain Anne Blaauwgeers with the Championship Trophy...

...More celebrations...

...Hans Meijer hand out the gold medals...

...Coaches Gonny Farley, Carola Untied and...
...Frans van Dusschoten with the Cup...

...The players continue their celebrations...
...with their medals and roses...

...Alcmaria Victrix - Dutch Champion 2012...

...Anne Blaauwgeers, Kym Turnell and Maaike Blaauwgeers...

...Posing for another photo...

...Ashley Lanz and Kym Turnell...

...The players admire the Championship Trophy...
...and themselves...

...Laura Treurniet, Maaike Blaauwgeers, Anne Vlietstra,...
...NoŽmie Brandjes, Jessie van Aalst, Ashley Lanz...
...and Kym Turnell (front)...

...Malou van Dusschoten, Kimberly Jones, Ashley Lanz...
...and Suzanne Meiring (front)...

...Gonny Farley gets a kiss from a world champion...
...Last year, husband Brian won the world title...
...with the Dutch Baseball Team...
(© All Photos: Marco Stoovelaar)
MORE PHOTOS

...Sparks hitting in the first inning of Game One...

...Game 1 pitcher Rebecca Soumeru...

...Areke Spel is tagged out by NoŽmie Brandjes...

...Areke Spel, Chantal Versluis and Nathalie Gosewehr...

...Game 2 pitcher Dagmar Bloeming...

...Shannah van der Kaaij scores on a double...
...by Chantal Versluis...

...Chantal Versluis (left) scores in the 3rd inning...
...Karin tuk (right) scores in the 7th inning...

...Alcmaria celebrates the title...
(© All Photos: Fred Versluis)
(October 7)