Centrals vs. Dutch Junior Team
At De Bilt, the Dutch Junior Team won 13-1 and 12-8 vs. Centrals. For the Juniors, this is the fifth season in which the team participates in the Dutch big league. It marks the first time that the Orange squad opens a season with a victory.

In the opener, the Juniors needed four innings to win 13-1 on 13 basehits. Dominique Sprengers pitched for the Juniors, struckout four batters and gave up only three hits.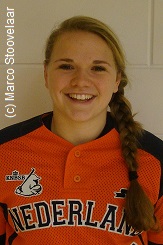 ...Isa Los...
...4 Runs, 4 Hits...
...2 Runs Batted In...
...Inside-the-park-HR...
(© Ph: Marco Stoovelaar)

In the first inning, the Juniors scored twice with two outs. Annemiek Jansen and Dominique Sprengers then singled and both scored on a single by Manoa Weijgertse.

Centrals answered with a run in the home half of the first inning on a single by American Casey Pomeroy, but that was to be it for the home team.

The Juniors again scored twice in the second inning. Isa Los led off with a triple and scored on a sacrifice fly by Gabi Obia. Hereafter, Wies Ligtvoet singled and scored on a following single by Brenda Beers.

A 4-run rally followed in the third inning on only two hits, as Centrals committed four errors. Two errors led to the first run. With two outs and Denice van Dijk and Isa Los on base, Gabi Obia singled in a run. She was then replaced by Temporary Runner Rachel van Veen. Wies Ligtvoet followed with an RBI-single and Van Veen later scored the fourth run in a double steal-situation to make it 8-1.

The Juniors then staged a 5-run rally in the fourth inning, thanks to a 2-run triple by Manoa Weijgertse (who had 4 RBI's), an RBI-single by Rachel van Veen, RBI-triple by Isa Los and RBI-grounder by Gabi Obia.

In Game 2, the Juniors trailed twice, but came alongside in the fourth inning and rallied for five runs in the fifth to also win this match-up.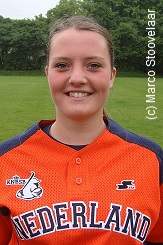 ...Lizzie Clarijs...
...4 Runs, 4 Hits...
...3 Runs Batted In...
...double in Game 2...
(© Ph: Marco Stoovelaar)

The Juniors collected 17 basehits, which is a team-record in its five big league-seasons. Lizzie Clarijs went 4-for-4, scored three runs and had three runs batted in.

In the first inning, Centrals scored twice off of starter Lisa Hop. Jasmin Carlson led off with a single and later scored on a single by Petia Sokolová. The latter moved to second on the throw to home and advanced to third on a wild pitch. After Casey Pomeroy walked, Sokolová scored when the first was caught stealing.

The Juniors tied the score in the second inning with two outs. Isa Los then hit an inside-the-park-homerun. Next, Annemiek Jansen walked and Laura Iannelli singled, then a single by Lizzie Clarijs made it 2-2.

Centrals re-took the lead in the second inning by scoring three runs. With Vivienne Schenk and Jasmin Carlson (who both walked) on base, rookie Emma Bosman singled to bring in both runners. The latter scored herself moments later on a single by Petia Sokolová to give Centrals a 5-2 lead.

In the top of the 3rd inning, the Juniors narrowed the deficit to 5-3 when Damishah Charles scored on an error. The Orange squad then tied the score again by scoring three runs in the fourth at bat. With two outs, Lizzie Clarijs doubled and scored on a single by Wies Ligtvoet. A double by Damishah Charles and single by Brenda Beers then made it a 6-6 score.

In the fifth inning, the Juniors broke the tie thanks to a 5-run rally. With Rachel van Veen (single) and Annemiek Jansen (double) on base, the 6-6 score was broken when Gabi Obia delivered a single. A following single by Lizzie Clarijs then accounted for the next two runs and made it 9-6. After Clarijs had scored on an error, a double by Brenda Beers lifted the lead to 11-6.

In the sixth, Centrals scored its next run on a single by Casey Pomeroy, but the Juniors got the run back in the seventh when Clarijs stole home. Centrals was able to score one more run in the seventh on a grounder by Carlson.

Game 1
Centrals - Dutch Juniors 1-13 (4 inn.)
R
H
E
Dutch Juniors
224
5
-
13
13
0
Centrals
100
0
-
1
3
4
pitchers Dutch Juniors
inn.
SO
BB
H
R
ER
Shannon Hetem
- (*)
-
-
-
-
-
Dominique Sprengers, W (1-0)
4
4
-
3
1
1
(*) - Hetem was announced as starting pitcher, but was replaced by Sprengers when bottom 1st began
pitcher Centrals
inn.
SO
BB
H
R
ER
Petia Sokolová, L (0-1)
4
-
2
13
13
8
Umpires: HP-Martin Lemstra, 1B-Albert Tolen.
Official Scorer-Feiko Drost.
Play-by-Play-Fred van der Kade.
Time-1:09 hr.
Game 2
Centrals - Dutch Juniors 8-12
R
H
E
Dutch Juniors
021
350
1
-
12
17
1
Centrals
231
001
1
-
8
12
3
pitchers Dutch Juniors
inn.
SO
BB
H
R
ER
Lisa Hop
1.2
-
4
3
5
5
Shannon Hetem
2
1
-
3
1
1
Quincey Catsburg, W (1-0)
3.1
3
1
6
2
2
pitcher Centrals
inn.
SO
BB
H
R
ER
Casey Pomeroy, L (0-2)
7
7
2
17
12
11
Homerun: Juniors: Isa Los (1)(solo,2nd,inside-the-park,off Pomeroy).
Umpires: HP-Albert Tolen, 1B-Martin Lemstra.
Official Scorer-Feiko Drost.
Play-by-Play-Fred van der Kade.
Time-2:00 hr.