(Story by Marco Stoovelaar)

Eight big league-teams in Mastenbroek Tournament
Nederlands



ENSCHEDE (Neth.) - Tex Town Tigers will host the 33rd edition of its annual international J.C.J. Mastenbroek Tournament this year on April 1, 2 and 3. Besides clubs coming from the highest Dutch softball and baseball leagues, teams are also coming from Germany, the Czech Republic and Switzerland. Recently, the Enschede-based club also unveiled a new logo.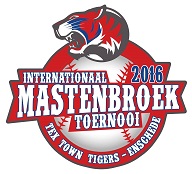 All six women softball-teams that will play in this years Golden League will be in the field of participants this year, being DSS, FysioExpert Olympia Haarlem, Oolders Omaco Sparks Haarlem, Terrasvogels, Twins and host Tex Town Tigers. They will be joined by Barracudas (Switzerland), SK Joudrs Praha (Czech Republic) and the National Team of Germany. Initially, Carrousel (Russia) was to participate, but is unable to come to Enschede.
Six teams will participate in the baseball-tournament this year, including big league-squads DSS and De Glaskoning Twins. Theo Meijer Quick Amersfoort, which plays in the second highest league ('Overgangsklasse'), Alcmaria Victrix, Tex Town Tigers (who both play in the First Division) and Barracudas from Switzerland complete the field of participants.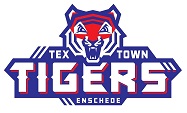 The first edition of the tournament was held in 1982 at the former site of Tex Town Tigers. After the club moved to its current location, the event was held there since 1997. In that period, only once the tournament had to be scrubbed due to freezing temperatures and snow, which was in 2013. Back then, the low temperatures broke records set in 1916 and 1922.
Last year, reigning champion Sparks Haarlem won the softball-tournament for the first time since 2006. In the final, Sparks Haarlem win 5-1 vs. Terrasvogels.
DSS participated for the first time in the baseball-tournament last year and won the event, winning 9-6 vs. Sparks Haarlem.
The annual tournament is named after Johannes Christoffel Jan Mastenbroek (1902-1978), who was a huge stimulator for the development of baseball and softball in the city of Enschede. Johannes Mastenbroek, born in Dordrecht, was a school-teacher and in 1936 became the Chairman of the former Dutch East Indies Football Association (1936-1942) and Vice-President of the Dutch East Indies Olympic Committee. In those years, the Dutch East Indies was the former name of what is now Indonesia. While being Chairman of the Football Association, he also was the Head Coach of the Dutch East Indies Soccer Team, which in 1938 participated in the World Soccer Cup in France. In the First Round of that event, the Dutch East Indies lost its lone game 6-0 to Hungary and was eliminated. In 1955, Mr. Mastenbroek became Director for Sports & Recreation in the Municipality of Enschede. In that position, he introduced sports as badminton, basketball, baseball and softball, which led to the founding of two baseball-clubs in Enschede, De Ruimte and De Terriėrs. These two clubs merged in 1968 to become Tex Town Tigers, the club of which Mastenbroek is a Honorary Member.
(March 31)
Related Articles:


Sparks Haarlem winner of Mastenbroek Tournament. (April 5, 2015)


DSS winner of Mastenbroek Tournament. (April 5, 2015)


Mastenbroek Tournament cancelled due to cold weather! (March 28, 2013)