(Story & Photos by Marco Stoovelaar)
IN MEMORIAM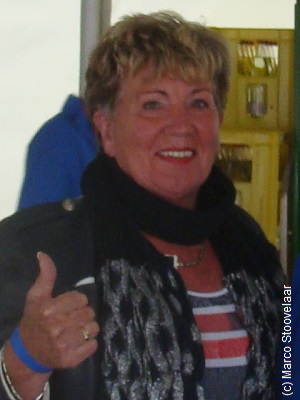 ...Truus Ruiter...
(1946 - 2021)
(© Photo: Marco Stoovelaar)

Former softball-international, coach, administrator Truus Ruiter passed away
Nederlands

HAARLEM (Neth.) - Truus Ruiter, who played in the Dutch Softball Major League and the Netherlands National Softball Team in the seventies and eighties, passed away on Sunday, August 29, at age 74. She also has been a coach and has been a member of the Board of the Royal Netherlands Baseball and Softball Association (KNBSB).

The memorial service will be held in private.

Geertruida Hendrika (Truus) Ruiter-Rootlieb was born on October 10, 1946 in Haarlem. In her home-town Haarlem, softball became a big and popular sport since the early fifties, as several clubs were founded in this region after World War II had ended. Some of these clubs are still existing today.

Truus Ruiter went on to play softbal for EDO. And although she surely had enough talent, she was a late bloomer, as she became a regular in the main-squad at age 25 in 1973. In the previous season, EDO had promoted back to the highest division after having relegated in 1971. In the 1973 season, Truus played in 20 games and batted .219 for EDO, which then was led by Head Coach Toon Verzijlberg, who passed away on May 25 at age 93. It was a tough season for EDO, which relegated again at the end of the season. Truus Ruiter stayed on to play for EDO in the First Division in 1974.

However, after the 1974 season, the infielder transfered to Bloemendaal for whom she played in the big league in 1975 and 1976. In those seasons, she developed into a solid third baseman/short stop and played in all regular season-games for Bloemendaal in both seasons.

In the meantime, EDO returned to the highest league. As this club remained her true love, Truus Ruiter returned the EDO for whom she then played in the next seven seasons in the highest league. In her first two seasons back with EDO, she was one of the better hitters of the team, hitting .250 and .239 in respectively 1977 and 1978.

Truus Ruiter became known as a solid defensive player at third base. Although she was not a powerhitter (she hit two homeruns in her career), she did reach base frequently, also with walks. As she was mostly hitting in the top of the batting order, she didn't bat in that many runs. She scored more runs than she batted in runs. Unfortunately, not all statistics from the early seventies are known. Truus played in at least ten big league-seasons. In these ten seasons, she batted in 65 runs and scored 96, while recording 149 basehits in 262 games.

Truus Ruiter also shows that she is a good baserunner. In a game in May 1973, she scores the lone run for EDO in a 10-1 loss against Pinguďns. Pitcher Mary Boekhout dominates for Pinguďns and strikes out eleven batters. Only Suze van Breukelen and Truus Ruiter are able to reach base. On a single by Van Breukelen Ruiter scores in the first inning. But that remains the lone run for EDO.

In a game in 1983 against HCAW, EDO wins 2-0 when Sylvia Veenhof and Truus Ruiter both score on squeeze-bunts. HCAW is limited to only two basehits by veteran pitcher Marianne van Ginhoven.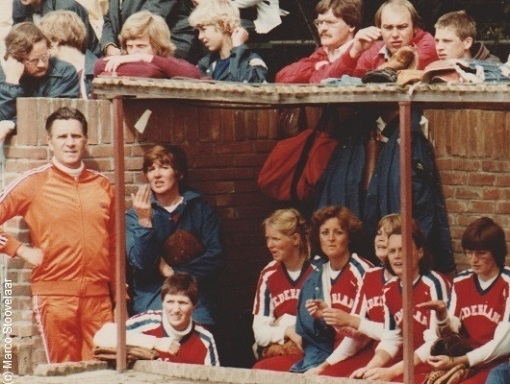 ...Truus (2nd from left) as player of the Netherlands Team...
...has a talk with Pitching Coach Bram van der Werf during the...
...first Haarlem Softball Week (Netherlands) in 1980; The other...
...players are Marit Kreischer, Hilde Foks, Ludy van Mourik,...
...Ineke Akkerman, Betty Veenstra and Elly Zweers...
...Visible amongst the spectators above the dug-out are...
...Umpire Bert Brebde (left) and Netherlands Junior Softball...
...Team-coaches Wibo de Boer, Teus Morren and Ton Hendriks...
(© Photo: Marco Stoovelaar)

After the 1983 season, Truus retired as a player at age 36. It had been another tough season, as EDO relegated again to the second highest league after having lost a Promotion/Relegation Play-Off Series.

Amongst her teammates at EDO were Betsy Berkhout, Jacqueline van Berloo, Coby van Breukelen, Suze van Breukelen, Marja van Dusschoten, Emma Fictoor, Nanda Fijen-Augustin, , Petra Goedkoop, Wil Kuypers, Anja Proost, Linda Schipper, Jet Sikkema-Jonker, Caroline Smit, Sylvia Verhoef and Yolande Vierhout. Suze van Breukelen was EDO's Head Coach in 1980 and 1981 with Marianne van Ginhoven as Assistant Coach.

After the 1982 season, several players either retired or went on to play elsewhere. As such, several youngsters played for the team in 1983, including Andrea van der Berg, Marion van der Berg, Marijke Kossen and Ilse van Toorn.

After having retired, Truus remained loyal to her club and became the team's Head Coach for the 1984 season, succeeding Frans Fictoor. She led the EDO softball-team in 1984 and 1985 when it played in the second highest league.

In 1979, Truus Ruiter first played in the Netherlands National Softball Team. With the Orange Team, led by Head Coach Nol Houtkamp, she participates in the first-ever European Softball Championship, which is held in Rovereto (Italy) and is won by the Netherlands. The other players in that first Championship-team are Saskia Aussen, Irene Brandsen, Marian van Deursen, Hilde Foks, Petra Goedkoop, Els Koks, Marit Kreischer, Ans Kroon, Ludy van Mourik, Elly Nijhuis, Fredy van Offeren, Marijke Sijtsma, Gerda Treuren, Betty Veenstra and Elly Zweers. Houtkamp is assisted by Joop Schuitemaker, while Bram van der Werf is the Pitching Coach. Gerlach Halderman, Sr. is the team's Physical Therapist.

In the Final of the first European Championship, the Netherlands (of course) plays against Italy. The Orange Team opens the score in the first inning thanks to Betty Veenstra and Truus Ruiter. Italian starter Carla Martignano walks lead-off hitter Veenstra, then Ruiter hit a hard grounder towards Rita Ramieri, who normally is a solid third baseman. However, this time, she makes an error. With one out, Veenstra and Ruiter score on singles by Elly Zweers and Hilde Foks. In the third inning, Ruiter leads off and again reached on an error. When next batter Ludy van Mourik walks, young, but talented Donatella Cena takes over the Italian pitching. She gets the bases loaded when Elly Zweers also walks. Hereafter, three more runs are scored thanks to the hitting of Hilde Foks, Elly Nijhuis and Marit Kreischer. The Netherlands wins 5-0 and winning pitcher is Els Koks, who goes the distance and allows only four basehits.

In 1980, Truus Ruiter also is part of the Netherlands Team that participates in the first Haarlem Softball Week at the site of HHC (now Sparks Haarlem). Except for Ans Kroon, the same players of the 1979 Championship participate in the Softball Week. The team also includes Ineke Akkerman and Loes Poort.

The Haarlem Softball Week was an idea and initiative of KNBSB-boardmember Theo Vleeshhouwer, who also served in the board of the European Softball Federation (ESF) and International Softball Federation (ISF). The first edition immediately has a strong field of participants, as the Netherlands Team meets the National Team of Italy, Ashland Ohio and Purple Power from the USA and Harmony Centre from Canada. With the Orange Team, Truus Ruiter plays against an Italian Team which has wellknown players such as Patrizia Caroti, Donatella Cena, Alessandra Cirelli, Monica Corvino, Paola Marfoglia and Rita Ramieri. The most favorite player during the event is 15-year old pitcher Lisa Martínez (Purple Power), who dominated. In 1996, Martínez pitched for Puerto Rico in the Olympic Games in Atlanta (USA).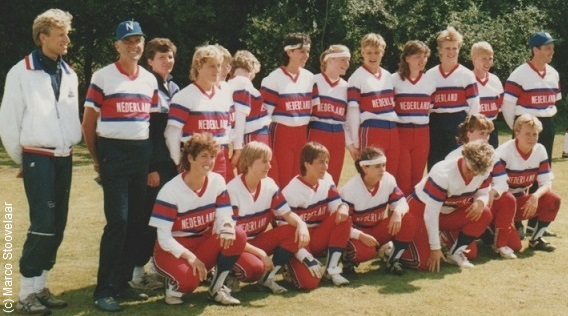 ...Truus (3rd from left) with the Netherlands Softball Team...
...during the 1985 World Games in London, England (UK)...
...Back: Rob Gruppelaar (Physical Therapist), Bram van der Werf...
...(Pitching Coach), Truus Ruiter (Team Manager), Petra Sluyter,...
...Gerda Treuren, Els Koks, Monique Fris, Willy Rietman,...
...Jacqueline van Berloo, Marjan de Vries, Marinka Stüvel,...
...Helma Kuijper (Asst. Coach), Don Wedman (Head Coach)...
...Front: Jacqueline Bakker, Annemiek van Kappel, Renée van den Berg,...
...Ellen Volkers, Fredy van Offeren, Petra Goedkoop, Caroline Smit...
(© Photo: Marco Stoovelaar)

Despite a lot of rain, the first Softball Week is a big success. In July 1980, softball-reporter Dries de Zwaan writes in Inside Magazine that ''an event such as this has clearly proven that there is a lot of interest for top-softball not only in Haarlem and its surrounding area, but also from others part of the country, just as is the case with the Haarlem Baseball Week. Even weather conditions couldn't prevent spectators from coming to Haarlem''. De Zwaan also concludes that ''there has to be more and better cooperation between clubs and the federation. They have to work together closely to come to more possibilities for top-softball''.

The coaching-staff also is the same during the Softball Week in 1980, as well as during the 1981 European Championship in Haarlem (Netherlands) and the 1982 World Championship in Taiwan when Truus Ruiter again plays for the Orange Team. Some new and younger players are added in these two years, including Jacqueline Bakker, Caroline Fris, Monique Fris, Petra Sluyter and Marinka Stüvel, while veteran player Renée van den Berg makes a comeback in these two years.

In both 1979 and 1981, the Netherlands captures the European title. In 1982, the team qualifies for the Play-Off Round (top-8) at the World Championship, but is then eliminated after an unexpected 5-2 loss against the Philippines, resulting in a seventh place overall. Not all stats are available, but in her years in the Netherlands Team, Truus plays in some 17 international games.

The 1984 season has a tumultuous ending, as then Netherlands Team-coaches Teus Morren, Wibo de Boer and Fred Remmers all step down. They don't agree with the policy of the KNBSB-Board and state that softball doesn't get the attention it deserves. They say that Secretary Theo Vleeshhouwer is one of the exceptions, as he does a lot for softball. The three state that some other board-members are more more concerned about their own post and as a result, they fail to give enough attention to softball. Especially where it is concerned to enable the National Team to develop more internationally. Also, the special softball-section-board steps down.

Truus Ruiter succeeds Wil Soolsma as the National Team's Business Manager. And in March 1985, Truus becomes a member of the Board of the Royal Netherlands Baseball and Softball Association (KNBSB), handling all softball affairs. From then, the KNBSB-board is compiled of Guus van der Heijden (president), Theo Vleeshhouwer (secretary), Dries de Zwaan (treasurer), Nico van der Vlugt (vice-president), Dick Bliek, Aad van der Elst, Rob Hoogkamer, Jules de Pierre and Truus Ruiter (members). Through 1989, there are only two changes in the Board. Early 1987, Peter Laanen becomes the new President after the unexpected passing of Van der Heijden and Wim Kerkhoven succeeds De Zwaan as treasurer.

From 1990 on, a new structure is introduced in the Board, which is expanded. In 1990 and 1991, the Board remains unchanged and consists of Ben de Brouwer (secretary), Rolf Moll (treasurer), Jules de Pierre (baseball affairs), Dick Bliek (softball affairs), Wil Koet (organization), Frans van Aalen (technical affairs baseball), Truus Ruiter (technical affairs softball), Jan Esselman (competitions baseball), Rob Kruijk (competitions softball) and Paul Bokern (umpires). Paul Moerman is the president in 1990. He is succeeded by Henk den Duijn in 1991.

In her years as member of the Board, Truus Ruiter is able to create more talks and cooperation between the clubs and the KNBSB. As member of the Board, she names three Head Coaches for the National Team.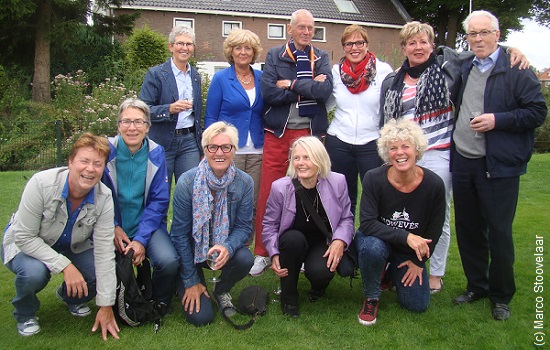 ...Truus with members of the Netherlands Softball Team that...
...participated in the 1982 World Championship in Taiwan during...
...a reunion of former National Team-players during the 2014...
...World Championship in Haarlem (Netherlands)...
...Back: Elly Nijhuis, Ludy van Mourik, Head Coach Nol Houtkamp,...
...Els Koks, Truus and Reporter Dries de Zwaan...
...Front: Caroline Smit, Renée van den Berg, Elly Zweers,...
...Betty Veenstra and Fredy van Offeren...
(© Photo: Marco Stoovelaar)

She names Don Wedman as new Head Coach in 1985. He also leads the team in 1986 and is assisted by Helma Kuijper (1985), Ruud Elfers (1986) and Pitching Coach Bram van der Werf, while Rob Gruppelaar is the Physical Therapist.

The next four years (1987-1990), American coach Diane Schumacher is the Head Coach of the Orange Team. She is assisted by Craig Montvidas (1987), Ans Kroon (1989-1990) and Pitching Coaches Bram van der Werf (1987) and Ton Hendriks (1988-1990). In these years, Marlies de Vries and Nicole Lemmink are the Physical Therapists.

In 1991-1993, George Presburg is the Head Coach of the Netherlands Softball Team. He is assisted by Marian van Deursen and Linda Landwehr, while the Pitching Coaches are Andrea Nelson (1991) and Petra Goedkoop (1992-1993). In these seasons, Ingrid van Alten and Bert Kostense are the Physical Therapists, while Marco Stoovelaar does the team's administation and scoring and also handles the media affairs. In 1991, led by Presburg, the Netherlands Team wins the Haarlem Softball Team for the first time.

In most of these years, Toon Verzijlberg is the Equipment Manager of the team.

In the same period, March 1985 through January 1992, Truus also is a member of the National Team-staff herself, as she is the Team/Business Manager of the Netherlands Team, handling all organisational activities involving tournament-participation, traveling and international contacts. As such, the oversees the activities of the above mentioned coaches and supporting staff-members. In 1992, she is succeeded in this position by Jan Vermeer.

In her years as Boardmember, Truus Ruiter is driven to come to the best possible circumstances for softball in the Netherlands, including coaching for the National Teams. As a result, she sometimes was criticized for being too much involved in the technical affairs of the Netherlands Team-coaches regarding decisions they took during games or tournaments, instead of overlooking the events as a Board-member and handling things as Team/Business Manager. However, the Netherlands Team has some successful years, as the Orange Team captures the European title in 1988 and 1990. The team also wins the Haarlem Softball Week in 1991. Also, in 1985, the Netherlands Team participates for the first time in the World Games, which is then organized in London, England. The World Games is multi-sports event with non-Olympic sports.

Already before joining the KNBSB-Board in 1985, Truus Ruiter shows that she has organizational skills, something she develops while still playing herself. In 1983, she becomes a member of the Organizing Committee which organizes the Haarlem Softball Week. Through 1987, she serves as member of the Committee, which is presided over by Theo Vleesshouwer. Other members in these years include Conny Broere, Ben de Brouwer, Jacques Kort, Siem Mol, Janke Nijdam, Rinus Paardekooper, Hanneke Rietman, Wil Soolsma, Jacqueline Vergnes, Frank Voskuilen and Dries de Zwaan.

Truus Ruiter re-joins the Organizing Committee in 1990 when Guus van Dee becomes the new President and Kees Bol, Jr. is the new secretary. This time, she part of the Committee through 1994. Other members include Jaco van Ekeris and Harry Meijers.

During the 1990 season, as member of the KNBSB-board, Truus Ruiter has a talk with softball-coach Craig Montvidas. He has an idea for an indoor softball-competition to improve the qualifity of softball. Truus Ruiter embraces the idea and starts things up to organize the event. Thanks to her activities to realize the idea, the first indoor softball-competition is played in November-December 1990 in Sporthallen Zuid in Amsterdam. In these two months, six teams weekly play a game, complete with umpires and official scorers. The games are well-visited and the competition is a big success. Nevertheless, only one more indoor-competitions follows in the following years.

For her activities in realizing the indoor-competition, Truus Ruiter is awarded the Slugger, the highest recognition of the KNBSB to persons for promotional activities.

In 1992, Truus Ruiter is decorated by the KNBSB for her years as board-member and her activities in softball in general.

Through the years, Truus Ruiter has always been passionate for softball. As a player, as a coach, as a member of the Board, as Team Manager and as organisor. She always wanted to create a good and successfull atmosphere for the National Team to improve the development and quality in order to climb the ladder internationally. Truus will surely be missed by many.

The webmaster of Grand Slam * Stats & News offers his condolences to Truus' husband Hans, their sons Ton and André, grandchildren and other family and wishes them a lot of strength with this big loss.

(September 3)