(Story by Marco Stoovelaar; Photos by De Meteoor & Marco Stoovelaar)
IN MEMORIAM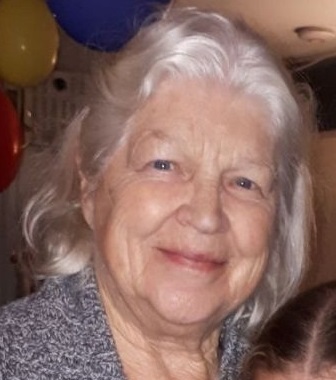 ...Gonnie Sijmons...
(1937 - 2021)
(© Private Photo)

Former softball-administrator; De Meteoor club-icon Gonnie Sijmons passed away
Nederlands

AMSTERDAM (Neth.) - Gonnie Sijmons, who was a national softball-administrator in the eighties, passed away on Tuesday, July 13, at age 83. Besides being a member of the board of the KNBSB softball-section, Mrs. Sijmons was very involved in Amsterdam-based baseball- and softball-club De Meteoor, where she became a club-icon and remained active through the years. She also was a committee-member in the former Rayon Amsterdam.

The memorial service will be held at 2:30 PM on Tuesday, July 20 and can be followed via a livestream.
The ID-code is 141430 (password is f9g2edtyh9u7).

Hillegonda (Gonnie) Sijmons-Knipmeijer was born on November 2, 1937 in Amsterdam. After her marriage to Piet Sijmons, Gonnie became even more involved in the activities of sports-club De Meteoor, where she started playing softball at a young age. Later, the couple lived with their children close to the cozy complex of the club, which is located at the Perenpad in Amsterdam-North, surrounded by trees. There, Piet and Gonnie Sijmons were almost daily at the playing site of both the baseball/softball-section and soccer-section, but also the other sports-section of the multi-sports club. Because they were always there, the two became known as 'Uncle Piet' and 'Aunt Gon' (or Aunt Gonnie). Their sons Piet junior and Gijs and daughter Marieke also went on to play for De Meteoor.

Piet Sijmons, who passed away in 2010, was known for always walking around on wooden shoes and his love for animals, taking care of rabbits and goats. He always was very active in the neightborhood and a small street near where the Sijmons-family lived has been named after him (Pieter Sijmonslaantje).

Piet senior was a frequent line judge at soccer-games of De Meteoor and Gonnie became very active for the softball-section. At De Meteoor, she was one of the club-icons who were the driving forces behind the realization of a succesful and big baseball- and softball-section. Both the main baseball- and softball-teams went on to play in national competitions.

Gonnie not only played softball herself and coached (youth)teams for many years, she also served in several committees and as a member of the club-board. In the late sixties, Gonnie Sijmons started to handle the administration for the softball-section (women and men), which she did through 1979. In those years, she closely worked together with Loes Oosterling, who was the club's baseball/softball-secretary in the seventies and early eighties, and with the club's chairman Jan Voet, who passed away last year. From 1980 on, Gonnie Sijmons continued to do the softball-administration for five more years, but in these years for the youth-section only. She also was active in many club-activities and worked in the clubhouse. For her many contributions to De Meteoor, she was named Honorary Member of the club.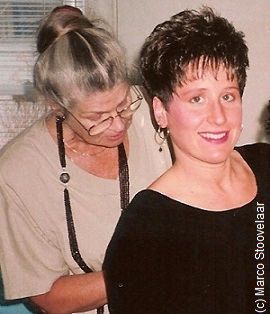 ...Gonnie Sijmons adjusts the...
...dress of Scott Khoury's sister...
...on the wedding day of her...
...daughter Marieke with Scott...
...in 1993 in the USA...
(© Photo: Marco Stoovelaar)

While playing softball for De Meteoor, one of Gonnie's teammates was Hannie Joosten. She also had a long career with the club and went on to coach teams in the Dutch big league, including Onze Gezellen, Amsterdam Pirates and Hoofddorp Pioniers. The two played for De Meteor when it promoted to the second highest league.

Through the years, some of the youth-players who played for De Meteoor and who were coached there by 'Aunt Gonnie' went on to play in the Dutch Softball big league, including Petra Groedkoop, Petra Voogt, Mascha Mignani and her daughter Marieke Sijmons. They all played in the Netherlands National Junior Softball Team.

At a young age, daughter Marieke became a pitcher and played at first base in the main-squad for De Meteoor in the early eighties. She then went on to play one season (1985) for SHELL in the First Division. Hereafter, Marieke played in the Dutch big league for HCAW (1986-1987) and for Amsterdam Pirates (1989-1992).

It was at Pirates that Marieke met her future husband, American Scott Khoury, who played three seasons (1990-1992) in the baseball-team after having played professionally in the Minor Leagues in the organizations of Baltimore Orioles and Cleveland Indians. With Pirates, Scott, who was one of the best hitters ever in the Dutch big league, won the Dutch Championship-title in 1990. In that season, Khoury was the Most Valuable Player of the Dutch big league and also won the Triple Crown, being the Best Hitter and having the Most Homeruns and Most RBI's. After the 1992 season, Marieke and Scott, who married in 1993, moved to the USA where they still live near Boston.

Petra Goedkoop played in the highest league for EDO (1980-1982) and HCAW (1983-1991) and also played in the Netherlands National Softball Team.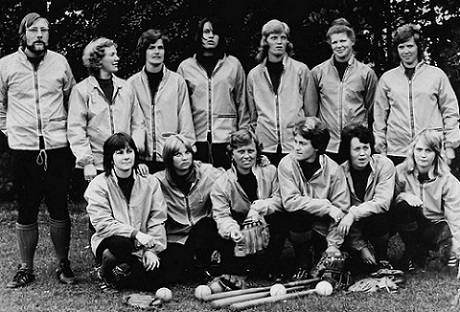 ...The softball-team of De Meteoor that won the title...
...in the Second Division in 1974...
...Gonnie Sijmons stands second from right...
...Sitting second from right is Hannie Joosten...
(© Photo: Archive De Meteoor Softball)

Petra Voogt played in the big league for Hoofddorp Pioniers (1993) and TYBB (1997-1999) and Mascha Mignani also played in the big league for Amsterdam Pirates (1989).

At De Meteoor, Gonnie was always working with youth-players. She always stimulated youth to play sports and then of course especially softball.

It was only fittingly that she was a member of the School Sports Committee of the then Rayon Amsterdam in 1983-1987. This committee worked with local schools to include softball in their sports-activities and organized games and tournaments for school-teams. Other members of this committee included Henk van Rekum and Jaap van Nifterick.

Besides coaching youth-teams at De Meteoor, Gonnie Sijmons also led several All Star Youth Softball Teams (Regional Teams). In those years (seventies, eighties), there were nine baseball/softball-regions (rayons) in the Netherlands and each region had its own representative teams in different age groups. These teams met in a tournament playing for the National Championship-title for Regional Teams.

In 1985, Gonnie Sijmons became a member of the board of the softball-section of the Royal Netherlands Baseball and Softball Association (KNBSB). There were three of these boards (baseball, softball, recreation) in those years. These boards discussed about changes, rules, the format of competitions, involve schools, how to make the sport more popular and attractive and much more. They then advised the main-board of the KNBSB.

These boards were in function for five years (1985-1989). In all these years, Gonnie Sijmons was a member of the softball-board, which was chaired by Dick Bliek, who passed away on February 21. Other members were Rob Kruijk (vice-chairman) and Olga Lablans (secretary). The fifth member in the first four years was Henk Leeflang, who was succeeded by Johan Kluijskens for the final year of the board's existence.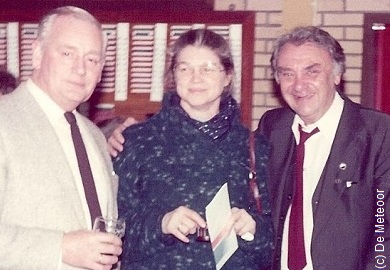 ...Gonnie with De Meteoor-boardmembers...
...Wim de Meijer and Karel Berkhout during...
...a club-activity in 1984...
(© Photo: Archive De Meteoor Jeu de Boules)

De Meteoor was one of two successful baseball- and softball-clubs in Amsterdam-North, the other being De Volewijckers. Both clubs had a long history and also had a soccer-section. The baseball- and softball-section of De Meteoor was founded in March 1953. De Volewijckers founded its baseball-section in August 1946, followed by a softball-section in January 1974. This club played its home-games at Sportpark Banne Buiksloot.

In 2013, soccer-club DWV merged with the soccer-section of De Volewijckers. The new club was named DVC Buiksloot, with DVC standing for 'DWV Volewijckers Combination'. In 2019, this was changed to ASC De Volewijckers. The new club continued playing at Sportpark Buiksloterbanne, but as the new soccer-club had become bigger, there was no room anymore for a baseball- and softball-field at its home-site.

With that, the baseball- and softball-section of De Volewijckers joined forces with De Meteoor in 2013. The clubs merged and that became the current club Amsterdam North Stars, which continues to play its home-games at what was the site of De Meteoor. When the two clubs merged in 2013, there were some 100 members. Now, there are more than 200.

Through the years, Gonnie Sijmons remained a frequent visitor of the site of De Meteoor and later Amsterdam North Stars.

The driven Gonnie Sijmons was always busy for her club De Meteoor, but also for youth-activities in the Rayon Amsterdam. And for softball in general. As a member of the board of the softball-section of the KNBSB, she wanted the best possible conditions for the sport. In competitions, coaching, fields, contacts between clubs and for youth to have opportunities to play softball.

When you met Gonnie, she was always friendly and always had a big smile on her face. She will be missed by many.

The webmaster of Grand Slam * Stats & News offers his condolences to Gonnie's daughter Marieke, sons Piet jr. and Gijs, grandchildren, other family and friends and wishes them a lot of strength with this big loss.

(July 19)