Ralph Milliard joins Kinheim's coaching staff; Marcel Joost retires
Nederlands

HAARLEM (Neth.) - Former Major League and National Team-infielder Ralph Milliard will be part of the coaching staff of Corendon Kinheim next season. Longtime player and coach Marcel Joost will retire. The club, where two players also retired, on Thursday-evening also confirmed the coming of two players, who already were announced earlier by their former clubs.

The two players that are coming to Haarlem are Righthanded Pitcher Pim Walsma and Infielder Roy Seltenrijch. Walsma was 1-3 with one save in 16 games this season for L&D Amsterdam Pirates, throwing 20 2/3 inning in which he struckout eleven hitters.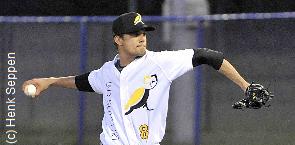 ...Pim Walsma...
(© Photo: Henk Seppen)

Walsma's transfer to Kinheim was announced on October 12, when Amsterdam confirmed their transfers. Seltenrijch hit .346 with nine basehits and played in 12 games this season for DOOR Neptunus, which announced his transfer on October 15.

Ralph Milliard, who will make his big league coaching-debut, came to Mr. Cocker HCAW in the late eighties from De Knickerbockers in Soest and then made his big league-debut in the 1990 season when he played in 20 games for the club, which was then known as HCAW-Tijgers after it had merged with Amstel Tijgers from Amsterdam. In his rookie-season, Milliard batted .242 (15-for-62), scored 10 runs and had three RBI's. He also hit his first big league-homerun in that year, which he hit against and at Kinheim, where he now will be one of the coaches. Milliard hit his first homerun on June 2 when he was the first batter to face new pitcher André Smit, who had just relieved starter Tom Nanne in the seventh inning. While the (solo-)homerun contributed in a comeback for HCAW, Kinheim won the game 11-7.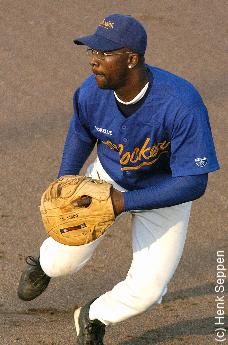 ...Ralph Milliard playing at 1B...
(© Photo: Henk Seppen)

In the first years of his career at HCAW, Milliard played mostly at third base, as Clive Mendes was the regular short stop back then. But right from the beginning, Milliard developed in a very talented player with sometimes spectacular defensive skills, making him probably the best short stop ever. After hitting . 413 in 1991, Milliard was second best in the team with 44 runs the next season and batted .357 with 29 RBI's and seven homeruns in what would be his last year in Bussum at that moment. On July 26, 1992, Milliard had signed a contract with the Florida Marlins and made his professional debut a year later.

In 1993, Milliard played in 53 games for the Rookie League-team of the Marlins in Florida and finished with a .234 batting average with 45 basehits, 35 runs scored and 25 RBI's. It then went quickly with Milliard's professional career, as he was promoted annually. In 1994, he played in the Single-A team, then in 1995 in Double-A. 1996 was a highlight, as he not only played in both Double-A and Triple-A, but also was called up to the Major League-team of the Marlins. On May 12, 1996, Ralph played in his first Major League-game when he entered a home game against the Colorado Rockies in the eighth inning as third baseman. In the bottom of the eighth, Milliard walked in his first Major League-at bat, facing Curt Leskanic, who once participated with an American team (Young Pirates) in an Amsterdam Baseball Series on the old site of Amsterdam Pirates. In his first season in the big league, Milliard went on to play in 24 games.

In 1997, Milliard again played in Double-A and Triple-A, but also played eight games again for the Marlins in the Major League. On February 6, 1998, Ralph was traded to the New York Mets along with pitcher Al Leiter. Also involved in this trade was pitcher A.J. Burnett, who came to the Marlins and currently pitches for the New York Yankees.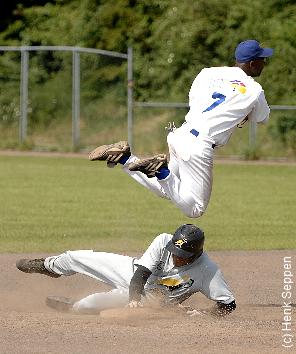 ...Ralph Milliard in a charateristic...
...pose completing a double play...
(© Photo: Henk Seppen)

In his first season in the organization of the New York Mets, Milliard played in the Triple-A team, hitting 108 basehits, including 24 doubles and 15 homeruns, scored 73 runs and had 52 RBI's. He also played in 10 games for the Mets, which would be his last in the Major League. In total, Milliard played in 42 Major League-games, hitting 16 basehits and scoring 12 runs.

After the 1998 season, Milliard played for three more organizations. In 1999, he played in only 32 games for the Double-A team of the Cincinnati Reds. In 2000, he was a member of the Las Vegas Stars, the Triple-A team of the San Diego Padres and then was traded again, this time to the Cleveland Indians, where he played in five games of their Triple-A team in 2001. For Milliard, his professional career ended there, as he decided to return to the Netherlands early in the 2001 season.

Back in the Netherlands, he rejoined Mr. Cocker HCAW, where he would play for seven more full seasons. That Milliard's career was far from over, he showed in the following seasons. In 2002, he was the best hitter of HCAW with a .338 average and also scored the most runs (35). He also led HCAW in runs in 2003 (37), 2005 (25) and 2007 (26) and was the team's best hitter again in 2007, hitting .281. Milliard, who later in his career also played as first baseman, retired as an active player during the 2008 season after having played in 14 games, hitting .256 with eight runs and four RBI's. In eleven Dutch big league-seasons, Milliard played in 336 games.

In 1992, Milliard made his debut in the Dutch National Baseball Team, but then became ineligible due to his professional status. When it was allowed for active or former professionals to play in national teams, Milliard rejoined the Orange-squad in 1999 and participated that year in the Intercontinental Cup in Sydney (Australia). In the following years, he also participated in the 2000 Olympic Games (Sydney). In 2001 and 2002, Milliard was part of the squad that participated in a World Port Tournament and Haarlem Baseball Week, but also an European Championship (Bonn, Germany), World Championship (Taipei, Taiwan) and Intercontinental Cup (Havana, Cuba). After having played for the Orange in 2003, he played one more year for the national team in 2004 and then participated in another Haarlem Baseball Week, as well as the Olympic Games in Athens (Greece).

After having been not active in 2009, Milliard this season was the Head Coach of the Rookie League-team of Mr. Cocker HCAW, but it came to a separation late in the season with only a few games to be played.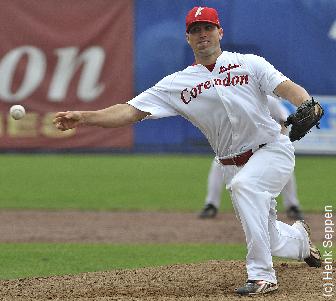 ...Michiel van Kampen...
(© Photo: Henk Seppen)

Righthanded Closer Michiel van Kampen, who also served as Pitching Coach, retired after the season. Van Kampen finished the season with a 2-2 record, 11 saves and a 2.19 ERA. It marked the fourth time that the righthander had 10 or more saves in a season, including setting a record with 14 in 2002. For Van Kampen, 2010 was his fifth season playing for Kinheim and 13th in the Dutch big league. After having played one season for RCH and three for Amsterdam Pirates, Van Kampen made his big league-debut in 1998 when he pitched in 10 games for Hoofddorp Pioniers. He then threw in 1999 for RCH, then pitched in his first of five seasons for Mr. Cocker HCAW in 2000. In that season, he started to become a regular closer and earned his first four saves. A fine season followed in 2001 when he appeared in 33 games, had a 2-1 record and earned nine saves, while striking out 33 in 42 innings. The next year, he set a league-record with 14 saves, throwing in 27 games. In 2005, Van Kampen pitched one season for Almere Magpies, then became the closer of Kinheim in 2006. In his five seasons with the Haarlem-club, he won the Dutch championship-title twice and also won two European Cup-tournaments. While playing for Kinheim, Van Kampen pitched in 114 games and earned exactly 50 saves. In total, Van Kampen pitched in 258 big league-games, including 256 as reliever. During the 1999 season, he was the starting pitcher in two games when he was with RCH. In his 13 big league-seasons, Van Kampen earned 93 saves.

After making his debut in the Dutch National Baseball Team in 1999, Van Kampen participated in several internationals events, including one Olympic Games (Beijing 2008), two World Baseball Classics, four World Championships, two Intercontinental Cups, five European Championships, five Haarlem Baseball Weeks and four World Port Tournaments. He pitched his last international game during the European Championship this summer in Germany in which he appeared in only two games.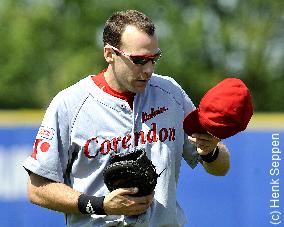 ...Tjerk Smeets...
(© Photo: Henk Seppen)

Tjerk Smeets played in 41 games this season, hitting 34-for-144 and finished with a .236 batting average, 14 runs and 20 RBI's. Smeets, who originially was a catcher, this season divided his playing time between first base and designated hitter, as he retired as catcher due to a leg-injury.

After having played for ABC and TIW-Survivors, Smeets made his big league-debut in 1999, while playing for Amsterdam Pirates. After seven seasons in Amsterdam, Smeets transfered to Kinheim, where he played since 2006. In that season, he was named the league's Most Valuable Player hitting .349 with 53 basehits, scoring 25 runs and leading the league with 36 RBI's.

On August 16, 2000, Tjerk Smeets made his debut in the Dutch National Baseball Team, but had to wait three years for his next national team-games. Since 2005, he became a regular member of the national squad and participated in one Olympic Games (Beijing 2008), one World Championship, one Intercontinental Cup, one European Championship, two Haarlem Baseball Weeks and one World Port Tournament, amongst other events.

This year, Smeets was added to the coachingstaff of the Dutch National Baseball Team and was named Head Coach of RCH-Pinguďns on September 30. More on the career of Smeets can be found in the article when he became the Head Coach of this team, which will play in the 'Overgangsklasse'. On October 14, Smeets also was named marketing manager of the Dutch Federation.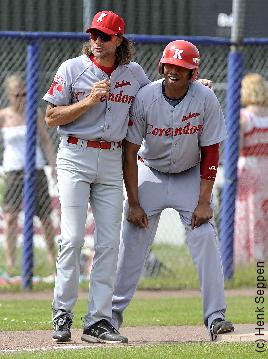 ...Marcel Joost (left)...
...with Bryan Engelhardt...
(© Photo: Henk Seppen)

Marcel Joost retired after the season as third base coach of the team. Since 2003, Joost was one of the coaches of Kinheim during six seasons. In 2003, he was the Bench and Hitting Coach of Louis Hofer, then was to be the Assistant Coach of Dave Daniels the next year, but withdraw before the season started. In 2006, he was the 1B Coach for Ben Thijssen, then was his Bench Coach in the next two years. When current Head Coach Eelco Jansen took over in 2009, Joost became the 3B Coach.

As a player, Marcel Joost can look to an impressive record-setting career. After having started his career at Amsterdam Pirates, he made his big league-debut in 1979 playing for Haarlem Nicols. After having played 10 years for the Haarlem-club, Joost retired and didn't play in 1989. After an one-year absence, Joost returned as an active player in 1990 and played in 13 more seasons. In 1990-1992, he played in three more seasons for Haarlem Nicols, then joined Kinheim in 1993, where he played the next 10 seasons. When he batted only .205 in the 2002 season with 30 basehits in 44 games, Joost retired at the end of the season and became one of the coaches.

In 1999, Joost became the first player in Dutch history to hit his 1000th basehit in the big league. Joost, who was the league's batting champion in 1982 and 1994 and the MVP in 1982, in total played 23 years in the Dutch big league. In his long career, Joost became the recordholder with 859 games played, 757 runs scored, 777 runs batted in, 1166 basehits and 148 homeruns, records that still stand.

After making his debut in the Dutch National Baseball Team in 1980, Marcel Joost went on to set a record by playing in 163 international games, which was broken a few years ago by Dirk van 't Klooster, who in his turn was passed by current recordholder Raily Legito. Joost concluded his international career during the European Championship of 2001 in Germany. Amongst his many international tournaments are two Olympic Games (1988 Seoul, Korea, 1996 Atlanta, USA), six World Championships and six European Championships.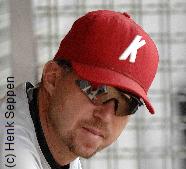 ...Eelco Jansen...
(© Photo: Henk Seppen)

Next season, Eelco Jansen will return for his third season as Head Coach of Kinheim, while Hans Lemmink will come back for his second season. This year, Lemmink was the 1B Coach, while Marcel Joost was at third base. It has not yet been decided where Lemmink and Milliard will be coaching next season.

Eelco Jansen: ,,Except for the two players who retired, the team remained intact and that's always a pleasure. Of course, we will miss the knowledge and influence of Marcel Joost next season, but we respect his decision. Yes, he will be missed, but I'm very happy with the coming of Ralph Milliard. He will bring a lot of experience and can teach our players a lot.''

In the off-season and also during next years competition, Jansen will work closely with Wilfred Jelsma, the Head Coach of the Rookie League-team of Kinheim, with he will stay in touch regarding the development of the players in this team. Jansen: ,,In the coming months, but also during the season, we will bring up some of the talented players in the Rookie-team, which are very enthousiastic players. They will het the opportunity to participate in practice sessions, be with the team during games and will get a playing chance to gain experience on the big league-level.''

(October 28)