(Story by Marco Stoovelaar; Photos by ANP Photo & Marco Stoovelaar)
IN MEMORIAM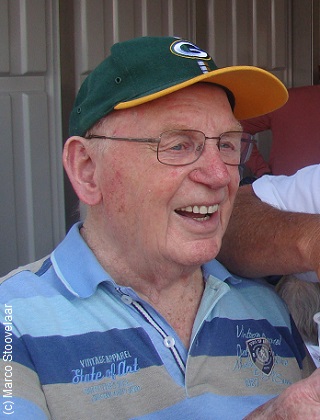 ...Dolf de Zwart...
(1931 - 2019)...
(© Photo: Marco Stoovelaar)

Former big league and Netherlands Team catcher and coach Dolf de Zwart passed away
Nederlands

BEVERWIJK (Neth.) - Former big league and Netherlands Team-catcher Dolf de Zwart passed away on Sunday, October 6 at the age of 88. After his playing career, De Zwart remained active in baseball as a coach, which included the Netherlands National Team.

The memorial service took place on Thursday, October 10 in Haarlem.

Adolf Gerrit de Zwart, Junior was born on May 25, 1931 in Utrecht, but played and coached the majority of his long career in Haarlem. He went on to become a great and passionate player, who played very well both defensively as catcher and offensively. De Zwart was a keen hitter, as he also frequently walked. Besides that, De Zwart also was a speedy runner.

In the forties, De Zwart plays in the junior-team of Haarlem-based EDO. One of this teammates is infielder/pitcher Piet de Nieuwe, who would be his teammate throughout his entire career. A few years later, Leo Kops also would become a longtime teammate. In those years, wellknown players as Teun van den Berg, Sjoerd Feenstra, Bud van Leuven, Joop Odenthal, Theo van der Putten, Henk Schijvenaar and Ben Vrenegoor play for the main-squad of EDO. In 1948, EDO relegates from the First Division, which on those years is the highest league. In 1949, De Zwart makes his debut in the main-squad of EDO for whom he would play through 1963. In these early years, the team experienced ups and downs. In 1949, EDO promotes back to the First Division, but relegates again in 1951. The team returns to the highest league again in 1953.

In his career, Dolf de Zwart experienced several highlights. He played, mostly as a catcher and later in his career as third baseman, in the highest league in 1950-1951, then 1954 through 1967 for EDO and Haarlem Nicols. In these years, the top games were often attended by 4,000 to 5,000 spectors.

Until 1957, the First Division is the highest Dutch league. This year, there are two divisions with eight teams each. It is decided to bring back this total and establish a big league of eight teams in 1958. That means that the four best teams of each division will secure a spot in the big league. The remaining teams will play in the First Division, which then becomes the second highest league. On September 28, 1957, at the site of Zeeburgia in Amsterdam, EDO has to play an one-game play-off against Ajax, as both shared fourth place in Pool A. EDO scores the first run in the fourth inning on a hit by Jan Kops (the brother of Leo). 18-year old Doby Peters throws for EDO. With one out in the eighth inning, Ajax has runners on second and third base. Ajax-hitter Herre Kok hits a comebacker to Peters, who then makes it appear that he throws the ball the first base. Instead, he turns around, throws the ball to catcher Dolf de Zwart, who tags out approaching baserunner. In the ninth inning, a nice double play made by Dolf de Zwart, Jan Kops and Piet de Nieuwe ends the game. EDO wins 1-0 and therefore will play in the big league in 1958. Joining EDO in the first big league are EHS, HHC, OVVO, Schoten, Sparta, De Volewijckers and VVGA.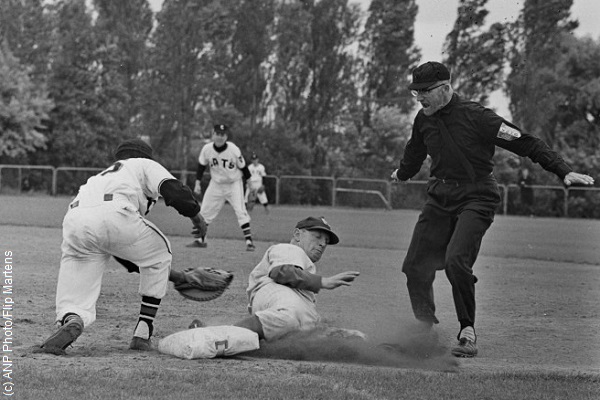 ...Dolf de Zwart slides back to first base as runner for Haarlem Nicols...
...against OVVO in Amsterdam in July 1965 and avoids being tagged by...
...1B Ruben Martes; Umpire Evert van Tuyl gives the safe-signal...
(© Photo: ANP Photo/Flip Martens)

Another highlight comes on August 16, 1958 when league-leader EDO plays against OVVO in its final game of the season and wins 5-0. The game, played at the site of EDO in Haarlem, is attended by more than 5,000 spectators. Doby Peters also is the pitcher for EDO in this game and has a great outing against the accomplished batting order of OVVO. Peters throws a No-Hitter with De Zwart being his catcher. He strikes out six batters and faces only three batters above the minimum. EDO faces ace Han Urbanus, but the team collects eight basehits off of the experienced hurler and scores five runs. EDO opens the score in the fifth inning when two runs are scored on errors. In the sixth, Jan Molleman scores the third run on a bunt by Piet de Nieuwe, then De Zwart follows with a towering homerun. In the eighth, Molleman scores another run, this time on a wild pitch. OVVO gets only one chance to score a possible run. With Max Rietbergen (walk) on base in the eighth, pinch-hitter Aart Kruys drives the ball into deep centerfield, but there, Jan Molleman makes a great catch against the fence.

With the win against OVVO, EDO stays in first place. Only EHS can come alongside, but in order to do so, it has to win a halted game against OVVO. That game was halted with a 3-3 score after nine innings at the end of May. During a meeting with the clubs earlier in February, it was agreed that from the 1958 season on, tie games will be extended with extra innings until a winner has been decided. However, Home Plate Umpire Henk de Ruiter and Field Umpire Piet Schijvenaar refused to continue playing, stating that they were not informed of the new rule. De Ruiter consulted league-commissioner Cor Jonker, who confirmed the rule-change. However, it had never been officially published that the rule-change had come into effect! A few days later, De Ruiter writes a letter to the Dutch Federation Board, offering his apologies and to acknowledge that he taken a wrong decision. The remainder of the EHS vs. OVVO game was never played. After the season, the Jury of Appeal decides that because the league-regulations, which included that a game in the highest league cannot end in a tie, were never officially published. With that, the regulations were not valid and so, the EHS vs. OVVO game was played according to the old rules, meaning it ended in a tie. With this ruling, EDO ended in first place and won the Dutch Championship-title. It was the lone title in club-history.

Remarkable enough, in the following year, 1959, EDO shares last place in the big league with OVVO halfway the season. EDO ends up in last place in June after losing a 15-inning game against OVVO with a 5-4 score. EDO took an early 2-0 lead, but OVVO scored three runs in the fifth inning on basehits by Wil Meijer, Martin Rosenkrantz and Max Rietbergen. Trailing 4-2, EDO comes alongside thanks to hits by Jan Molleman and Dolf de Zwart in the seventh inning. OVVO then scores the winning run in the 15th inning on a sacrifice fly by Rietbergen. But EDO prolongs its stay in the big league.

In the late fifties, EDO is often described as young, energetic and mentally strong. Amongst De Zwart's teammates at EDO are Sjoerd Feenstra, Roel Hopman, Jan Kops, Leo Kops, Jan Molleman, Dries Mul, Piet de Nieuwe, Doby Peters and Gé Smit. The team is coached by Bud van Leuven, who also plays himself.

In 1962, Dolf de Zwart is the playing/coach of EDO. In this season, De Zwart again shows his offensive strength against OVVO. On July 8, having just returned from a holiday, De Zwart and EDO faced a 6-0 deficit halfway the game. EDO then narrowed the deficit to 6-2 on an infield-hit by Jan Molleman, then De Zwart followed with a 2-run homerun off of pitcher Flip le Cuivre. EDO added another run in the eighth, then De Zwart homered again (with two outs) in the ninth inning to tie the score and force extra innings. 6-6 also became the final score after twelve innings, as it had been decided that a game ends after twelve innings.

De Zwart closes the 1962 season with a .327 batting average, just as teammate Doby Peters, to finish in second place behind league-leader Simon Heemskerk (EHS), who batted .333.

On May 25, 1963, there is another highlight in the career of Dolf de Zwart. On that day, EDO meets rival EHS and faces pitching-ace Herman Beidschat. Since he made his big league-in 1959, Beidschat had pitched in eight games against EDO and had not allowed a run in those outings. That streak not only ended on this day, Beidschat also suffered his first loss of the season. In the first inning, lead-off hitter Jan Molleman scored on a bunt-single by Jan Kops. In the eighth inning, De Zwart added a 2-run double. Ton Terneuzen was the winning pitcher for EDO and gave up only four basehits.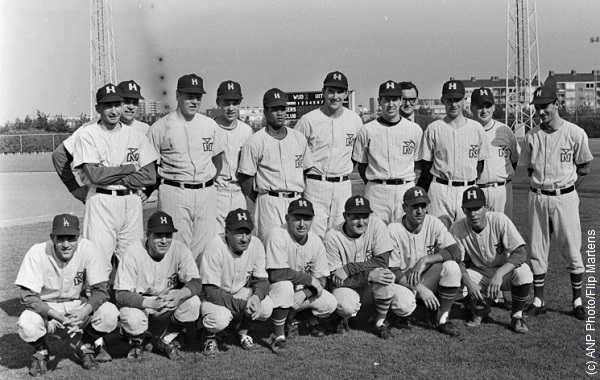 ...The Championship-team of Haarlem Nicols in 1965...
...Standing: Simon Heemskerk, Gé Hoogenbos (Head Coach), Hans Vissers,...
...Jan-Dick Leurs, Ricky Placidus, Ton Terneuzen, Leo Kops, boardmember,...
...Jan Molleman, Jan Schaefer (Assistant Coach) and Ricky Kersout...
...Sitting: Boudewijn Maat, Ben Tromp, Piet de Nieuwe, Dolf de Zwart,...
...Roel Hopman, Fred Ausma and Robert Maat...
(© Photo: ANP Photo/Flip Martens)

On Wednesday-evening, August 7, 1963, Dolf de Zwart is one of the players who play for Team Haarlem and Team Rotterdam. These two teams meet in a game for the 'Baseball Artificial Light Cup' (yes, this really was the name), as it is the game played under lights in the new Pim Mulier Stadium in Haarlem, which is the home-site of Haarlem Nicols. Haarlem wins 11-3, highlighted by homeruns hit by Boudewijn Maat and De Zwart. In the first six innings, Haarlem-starter Herman Beidschat gives up only basehit, recorded by Wim Corpeleijn. With this basehit, he breaks up a Perfect Game in the fifth and is the lone batter to reach base off of Beidschat. Jan Smidt (who passed away in January of this year) takes over the pitching in the seventh. Hans Bouwen (who passed away in July) is the starting pitcher for Rotterdam.

After the 1963 season, EDO and EHS merge to become Haarlem Nicols and since 1964, De Zwart mostly played as third baseman for the new club. Amongst his teammates at Nicols were Herman Beidschat, Simon Heemskerk, Leo Kops, Boudewijn Maat, Robert Maat, Jan Molleman, Piet de Nieuwe, Ricky Placidus and Ton Terneuzen with Gé Hoogenbos being the coach.

In 1965, Haarlem Nicols captures its first Dutch Championship-title. The next year, on September 3, 1966, Nicols wins the European Cup, winning 10-4 against Europhon Milano from Italy. With that, Nicols becomes the first Dutch club to win the European Cup. Robert Maat, Herman Beidschat, Boudewijn Maat and Ton Terneuzen hit homeruns. De Zwart, who since 1965 also is an Assistant Coach, contributes with a runscoring single.

In 1967, Ben Tromp is the new Head Coach of Haarlem Nicols, which adds some younger players. With this, veterans De Zwart and Piet de Nieuwe become back-up players. Experienced short stop Leo Kops moves to the outfield to make room for younger Johnny Jonkers. Jan-Dick Leurs becomes the new pitching-ace, taking over from Herman Beidschat. He moves to the infield and will be used as a reliever.

After the 1967 season, De Zwart leaves Haarlem Nicols. He becomes the playing coach of HCTIW in Amsterdam.

In June 1956, Dolf de Zwart (as outfielder) makes his debut in the National Team. He is one of sixteen players selected for the Netherlands Team for the European Championship, which is held in Italian capital Rome. It marks the first time that the Netherlands participates in an European Championship. The other players on the roster are pitchers Nico Brands, Jan Smidt and Han Urbanus, catchers Joop Geurts and Harry Nijhuis, infielders Gé Hoogenbos, Martin Jole, Ruut Jongeling, Henk Keulemans, Frans Klooster, Ruud Kok and Charles Urbanus and outfielders Herre Kok, Henk Lukkien, Frits Meijer and Dolf de Zwart. Keulemans is playing Head Coach, assisted by Ab Hordijk. The Orange team plays four games, wins all four (including an 1-0 vs. Belgium) and wins its first European title.

A year later, De Zwart is one of fourteen players selected for the Netherlands Team for the European Championship, which is held in Mannheim (then West-Germany). De Zwart is the back-up catcher for experienced Joop Geurts. The Netherlands Team, which prolongs its European title, is compiled of pitchers Joop Bakker, Nico Brands, Jan Smidt and Han Urbanus, catchers Joop Geurts and Dolf de Zwart, infielders Leo Kops, Henny van Lieshout, Piet de Nieuwe and Henny Regeling and outfielders Nol Houtkamp, Martin Jole, Herre Kok and Henk Lukkien. Henk Keulemans again is the Head Coach of the team, but also plays himself, becoming the 15th player on the roster. Ad Kraal is the Assistant Coach.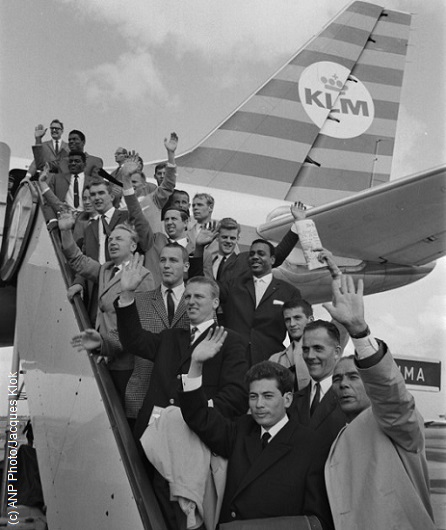 ...The Netherlands Team leaves for Madrid (Spain)...
...for the 1965 European Championship...
...Dolf de Zwart stands at left (4th from bottom with...
...grey jacket); Head Coach Glenn Gostick stands...
...at the top; Assistant Coach Charles Urbanus stands...
...at bottom right; The players are from top,...
...left to right: Hamilton Richardson, Hudson John,...
...Boudewijn Maat, Robert Maat, Rudi Dom,...
...Ton Terneuzen, Hans Onverwagt, Bert Paalman,...
...Dolf de Zwart, Leo Kops, Doby Peters, Wim Crouwel,...
...Simon Arrindell, Hermain Beidschat, Arnoud Blom,...
...Roy van den Dungen Gronovius and Han Urbanus...
(© Photo: ANP Photo/Jacques Klok)

The 1957 Championship is very memorable and has a very chaotic start. Initially, France and Tunisia also were to participate, but withdraw. With that, Belgium, Italy, Spain and the Netherlands became the participating teams. After arriving in Mannheim, the housing and eating for the team is not arranged well. A day before the start of the event, the game-schedule is suddenly changed, resulting in protests and a return to the original schedule. On the first day of the tournament, the Netherlands takes a quick 3-0 lead against Italy, which is coached by American Jimmy Strong. In the second inning, Strong files a protest, as there is no Official Scorer assigned for the game and claims the game has to be replayed. The protest is accepted by the organization and the game indeed was re-scheduled three days later. On the second day, the game against West-Germany is halted after two innings, as Belgian Home Plate Umpire Vinck is threatened by some unhappy Germany players. Players of the Dutch Team assist the umpire and protect him. The game is declared a forfeit for Germany and the Netherlands is awarded the win. After this game, the European Federation takes over the organization of the event, suspends the German players involved in the incident and continues the tournament. After the 'win' against West-Germany, the Netherlands wins against Italy (3-1), Spain (10-1) and Belgium (14-0) to again capture the European title.

In 1956 and 1957, the winner of the European Championship also qualified for the Global World Series in the USA. In these years, Dolf de Zwart travels with the Netherlands Team to Milwaukee and Detroit to play in this event.

De Zwart also is member of the Orange Team that captures its third consecutive European title in 1958 when the Championship is organized in Amsterdam (Netherlands). In following years, De Zwart is not selected for the National Team, but he returns in 1964 for the European Championship in Milan (Italy). During that event, De Zwart, Han Urbanus, Leo Kops and Simon Arrindell are listed as the pillars of the team. Making their debut in the Orange-squad during the event are two young talented players, catcher Arnoud Blom and infielder Peter van 't Klooster. De Zwart also participates in the 1965 Championship in Madrid (Spain). In both 1964 and 1965, the Netherlands again is the European Champion. In total, De Zwart plays in 19 official international games for the National Team.

In 1967, Charles Urbanus (Sr.) is named Head Coach of the Netherlands National Team. Dolf de Zwart becomes one of his Assistant Coaches, as are Wim Geestman (Sr.), Fokke Jelsma and Cees Herkemij. They assist Urbanus during practice sessions. In September 1968, De Zwart, Geestman and Herkemij lead the Netherlands Team during the first Open European Championship. At the Pim Mulier Stadium in Haarlem, the Netherlands then plays against Wiesbaden Flyers and Berlin Bears, teams compiled from American soldiers stationed in West-Germany. Wiesbaden is the champion of the Air Force-teams, Berlin of the Army-teams.

In 1969-1972, Dolf de Zwart is the Assistant Coach of the Netherlands Team. In 1969, De Zwart assists Head Coach Charles Urbanus during the Haarlem Baseball Week with Wim Geestman being the Pitching Coach. In November 1970, Urbanus and De Zwart are the coaches of the Netherlands Team when it participates for the first time in a World Championship, which is held in Cartagena and Barranquilla in Colombia. The team travels in two separate groups and plays some exhibition games on Curaçao and Aruba before going to Colombia. The roster of the first World Championship Orange Team looks is compiled of pitchers Nol Beenders, Ben de Brouwer, Rudi Dom, Jan-Dick Leurs, Ron Renooij, Ton Terneuzen, Carel de Vries and John van Westrenen, catchers Hans Augustinus, Arnoud Blom and Ton Bodaan, infielders Fred Beckers, Roy van den Dungen Gronovius, Ton de Jager, Boudewijn Maat and Robert Maat and outfielders Fokke Jelsma, Dassy Rasmijn and Hamilton Richardson. Henk Hendriks is the Head of Delegation, while Guus van der Heijden represents the Board of the Dutch Federation. The Netherlands plays eleven games in Colombia and records one win, a 9-3 victory against the Netherlands Antilles.

In 1971 and 1972, De Zwart and Cees de Bruin are the Assistant Coaches of the Netherlands Team, which is then managed by Bill Arce (1971) and Ron Fraser (1972). With the team, De Zwart then participates in the successful European Championship in Parma (Italy) (1971) and Haarlem Baseball Week (1972). De Zwart ends his Orange-period after 1972.

In 1973, De Zwart and Leo Kops are the coaches of Haarlem Nicols in the Dutch big league.

For his contributions to baseball, De Zwart is decorated by the Dutch Federation in February 1969, along with two other former National Team-players, Leo Kops and Rob Hoffmann.

The webmaster of Grand Slam * Stats & News offers his condolences to the family of Dolf de Zwart and wishes them a lot of strength with this loss.

(October 15)