(Story by Marco Stoovelaar)
IN MEMORIAM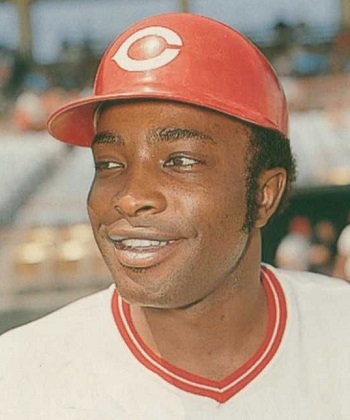 ...Joe Morgan...
(1943 - 2020)

Cincinnati Reds (Big Red Machine) legend and Hall of Famer Joe Morgan passed away
Nederlands

DANVILLE, California (USA) - Joe Morgan, the legendary second baseman from a glorious period of the Cincinnati Reds, when the team was known as 'The Big Red Machine', passed away on Sunday, October 11 at age 77. The infielder, who is considered one of the best second basemen ever, played in 22 Major League-seasons for five clubs, was a Most Valuable Player twice, won two World Series twice and was inducted into the Hall of Fame in 1990. Morgan was diagnosed with Myelodysplastic syndrome in 2015, which developed into leukemia.

It is a very tough period for Major League Baseball and baseball-fans worldwide, as yet another beloved and legendary player and Hall of Famer and an icon for many, passed away. Joe Morgan is the sixth Hall of Famer who passed away this year and the fifth since August 31.

On Monday, August 31, pitching-great Tom Seaver passed away at age 75. Less than a week later, on Sunday, September 6, legendary St. Louis Cardinals-outfielder and Stolen Base-leader Lou Brock passed away at age 81. On Friday, October 2, legendary St. Louis Cardinals-pitcher Bob Gibson passed away at age 84. On Thursday, October 8, legendary New York Yankees-lefthander Whitey Ford passed away at age 91. Earlier this year, the baseball-world lost another Hall of Famer when outfielder Al Kaline, who played in 22 Major League-seasons for Detroit Tigers, passed away on April 6 at age 85.

Also in recent days, three other wellknown former players passed away.
Outfielder Jay Johnstone, who played 20 seasons in the Major League and was also known for his part in the comedy-movie The Naked Gun, passed away on Saturday, September 26 at age 74. Outfielder Lou Johnson, who worked for 40 years in the organization of the Los Angeles Dodgers, passed away Wednesday, September 30, at age 86. Former Los Angeles Dodgers relief great longtime Pitching Coach of the club Ron Perranoski passed away on Friday, October 2 at age 84.

Joe Leonard Morgan was born on September 19, 1943 in Bonham, Texas. After moving with his family to Oakland (California) at a young age, Morgan attended Castlemont High School and Oakland City College. At both schools, he showed his baseball-talent and was a great player. Morgan went on to play in 22 Major League-seasons for five clubs. In 1963, the second baseman played for the new Houston Colt .45s, which was established the year before and was renamed Houston Astros after the 1964 season. Morgan played nine seasons for Houston (1963-1971), which moved into the first-ever indoor stadium, the Astrodome, in 1965. The names Astros and Astrodome were chosen to underscore the important link of the city with (manned) spaceflight, as NASA's Mission Control Center and the Manned Spacecraft Center (in 1973 renamed Lyndon B. Johnson Space Center) are located in Houston. The Center is also the home of the astronaut corps of NASA.

After nine seasons with Houston, the infielder played in eight seasons (1972-1979) for Cincinnati Reds where he became part of the legendary 'Big Red Machine' that won two World Series. Hereafter, Morgan returned to Houston (1980), then played for San Francisco Giants (1981-1982), Philadelphia Phillies (1983) and Oakland Athletics (1984) in the final years of his long career.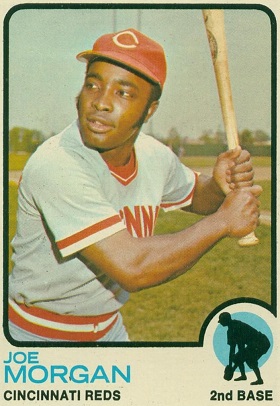 ...1973 Baseball Card...

In November 1962, Morgan was signed by Houston Colt .45s, which earlier that year was one of the two expansion teams in the National League, the other being New York Mets. The following year, he made his professional debut playing in Single-A. Later that season, on September 21, 1963, Morgan made his debut in the Major League at age 19 and played in eight games for Houston. Right from the beginning, the lefthanded hitting Morgan developed his signature batting style. While batting, he had problems with his swing, as he kept his back elbow too low. He was then advised by teammate Nellie Fox to make a flapping move with his back arm to keep his elbow up. Morgan adopted the advice and used the 'flapping' move throughout his long career, developing into a strong and effective hitter.

In 1964, Morgan started the season in Double-A, hitting .323 with 160 basehits (12 homeruns) and stole 47 bases in 140 games. He also appeared in ten Major League-games for Houston.

1965 was Morgan's first full season in the Major League. While still having the rookie-status, Morgan played in 157 games, batted .271 and led the Major League with 97 walks. He scored 100 runs, hit 14 homeruns and finished in second place in the voting for Rookie of the Year behind Jim Lefebvre (Los Angeles Dodgers).

From 1965 on, Morgan went on to record 120 or more basehits in six of seven seasons while playing for Houston. In 1966, he played in his first All Star Game, then again in 1970. In 1971, Morgan led the Major League with eleven triples.

Amongst his teammates with Houston were wellknown players as Jesús Alou, Bob Aspromonte, César Cedeño, Tommy Davis, Nellie Fox, César Gerónimo, Bob Lillis, Eddie Mathews, John Mayberry, Denis Menke, Doug Rader and Rusty Staub and pitchers Jack Billingham, Jim Bouton, Mike Cuellar, Larry Dierker, Ken Forsch, Dave Giusti, Don Larsen, J.R. Richard and Robin Roberts. Two longtime teammates of Morgan with Houston were Bob Watson and Jim Wynn, who both passed away earlier this year. Wynn passed away on March 26, two weeks after having turned 78. Watson passed away on May 14, a month after his 74th birthday.

While Joe Morgan was a solid and productive player in Houston's line-up, the team wanted more power. In November 1971, the infielder was one of eight players involved in a big trade with Cincinnati Reds. Along with Morgan, outfielder César Gerónimo, pitcher Jack Billingham, infielder Denis Menke and Minor League-outfielder Ed Armbrister also went to Cincinnati, while Houston got first baseman/outfielder Lee May, second baseman Tommy Helms and outfielder Jimmy Stewart. It was one of the most talked about trades ever.

While playing for Cincinnati, Morgan again showed his power, speed on the bases and his great defense skills. At Cincinnati, Morgan became part of a very successful team that became to known as 'The Big Red Machine', which dominated the National League in 1970 through 1979. The other core members of this powerful team were catcher Johnny Bench, first baseman Tony Pérez, third baseman Pete Rose, short stop Dave Concepción and outfielders Ken Griffey, Sr., George Foster and César Gerónimo. Other regulars in these were Dan Driessen, Ed Armbrister and Bill Plummer. In later years, Dave Collins and Ray Knight joined the team. Amongst the pitchers in the 'Big Red Machine' were Jack Billingham, Pedro Borbon, Clay Carroll, Rawly Eastwick, Don Gullett, Will McEnaney, Gary Nolan and Fred Norman and in the lates seventies Manny Sarmiento, Tom Seaver, Mario Soto and Pat Zachry. Manager of the successful Reds-team in 1972-1978 was Sparky Anderson.

...Joe Morgan bats in the deciding run in Game 7 of 1975 World Series...

In these years, Bench, Concepción, Foster, Griffey, Gerónimo, Pérez, Morgan and Rose were nicknamed the 'Great Eight'. As 'Big Red Machine', Cincinnati won six titles in the National League West Division, four National League-titles and two World Series. In the ten seasons the club was known under this nickname, 953 games were won. Besides Morgan, Bench, Pérez and Manager Anderson were also inducted into the Hall of Fame. Rose, who is the All-Time Leader in Basehits (4.256) and Games Played (3.562), also deserves to be in the Hall of Fame, but in 1989, he was penalized for accusations that he gambled on baseball games and was put on the 'permanently ineligible list' from baseball.

Joe Morgan not only had power, he also was a very effective hitter to move players around and reached base frequently. He showed his effectiveness regularly in clutch situations While playing for Cincinnati, Morgan played in eight consecutive All Star Games (1972-1979).

In 1972, his first season with Cincinnati, Morgan led the Major League with 122 runs, 115 walks and a .417 on-base percentage. Morgan led the league again in on-base percentage in 1974, 1975 and 1976.

Morgan had his best seasons in 1975 and 1976 when he batted .327 and .320 respectively. In 1975, he scored 107 runs, batted in 94, stole 67 bases and collected 163 basehits with 17 homeruns. The following season, Morgan scored 113 runs, batted in 111, stole 60 bases and recorded 151 basehits with 27 homeruns. In both seasons, Morgan was named Most Valuable Player of the National League to become the first second baseman to be named NL MVP two years in a row.

Also in 1975 and 1976, Morgan won the World Series with Cincinnati. In 1975, the team defeated Boston Red Sox, the following year New York Yankees. In the 1975 World Series, it was Joe Morgan, who batted in Ken Griffey to score what would be the winning run in Game 7 against Boston Red Sox.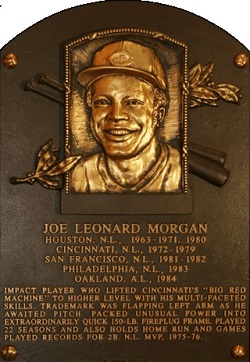 ...Joe Morgan's...
...Hall of Fame Plaque...

As mentioned, Morgan was a great defensive player. He won the Gold Glove Award in five consecutive years (1973-1977).

After the 1979 season, Morgan became a Free Agent. He then returned to Houston, where he signed in January 1980. In that year, he helped leading the Astros to winning the title in the National League West Division. In that season, Morgan led the National League with 93 walks.

Amongst his teammates in this Championship-season with Houston were Bruce Bochy, Enos Cabell, César Cedeño, José Cruz, Art Howe, Jeffrey Leonard, Terry Puhl, Luis Pujols and Craig Reynolds and pitchers Joaquín Andújar, Ken Forsch, Joe Niekro, J.R. Richard, Vern Ruhle and Nolan Ryan.

Morgan was released in December 1980, then signed with San Francisco Giants in February 1981. Morgan played two seasons for San Francisco (1981-1982), hitting respectively .240 and .289.

At San Francisco, Morgan again played with Enos Cabell and Jeffrey Leonard, but also Vida Blue, Jack Clark, Darrell Evans, Duane Kuiper and Johnnie LeMaster.

In December 1982, San Francisco traded Morgan with pitcher Al Holland to Philadelphia Phillies for three players. In the 1983 season, Morgan played for Philadelphia, where he was reunited with Pete Rose and Tony Pérez, his former teammates in Cincinnati. Also playing for Philadelphia that year were Steve Carlton, Von Hayes, Garry Maddox, Gary Matthews, Tug McGraw and Mike Schmidt. With Philadelphia, Morgan played in another World Series, but this time, his team lost to Baltimore Orioles.

After being released by Philadelphia in October 1983, he was signed by Oakland Athletics for whom he then played in 1984. Amongst his teammates then were Rickey Henderson, Dave Kingman, Carney Lansford, Davey Lopes and Tony Phillips. With Oakland, Morgan played in 116 games and batted .244, then retired after the season, at age 40.

In his 22 Major League-seasons, Joe Morgan played in 2.649 games. The infielder recorded 2.517 basehits, including 449 doubles, 96 triples and 268 homeruns. Morgan scored 1.650 runs and batted in 1.133. He stole 689 bases and walked 1.865 times. Defensively, Morgan made only 244 errors in 12.953 chances in 2.527 games as second baseman. Morgan is the all-time leader amongst second basemen in Stolen Bases (678) and Runs Scored (1.625).

...Announcement Cincinnati Reds 'Franchise Four' during...
...All Star Game on July 15, 2015...

After he had retired, Joe Morgan was a broadcaster and analyst for many years. Morgan made his broadcasting debut in 1985 when did the commentary for televised games of Cincinnati Reds. Hereafter, he was a commentator for San Francisco Giants for nine years (1986-1994), then added one more year in the same position for Oakland Athletics. In 1986, he worked for ESPN, then was an announcer for ABC Sports in 1988-1989 for Monday Night Baseball and Thursday Night Baseball. In 1989, Morgan was the field reporter for ABC during the 1989 World Series between San Francisco Giants and Oakland Athletics. He was on the field in Candlestick Park in San Francisco preparing for an interview when a big earthquake hit the area, just before the start of Game 3, which was broadcast live on national television. In 1994-2000, Morgan was a member of the broadcast team for NBC Sports, including covering several World Series, All Star Games and Play-Off Series. Since 1990, Morgan also was a commentator for both televsion and radio for ESPN. After Morgan had become a Special Adviser for Baseball Operations for Cincinnati Reds in April 2010, it was announced in November of that year that he would not return as a commentator in 2011.

Following his impressive career, Morgan was inducted into the Cincinnati Reds Hall of Fame in 1987. His uniform number 8 was retired by Cincinnati Reds in 1998, which many said was far overdue. In 2013, a statue of Morgan was unveiled at Great American Ball Park, the home stadium of Cincinnati.

In 1990, the first year of his eligibility, Joe Morgan was elected into the National Baseball Hall of Fame. In 1999, he was named to the Major League Baseball All-Century Team.

On July 15, 2015, the annual All Star Game was played in Cincinnati's Great American Ball Park. Before the game, the club named honored the 'Franchise Four', the four best players in club-history, being Morgan, Johnny Bench, Barry Larkin and Pete Rose.

Joe Morgan was a member of the board of the Baseball Assistance Team (BAT), which helps former players (Major League, Minor League, former Negro League) with financial problems and with medical assistance. He also was a member of the board of the Jackie Robinson Foundation. Morgan also was a longtime member of the Board of Directors of the National Baseball Hall of Fame and Museum. He served on this Board since 1994 and was the Vice-Chairman since 2000 until his death.

...In Memoriam Tribute Joe Morgan by Major League Baseball...

Bob Castellini, the CEO of Cincinnati Reds, stated:
,,The Reds family is heartbroken. Joe was a giant in the game and was adored by the fans in this city. He had a lifelong loyalty and dedication to this organization that extended to our current team and front office staff. As a cornerstone on one of the greatest teams in baseball history, his contributions to this franchise will live forever. Our hearts ache for his Big Red Machine teammates''.

Former catcher Johnny Bench, Morgan's teammate at Cincinnati Reds, said:
,,Joe wasn't just the best second baseman in baseball history, he was the best player I ever saw and one of the best people I've ever known. He was a dedicated father and husband and a day won't go by that I won't think about his wisdom and friendship. He left the world a better, fairer, and more equal place than he found it, and inspired millions along the way''.

Rob Manfred, Commissioner of Major League Baseball, reacted:
,,Major League Baseball is deeply saddened by the death of Joe Morgan, one of the best five-tool players our game has ever known and a symbol of all-around excellence. Joe often reminded baseball fans that the player smallest in stature on the field could be the most impactful. On a Big Red Machine roster stocked with greats, Joe earned National League MVP honors during both of Cincinnati's World Series Championship seasons of 1975 and 1976.
Joe was a close friend and an advisor to me, and I welcomed his perspective on numerous issues in recent years. He was a true gentleman who cared about our game and the values for which it stands. Those who knew him, whether as a Sunday Night Baseball broadcaster, a Hall of Fame board member or simply as one of the legends of our National Pastime, are all the better for it. On behalf of Major League Baseball, I extend my deepest sympathy to Joe's wife Theresa, his family, his many friends across our sport, the fans of Cincinnati and everywhere his 22-year career took him, and all those who admired perhaps the finest second baseman who ever lived''.

Jane Forbes Clark, Chairman of the Board of the National Baseball Hall of Fame and Museum, said:
,,Joe Morgan has been uniquely and powerfully influential to the Hall of Fame, not only as a Member, but as its Vice-Chairman of the Board. During his career he was singularly committed to becoming the absolute best at his craft, combining his natural and developed skills with a model dedication in pursuit of his dream to become a Major League player. Along the way, he inspired, he motivated, and he influenced the success of those around him. We shall always be grateful for Joe's leadership on and off the field. We send our prayers and condolences to Theresa and the Morgan family''.

The webmaster of Grand Slam * Stats & News extends his condolences to the family of Joe Morgan and wishes them a lot of strength with this big loss.

(October 13)