(Story by Marco Stoovelaar; Videos by MLB Video)
IN MEMORIAM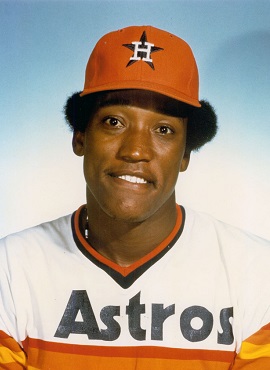 ...J.R. Richard...
(1950 - 2021)

Former Houston Astros pitching-icon J.R. Richard passed away
Nederlands

HOUSTON, Texas (USA) - Former Major League-pitcher J.R. Richard, who was a strong and dominating pitcher of the Houston Astros, passed away on Wednesday (August 4) at age 71. The righthander pitched in the Major League in ten seasons, all of them with Houston. With impressive statistics, J.R. Richard appeared to become a serious candidate for the Hall of Fame, but his career ended unexpectedly and tragically after he suffered a stroke during the 1980 season. In the Houston Chronicle-newspaper, it was reported on Thursday that Richard experienced complications from the coronavirus (COVID-19) according to his family.

James Rodney Richard was born on March 7, 1950 in Vienna, Louisiana. During his school-days at Lincoln High School in Ruston, Louisiana, he immediately showed his talent in both baseball and basketball. After High School, before entering College, at age 19, Richard was drafted by Houston Astros in 1969. He also got several basketball-offers, but choose to play baseball. In his final year in High School, Richard didn't give up a run the entire season. While pitching in the High School-team he never lost a game that he started.

Richard made his professional debut later in 1969 when he played for Covington Astros, one of the Rookie League-teams of the Astros-organization. The next year, Richard was promoted and pitched in Single-A for Cocoa Astros. During the 1970 season, Richard threw a No-Hitter for the Single-A team.

Another promotion followed before the 1971 season and he went on to play for Houston's Triple-A team Oklahoma City 89ers. Richard, who was always known by his initials J.R., won twelve games and led the league (American Association) with 202 strikeouts.

At the end of the Triple-A season, in September of 1971, Richard was recalled to the Major League-team. Op September 5, at age 21, he made his debut against San Francisco Giants in what was the second game of a double-header at Candlestick Park in San Francisco. Houston won 5-3, Richard was the winning pitcher and struckout 15 batters, including legendary Willie Mays three times. With his 15 strikeouts, he tied the Major League-record for most strikeouts in a first Major League-start.

In his first Major League-season, J.R. Richard pitched in four games (all starts) and was 2-1 with a 3.43 ERA and 29 strikeouts in 21 innings.

Initially, Richard was not a regular in the pitching-staff of the Houston-team, but he became a regular in 1975. He also pitched in four games during the 1972 season (this time one start) and was 1-0. Richard was then more used at the Major League-level in the following two seasons. In 1973, he appeared in 16 games (10 starts) and was 6-2 with 75 strikeouts. A year later, the righthander pitched in 15 games (nine starts) and was 2-3.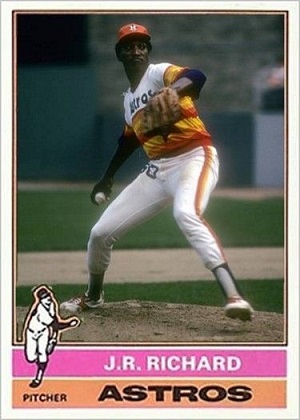 ...1979 Baseball Card...

From 1975 on, J.R. Richard was one of the most dominating and intimidating pitchers in the Major League. He not only was one of the pitching aces of Houston Astros, he also impressed with his length, as he was 6 feet 8 inches (2.03 m) tall. Feared by many hitters for his flaming fastball (100 mph) and effective slider (94 mph). He also was known for his big hands in which he could held eight baseballs at one time.

Since the 1975 season, other starting pitchers in the Houston-staff included Joaquin Andujar, Floyd Bannister, Larry Dierker, Ken Forsch, Mark Lemongello, Joe Niekro and Dave Roberts. In 1980, which was his last season, Richard part of the strong starting rotation of Houston with Joaquin Andujar, Ken Forsch, Joe Niekro, Vern Ruhle and Nolan Ryan. Houston Astros played in the National League through 2012 since it was founded in 1962.

In 1975, Richard pitched in 33 games (31 starts) and was 12-10 with a 4.39 ERA and 176 strikeouts.

The next season, Richard was amongst the league-leaders with 39 games pitched, 39 starts, 14 complete games, 20 wins and a 2.75 ERA. In 1977, he again was one of the leaders in the National League with 18 wins and a 2.97 ERA, pitching in 36 games (all starts).

Richard won 18 or more games from 1976 through 1979. His best seasons were 1978 and 1979. The impressive righthander won 18 games in both seasons. In 1978, he struckout 303 batters and the next season 313. With that, he not only led the National League both times, but also set a new single-season record for righthanded pitchers. He is one of only six pitchers in the modern era with 300 or more strikeouts in two consecutive seasons. In the 1979 season, Richard had the lowest ERA with 2.71 and was second best with 292 1/3 innings pitched and 19 complete games.

His 313 strikeouts in 1979 were a team-record for Houston Astros. The record was broken during the 2019 season by Gerrit Cole, who now pitches for New York Yankees.

In 1980, the then 30-year old J.R. Richard pitched in his tenth Major League-season. In that year, he was joined in the Houston-rotation by righthander Nolan Ryan, who had come to the team after the 1979 season, which was his eighth with California Angels. From the beginning of the season, Richard complained of shoulder and arm pains. However, it was reported that this wasn't taken seriously and his complaints were even questioned by some. Despite these problems, he still dominated. Halfway the season, before the break for the All Star Game, Richard was 10-4.

He was chosen to be the starting pitcher for the National League in the All Star Game, which was played in Los Angeles on July 8. Richard threw the first two innings. With one out in the first inning, Richard walked Rod Carew, who stole second base and moved to third base on a grounder by Fred Lynn. Richard closed by striking out Reggie Jackson. In the second inning, Richard walked lead-off hitter Ben Oglivie, but then struckout Carlton Fisk and Graig Nettles fouled out. Oglivie then moved to third base on a single by Bucky Dent. Again, Richard closed with a strikeout, this time Steve Stone (who was the starting pitcher for the American League). The American League opened the score with two runs in the fifth inning, but the National League won 4-2.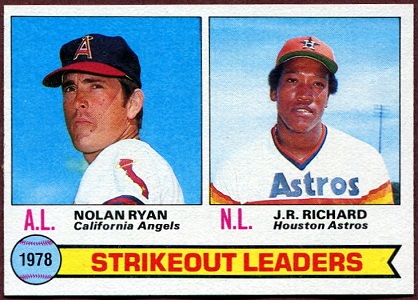 ...1978 Baseball Card...

Six days after the All Star Game, Richard made his next appearance. That was on July 14, when the righthander was the starting pitcher for Houston in a home-game in the famous Astrodome against Atlanta Braves in what was his 17th start of the season. It also was to be his last appearance. Altough he gave up only one basehit and struckout four batters, Richard had problems seeing the signs of catcher Alan Ashby, encountered problems moving his arm and was unable to grasp the ball. He left with one out in the fourth inning and he was placed on the disabled list.

In the following days, he underwent checks and tests and a blockage was found in arteries in his right arm. Also, his blood pressure in his right arm was not normal. On July 25, his neck-arteries were examined, but it was concluded that no surgery was needed.

Five days later, the Astros-team was in Philadelphia for an evening-game against Philadelphia Phillies. Richard was in Houston, working out in the Astrodome in order to come back in the next few days. While doing some catch, Richard became unwell and collapsed. He was rushed to a hospital and underwent an emergency surgery. During the surgery, a life-threatening blood clot was removed in his neck. It was later revealed that he had suffered three separate strokes at the same time from different blockages in his arteries.

Although he worked a program in the following months to get back and recover, his health-situation ended his Major League-career. In 1981, Richard attempted to comeback, but his reaction time had slowed down. Towards the end of the season, Richard participated in practice sessions and batting practice and was put on the 40-man roster of Houston Astros in September of 1981. However, while he was with the team in the remainder of the season, he never pitched in the Majors again.

In 1982, J.R. Richard pitched in one game during Spring Training and went on to pitch for Daytona Beach Astros (Single-A) in a rehabilitation program. Richard pitched in six games and won three. He then continued the season playing for Tucson Toros (Triple-A). There, he had more problems with his control and gave up many runs. After the Triple-A season, he again was recalled to the Major League in September. In those years, the Major League-rosters were extended from 25 to 40 players in September. But again, he didn't pitch in a Major League-game again in the remainder of the 1982 season.

...J.R. Richard pitches 2 innings during 1980 All Star Game...
(MLB Video)

In 1983, Richard, who almost completed recovered from the strokes, experienced pains in his leg and needed surgery. He became a Free Agent in November 1983, but was re-signed by Houston in February 1984. However, two months later, Richard was released.

In his ten Major League-seasons, J.R. Richard, who always wore uniform number 50, pitched in 238 games (221 starts). He was 107-71 with a 3.15 ERA and struckout 1,493 batters in 1,606 innings, walking only 770 batters. Since becoming a regular in 1973, Richard never gave up more basehits than innings pitched. His Hits per 9 Innings Average was 6.88.

His 1,493 strikeouts were a club-record until 1987 when it was broken by Nolan Ryan, who went on to become a legendary pitcher himself after joining the club in 1980. In his nine seasons with Houston, Ryan struckout 1,866 batters. Ryan, who threw seven No-Hitters, is the all-time strikeout leader with 5,714.

Amongst the teammates at Houston Astros with whom J.R Richard played the most seasons are Joaquin Andujar, Enos Cabell, Cesar Cedeño, José Cruz, Larry Dierker, Ken Forsch, Julio Gonzalez, Greg Gross, Art Howe, Cliff Johnson, Roger Metzger, Joe Niekro, Terry Puhl, Luis Pujols, Joe Sambito, Denny Walling and Bob Watson.

Other teammates through the years include Tommie Agee, Jesus Alou, Rob Andrews, Alan Ashby, Floyd Bannister, Dave Bergman, Bruce Bochy, Ken Boswell, Joe Ferguson, Tommy Helms, Wilbur Howard, Frank LaCorte, Rafael Landestoy, Mark Lemongello, Jeffrey Leonard, Lee May, Milt May, Joe Morgan, Randy Niemann, Claude Osteen, Doug Rader, Jerry Reuss, Craig Reynolds, Dave Roberts, Leon Roberts, Vern Ruhle, Nolan Ryan and Jim Wynn.

Of this group, Bob Watson, Joe Morgan and Jim Wynn passed away last year.

In the last six seasons of his career, Bill Virdon was the Manager of Houston Astros.

After his playing career, Richard unfortunately encountered marital problems (two divorces), had some bad business investments, lost almost all of his money and even was homeless for some months halfway the nineties, living under a bridge. Richard was eventually helped by Reverend Floyd Lewis of the Now Testament Church in Houston. The former pitcher went on to become a Christian minister at this Church and worked in the community of Houston, helping homeless people. He also helped troubled children and established baseball programs for kids with the help of private donors.

In 2005, a TV-movie was made about the life of J.R. Richard. David Ramsey played the part of the former pitcher. The also starred wellknown actor and two-time Academy Award-nominee Charles Durning. The film, titled Resurrection: The J.R. Richard Story, was directed by Greg Carter and Benjamin O. Jimerson-Phillips.

In 2012, J.R. Richard was inducted into the Astros Walk of Fame. And in January 2019, J.R. Richard belonged to the first group that was inducted into the Houston Astros Hall of Fame, along with former players Bob Aspromonte, Jeff Bagwell, Craig Biggio, José Cruz, Larry Dierker, Joe Morgan, Joe Niekro, Shane Reynolds, Nolan Ryan, Mike Scott, Jim Umbricht, Don Wilson and Jimmy Wynn and broadcasters Gene Elston and Milo Hamilton.

...J.R. Richard is remembered by Houston-commentators...
...Todd Kalas (right) and Geoff Blum on Thursday...
...before the home-game against Minnesota Twins...
(MLB Video)

Also in 2019, Richard was one of three individuals to be elected into the Shrine of the Eternals of the Baseball Relinquary, which is a nonprofit educational institution 'dedicated to fostering an appreciation of American art and culture through the context of baseball history and to exploring the national pastime's unparalleled creative possibilities'. The Shrine of the Eternals is a Hall of Fame in which three individuals are elected annually. The criteria for election are the distinctiveness of play, the uniqueness of character and personality and the imprint that the individual has made upon the baseball landscape. Also elected in 2019 together with Richard were Billy Beane and softball-pitcher Lisa Fernandez. Other members of this Shrine include Pam Postema, who was the first female baseball-umpire in a Major League Spring Training-game and cartoon character Charlie Brown.

The Houston Astros released a statement on Thursday after the passing of the club-legend:
,,Today is a sad day for the Houston Astros as we mourn the loss of one of our franchise icons, J.R. Richard. J.R. will forever be remembered as an intimidating figure on the mound and as one of the greatest pitchers in club history. He stood shoulder to shoulder with club icons Larry Dierker, Joe Niekro and Nolan Ryan, to form a few of the best rotations in club history. Sadly, his playing career was cut short by health issues, but his 10 years in an Astros uniform stand out as a decade of excellence. We send our heartfelt condolences to J.R.'s wife, Lula, his family, friends and countless fans and admirers''.

In the same statement by Houston Astros, two former players also reacted to the passing of their former teammate:

Enos Cabell was quoted as follows: ,,I've known J.R. for a long time. In the minor leagues, I played against him and then we were teammates with the Astros for many years. He was one of the greatest pitchers we ever had and probably would have been in the Hall of Fame if his career was not cut short. On the mound, he was devastating and intimidating. Nobody wanted to face him. Guys on the other team would say that they were sick to avoid facing him. This is very sad news. He will be missed".

José Cruz said: ,,J.R. was one of my good friends. This is very sad to hear. I have great memories of J.R. He was one of the greatest Astros ever. When he was pitching, we knew that we were going to get a 'W'. I didn't get too many balls hit to me in the outfield when he pitched because he was so dominating. He was a great friend and a great teammate. I send my condolences to his wife and kids''.

The webmaster of Grand Slam * Stats & News extends his condolences to the family of J.R. Richard and wishes them a lot of strength with this big loss.

(August 6)