(Story by Marco Stoovelaar)
IN MEMORIAM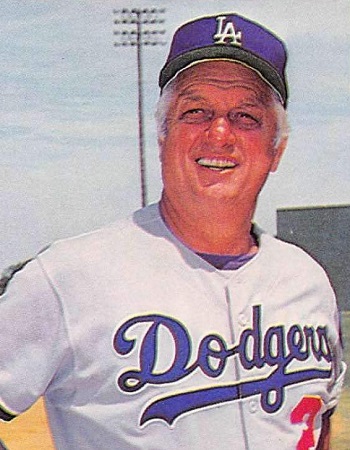 ...Tommy Lasorda...
(1927 - 2021)

Legendary Dodgers Manager and Hall of Famer Tommy Lasorda passed away
Nederlands

FULLERTON, California (USA) - Tommy Lasorda, the longtime and legendary Manager of the Los Angeles Dodgers, has passed away on Thursday (January 7) at age 93. The Dodger-icon had just returned home after being hospitalized in intensive care on November 8 for heart problems. His condition improved and on December 1, he left intensive care, then returned home last Tuesday. On Friday (January 8), the club announced that Lasorda suffered a sudden cardiopulmonary arrest on Thursday-evening at his home. He was transported to the hospital, but unfortunately, the legendary Lasorda was pronounced dead some 50 minutes later. Lasorda, who was inducted into the National Baseball Hall of Fame in 1997, worked for 71 years in the Dodger-organization and led the team to two World Series-titles. Since 2018, 'Mr. Dodger' was the oldest living Hall of Famer. That is now 89-year old Willie Mays.

The passing of Tommy Lasorda follows an already tough and sad year for Major League Baseball and baseball-fans worldwide. In 2020, we had to say goodbye to several beloved and legendary players and icons for many. Amongst them were seven Hall of Famers, being outfielder Al Kaline (85, April 6, 22 Major League-seasons), pitcher Tom Seaver (75, August 31, 20 seasons), outfielder Lou Brock (81, September 6, 19 seasons), pitcher Bob Gibson (84, October 2, 17 seasons), pitcher Whitey Ford (91, October 8, 16 seasons), second baseman Joe Morgan (77, October 11, 22 seasons) and pitcher Phil Niekro (81, December 26, 24 seasons).

Thomas Charles Lasorda was born on September 22, 1927 in Norristown (Pennsylvania). After attending Norristown High School, Tommy Lasorda (sometimes also just named Tom) continued his baseball-career professionally. As a lefthanded pitcher, he signed his first contract with Philadelphia Phillies for whom he then pitched in the Minor League in 1945 for Concord Weavers, making his professional debut at age 17. He was 3-12 for the team which played in what then was Class D. After having missed the 1946 and 1947 seasons due to military service, Lasorda again pitched in the minors for the Phillies in 1948 for Schenectady Blue Jays. While pitching for this team on May 31, 1948, Lasorda struckout 25 batters in a game against Amsterdam Rugmakers that lasted 15 innings, which was a record.

On November 24, 1948, Brooklyn Dodgers drafted Lasorda from the Phillies. That was the start of a long career with this club, as he remained loyal to the Dodgers-organization ever since with the exception of some brief playing stints with other clubs. Last season was his 71st with the club and it was said frequently that he had Dodger Blue running through his veins. After having played for the Dodgers, Lasorda was a Scout, Minor League Manager, Major League Coach, Major League Manager, General Manager and Vice-President. The last fourteen years, he was a Special Advisor to the Chairman of the club.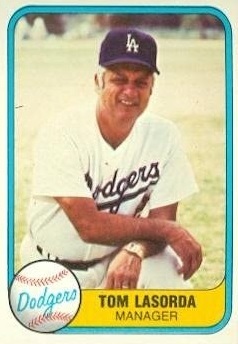 ...1981 Baseball Card...

In 1949, Lasorda played for Greenville Spinners, the Single-A team of the Dodgers in what was his first season with this wellknown organization. He went on to develop into a talented lefthanded pitcher and promoted to Triple-A the next season. However, he didn't had a real breakthrough in the Major League.

In February 1953, St. Louis Browns (which became Baltimore Orioles after the 1953 season) purchased Lasorda, but a month later, he returned to the Dodgers. Since 1949, Lasorda was the winning pitcher in 73 games and lost only 37 through the 1954 season.

On August 5, 1954, Lasorda made his Major League-debut against St. Louis Cardinals. The first batter he faced was Red Schoendienst, who hit a single. Schoendienst later also became a longtime Coach and Manager. Also playing for the Cardinals in that game was legend Stan Musial. Lasorda pitched in four games for Brooklyn Dodgers in 1954, all as reliever. He was 0-0 and struckout five batters in nine innings.

The following season, Lasorda also appeared in four Major League-games for the Dodgers, including one start. In those four games, the lefthander threw four innings, struckout four batters and also was 0-0.

Amongst his wellknown teammates in the 1955 and 1956 seasons were Roy Campanella, Roger Craig, Jim Gilliam, Gil Hodges, Don Newcombe, Johnny Podres, Pee Wee Reese, Jackie Robinson, Duke Snider, Rube Walker and Don Zimmer. Craig, Hodges and Zimmer also became successful Managers.

Early March 1956, Kansas City Athletics (the current Oakland Athletics) purchased the pitcher. Lasorda pitched in 18 games (five starts) for the A's and was 0-4 with a 6.15 ERA. Later that year, in July, Lasorda was traded to New York Yankees for whom he didn't pitch in the Major League. Instead, he pitched for Denver Bears, the Triple-A team of the Yankees. There, his Manager was Ralph Houk, who became a legendary Manager himself. Lasorda was influenced by Houk, who became his idol and role model.

In May of the following year (1957), Lasorda returned to the Dodgers, but never pitched in the highest league again. In 1958, 1959 and 1960, he pitched in Triple-A and was 32-19 in these three seasons. On July 9, 1960, Lasorda was released, which ended his playing career.

In his three Major League-seasons (1954-1956), Lasorda pitched in 26 games (six starts) and was 0-4 with a 6.48 ERA. In 58 1/3 inning, he struckout 37 batters, walked 56 and gave up 53 basehits. As a pitcher, he wasn't that effective in the Majors, but his big successes came several years later as Manager of the Dodgers.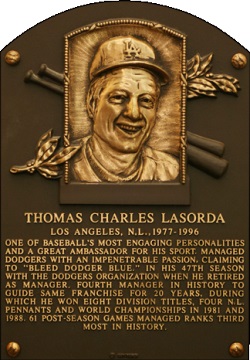 ...Tommy Lasorda's...
...Hall of Fame Plaque...

After Lasorda's playing career ended in 1960, he was named a scout by then-Scouting Director Al Campanis Later, when Campanis became the General Manager of the Dodgers, Lasorda made his managerial debut. In 1966, Campanis named him Manager of Pocatello Chiefs, the Dodgers Rookie League-team. Hereafter, Lasorda was the Manager of Ogden Dodgers (1966-1968) in the Rookie League.

Next, he led the Dodgers Triple-A team Spokane Indians (1969) and Albuquerque Dukes (1970-1972), winning the title in the Pacific Coast League in 1972. During these years, Lasorda was the Manager of some players, who later were to play an important role in the successful Major League-team of the Dodgers in the seventies and eighties. Amongst them were Bill Buckner, Ron Cey, Steve Garvey, Charlie Hough, Tom Paciorek, Bill Russell and Bobby Valentine.

In the Dominican Winter League, Lasorda was the Manager of Tigres del Licey in the 1972-1973 season. With this team, he won the Caribbean World Series in 1973 in Venezuela.

In 1973, Lasorda was named 3B Coach in the staff of another legend, Manager Walt Alston. Towards the end of the 1976 season, Alston retired after having led the team for 23 seasons since 1954. Lasorda succeeded him and led the team to two wins in the four remaining games. Walt Alston was the Manager of Lasorda when he played for Montreal Royals, then the Triple-A team of the Dodgers. Alston also was Lasorda's Manager in Brooklyn when he was called up to the Majors.

Tommy Lasorda led the Major League-team of Los Angeles Dodgers in 1976-1996, a total of 21 seasons. He is one of only five Major League-Managers who led the same team for twenty years or longer. The others are Connie Mack (50 seasons, Philadelphia Athletics, 1901-1950), John McGraw (31 seasons, New York Giants, 1902-1932), Walt Alston (23 seasons) and Bobby Cox (21 seasons, Atlanta Braves, 1990-2010), who all also were elected into the Hall of Fame. From 1954 through 1996, the Dodgers had only two Managers, Alston and Lasorda. In this 43-year period, the club was owned by the O'Malley-family. Walter O'Malley was the owner in 1950 to 1979, then his son Peter O'Malley was the owner in 1979-1998.

In his first two full seasons as Manager of the Dodgers, the team won the title in the National League in 1977 and 1978. He is one of only two Managers to have won two titles in his first two years, the other being Gabby Street, who won the National League-title with St. Louis Cardinals in 1930 and 1931. With the Dodgers, Lasorda won the National League West Division-title eight times, the National League-title four times and won the World Series in 1981 and 1988.

As National League-champion, Los Angeles played in the World Series in both 1977 and 1978. Both times against New York Yankees. It marked the first time since 1963 that these two teams faced each other in the Championship Final. Through the years, there always had been a rivalry between New York Yankees, New York Giants (now San Francisco) and Brooklyn Dodgers (now Los Angeles). Since 1941, the Dodgers and Yankees faced each other eight times. The Yankees won six Series, four of them led by legendary Manager Casey Stengel. The Dodgers won twice led by Lasorda's predecessor Walt Alston. In 1977 and 1978, the Yankees won again, both times in six games.

...Kirk Gibson's World Series Homerun in 1988...

In 1981, the Dodgers and Yankees faced each other for the eleventh time (record) in the World Series. This time, the roles were reversed, as Los Angeles Dodgers won the Series 4-2 after having lost the first two games. The Dodgers and Yankees haven't faced each other in the World Series since then.

There was a famous moment during the 1988 World Series against Oakland Athletics in Los Angeles. In Game 1, Oakland was leading 4-3 halfway the ninth inning. Closer Dennis Eckersley took the mound in the bottom of the ninth inning. He retired the first two batters, then walked pinch-hitter Mike Davis. Hereafter, Lasorda inserted Kirk Gibson as pinch-hitter. That was a big surprise, as Gibson had injured both legs during the previous National League Championship Series and is was expected he was unable to play. After some foul balls, Davis stole second base, then Gibson hit the eighth delivery of Eckersley over the wall in rightfield for a walk-off, 2-run homerun. Gibson hobbled around the bases and pumped his fist while rounding second base. In the meantime, Lasorda jumped up and down in front of the dug-out celebrating the win. Famous Dodger-announcer Vin Scully, who then was the commentator for NBC-TV, said: ,,The impossible has hapenned''. His colleague Jack Buck added: ,,I don't believe what I just saw''. Los Angeles won 5-4 and went on to win the Series, 4-1. (see the video at left)

After having won a home-game with the Dodgers on June 23, 1996 against Houston Astros (4-3), Lasorda suffered a heart attack the next day. He then retired as Manager on July 29 and was succeeded by Bill Russell, who had been one of his players. Lasorda also suffered a heart attack in 2012.

Los Angeles Dodgers was very successful in the seventies and eighties, winning the World Series twice. Amongst the players who played for many seasons for Lasorda in this period were Dusty Baker, Ron Cey, Joe Ferguson, Steve Garvey, Pedro Guerrero, Mickey Hatcher, Ken Landreaux, Davey Lopes, Mike Marshall, Rick Monday, Manny Mota, Bill Russell, Steve Sax, Mike Scioscia, Reggie Smith, Derrel Thomas, Steve Yeager and pitchers Orel Hershiser, Burt Hooton, Charlie Hough, Steve Howe, Tom Niedenfuer, Jerry Reuss, Rick Sutcliffe, Don Sutton, Fernando Valenzuela and Bob Welch.

Garvey (1st base), Lopes (2nd base), Russell (short stop) and Cey (3rd base) formed the Dodger-infield for more than eight seasons. They were joined by Yeager as catcher and Baker, Monday and Smith in the outfield.

Mexican lefthander Fernando Valenzuela made his debut at age 19 in 1980. A year later, Fernando-mania started, as the rookie had a dominating season, leading the National League with 25 starts, 11 complete games, 180 strikeouts and 192 1/3 innings pitched. Valenzuela was 13-7 and led the Major League with eight shutouts, was voted Rookie of the Year and also won the Cy Young Award. Valenzuela was one of nine players who played for Lasorda and won the Rookie of the Year Award.

...Tommy Lasorda argues that Reggie Jackson has interfered...
...during Game 4 of the World Series 1978...

Other familiar names in these years include Mariano Duncan, Jerry Grote, Jay Johnstone, Lee Lacy, Rafael Landestoy, Candy Maldonado, Eddie Murray, Johnny Oates, Franklin Stubbs and pitchers Tommy John, Ramon Martinez, Doug Rau, Rick Rhoden, Elias Sosa, Dave Stewart and Pat Zachry.

In his long managerial career, Lasorda won 1.599 games in 21 seasons. He was named Manager of the Year twice (1983, 1988) Lasorda also was the Manager of the National League All Star Team in four All Star Games. He won three of them.

In 2001, as Honorary Manager, he was the 3B Coach for the National League in the sixth inning of the All Star Game. in that at bat, there was a scary moment, as he was hit on his left hip by a broken bat after batter Pedro Guerrero had fouled off a pitch. The then 74-year old Lasorda followed the ball and saw the approaching bat too late. He tumbled backwards, fell on his head, but got up quickly and sustained no injuries (see video beneath).

As a Manager, Tommy Lasorda was very driven, but also a teacher and mentor. And he always defended his players. When an umpiring decision needed an argument, Lasorda raced across the field to go into a sometimes heated discussion with an umpire. One of his most intense discussions came in Game 4 of the 1978 World Series against New York Yankees (see video right). Los Angeles had taken a 3-0 lead in the fifth inning on a 3-run homerun by Reggie Smith and pitcher Tommy John held the Yankees scoreless in the first five innings. In the sixth inning, New York scored its first run on a single by Reggie Jackson. With one out, Thurman Munson was at second base for the Yankees and Jackson on first base. Lou Piniella then hit the ball to short stop Bill Russell. The ball appeared to be catchable, but Russell didn't. He recovered and forced out Jackson on second base, then threw the ball to first baseman Steve Garvey to complete a double play. However, Jackson stopped running and was hit by the thrown ball on his right hip, which ended up in foul territory. After Jackson was hit, Garvey yelled to 1B Umpire Frank Pulli for interference and Munson scored. Afterwards, Jackson said he confused, at it was thought that Russell was going to catch the ball. Munson thought the same and returned to second base when Russell fielded the ball. Lasorda raced out to argue with Pulli and 2B Umpire Joe Brinkman that Jackson deliberately interfered on purpose. Jackson always has denied that. No interference was called and the run scored by Munson was valid. New York came alongside in the eighth, then won 4-3 in the tenth inning on a walk-off single by Lou Piniella. With that, New York tied the World Series at 2-2. The Yankees then won also won the next two games.

After retiring as Manager after more than twenty seasons in July 1996, Lasorda was named Vice-President of the Dodgers. Two years later, he became the Acting General Manager. Lasorda became the Special Advisor to the Chairman of the Dodgers in 2004. During Spring Training of 2008, Lasorda briefly was the Manager again of the Dodgers. He then filled in for Joe Torre, who was in Taiwan with a Dodger-team, which was invited to play some exhibition games.

Through the years, Lasorda also showed that he had a lot of humor. However, he couldn't appreciate an act from the famous Phillie Fanatic, the mascot of the Philadelphia Phillies. The mascot regularly mocks opposing players, but they do not always alike his acts. As was made clear by by Lonnie Smith, who as player of St. Louis Cardinals tackled the Phanatic in 1982. Tommy Lasorda also disliked an act of the mascot in 1988 after he mocked the Dodgers and went after the Phanatic (see video beneath).

Lasorda was very approachable. Also for his players with whom he always had a good bond, as he never distanced himself from them. His success, but even more, his social character, his humor, his compassion and his dedication made him a popular and very loved personality. Not only within the Dodger-organization, but throughout Major League Baseball and worldwide.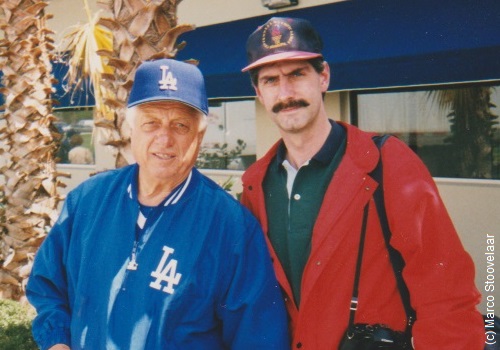 ...Tommy Lasorda with Grand Slam's Marco Stoovelaar...
...during Los Angeles Dodgers Spring Training 1998...
...in Dodger Town in Vero Beach, Florida (USA)...
(© Photo: Marco Stoovelaar; taken by Barbara Peeters)

Tommy Lasorda always had time for a talk or giving autographs to fans. The author of this In Memoriam experienced that himself. In 1998, I was in Vero Beach (Florida) during Spring Training with my colleagues Barbara Peeters and Monne Reitsma. Back then, we traveled three weeks together, visiting several Spring Training-locations. At Vero Beach, we walked around Dodger Town, the famous Spring Training-facility of the Dodgers. We watched a game there, talked with former Netherlands Team-Manager Jim Stoeckel, who also was the International Scout for the Dodgers. While walking around before the start of the game, we met Tommy Lasorda, who was brought to the field in a golf cart. At that moment, Lasorda was in Spring Training as an instructor and was en route to a practice field. But the sympathetic Lasorda took time to have a talk with us, which was very pleasant. And of course, it was a great honor to speak with the legendary Manager and shake his hand.

In 2000, Tommy Lasorda was the Manager of Team USA, which then won the Gold Medal at the Olympic Games in Sydney (Australia). In the Final, the USA shutout Cuba 4-0. Cuba was the favorite, but earlier in the tournament, the Netherlands recorded a spectacular 4-2 win, which was done on a crucial double by Hensley Meulens. With this, the Netherlands ended the long Olympic winning streak of Cuba. Later, Meulens became the Manager of the Netherlands, as well as a member of the coaching-staff of the Major League-teams of San Francisco Giants (2010-2019) and New York Mets (2020), winning the World Series three times. In the Sydney Olympics, the USA won 6-2 against the Netherlands, which then was managed by American Pat Murphy, who now is the Bench Coach of the Milwaukee Brewers.

In 2006 and 2009, Lasorda was the official Ambassador of the first two editions of the World Baseball Classic. Lasorda remained close with USA Baseball, which is the American Baseball Federation, giving lectures and speaking with players on many occasions. He not only gave lectures for USA Baseball, but also for other organizations.

Tommy Lasorda remained a frequent visitor of Dodger Stadium and attended many games of his Dodgers, including last season. In October last year, Tommy Lasorda traveled to Arlington (Texas) to witness the World Series. Due to the coronavirus-pandemic, the Championship Final was held on one neutral location, which was the (new) home of the Texas Rangers. There, Lasorda saw Los Angeles Dodgers win 3-1 against Tampa Bay Rays in Game 6 to capture the title. It was the team's first title in 32 years and its first since 1988 when Lasorda was the Manager.

Through the years, Tommy Lasorda's longtime involvement in baseball, his successful career, but also his role as global baseball ambassador was underscored and honored many times. Besides throwing out the ceremonial first pitch numerous times, he was elected into 17 Halls of Fame.

In December 1996, he was elected into the National Baseball Hall of Fame by the Veterans Committee, along with Nellie Fox. In July 1997, Lasorda and Fox (posthumously) were officially inducted into the famous Hall of Fame, along with Phil Niekro, who passed away on December 26. The colorful Lasorda, who was the son of Italian immigrants, is also elected into the Canadian Baseball Hall of Fame.

...In Memoriam Tribute Tommy Lasorda by Major League Baseball...

In August 1997, Lasorda's uniform number 2 was retired by the Dodgers. Also, a street at Dodger Town was named after him. Dodger Town was the Spring Training Complex of the Dodgers in Vero Beach, Florida from 1980 to 2006. Thereafter, the team moved to Arizona for Spring Training.

In 1989, an asteroid was named after Tommy Lasorda by the California Institute of Technology (Caltech). In 2008, for his contributions to Japanese baseball, the Emperor of Japan handed Lasorda the Order of the Rising Sun, Gold Rays with Rosette, which is the fourth highest class of this decoration. In 2009, Lasorda's portrait was hung in the National Portrait Gallery of the Smithsonian Institute in Washington, DC. In 2014, a restaurant was opened at Dodger Stadium with the name 'Lasorda's Trattoria'.

Through the years, Lasorda made several cameo-appearances as himself in television shows, including Fantasy Island (1978), Hart to Hart (1979), Police Squad! (1982), CHiPs (1982), Simon & Simon (1985) and Everybody Loves Raymond (1997). He also played the role of Coach Cannoli in the movie Ladybugs (1992), which starred Rodney Dangerfield.

Mark Walter, Chairman of the Board of the Los Angeles Dodgers, reacted as follows: ,,My family, my partners and I were blessed to have spent a lot of time with Tommy. He was a great ambassador for the team and baseball, a mentor to players and coaches, he always had time for an autograph and a story for his many fans and he was a good friend. He will be dearly missed.''

Stan Kasten, President and CEO of the Dodgers, said: ,,In a franchise that has celebrated such great legends of the game, no one who wore the uniform embodied the Dodger spirit as much as Tommy Lasorda. A tireless spokesman for baseball, his dedication to the sport and the team he loved was unmatched. He was a champion who at critical moments seemingly willed his teams to victory. The Dodgers and their fans will miss him terribly. Tommy is quite simply irreplaceable and unforgettable.''

Major League Baseball Commissioner Rob Manfred stated: ,,Tommy Lasorda was one of the finest managers our game has ever known. He loved life as a Dodger. His career began as a pitcher in 1949 but he is, of course, best known as the manager of two World Series champions and four pennant-winning clubs. His passion, success, charisma and sense of humor turned him into an international celebrity, a stature that he used to grow our sport. Tommy welcomed Dodger players from Mexico, the Dominican Republic, Japan, South Korea and elsewhere -- making baseball a stronger, more diverse and better game. He served Major League Baseball as the Global Ambassador for the first two editions of the World Baseball Classic and managed Team USA to gold in the 2000 Summer Olympics in Sydney. Tommy loved family, the United States, the National Pastime and the Dodgers, and he made them all proud during a memorable baseball life.
I am extremely fortunate to have developed a wonderful friendship with Tommy and will miss him. It feels appropriate that in his final months, he saw his beloved Dodgers win the World Series for the first time since his 1988 team. On behalf of Major League Baseball, I send my deepest sympathy to his wife of 70 years, Jo, and their entire family, the Dodger organization and their generations of loyal fans.''

Paul Seiler, Executive Director and CEO of USA Baseball, stated: ,,Words cannot begin to express the profound loss we feel with the passing of Tommy Lasorda. His achievements on the baseball field are legendary but his legacy will forever exceed his baseball accomplishments. His patriotism was inspiring and the people who were fortunate enough to meet and learn from him will forever carry on his passion and goodwill for international baseball and our country. He is the epitome of a titan in our game and USA Baseball will forever honor his memory. We are thankful that we were able to reconnect Tommy with his Olympic players and staff as we celebrated the twentieth anniversary of the gold medal victory in the Sydney Olympic Games in September.''

Jane Forbes Clark, Chairman of the National Baseball Hall of Fame and Museum, said: ,,Tommy Lasorda enjoyed a remarkable life in baseball. His legacy will be one of determination, leadership, and perseverance. Those wonderful characteristics that he carried, not only through his career, but throughout his life, and his passion for the game and for the Hall of Fame, will be greatly missed in Cooperstown. We extend our deepest sympathies to his dear wife of 70 years, Jo, the entire Lasorda family and the Dodgers organization.''

The webmaster of Grand Slam * Stats & News extends his condolences to the family of Tommy Lasorda and wishes them a lot of strength with this big loss.

(January 8)
...Tommy Lasorda goes after the Phillie Phanatic in 1988...
...Lasorda is hit by a broken bat during the 2001 All Star Game...