The two starting pitchers today were Gio de Grauw (Amsterdam Pirates) and Aaron de Groot (Neptunus). The two talented pitchers were teammates this year in the Netherlands Under-23 Team with whom they won the European title in Italy and participated last month in the World Cup in Mexico.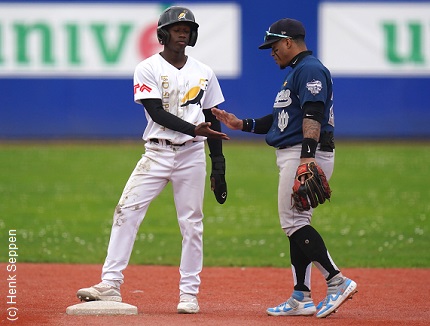 ...Pirates-runner Raydley Legito and Neptunus...
...2nd baseman Dwayne Kemp greet each other...
...Their fathers Raily Legito and Adonis Kemp...
...both played in the big league for many years...
...and also in the Netherlands National Team...
...Legito sr. played the most international games (257)...
(© Photo: Henk Seppen)

In the last three meetings between Amsterdam Pirates and Neptunus in the regular season, which were played on Tuesday-evenings, De Graauw started each game and also was the winning pitcher in all three games. De Groot was the starter and losing pitcher twice.

Today, both didn't have their best outing and left the game early.

After having made no changes in his line-up in the first three games, Amsterdam Pirates Head Coach Michael Duursma made some today. Max Clarijs was the catcher and played in his first game of the Series, after Sicnarf Loopstok had been the catcher in the first three games. Today, Loopstok was the DH. With that, Roelie Henrique was out of the line-up. He had been the leftfielder, while Kalian Sams was the designated hitter twice and Gilmer Lampe once. Powerhitters Sams and Lampe now both played in the outfield. Also, Niels van Weert made his first start as second baseman, a position that was filled in by the young and talented Raydley Legito in the first three games. On Saturday, Van Weert entered the game as pinch-hitter in the eighth, then played at second base in the bottom of the eighth.

Amsterdam Pirates was off to a good start, but in the third and fourth inning, the game turned around.

In the top of the first inning, De Graauw got two grounders, then walked Dwayne Kemp, but he was caught stealing.

In the bottom of the first inning, Amsterdam opened the score with two runs off of De Groot. Gilmer Lampe led off with a walk, advanced on a wild pitch, then scored on a following single by Sharlon Schoop. Hereafter, Denzel Richardson walked. After a pop-fly by Kalian Sams became an infield-fly, Sicnarf Loopstok accounted for a single that loaded the bases. With only one out and three runners on base, Pirates had a big opportunity to take more distance, but only one run was added. Kenny Berkenbosch hit a sacrifice fly that brought in Schoop and gave Pirates a 2-0 lead. It also enabled Richardson to move to third base. But hereafter, Loopstok was forced out on a grounder by Rashid Gerard, which ended the inning.

In the top of the second inning, Neptunus got its first two batters on base when Dudley Leonora walked and John Polonius reached on an infield-hit. Two pop-flies followed. First, a foul pop-fly by Gianison Boekhoudt, which was caught by catcher Max Clarijs. Hereafter, a pop-fly by Dashenko Ricardo became an infield-fly and Christian Diaz grounded out.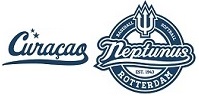 After having given up two runs in the bottom of the first inning, Aaron de Groot grew somewhat from the second inning on. He gave up an one-out single to Niels van Weert, but he was forced out.
In the top of the third inning, another baserunner of Neptunus was eliminated. Shaldimar Daantji led off with a walk. With one out, the veteran moved to third base on a single by Roger Bernadina. A high throw from the outfield followed to third base and Bernadina thought that he had a chance to advance to second base. However, third baseman Rashid Gerard got the ball in time to short stop Sharlon Schoop, who tagged out Bernadina. A grounder by Dwayne Kemp ended the at bat.
With that, a possible scoring opportunity for Neptunus ended. Moments later, Pirates got an chance to take more distance, but a baserunning mistake became a crucial moment. Denzel Richardson led off with a double and Kalian Sams walked (or was pitched around). With solid hitters Sicnarf Loopstok and Kenny Berkenbosch coming up, Neptunus was under pressure and a pitching change was made. Kaj Timmermans took over from Aaron de Groot. With an 1-1 count on Loopstok, Richardson suddenly took off from second base too far. Timmermans stepped off the plate and threw the ball to short stop John Polonius, who then tagged out Richardson, who slid back to the base, but ended up just short. Instead of having two runners with no outs on a new pitcher, there was now one out with a runner on first base. Moments later, Loopstok grounded into a 6-4-3 double play. This inning proved to be pivotal in the game for Pirates and gave Neptunus a needed break.
Whether or not this all played a role, we will never know, fact is that Neptunus reacted with a 7-run rally off of three pitchers in the top of the fourth to turn the game its way. Gio de Graauw walked Dudley Leonora and John Polonius, then gave up an RBI-double to Gianison Boekhoudt. With runners on second and third base, Dashenko Ricardo delivered a runscoring single that tied the score at 2-2. Hereafter, it was Christian Diaz who connected for a runscoring single that put Neptunus ahead, 3-2. Boekhoudt scored, Ricardo advanced to third base, but Diaz was eliminated trying to advance on the throw. A pitching change followed. Kevin Geestman took over, but he ran into problems quickly. The righthander first walked Shaldimar Daantji, then gave up four consecutive runscoring singles to respectively Stijn van der Meer, Roger Bernadina, Dwayne Kemp and Dudley Leonora. Another pitching change followed and Mike Groen was inserted. His first pitch to John Polonius was wild and ended up in the ground. While trying to stop the ball, catcher Max Clarijs slapped the ball away with his glove and it then hit the chin of Polonius. He was attended, spit some blood, but stayed in the game. The long inning ended when Polonius grounded into a double play, but Neptunus had turned the game around and led 7-2.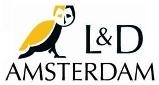 Amsterdam Pirates got a chance to narrow the deficit in the bottom of the fourth inning off of Kaj Timmermans, who got the bases loaded with one out. Kenny Berkenbosch and Rashid Gerard led off with singles. After Max Clarijs had fouled out, Niels van Weert also singled to load the bases. After reaching first base, Van Weert appeared to have some back-problems, but he was attended to and stayed in the game. With the bases loaded, Pirates got another scoring opportunity. But Timmermans first struckout Gilmer Lampe. Hereafter, Sharlon Schoop hit a line drive into centerfield. There, 37-year old centerfielder Shaldimar Daantji raced forwards and made a great diving catch. That not only ended the inning. With the catch, Daantji secured the lead of Neptunus, but also might have saved the game for the Rotterdam-team. When he would not have made the catch, the ball would have rolled to the fence and at least two runners would have scored, maybe all three. In that situation, it would have been a complete new ball-game with only a two- or three-run lead. But with the catch, the 7-2 lead remained intact.
Neptunus added another run in the top of the fifth inning, which began with a defensive change, as Raydley Legito took over from Niels van Weert as second baseman. Gianison Boekhoudt led off with a single and Dashenko Ricardo followed with a double. With two outs, Boekhoudt scored on a single by Stijn van der Meer, but Ricardo overran third base. After having fielded the batted ball, Legito threw the ball to third baseman Rashid Gerard, who had a chance to tag out Ricardo. However, Gerard dropped the ball and Ricardo could return back safely. Hereafter, Legito made another fine defensive play on a sharp grounder by Roger Bernadina to retire the former Major League on first base.
No more runs were added. Neptunus got one more runner in scoring position in the top of the sixth. With two outs John Polonius (fielder's choice) on first base, Gianison Boekhoudt walked, but a force play-grounder closed the at bat.
In the top of the seventh inning, Robyn Clara took over the Pirates-pitching and retired the side (two strikeouts). The righthander also retired the side in the eighth. With one out in the ninth, Clara gave up a single to Gianison Boekhoudt, but a force play-grounder and strikeout followed.
Trailing 8-2, Pirates got several baserunners from the bottom of the fifth inning on, but was unable to score, as Kaj Timmermans grew thanks to the run-support in the fourth inning. With one out in the fifth, he walked Kalian Sams, but he stranded on first base.
In the sixth, he walked lead-off hitter Rashid Gerard, but struckout Max Clarijs. Hereafter, Raydley Legito hit a pop-fly into short leftfield, where short stop John Polonius appeared to make a catch, but he dropped the ball. However, Gerard was halfway and thinking the ball was caught and appeared to return to first base. With that, Gerard was forced out on second base, as leftfielder Christian Diaz picked up the ball and threw it to second baseman Dwayne Kemp. A grounder by Gilmer Lampe ended the at bat.
Pirates got into scoring position again in the bottom of the seventh. With one out, Denzel Richardson walked and Kalian Sams singled. The two moved on a grounder by Sicarf Loopstok, but were left behind.
After being retired in order in the eighth, Pirates got its final baserunner with one out in the bottom of the ninth. Sharlon Schoop then singled, but next batter Denzel Richardson grounded into a game-ending double play.
There will be at least two more games in the 2021 Holland Series!