(Story by Marco Stoovelaar; Photos by Alfred Cop, Henk Seppen & Marco Stoovelaar)

Former big league-player and longtime coach Maurice Cranston passed away
Nederlands

NIEUWEGEIN (Neth.) - Maurice Cranston, who played three seasons in the Dutch big league for VVGA and HCAW and also coached in the highest league for UVV and HCAW, passed away on Monday, November 8 at age 85. The much-liked Cranston, who was a striking personality on the fields, also played and coached for several others clubs on a lower level and was a frequent visitor of big league-games. He has been active as a player and coach in Dutch baseball for more than forty years.

The memorial service was held on Saturday, November 13 in Amersfoort. A livestream of the service can be watched through December 13. To watch the livestream, enter access code 6AXW2W.

Maurice Carlye Cranston was born on June 17, 1936 in Oranjestad, the capital of the Caribbean island of Sint Eustatius. Through October 2010, Sint Eustatius was one of the islands of the Netherlands Antilles, with Aruba, Bonaire, Curaçao, Sint Maarten and Saba. In 2010, Curaçao and Sint Maarten became countries (as was Aruba already) within the Kingdom of the Netherlands, while the other islands became a special municipality of the Netherlands.

From a young age on, Maurice was always interested in sports and he loved baseball. When he later grew up on Aruba, he started to play baseball there for Village-Zuid. He went on to play for several teams in the Aruban Baseball League, including two seasons for Santa Cruz Stars in 1956 and 1957. However, thereafter, due to working commitments, Cranston more or less stepped down somewhat from baseball at a top-level. He continued playing baseball, but from 1959 on, he played seven seasons on a recreational level.

Hereafter, halfway the sixties, Maurice Cranston moved to the Netherlands and never left. He started to work and live in the Netherlands, married with Annet (who unfortunately passed away some years ago) and began a long career in baseball. And later, he also was active for some years in softball.

This also was the time in which his first name became more known as Morris. His first name Maurice was pronounced as 'Morris' and this also became the way his name was written when he became involved in Dutch baseball and softball. And not only by teammates, coaches, in club-documents or in game-recaps. It was even written as Morris by his family. And it stayed that way for over fifty years.

It was in 1965 that Morris Cranston made his debut in the Dutch big league when he played for Amsterdam-based VVGA as one of the outfielders. With that, he became the first player born on Sint Eustatius to play in the highest Dutch league. In the 1965 season, after having in the highest league for 30 years, VVGA relegated. After the 1965 season, the club changed its name to HVGA and then played in the second highest league in 1966. Cranston kept on playing for the team, as he did in 1967 when another name-change followed, after the team moved to Diemen to become Giants Diemen.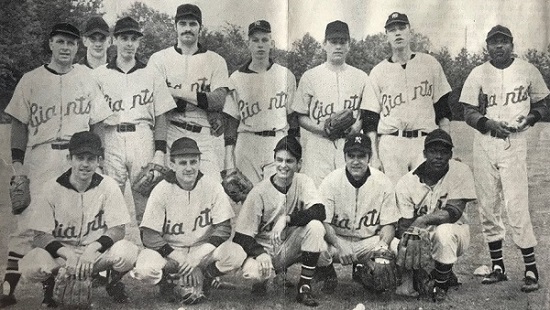 ...The team of Giants Diemen in 1967...
...Back row: Gé Oosterbaan (Head Coach), Martin Gaus,...
...Peter Broeshart, Jan van Wieringen, Piet Ferwerda,...
...Joop Schuurhuizen, Mink Ferwerda and Morris Cranston...
...Front row: Rob Tromp, Ruud Koene, Guus Faulstich (Asst. Coach),...
...Peter van der Berg and Julio Hazel...

When he first played for VVGA, wellknown (National Team-)pitcher Nico Brands was the playing coach. Other teammates in his first season in the Netherlands included Wiet Berrevoets, Frank Bouman, Mink Ferwerda, Piet Ferwerda, Martin Gaus (who later became a wellknown television-personality, hosting shows about dogs), Julio Hazel, Hans Hellingman, Joop Schuurhuizen, Eef Treurniet and Jan van Wieringen.

In 1965, VVGA had a tough season and won only two of their 21 regular season-games. Morris Cranston contributed in the second win of that season, which was an 8-3 victory against Ajax. Trailing 3-0, VVGA got one run back in the fouth, then rallied for five runs in the fifth at bat. The rally began with a homerun by Martin Gaus, then singles by Julio Hazel and Cranston led to the tying and the go-ahead run. In the sixth, Eef Treurniet hit a 2-run homerun to increase the lead for VVGA.

In 1967, Giants Diemen finished in first place of its pool of the First Division, then had to play a best-of-three Promotion Series against HCK (Kinheim). Giants won the opening game, then lost the second game with a 6-3 score. In that game, Giants trailed 6-1, then added two runs in the ninth inning, which were scored by Cranston and Reggie Smith, but the team ended up short. HCK then also won the third game and with that, the Haarlem-team promoted to the highest league.

In the 1967 season, Giants Diemen was led by Head Coach Gé Oosterbaan. Besides the already mentioned players, other teammates then also included Peter van der Berg, Peter Broeshart, Reggie Smith, Rob Tromp and Ruud Koene, who went on to become a longtime big league-coach.

After the 1967 season, both (outfielder) Cranston and (short stop) Hazel decided to go to HCAW. It was there that the two made their comeback in the highest league when they played for the Bussum-based team in 1968 and 1969. In those years, the teams played only 21 games in the regular season and Cranston played in 17 and 21 games respectively.

That Cranston was a speedy baserunner was underscored in close game against OVVO during the 1968 season. HCAW lost the game with a 2-1 score, but the lone Bussum-run was scored thanks to Cranston. The run even put HCAW ahead. In the fourth inning, Cranston was the runner on third base when Julio Hazel placed a squeeze-bunt. Cranston took off and due to his speed the OVVO-defense reacted hastily. OVVO-pitcher Jan Adriaansz fielded the ball well, then threw too quickly to catcher Wim Crouwel, who missed the ball and Cranston scored. The lead was brief, as OVVO answered with two runs with two outs in its fourth at bat off of Rob Hoffmann, the legendary HCAW-pitcher. Jelle Postma reached on an error, then José Faneyte followed with a double. Both Postma and Faneyte scored when Wil Meijer followed with a single. Two years later, Cranston and Faneyte would become teammates.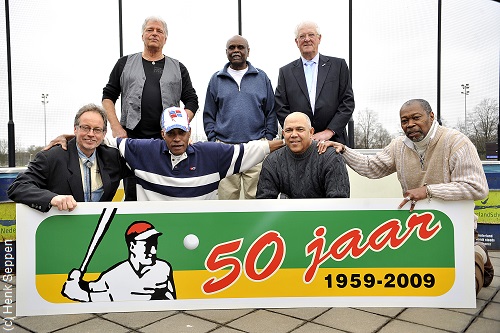 ...During the 50th anniversary of Amsterdam Pirates in 2009...
...Morris poses with former teammates Jan van Wieringen...
...(standing, left), Hans Jansen de Vries, José Faneyte,...
...Kurt Lourens and Mario Berkel (front)...
...Standing at right is 'Mr. Pirates' Loek Loevendie,...
...who passed away in February of this year...
(© Photo: Henk Seppen)

In 1969, HCAW won its opening-game of the season after its initital first game had rained out the week before. HCAW faced Feyenoord, which had started the season with a surprise-win against OVVO. HCAW won 8-2, thanks to homeruns by Cranston and Jan van Ewijk.

In the sixties, HCAW played on its former home-site and its home-game were always very well visited, attracting 1,000 to 2,000 spectators. They enjoyed watching Cranston, as he was one of the few players to reach base in almost all games, frequently hitting basehits.

Amongst Cranston's teammates at HCAW were Piet Back, Jim Bell, Rob Bus, Jan van Ewijk, Rob Filipiak, Ade Fijth, Rob van der Gaast, Peter de Graeve, Wim Hageman, Julio Hazel, Rob Hoffmann, Frans Mäkel, who passed away on May 15, Leo Nagtegaal, Fred Remmers, Rob Rijnders, Jan Schriek, Wim van der Ster and Hans Vos. In these years, wellknown HCAW-photographer Alfred Cop was the team's bat-boy in most of these games.

After the 1969 season, Cranston decided to play for Amsterdam-based Rap, which in 1974 changed its name to Amsterdam Pirates. Rap was known for have a strong youth-section, which was led by Loek Loevendie ('Mr. Pirates'), who passed away in February of this year. But in these years, in the early seventies, for the first time, Rap also had a strong group of players in its main baseball-team. From 1970 on, Cranston played in five seasons (1970-1974) for Rap. Other players in those early seventies included Chester Berkel, Mario Berkel, Albert Driessen, José Faneyte (who had played in the highest league for Sparta and OVVO), Wim Geestman Jr., Tom Helmers, Harold Leslie, Kurt Lourens, Canadian Terry McIntosh, Louis van der Putten, Jan Visser and Herman Wijnands and rookies Albert Husken, Hans Jansen de Vries (who in recent years was the PA Annnouncer at Amsterdam Pirates and Almere '90) and Marten Walsma. From 1972 on, André van Beest, Jan van Beest, Michael Davidson, Tom Geestman and Frank Ricao were added, most of them coming from the club's youth-section. In 1973, Martin Ronnenbergh made his debut in the team and also Rob Filipiak, Cranston's former teammate from HCAW, came to Amsterdam. And in 1974, youngsters Laurens van der Poel, Kees van Vegten and Sjaak Verbij played in their first games in the main-squad, which was also joined that season by veteran and former big league-player Franco Martis.

When Cranston played for Rap, the team was led by veteran coach (and Faneyte's father-in-law) Max Rietbergen, who earlier had coached in the big league for Storks. In 1969, together with Aart Kruijs, Rietbergen led HCAW when Cranston also was one of his players. At Rap, Rietbergen was assisted by Wim Joost and Herman Koot (who passed away on June 15). Former pitching-great Wim Geestman Sr. was the Pitching Coach since the late sixties at Rap. From 1971 on, Coen Stoovelaar was the Team Manager and some years later, Wim Kwekkeboom became the Team Scorer. In these early seventies-seasons, the webmaster of this website (Marco Stoovelaar) and his brother Ronald Stoovelaar were the bat-boys of Rap. Although Rap annually finished in the top of the league, it was unable to promote to the big league. That was eventually accomplished in 1981.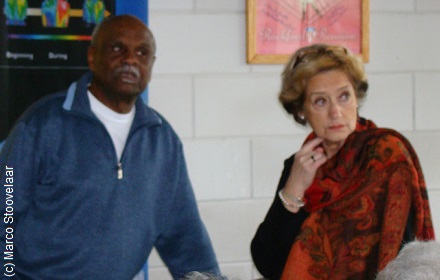 ...Morris and his wife Annet listen to a speech during...
...the 50th anniversary of Amsterdam Pirates in 2009...
(© Photo: Marco Stoovelaar)

During the 1970 season, there were also games played between teams that represented the baseball 'regions' in those years. Morris Cranston played for Amsterdam in a 7-0 shutout-win against 't Gooi-Utrecht in a game played at the site of HCAW in Bussum. Amsterdam opened the score with three runs in the third inning. In the at bat, Cranston reached on single off of Ade Fijth. Moments later, Cranston and Marco Nagelkerken scored on a double by Wim Crouwel, who then scored himself on a single by Hans Onverwagt. Cranston was the best hitter of the game by going 3-for-5.

While playing for Rap, Morris regularly showed his offensive power. He underscored that in a game on August 18, 1973. On that dat, Rap played against Thamen and 16-year old (future pro) Martin Ronnenbergh made his debut as pitcher for the Amsterdam-team. Rap won 4-0 and the righthander was supported with three homeruns, two solo-shots by Cranston and a 2-run by José Faneyte.

While Morris played in the main-squad of Rap, his son Jeffrey also started to play baseball, while his daughter Anouk played softball for a few years. Later, Jeffrey went on to play 18 seasons (1987-2004) in the Dutch big league and played many years in the Netherlands Team. Anouk later was chosen Miss Teenage Netherlands and had a career in modelling, singing, acting and presenting. Both Morris and his wife Annet were always at old home-site of Rap/Pirates located at the Jan van Galenstraat in Amsterdam, watching the games of Jeffrey and Anouk. Morris and Annet also frequently traveled abroad attending international tournaments where Jeffrey participated in with the Netherlands Team, including the 1996 Olympic Games in Atlanta.

After the 1974 season, Cranston went on to play for another Amsterdam-based team, De Volewijckers. There, in 1975, the outfielder played together with Hans Möhrs and Adrie Grommé, but also with former Rap-teammate Chester Berkel in a team that was led by coach Bertus Grommé.

Next, Cranston played for De Spartaan also in Amsterdam. There, in 1976, he was a teammate of future longtime big league-coach Louis Hofer in a team that was led by Head Coach Gerard Stenzler. Other teammates included Hennie Heijsteeg, Dick Moraal and Jan Prinsen.

Hereafter, Cranston played for De Meteoor in 1977 and 1978, where he also was a coach. Both De Volewijckers and De Meteoor were clubs that were based in Amsterdam-North. They merged in 2013 to become Amsterdam North Stars.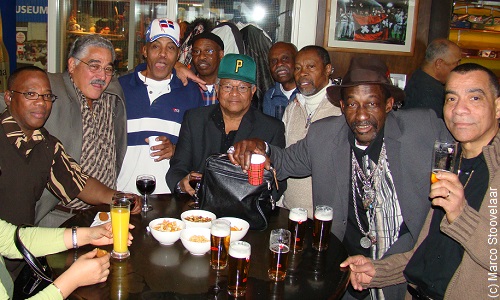 ...Morris Cranston with former teammates and friends...
...during the 50th anniversary of Amsterdam Pirates in 2009...
(© Photo: Marco Stoovelaar)

In his playing days, Morris Cranston always has been a good contact-hitter, who batted well with runners on base. But he also had power, as he regularly hit a homerun while playing for VVGA, Giants Diemen, HCAW and Rap. Cranston also was a speedy baserunner and a solid defensive player. Often, he was seen in the middle of the action, yelling against his teammates to give them advices in the different situations.

After the 1978 season, he was now 42 years old, Morris Cranston retired as a player. But he continued to be active in baseball for many more years as coach. Morris had a lot of baseball-knowledge and he made his coaching-debut in 1979 with Thamen. There, he coached the main-squad of the Uithoorn-based club for three seasons. In his first season (1979), Cranston led the team to first place in the Second Division, resulting in promotion to a higher league.

Cranston also loved to coach youth-teams, which he also did for several seasons. In 1982, he led the Junior-team of Amsterdam Pirates, finishing in second place. In the following five years, he coached youth-teams at both Pirates and UVV. In those years, the Cranston-family had moved from Amsterdam to Nieuwegein.

However, halfway the eighties, Cranston did do some more playing. In those years, an Antillian Oldtimers Team played some exhibiton games. The team, led by coach Max Rietbergen, was compiled of former (big league) players, including Simon Arrindell, Chester Berkel, Mario Berkel, José Faneyte, Julio Hazel, Jessy de Lanoi, Hudson John, Franco Martis and Herbert Ramlal.

In 1988, Cranston was one of the coaches of the main-squad of UVV, which then played in the highest league, but relegated. In that season, Cranston assisted former teammate and longtime friend Julio Hazel, who had become UVV's new Head Coach. Amongst the players was also Cranston's son Jeffrey, who played in his second big league-season for UVV. After the 1988 season, Jeffrey Cranston transfered to HCAW, where he would play for sixteen seasons.

As Cranston always has been very loyal to the clubs he was associated with, he stayed with UVV in the next season when it played in the second highest league. After being a coach of the main-team for two seasons, Morris Cranston returned to coaching youth at UVV in the following two years. As son Jeffrey now played for HCAW, Morris and his wife Annet became frequent and almost always-there visitors of the Bussum-team. As his love for coaching youth-teams remained, HCAW made a smart move to use his baseball-knowledge and so, Morris was a coach youth-teams of HCAW in seven seasons from 1992 on.

In 1997, Cranston made his comeback as a coach in the big league when he was a member of the coaching-staff of the main-squad of HCAW, which then was led by Head Coach Craig McGinnis. In that year, HCAW reached the Holland Series, but lost the best-of-five against Hoofddorp Pioniers.

The next season, Cranston stayed on as Assistant Coach when Brian Farley became the successor of McGinnis, who had returned to the USA. The 1998 season was very successful, as HCAW finished in first place in the regular season. During the season, Cranston also made his debut as Head Coach in the highest league, filling in for Farley in two games, winning one of them. In the Play-Offs, HCAW swept Kinheim in three games to qualify for the Holland Series. In what then was a best-of-five, HCAW won 3-1 against Neptunus to capture the Championship-title.

Cranston then coached the Junior-team of HCAW in 1999, but he also briefly returned the main-squad of the Bussum-club. When Farley had to sit out a 3-game suspension, his assistant Edward Kreuning led the team and Cranston filled in as a temporary assistant. In the following season (2000), Cranston became the fulltime Assistant Coach again from Farley. HCAW again qualified for the Play-Offs, but then was eliminated by Neptunus.

Cranston then was not active in coaching in 2001-2003, but he came back again in the coaching-staff of HCAW in 2004 when he was the Bench Coach for Bill Froberg, who passed away on December 19 last year. In the 2004 season, Maurice de Conge was the Pitching Coach. In this season, HCAW played again in the Holland Series and met Neptunus, but this time lost the best-of-five, 3-1.

In all the seasons that Morris was one of the coaches of HCAW, the Team Scorer was Adrie Berrevoets, whose brother Wiet Berrevoets was a teammate of Cranston when he played for VVGA. After the 2004 season, he was now 68 years old, Morris Cranston retired from coaching, but he remained a frequent visitor of games of HCAW from then on through this season.

In the late nineties, Morris Cranston also was active in men softball for some time, as he was one of the coaches of the successful team of Domstad Dodgers, which then played in the highest league. In 2000, Cranston also became one of the coaches of the Netherlands Men Softball Teams. He was the Head Coach of the National B-Team and also assisted then-Head Coach Willem Tuyn with the National A-Team.

Since moving to Nieuwgein, Morris Cranston not only was coaching at UVV and HCAW in the nineties, he also became closely involved with the local club. In his home-city Nieuwegein, baseball- and softball-club Geinoord was founded in 1982 and became Nieuwegein Diamonds in 2003. At Diamonds, Morris was active for some thirty years. He coached teams, trained teams, gave a lot of advice and tips to club-coaches and players, worked on the playing fields, looked after the equipment and did much more.

From 2009 on, the Netherlands National Women's Softball Teams used the site of Nieuwegein Diamonds for some five years to pratice and to play exhibition games. In those years, the webmaster of this site was the Media Officer and Team Scorer of both the Netherlands National Team and the Netherlands Juniors Team. During the practice sessions and games played by these teams in Nieuwegein, Morris almost always was there to watch. And when you met Morris and talked with, it was always a pleasant moment. Especially since Morris and I of course already had a long backgrond since our days together at Rap/Amsterdam Pirates. Regarding his activities at Nieuwegein Diamonds, he always said: ,,I live nearby, I love it here and I love to be here on the complex and to help where and when needed, this is a real nice club. And it keeps me busy''.

Morris was a fun-loving player. He liked to have fun in both the dug-out and on the field. However, when needed, he could be very serious, argue when needed and be angry when something didn't went right. But shortly thereafter, that broad smile and his twinkling eyes always returned.

Morris (Maurice) had a wonderful personality, was much-liked and was always friendly, always smiling and had always time for a talk. And he was always laughing and having fun. Morris will be missed by many, as will be his presence on the fields.

The webmaster of Grand Slam * Stats & News offers his condolences to Maurice's son Jeffrey, daughter Anouk, grandchildren and other family and friends and wishes them a lot of strength with this huge loss.

(November 16)