(Story by Marco Stoovelaar; Photo by Henk Seppen)

Matanzas sweeps Cienfuegos to reach Cuban Semi-Finals
Nederlands



SANCTI SPÍRITUS (Cuba) - Reigning Cuban champion Cocodrilos de Matanzas swept Elefantes de Cienfuegos in its belated best-of-five Quarter Final to reach the Semi-Final of the 60th edition of the Serie Nacional de Béisbol.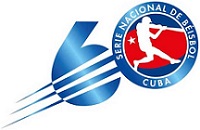 On January 31, Vegueros de Pinar del Río became the first team to qualify for the Semi-Final after sweeping Gallos de Sancti Spíritus in its best-of-five. Three days later, Alazanes de Granma won its series against Leones de Industriales, 3-2, to also advance to the Semi-Final.
However, the postseason has been interrupted or delayed since due to the awaiting of results of tests of the coronavirus (COVID-19). The Quarter Final between Matanzas and Cienfuegos didn't start, but on February 9, it was announced that this series would open on February 12, as all members of both teams were negative in recent tests.
The fourth Quarter Final is played between Avispas de Santiago de Cuba and Leñadores de Las Tunas. On January 26, Santiago de Cuba opened with a 7-4 victory, but hereafter, this series was put on hold. It had not yet been announced when this series will resume.
Matanzas and Cienfuegos played all their games at Estadio José Antonio Huelga in Sancti Spíritus.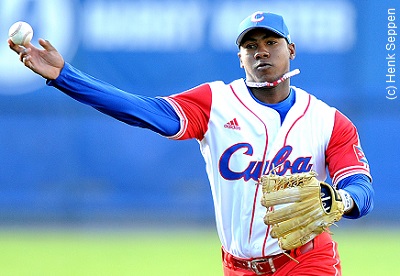 ...Erisbel Arruebaruena playing for Cuba...
...during the 2011 World Port Tournament...
...in Rotterdam (Netherlands)...
(© Photo: Henk Seppen)

In the first game on Friday, February 12, Matanzas came from behind to win 9-6. Cienfuegos led 5-0 halfway the fourth inning, but Matanzas then scored twice. After Cienfuegos had added a run in the top of the fourth, Matanzas answered with four runs in its fourth at bat, including three on a homerun by Erisbel Arruebaruena. With that, he made up for committing two errors, which led to four unearned runs. Matanzas broke the 6-6 tie by scoring runs in the sixth, seventh and eighth inning.

Two days later, last Sunday (February 14), Matanzas won 11-4, but again, the team briefly trailed. Before the game, there was a moment of silence in remembrance of former powerhitter Pedro José Rodríguez (Señor Jonrón), who had passed away the day before at age 65.

Matanzas scored its first run in the first, but Cienfuegos then rallied for three runs in the top of the second on a single by Juan Miguel Soriano and two errors from pitcher Noelvis Entenza. Matanzas got one run back in the bottom of the second on a single by Aníbal Medina. The team then rallied for five runs in the third, highlighted by a homerun from Javier Camero. In the fifth, the team took more distance when Aníbal Medina hit a 2-run homerun.
Last Tuesday (February 16), Matanzas scored early and went on to win 11-2 to complete a 3-game sweep. Before this game, there also was a moment of silence. This time in remembrance of former pitcher Gregorio Pérez, who passed away on Monday at age 79.
The reigning champion scored three runs in the first inning on a single by Arturo Sánchez, a double by Jefferson Delgado and a sacrifice fly by Erisbel Arruebaruena. Three more runs were added in the second inning, which were scored on a homerun by Delgado. Cienfuegos narrowed the deficit to 6-2 in the bottom of the third inning when Yusniel Ibáñez hit a 2-run homerun. But that were to be the lone runs Cienfuegos scored. In the top of the sixth, Matanzas scored four runs, thanks to a grand slam homerun by Yadil Dreke.
(February 16)