(Story by Marco Stoovelaar)
IN MEMORIAM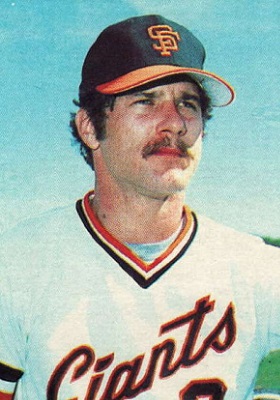 ...Mike Sadek...
(1946 - 2021)

Former Major League-catcher and Robert De Niro stand-in Mike Sadek passed away
Nederlands

SAN ADREAS, California (USA) - Former Major League-catcher Mike Sadek, who played in eight seasons for San Francisco Giants and also worked in the front office of the club for almost twenty years, passed away on Wednesday (January 20) at age 74. It was reported that he died after a short heart- and lung-related illness. Alhough he played in less than 400 games and was a back-up player, Sadek became a popular player with the both the fans as well as his teammates. He also served as the stand-in for actor Robert De Niro in a 1996 movie.

Michael George Sadek was born on May 30, 1946 in Minneapolis, Minnesota. After having played American football and baseball in High School, Sadek went to the Univerity of Minnesota. The catcher was draft by San Francisco Giants in the June 1966 Amateur Draft, but he decided to continue his study at the University. Sadek then had a fine season with the college baseball-team in 1967 and afterwards was drafted by Minnesota Twins with he signed.

Although, it was thought he was too small to be an everyday catcher, Sadek kept on working hard to remain a catcher and made his professional debut in the 1967 season when he played for St. Cloud Rox, the Single-A team of Minnesota Twins, in what was the first of his six Minor League-seasons. He batted .232 and reached base frequently, stealing 11 bases and scoring 37 runs.

Sadek also played in Single-A in 1968, hitting .265. He then promoted to Double-A in 1969, but batted only .192. In December 1969, Sadek was selected again by San Francisco Giants in the Minor League Draft. In the Giants-organization, the catcher also played in 17 games in Double-A in 1970, but then promoted to Triple-A, playing in 74 games for Phoenix Giants. For this team, he batted .244 and also hit his first homerun. Hereater, Sadek also played for the Triple-A team in 1971 and 1972, hitting .309 and .245 respectively.

After the 1972 season, Sadek was placed on the 40-man roster of San Francisco. He then was on the roster of the Major League-team when the 1973 season opened, as the back-up catcher for Dave Rader. On April 13, 1973, at age 26, Sadek made his Major League-debut in a home-game against Cincinnati Reds. In that game, he entered the game in the top of the eighth, taking over the catching from Rader. In the bottom of the eighth, with Cincinnati leading 4-2, San Francisco rallied for three runs with two outs. Chris Speier then walked and Dave Kingman singled. After a pitching change, pinch-hitter Willie McCovey delivered a runscoring single. That was followed by an RBI-single by Garry Maddox and an RBI-double by Gary Matthews. After another pitching change and with runners on second and third base, Sadek got hit first Major Leagye-at bat and grounded out. San Francisco won the game, 5-4. In his first Major League-season, Sadek played in 39 games and batted .167 (11-for-66). One of the Giants-pitchers this season was future Hall of Famer Juan Marichal.

The catcher, who was nicknamed 'The Sheik', then returned to the Triple-A team in Phoenix, where he played in the entire 1974 season. There, he played in 117 games and batted .251 with 93 basehits. He also started the 1975 season in Triple-A, this time playing in 50 games for Phoenix. It took until June 1975 before he returned to the Major League-team. At that moment, he was the third catcher in the team. Although Sadek wasn't a great powerhitter, his defensive qualities were good. The playing opportunities were spread amongst the three catchers, the others being Dave Rader and Marc Hill. In the second half of the 1975 season, Sadek played in 42 games and batted .236 with 25 basehits, but he batted in only nine runs.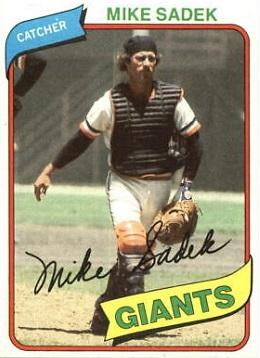 ...1980 Baseball-card...

In 1976, Sadek played in 55 games and batted only .204. In the following season, Sadek's batting average rose to .230 and he also hit his first Major League-homerun. In a home-game against Pittsburgh Pirates, Sadek was the starting catcher and was 2-for-4. In the first inning, he delivered a runscoring single in a 5-run rally. But Pittsburgh erased the early deficit and led 6-5 halfway the seventh inning. Moments later, San Francisco scored twice to turn the game its way again. In the eighth, with two outs, Mike Sadek hit a solo-homerun off of closer Grant Jackson to add an insurance run in the 8-6 victory. This was to be his lone homerun in the 1977 season, in which he played in 61 games. In the next season, the back-up catcher appeared in 40 games, but finished with a .239 batting average and added two more homeruns.

In his career, Sadek hit only five homeruns. But one of them is part of a record, which was the fourth homerun in his career. On May 25, 1979, San Francisco played against Atlanta Braves at home in Candlestick Park. San Francisco won with a 6-4 score, but both teams scored four runs in the fourth inning. In the top of the fourth, San Francisco led 1-0. For Atlanta, Pepe Frias led off with a single and Gary Matthews walked, then Jeff Burroughs and Bob Horner hit back-to-back homeruns. In the bottom of the fourth, now trailing 4-1, the home-team also scored four runs. First, Willie McCovey led off with a homerun. Next batter Bill Madlock singled and with two outs, Sadek hit a 2-run homerun off of Phil Niekro to make it 4-4 score. Hereafter, San Francisco-pitcher Bob Knepper also homered to his team ahead, 5-4. The five homeruns in the same inning tied a record.

After having played in 63 games and hitting .252 in 1979, Mike Sadek had his best season in 1980. He played in his highest total of games (64) and also recorded the most basehits (38), runs batted in (16) and walks (27), while hitting .252, which also was a career-high.

In the 1981 season, Sadek had played in only 19 games when the season was halted due to the players-strike. Shortly after the season resumed, in early August, Sadek was released. As he wasn't signed by another team, his Major League-career ended.

In his career with San Francisco, Sadek became known for his defensive qualities, but also his leadership and his love to make fun. In eight seasons, Mike Sadek played in 383 games and collected 184 basehits. His career batting average was .226, he scored 88 runs and batted in 74.

Amongst Sadek's teammates in his eight seasons with San Francisco Giants with whom he played the longest were Jack Clark, Johnnie LeMaster (with whom he played in seven seasons), Darrell Evans, Larry Herndon, Marc Hill and Willie McCovey and pitchers Randy Moffitt (who was a teammate in all eight seasons), Jim Barr, Ed Halicki, Bob Knepper Gary Lavelle and John Montefusco.

Other teammates through the years included Rob Andrews, Bobby Bonds, Enos Cabell, Tim Foli, Mike Ivie, Von Joshua, Dave Kingman, Bill Madlock, Garry Maddox, Gary Matthews, Milt May, Roger Metzger, Willie Montanez, Joe Morgan, Bobby Murcer, Bill North, Steve Ontiveros, Dave Rader, Ken Reitz, Chris Speier, Rennie Stennett, John Tamargo, Derrel Thomas, Gary Thomasson, Max Venable, Terry Whitfield and Jim Wohlford and pitchers Vida Blue, Pedro Borbon, Mike Caldwell, John D'Acquisto, Dave Heaverlo, Al Holland, Lynn McGlothen, Greg Minton, Charlie Williams and Ed Whitson.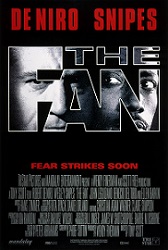 ...Movie-poster of...
...The Fan (1996)...

In three of his seasons with San Francisco, Joe Altobelli was the Manager of the team. In Sadek's final season, the team was led by future Hall of Famer Frank Robinson.

After he had retired as a player, Sadek remained with the San Francisco Giants-organization and worked in the front office. He first worked in community relations, conducting youth clinics and representing the club at events. He worked for the Giants in baseball operations through 1999. After his playing days, he also was offered coaching and instructor opportunities by the Giants. However, he turned them down to be with his family and see his children grow up.

In 1996, Mike Sadek was the body-double for wellknown actor Robert De Niro in the action/thriller-movie The Fan, which was partially filmed in Candlestick Park, the home-stadium of San Francisco Giants. In this film, De Niro plays the part of Gil Renard, an obsessive fan, who is excited over the addition of three-times MVP Bobby Rayburn (played by Wesley Snipes) to the Giants-team. However, Rayburn isn't playing well and then Renard starts to 'help' the player. In some of the situations in which De Niro had to throw a baseball, Sadek was the stand-in. Other stars besides De Niro and Snipes in this movie are Ellen Barkin, John Leguizamo and Benicio Del Toro. Baltimore Orioles-infielder Cal Ripken, Jr. was a consultant for the movie, which was directed by Tony Scott. Wellknown composer Hans Zimmer made the music for this movie.

San Francisco Giants Chief Executive Officer Larry Baer issued the following statement: ,,Mike was a Forever Giant in every sense of the term. He spent nearly 30 years in the Giants organization between his time as a player and his role as a member of the front office. He had a genuine love for the game and was known for getting a laugh out of his teammates when they needed it the most. Our condolences go out to the Sadek family for their loss and we extend our thoughts to his teammates and friends''.

The webmaster of Grand Slam * Stats & News extends his condolences to the family of Mike Sadek and wishes them a lot of strength with this big loss.

(January 21)