UVV completes roster for next season
Nederlands

UTRECHT (Neth.) - On November 1, the last day for players to change clubs, UVV announced its last acquisitions for next season when it will make its comeback in the Dutch big league.

Earlier, the Utrecht-based club already had announced several transfers. On October 14, it reported that Outfielder Danny Rombley came to Utrecht from Dutch champion Neptunus and two days later, Righthanded Pitcher Jurjen van Zijl joined the team from Hoofddorp Pioniers. The next day, October 17, UVV announced that Royce Holder and Cliff Foster were named as the new coaches of the team, while Catcher Giovanni Samboe had come from Almere Magpies. Three other newcomers were announced when their former clubs reported their transfers. On October 25, Infielder Shurty Tremus was amongst the transfers mentioned by Hoofddorp Pioniers, then on October 30, Infielder Rutger Veugelers was confirmed to go to UVV by his former club Sparta-Feyenoord. Last Sunday, the transfer of RHP Martijn Riphagen was reported when ADO announced their transfers.


...Patt Romney...
(© Ph: D.Dodgers)

UVV now confirmed that Patt Romney will become the third member of the coachingstaff, which will be led by American Royce Holder. Romney started his baseball career with UVV, along with his brother Glenn, who is one of the players of the team since this season. After having played for UVV and WSB in youth teams, Romney played for Robur '58 in the First Division, before making his debut in the Dutch big league in 1996, playing in 22 games for Quick Amersfoort. A year later, he joined Amsterdam Pirates, which then played in the First Division and promoted back to the big league after a brief absence. In 1998, the infielder/outfielder played in 45 games for the Amsterdam-squad and batted .266. He then left the team early during the 1999 season, without having played and re-joined First Divisionist Robur '58. In 2000, he made a comeback in the big league, playing for Xanthos in Amsterdam, whom he then lead with a .241 batting average, 32 basehits, seven doubles and 13 RBI's. In 2001-2002, Romney played to more big league-seasons for Hoofddorp Pioniers (whom he led in 2001 with 14 RBI's), before leaving the highest division. Last season and this year, Patt Romney was a playing coach for Domstad Dodgers in Utrecht.

On Monday, UVV announced the coming of five more players.

Lefthanded Pitchers Jim Ploeger and Joep de Wit are both coming from Almere Magpies.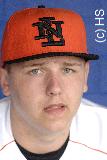 ...Jim Ploeger...
(© Henk Seppen)

This season, Jim Ploeger made his debut in the Dutch big league when he threw in only one game for Almere. His lone performance came on August 7 when he pitched 1 2/3 inning in relief of a 12-0 loss vs. Corendon Kinheim. The 19-year old Ploeger entered the game in the second inning and went on to strikeout one batter and giving up three hits, before being relieved himself. Shortly after this performance, he left for the USA to start a study on a Junior College in Oakland (California), hoping to sign a professional contract. In January of this year, Ploeger won the Roel de Mon Award for most promising junior-pitcher on 2009.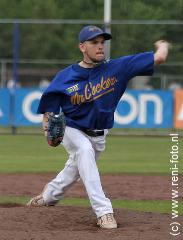 ...Joep de Wit...
(© Ph: www.reni-foto.nl)

In July last year, Ploeger was added to the roster of the Dutch National Baseball Team on the second day of the World Port Tournament. He then made his debut on July 4 vs. a selection team from Japan (Tokyo All Stars). Ploeger made two more appearances during the tournament, both also against the Japanese. After the event in Rotterdam, he was a member of the Dutch National Junior Team that participated in the European Junior Championship in Germany. He started the opening game vs. Germany on August 4 and then threw three innings in which he struckout six batters. But he left the game with an injury, which sidelined him for more than a year.

Joep de Wit this season was 1-0 and threw in 17 games, including two as a starter. In 44 2/3 inning, De Wit struckout 39 and walked 29, while giving up 55 basehits and finishing with a 6.25 ERA. De Wit pitched in his first big league-game in 2006 when he appeared in 10 games for Mr. Cocker HCAW, finishing with an 1-1 record and one save and throwing in 14 2/3 inning. He then remained a member of HCAW's pitching staff for three more seasons. Last year, he threw in 22 games and was 1-0 with one save and then left HCAW to pitch for Almere.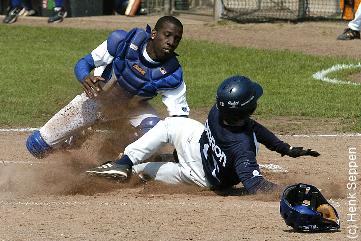 ...JuriŽn Overman while being with HCAW...
(© Photo: Henk Seppen)

Another former player of HCAW is Catcher JuriŽn Overman, who this season also played for Almere Magpies. In 2005, Overman made his debut, playing in 12 games for HCAW and hitting .296. After appearing in 11 games the next season, he became the regular catcher in 2007 when he played in 37 games and batted .234 with 26 hits. After completion of last season, Overman left HCAW to play for Almere, where he batted .158 this season (12-for-76) with two doubles, six runs and five RBI's in 30 games.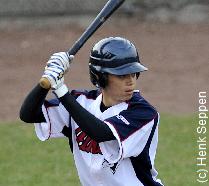 ...Brennan Nijhof...
(© Photo: Henk Seppen)

Infielder Brennan Nijhof played in 10 games for Almere this season to make his debut in the Dutch big league. He hit .364 (4-for-11) and had two RBI's. Before coming to Almere, Nijhof played for the HCAW-2 team.

Another newcomer is 18-year old Infielder Lionel Koolman, who is coming from Aruba, where he played in the National Youth Team.

Outfielder Mathijs Vuisters and Second baseman Maarten de Wilde, who played for UVV this season, both had to leave the team as they cannot combine playing anymore with their work. Vuisters will play for Twins next season, while De Wilde retired.

(November 1)