Mexico took an early lead in the first inning, scoring two runs off of Tom Stuifbergen, who got the starting assignment from Manager Hensley Meulens, as this was his farewell-game in the Netherlands Team. Next year, the righthander will focus more on his study at the Police Academy.

In the bottom of the first inning, Stuifbergen gave up a lead-off single to Jonathan Jones (Mexican League). Next batter Noah Perio (Mexican League) then lined a single through the middle, which moved Jones to third base. While the ball was hit towards centerfielder Roger Bernadina, rightfielder Kalian Sams ran in front of him to field the ball, but then made a high throw to third base. The ball ended up in the stands, meaning both runners were awarded an additional base on the overthrow. Jones scored and Perio moved to third base, as he already had advanced on the throw. Moments later, Perio scored the second run on a grounder by Efrén Navarro (Released, Triple-A, Chicago Cubs), who played in the Major League for Los Angeles Angels (2011-2015), Detroit Tigers (2017) and Chicago Cubs (2018). Stuifbergen then struckout the next batter and made the third out himself on a grounder to second base in what was his final inning on the mound in an Orange-uniform.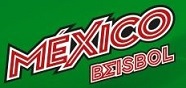 The Netherlands had also reached base in its first at bat, but stranded two runners. With two outs, Chadwick Tromp reached on an error, then Sharlon Schoop was walked by starter Arturo Reyes (Triple-A, Tampa Bay Rays). But he then closed by striking out Kalian Sams, by the way made a rare move while hitting. When making a check-swing, he signaled himself to the first base umpire, instead what is normally done by the catcher. American 1B Umpire Jeffrey Macias raised his fist to signal a swing had been made, which gave Sams his second strike.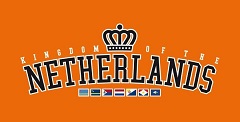 In the second inning, again with two outs, the next Orange-batter reached base. Gilmer Lampe then hit the ball in short rightfield. There, Noah Perio made a diving attempt, but barely missed the ball. And with that, Lampe ended up on second base with a double. But Reyes then closed the inning with a strikeout for Dwayne Kemp. Earlier in this inning, Mexican catcher Roman Sólis was his on his right-knee by a foul-ball from lead-off hitter Curt Smith. A 5-minute delay followed, but the 32-year old veteran stayed in the game.
In the bottom of the second, now facing new pitcher Juan Carlos Sulbaran, Sólis led off with a double. He moved on a grounder, but then stayed behind.
In the top of the third inning, with a full count on lead-off hitter Roger Bernadina, Sólis did leave the game out of precaution. Moments later, Bernadina walked, but he was forced out on a grounder by Ray-Patrick Didder. He then stole second base, but was left behind.
In the bottom of the third inning, Mexico added two runs off of Shairon Martis. He was greeted with a single by Jonathan Jones, who was then caught stealing. Next batter Noah Perio then also singled and scored on a following double by Efrén Navarro. With one out, Matthew Clark (Mexican League) walked and new catcher Jesus Araiza followed with a runscoring single to make it a 4-0 score.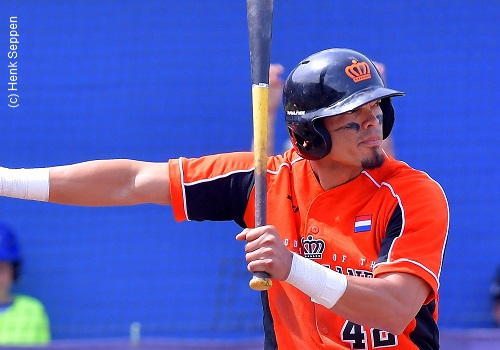 ...Gilmer Lampe's double in the 2nd inning was the lone...
...Orange-basehit in the first six innings...
(© Photo: Henk Seppen)

The Orange Team also got into scoring position again in the top of the fourth inning off of new pitcher Manuel Barreda (Mexican League), but was unable to score. With one out, Curt Smith and Sicnarf Loopstok both walked, but were left behind.

In the bottom of the fourth, with a runner on first base and two outs, Orange-centerfielder Roger Bernadina made a great diving catch on a line drive by Noah Perio to end the at bat.

The Netherlands recorded its second basehit in the game with two outs in the top of the seventh off of Ryan Verdugo, the fifth Mexican pitcher in this game. The 32-year old, American-born lefthander plays in the Mexican League since 2016. With two outs, he gave up a single to Ademar Rifaela, who had entered the game in the fifth inning. That was followed by another pitching change. Jesus Rios took over, but gave up an infield-hit to Calten Daal (also in the game since the fifth), which was followed by a throwing error. That led to runners on second and third base, but the inning ended with a flyout. Rifaela's basehit was the first one for the Orange Team since Gilmer Lampe had doubled in the second inning. He also became only the second Dutch runner to reach third base.

After having scored twice in the third inning, Mexico got only two baserunners in the next three innings off of three pitchers. In the fourth, Kevin Kelly walked the lead-off hitter, but retired the next three batters. In the fifth, Lars Huijer gave up a lead-off single, but a double play followed. And in the sixth, Mike Bolsenbroek became the lone Dutch pitcher to retire the side.

In the seventh, Orsen Josephina became the seventh Orange-pitcher. He walked lead-off hitter Jorge Flores (Mexican League), then gave up a single to Jonathan Jones, which gave Mexico runners at the corners. That led to a pitching change, as Diegomar Markwell took over. After returning to the dug-out, Josephina got several advices from Hall of Famer Bert Blyleven, who is the Dutch Pitching Coach. Blyleven also visited the young righthander on the mound after the lead-off walk. Markwell got a comeback-grounder from Noah Perio. As Flores took off to score, Markwell threw the ball to catcher Chadwick Tromp, who missed it while tagging the runner, leading to a run. After Markwell struckout the next batter, Manager Hensley Meulens came out again to make another pitching change. Franklin Van Gurp took over, but he got the bases loaded when he hit José Vargas (Mexican League) with a pitch. Van Gurp followed with a strikeout, but hereafter, a wild pitch led to a run. Moments later, Mexico added two more runs when third baseman Dwayne Kemp made a throwing error on a grounder by Jesus Araiza. Van Gurp closed with a strikeout, but Mexico had added four unearned runs on two costly errors to raise the lead to 8-0.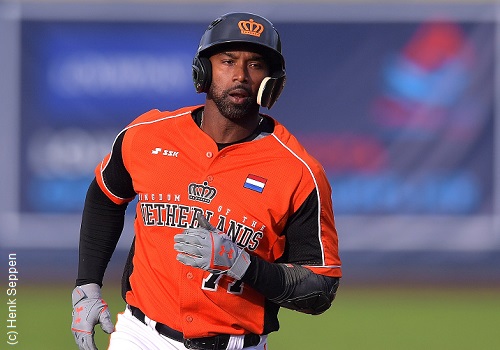 ...Yurendell De Caster delivered a 2-run single...
(© Photo: Henk Seppen)

The Netherlands finally was able to score in the top of the eighth inning. Gianfranco Wawoe and Kalian Sams began with singles, then both scored on a single by pinch-hitter Yurendell De Caster. After the next two batters were eliminated, another pitching change followed. Lefthander Justin Kelly took over, but he got the bases loaded when pinch-hitter Juremi Profar singled and Ademar Rifaela walked. But the three runners were left behind, as Calten Daal was called out at first base on a close play. The first baseman dropped the ball, but it was ruled as being on the transfer. But before that, Daal had reached the base in time, which was confirmed by replays and would give him a runscoring infield-hit. However, the Netherlands didn't ask for a challenge and so, the inning ended.

Mexico then scored two unearned runs in the bottom of the eighth inning off of Jim Ploeger, who was the tenth Dutch pitcher. Lead-off hitter Humberto Sosa (Mexican League) reached when new third baseman Juremi Profar made an error and moved to third base on a double by Jorge Flores. They then scored on a grounder by Jonathan Jones and a sacrifice fly by Noah Perio.

In the top of the ninth, Noel Salas became the eighth Mexican pitcher and retired the side to end the game.

In today's game, Manager Hensley Meulens used 25 players, including ten pitchers. The lone players who didn't play were pitchers Rob Cordemans, Jair Jurrjens and Orlando Yntema.

Playing for the Netherlands were:
Roger Bernadina (CF, 0-for-1, 2 walks), Ademar Rifaela (LF, 1-for-1, 1 walk), Ray-Patrick Didder (SS, 0-for-2, 1 strikeout), Calten Daal (PH-SS, 1-for-3), Chadwick Tromp (C, 0-for-5, 1 strikeout), Sharlon Schoop (2B, 0-for-1, 1 walk), Gianfranco Wawoe (2B, 1-for-3, 1 run), Kalian Sams (RF, 1-for-4, 1 run, 1 walk, 3 strikeouts), Curt Smith (1B, 0-for-2, 1 walk, 1 strikeout), Yurendell De Caster (PH-1B, 1-for-1, 2 RBI's), Sicnarf Loopstok (DH, 0-for-2, 1 walk), Hendrik Clementina (PH-DH, 0-for-1), Gilmer Lampe (LF-CF, 1-for-4, double, 2 strikeouts), Dwayne Kemp (3B, 0-for-3, 1 strikeout), Juremi Profar (PH-3B, 1-for-1) and pitchers Tom Stuifbergen, Juan Carlos Sulbaran, Shairon Martis, Kevin Kelly, Lars Huijer, Mike Bolsenbroek, Orsen Josephina, Diegomar Markwell, Franklin Van Gurp and Jim Ploeger.