(Story by Marco Stoovelaar)




Australia, Chinese Taipei, Japan, South Korea advance to Super Round Premer12
Nederlands





TAICHUNG/TAOYUAN (Taiwan) / SEOUL (South Korea) - South Korea and Australia complete the field of participants of the Super Round of the second edition of the Premier12 on Friday. Australia first recorded its first win against Canada (3-1), then advanced in the evening, thanks to a 7-0 shutout-win by South Korea against Cuba.
Earlier, Chinese Taipei and Japan secured their spot in Pool B.
Pool B opened on Tuesday at the Taichiung Intercontinental Baseball Stadium in Taichung and the Taoyuan International Baseball Stadium in Taoyuan in Taiwan. Japan then began with an 8-4 win against Venezuela, while host Chinese Taipei outscored Puerto Rico, 6-1.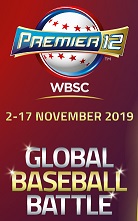 The next day, both Asian countries recorded a shutout-victory. Japan shutout Puerto Rico (4-0) and Chinese Taipei held Venezuela scoreless (3-0). With that, both teams remained unbeaten and advanced to the Super Round.
On Thursday, Japan finished in first place by winniing 8-1 against Chinese Taipei. Venezuela defeated Puerto Rico 7-1 to end up in third place.
On Wednesday, the first games were played in Pool C at the Gocheok Sky Dome in Seoul, the capital of South Korea. This Pool opened with a 3-0 shutout-win by Canada against Cuba. In the evening, host South Korea opened with a 5-0 shutout against Australia.
On Thursday, there were two close games. Cuba won 3-2 against Australia, but needed ten innings to do so. South Korea recorded a small 3-1 win against Canada.
That set up an interesting final day in Pool C on Friday. In the afternoon, Australia and Canada met. A Canadian win could have created a 3-way tie when Cuba should have beaten South Korea in the evening. But Australia won 3-1 to record its first win. That meant that South Korea advanced to the Super Round.
Cuba also could have advance with a win against South Korea. But that also didn't happen, as South Korea won 7-0. That led to a 3-way tie between the other three teams and the head-to-head results created a new 3-way tie. The Team Quality Balance (run-formula) then decided the final ranking, which was in favor of Australia.
The results of these days meant the Puerto Rico, Venezuela (Pool B), Canada and Cuba (Pool C) were all eliminated.
Pool A, which was held in Zapopan/Guadalajara (Mexico) ended on Tuesday. That Pool was decided on Monday with Mexico and the USA both advancing. The Netherlands, which remained winless, and the Dominican Republic were eliminated.
The Super Round opens coming Monday (November 11) and will be played in Japan. Three games will be played in ZOZO Marine Stadium in Chiba, which last year was the site of the final games of the World Championschip Softball. All other games will be played in the Tokyo Dome in Tokyo.
On Monday, Mexico opens against Chinese Taipei in the afternoon in Chiba. In the evening, Japan meets Australia in Chiba. Also in the evening, in Tokyo, the USA will play against South Korea.
The Netherlands Baseball Team was officially eliminated for the Super Round of the Premier12 on Sunday-evening (November 3) after Mexico won against the USA. On Saturday, the Netherlands team was shutout 9-0 by the USA. On Sunday, the Netherlands lost 14-4 against the Dominican Republic in what was its first mercy-rule loss since 2013. The Orange Team then closed on Tuesday with a 10-2 loss against Mexico.
The two best teams of each Pool advanced to the Super Round. The highest ranked teams in this Super Round from the Americas (Mexico, USA) and Asia/Oceania (Australia, Chinese Taipei, South Korea) will qualify for next years Olympic Games in Japan. So far, host Japan and Israel have qualified. Israel qualified in September by winning the Africa/Europe Olympic Qualifier in Italy. There, the Netherlands also ended up short and finished in second place. With that, the Orange Team gets a second chance to reach the Olympics via a Global Olympic Qualifier in April next year in Taiwan.
(November 8)
Related Articles:


Netherlands closes Premier12 with loss vs. Mexico in farewell Stuifbergen. (November 5)


Netherlands eliminated for Super Round Premier12. (November 3)


Netherlands loses big vs. Dominicans in 2nd game Premier12. (November 3)


Netherlands suffers big shutout-loss in Premier12-opener vs. USA. (November 2)


Netherlands Team wins rainshortened exhibition game in Mexico. (October 31)


Netherlands Team plays first exhibition game in Mexico. (October 30)


Hensley Meulens returns as Orange-Manager for Premier12; Roster announced. (October 14)