(Story by Marco Stoovelaar; Baseball Videos by MLB FilmRoom)
IN MEMORIAM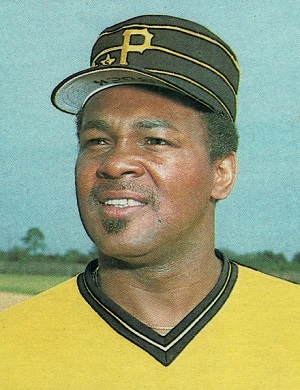 ...Grant Jackson...
(1942 - 2021)

Longtime Major League relief-great Grant Jackson passed away
Nederlands

NORTH STRABANE TOWNSHIP, Pennsylvania (USA) - Grant Jackson, who was a successful lefthanded relief-pitcher and played eighteen seasons (1965-1982) in the Major League for six different clubs, passed away on Tuesday (February 2) at age 78. It was reported that Jackson died from complications of the coronavirus (COVID-19). Jackson was selected for one All Star Game and won the World Series in 1979 with Pittsburgh Pirates. There, he was a teammate of Dutch-born pitcher Bert Blyleven in three seasons.

Grant Dwight Jackson was born on September 28, 1942 in Fostoria, Ohio, which is located some 60 km (40 miles) south of Toledo. At High School, Jackson, who came from a big family and was nicknamed 'Buck' by his father, played baseball, American football and basketball. He also played in the baseball-team of Bowling Green State University. In November 1961, at age 19, the pitcher was signed by Philadelphia Phillies.

Jackson made his professional debut, pitching in 1962 in the C-level team of Philadelphia. In 1963 and 1964, he promoted to Double-A and Single-A and mostly was a starting pitcher. In the 1965 season, he pitched in 32 games for Arkansas Travelers (Triple-A) and towards the end of the season, Grant Jackson made his Major League-debut on September 3, pitching for Philadelphia Phillies against Cincinnati Reds. Jackson was inserted in the fifth inning with two runners on base. He struckout Tony Perez and Derin Johnson, but then gave up a homerun to future Hall of Famer Frank Robinson. In his first Major League-season, the lefthanded pitcher threw in six games (two starts) and was 1-1 with a 7.24 ERA and 15 strikeouts in 13 2/3 inning.

In the 1966 season, Jackson appeared in only two Major League-games for Philadelphia, throwing only 1 2/3 inning. In the majority of the 1966 season, Jackson pitched for San Diego Padres, which then was the Triple-A team of Philadelphia. In 1967, it was announced that San Diego won a bid to be an expansion team in the National League. After the 1968 season, the Triple-A team moved to Eugene, Oregon, but the nickname 'Padres' remained in San Diego for the new team that played its inaugural Major League-season in 1969.

Jackson then became a regular Major League-pitcher from 1967 on. In that season, he pitched in 43 games (four starts) and struckout 83 batters in 84 1/3 inning. Jackson was mostly used as a mid-reliever and was 2-3 with one save and a 3.84 ERA. He had the same role in the 1968 season in which he made six starts and closed twelve games. He finishes the season with an 1-6 record, but had an acceptable 2.95 ERA and also struckout 49 batters.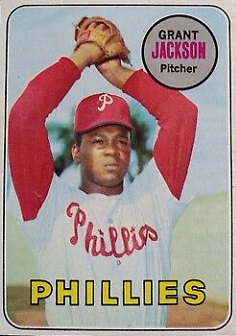 ...1969 Baseball-card...

In 1969, Grant Jackson was one of the starters in the Philadelphia-team, as he started 35 games and was used only three times as reliever. His record this season was 14-18 and he closed with a 3.34 ERA. He set career-highs with 180 strikeouts and 253 innings pitched. In this season, Jackson was selected for the All Star Game, which was played in Washington, DC, but he didn't play in the game.

In the following season, he again was mostly used as a starter. He appeared in 32 games, 23 of them as starter. However, Jackson had several arguments with new Phillies-Manager Frank Lucchesi, which almost surely contributed to his disappointing results this season. The lefthander, who even asked to be traded, was 5-15 with a 5.29 ERA, but he struckout 104 batters. In December 1970, Jackson was traded by Philadelphia to the Baltimore Orioles with two other players.

Amongst Jackson's teammates in his six seasons with Philadelphia Phillies were Dick Allen, Ruben Amaro, Larry Bowa, John Briggs, Johnny Callison, Denny Doyle, Tito Francona, Oscar Gamble, Tony Gonzalez, Terry Harmon, Larry Hisle, Deron Johnson, Don Lock, Greg Luzinski, Tim McCarver, Don Money, Cookie Rojas, Mike Ryan, Ron Stone, Gary Sutherland, Tony Taylor, Bill White and Bobby Wine. Amongst his pitchiing-colleagues were Jim Bunning, Turk Farrell, Woodie Fryman, Dick Hall, Larry Jackson and Rick Wise.

When he joined Baltimore Orioles, it was clear that he wouldn't be one of the starters, as his new team had four solid starters with Jim Palmer, Dave McNally, Mike Cuellar and Pat Dobson. And so, Jackson returned to the bullpen, pitched in 20 games in relief and was used as a starter in nine. From the 1972 season on, Jackson became a prime reliever and one of the best in the seventies. He now was a fulltime reliever, mostly inserted as closer, and until his final season in 1982, Jackson made only four more starts.

In his first season (1971) with Baltimore, Jackson was 4-3 with a 3.13 ERA, but struckout only 51 batters in 77 2/3 inning. Also this year, Jackson played in his first postseason. With Baltimore, he won the American League-title to advance to the World Series. In the Championship Final, Baltimore faced National League-champion Pittsburgh Pirates, which won the best-of-seven, 4-3.

Although Jackson's strikeout-totals lowered somewhat, his way of pitching remained very effective, as he focused more on just making outs instead of striking out batters. That was underscored from 1972 on when he became the closer for Baltimore. In that season, he appeared in 32 games, closed 23 of them and earned eight saves. In 41 innings, Jackson struckout 34 batters, while finishing the season with a 2.63 ERA.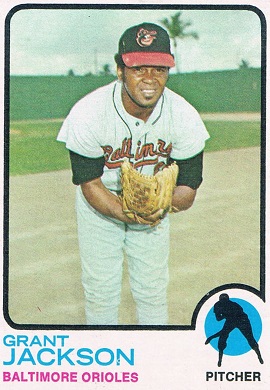 ...1973 Baseball-card...

Jackson's proved his strenghth and effectiveness as reliever again in the 1973 season. This time, he threw in 45 games, 33 as closer, an was 8-0 with nine saves and a 1.90 ERA. Another successful season followed in 1974 when he shared the closer's role with Bob Reynolds. This time, Jackson appeared in 49 games (32 as closer), won six games and earned 12 saves, while striking out 56 batters in 66 2/3 inning. In the 1975 season, Jackson again was one of the prime relievers for Baltimore, throwing in 41 games (26 as closer) and earning seven saves.

In 1976, Jackson threw in 13 games for Baltimore and was 1-1 with three saves, but halfway the season, in June, he was part of a big 10-player trade with the New York Yankees. Jackson and fellow-pitchers Doyle Alexander, Jimmy Freeman and Ken Holtzman and catcher Elrod Hendricks went to New York in exchange for pitchers Tippy Martinez, Rudy May, Scott McGregor and Dave Pagan and catcher Rick Dempsey. In the remainder of the season, Jackson pitched in 21 games for New York, including his first two starts since 1971. He was 6-0 with an 1.69 ERA for New York with whom he played in his second World Series. Again, Jackson was on the losing side, as New York was swept in four games by the strong team of Cincinnati Reds, the 'Big Red Machine', led by famous Manager Sparky Anderson.

In the almost six seasons that Grant Jackson played for Baltimore Orioles, the team was also led by a legendary Manager, Earl Weaver. Amongst Jackson's teammates in these years were Don Baylor, Mark Belanger, Paul Blair, Don Buford, Al Bumbry, Enos Cabell, Terry Crowley, Tommy Davis, Doug DeCinces, Dave Duncan, Andy Etchebarren, Bobby Grich, Elrod Hendricks, Reggie Jackson, Lee May, Jim Northrup, Johnny Oates, Boog Powell, Merv Rettenmund, Brooks Robinson, Frank Robinson, Ken Singleton and Earl Williams. Another teammate in two of his seasons with Baltimore was infielder Davey Johnson, who was a member of the coaching-staff of the Netherlands Baseball Team, as Assistant Manager, Interim Manager and Bench Coach, during the European Championship and World Championship in 2003 and the Olympic Games in Athens (Greece) in 2004. Amongst the other Baltimore-pitchers were Doyle Alexander, Mike Cuellar, Pat Dobson, Mike Flanagan, Wayne Garland, Ross Grimsley, Ken Holtzman, Dave McNally, Jim Palmer, Bob Reynolds, Mike Torrez and Eddie Watt.

In his half season with New York, Jackson played for another legendary Manager, being Billy Martin. Amongst his teammates in the second half of the 1976 season were Sandy Alomar, Chris Chambliss, Oscar Gamble, Elrod Hendricks, Carlos May, Thurman Munson, Graig Nettles, Lou Piniella, Willie Randolph, Mickey Rivera, Fred Stanley and Roy White and pitchers Doyle Alexander, Dock Ellis, Ed Figueroa, Ken Holtzman, Catfish Hunter, Sparky Lyle and Dick Tidrow.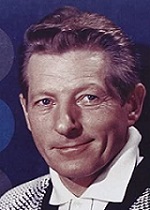 ...Danny Kaye...

Jackson's stay with New York was brief. After the 1976 season, in November, the Major League Baseball Expansion Draft was held, as new teams Seattle Mariners and Toronto Blue Jays were to make their debut in 1977. As both teams were to play in the American League, only players from American League-clubs were selected Back then, wellknown actor, comedian, dancer, singer and philanthropist Danny Kaye was one of the part-owners of Seattle Mariners. Kaye, who passed away in 1987, sold his shares in 1985. Amongst Kaye's famous movies are 'The Secret Life of Walter Mitty' (1947), 'The Inspector General' (1949), 'Hans Christian Andersen' (1952), 'White Christmas' (1954), 'The Court Jester' (1956) and 'The Five Pennies' (1959).

Both Seattle and Toronto selected 30 players, who were unprotected by their respective club. This meant that all 12 American League-teams lost five players. As Grant Jackson was unprotected, he was one of the Yankees-players selected by Seattle Mariners.

However, Jackson never played for Seattle. A few weeks after he was selected by the new club, he got traded to Pittsburgh Pirates. There, he played in the following six seasons in what was a successful period in the history of the club, as well as for Jackson. At Pittsburgh, Jackson joined a team where John Candelaria, Odell Jones, Bruce Kison, Jerry Reuss and Jim Rooker were the starters, while side-arm submarine-pitcher Kent Tekulve and Rich Gossage were the main closers. With that, Jackson became the set-up man, being the reliever pitching before either Tekulve or Gossage were inserted to close the game. In his first season, Jackson pitched in 49 games, 19 of them as closer. He was 5-3 with four saves and a 3.86 ERA, pitching in 91 innings. Other veteran players in the 1977 team were Phil Garner, Omar Moreno, Ed Ott, Dave Parker, Bill Robinson, Willie Stargell and Rennie Stennett with Jackson also would play in the following seasons. After the 1977 season, Gossage was a Free Agent and signed with New York Yankees. With that, Jackson was more used as a closer, but also remained the set-up man for Tekulve. From 1978 through 1980, Jackson pitched in 193 games, 81 of them as closer.

...Sister Sledge performing 'We Are Family'...
...in Dutch music-show 'TopPop'...

In 1978, Pittsburgh-starters Candelaria, Kison and Rooker got company from Jim Bibby, Bert Blyleven and Don Robinson, while catcher Manny Sanguillen returned from Oakland Athletics and outfielder/first baseman John Milner also joined the team. Blyleven and Milner came to Pittsburgh in March 1978 in a trade in which eleven players and four teams were involved. During the World Baseball Classic in 2009, 2013 and 2017, Blyleven was the Pitching Coach of the Netherlands National Baseball Team.

In 1979, reliever Enrique Romo, third baseman Bill Madlock and outfielder Lee Lacy were new in the Pittsburgh-team.

Pittsburgh Pirates had a great season in 1979 and went on to win the World Series. It was the year of 'The Family' (or Fam-a-lee, as it was also written). The popular song 'We Are Family' by Sister Sledge became the theme song of the team, underscoring that everyone played with each other and for each other with the same goal. And sharing that with their loyal fans. That led to a festive atmosphere in the stands throughout the seeason. In 1979, Jackson appeared in a career-high 72 games, 29 of them as a reliever. He was the winning pitcher eight times and earned a career-high fourteen saves.

In the 1979 World Series, Pittsburgh played against Baltimore Orioles In the first two games in Baltimore, both teams won once. In the next three games in Pittsburgh, Baltimore won twice.

With Baltimore leading 3-1 in the best-of-seven, Pittsburgh won Game 5 with a 7-1 score. In this game, Bert Blyleven was the winning pitcher.

Hereafter, back in Baltimore, Pittsburgh also won Game 6 with a 4-0 shutout to force a seventh game. Pittsburgh then won again to capture the title. With that, Pittsburgh again won the World Series against Baltimore, just as in 1971. But this time, Jackson played for the winning team.

Grant Jackson pitched in four games for Pittsburgh. He was the closer in the first game in which Baltimore nipped Pittsburgh, 5-4, but scored all its runs in the first inning. Jackson then pitched in relief in Game 3 and 4, which were also won by Baltimore. But in Game 7, Jackson had a strong appearance, threw 2 2/3 inning and became the winning pitcher.

...Pittsburgh Pirates wins the 1979 World Series...

Before the deciding seventh game, then-American President Jimmy Carter threw the ceremonial first pitch. With Baltimore leading 1-0, Don Robinson took over the Pittsburgh-pitching from starter Jim Bibby in the bottom of the fifth. He gave up a lead-off single to Doug DeCinces and with two outs, he walked (pitcher) Scott McGregor. Grant Jackson then took over the pitching and got a foul pop-fly from Al Bumbry that ended the at bat. Jackson then retired the side in the sixth and seventh inning. In the top of the sixth inning, Willie 'Pops' Stargell hit a 2-run homerun to put Pittsburgh ahead, 2-1. In this game, Stargell was 4-for-5 with two doubles and a homerun and he was named the Series MVP. In the bottom of the eighth inning, Jackson got one out, but then walked two batters and closer Kent Tekulve took over the pitching. He successfully completed the inning. Baltimore-starter Scott McGregor left after eight innings and Pittsburgh then added two more runs in the top of the ninth in which Baltimore Manager Earl Weaver used five pitchers. But in the inning, Omar Moreno delivered a runscoring single and another run was scored on a basesloaded hit batter. Hereafter, Tekulve retired the side in the bottom of the ninth to win the game and the World Series. Jackson was the winning pitcher and Tekulve earned a save. For Pittsburgh Pirates, this remains the last World Series-title up to this moment.

In the 1980 season, Jackson pitched in 61 games (27 as closer) and was 8-4 with nine saves and a 2.92 ERA. In both the 1980 and 1981 season, Pittsburgh started to bring in some younger players. In 1981, Jackson, who was now 38, appeared in 35 games for Pittsburgh and towards the end of this season, he went on to play for his fifth team, as his contract was purchased by Montreal Expos in September. Jackson pitched for the Canadian team in the remainder of the season, appearing in ten games. After the season, Jackson was traded to Kansas City Royals.

In these years, teams didn't change that much. And so, in all his five seasons with Pittsburgh Pirates, Grant Jackson played together with Dale Berra (the son of New York Yankees-legend Yogi Berra), Mike Easler, Phil Garner, Omar Moreno, Dave Parker, Bill Robinson, Willie Stargell and pitchers John Candelaria and Kent Tekulve. In four of his Pirates-seasons, Jackson played with some other great players, including John Milner, Steve Nicosia, Ed Ott and pitchers Jim Bibby, Don Robinson and Jim Rooker. Other teammates in his seasons in Pittsburgh include Kurt Bevacqua, Duffy Dyer, Tim Foli, Jim Fregosi, Lee Lacy, Vance Law, Ken Macha, Bill Madlock, Al Oliver, Tony Peña, Manny Sanguillen, Rennie Stennett and Frank Taveras and pitchers Bert Blyleven, Dock Ellis, Terry Forster, Rich Gossage, Odell Jones, Bruce Kison, Jerry Reuss, Rick Rhoden, Enrique Romo, Luis Tiant and Ed Whitson. In his seasons with Pittsburgh, Jackson again played for a legendary Manager, this time Chuck Tanner.

Amongst Jackson's teammates in his lone month with Montreal Expos were Gary Carter, Andre Dawson, Terry Francona (who is the current Manager of Cleveland Indians), John Milner, Larry Parrish, Tim Raines, Rodney Scott, Chris Speier, Tim Wallach and pitchers Stan Bahnsen, Woodie Fryman, Bill Lee, Steve Rogers and Elias Sosa.

In 1982, Grant Jackson again played for two different teams. He started the season with Kansas City Royals, but was then released in early July. He then returned to Pittsburgh Pirates, who re-signed the pitcher in early September which reunited him with Manager Chuck Tanner and some of is former teammates. However, this time, he made only appearance for Pittsburgh, which came on September 8 in a home-game against New York Mets. Unfortunately, Jackson's return was not a success. With New York leading 5-0, he took over the pitching in the top of the ninth with one out and the bases loaded. Jackson faced Ron Hodges, who hit a grand slam homerun to lift the lead to 9-0. Jackson retired the next two batters, but this was to be his final Major League-game. After the season, in early October, he was released again, after he had turned 40 in the last week of the season.

Amongst his teammates with Kansas City Royals were Willie Aikens, George Brett, César Gerónimo, Jerry Martin, Hal McRae, Amos Otis, U.L. Washington, John Wathan, Frank White, Willie Wilson and pitchers Bud Black (the current Manager of Colorado Rockies), Vida Blue and Larry Gura. Another teammate was submarine-reliever Dan Quisenberry, who had great control and walked only 162 batters in his career in more than 1,000 innings pitched. Unfortunately, Quisenberry passed away at age 45 in September 1998 due to brain cancer.

...Joe Girardi and Mike Harkey share their thoughts...
...of Grant Jackson...
(Video by MLB FilmRoom)

After his playing career had ended, Grant Jackson remained active in baseball. He was offered a contract for the 1983 season by Pittsburgh Pirates, but instead opted to become the Bullpen and Pitching Coach of the team, something he did in 1983-1985 in the coaching-staff of Manager Chuck Tanner. Another former player joined the coaching-staff during the 1985 season when Willie Stargell became the 1B Coach. As Bullpen and Pitching Coach, Jackson oversaw a pitching-staff that still included John Candelaria, Don Robinson and Kent Tekulve. Hereafter, Jackson was a Minor League Pitching Coach in the organizations of Chicago White Sox and Chicago Cubs. He then returned to coaching in the Majors in 1994 and 1995 when he was a Bullpen Coach for Cincinnati Reds, which then was led by Manager Davey Johnson. In the following years, he was the Pitching Coach of Indianapolis Indians, the Triple-A team of Cincinnati. Jackson retired from coaching in 2002.

A few years earlier, in 1989, at age 46, Jackson returned to professional baseball as a player, as a pitcher for Gold Coast Suns in the Senior Professional Baseball Association. However, this Florida-based Winter League folded halfway the second season in December 1990. Many former (elderly) Major Leaguers played in this league. Amongst Jackson's teammates at Gold Coast Suns were Joaquín Andújar, Stan Bahnsen, Paul Blair, Bert Campaneris, César Cedeño, Mike Cuellar, Jim Essian, Ed Figueroa, Ed Halicki, George Hendrick, Rafael Landestoy, Rennie Stennett, Derrel Thomas and Luis Tiant.

For many years, Grant Jackson worked for the Pittsburgh Pirates Alumni Association and attended almost all events that commemorated special moments in the history of the club. In 2019, he was one of the former players that were honored during the 40th anniversary of winning the World Series in 1979. In 2004, Jackson belonged to the first group of athletes.that was inducted into the Fostoria High School Hall of Fame.

Travis Williams, President of Pittsburgh Pirates, said: ,,This pandemic has affected every family throughout our community, and the Pirates family is no different. As the winning pitcher for the Pirates in Game 7 of the 1979 World Series, Grant was a World Series champion and All-Star, who remained dedicated to the Pirates and the city of Pittsburgh since his retirement in 1982. He was an active board member of our Alumni Association who was always willing to help make an impact in our community. More so than any on-field accomplishment, Grant was a proud family man. Our sincere condolences and support go to his wife Millie (Milagro), his children Debra, Yolanda and Grant Jr., as well as his 10 grandchildren. He will be missed''.

Former teammate Kent Tekulve said in a reaction to reporter Jason Mackey in the Pittsburgh Post-Gazette-newspaper: ,,He never got enough credit for what he added to our ballclub. It's just a sad, sad day. He was very knowledgeable about what pitching was, and it wasn't just how you throw your fastball or curveball. It's how you work your way through situations. He had a great eye for what I was doing. Literally for all those years that we pitched together, he was my pitching coach''.

The webmaster of Grand Slam * Stats & News extends his condolences to the family of Grant Jackson and wishes them a lot of strength with this big loss.

(February 3)