(Story by Marco Stoovelaar; Photo by Henk Seppen)



Philadelphia Phillies confirms signing and return of Didi Gregorius
Nederlands



PHILADELPHIA, Pennsylvania (USA) - Short stop Didi Gregorius has officially returned to Philadelphia Phillies, the club where he first played in the 2020 season. On Wednesday (February 10), the club announced that a 2-year deal had been reached with Gregorius, who joined Philadelphia in December 2019, but was a Free Agent after completion of the 2020 season. It is believed that the deal has a worth of 28 million dollar, according to some sources.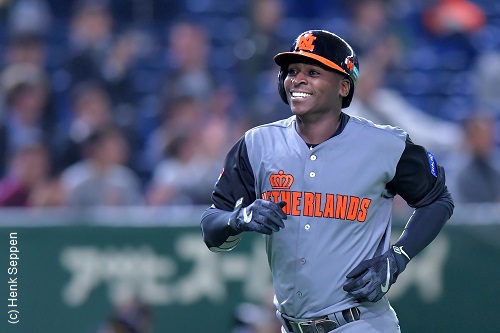 ...Didi Gregorius playing for the Netherlands...
...during the 2017 World Baseball Classic...
(© Photo: Henk Seppen)

Throughout January, it already was rumored that Gregorius was in talks with Philadelphia, but his name also was frequently named in combination with Cincinnati Reds, the club where he had made his Major League-debut. At the end of January, it was reported that Gregorius and Philadelphia had an agreement, which now officially was confirmed on Wednesday. In recent days, it also was confirmed that Jurickson Profar returned to San Diego Padres, that Andrelton Simmons has signed with Minnesota Twins and that Jonathan Schoop will play again for Detroit Tigers.

Philadelphia also came to a 5-year deal ($ 115.5 million) with catcher J.T. Realmuto, who also was a Free Agent. That agreement was officially announced on January 29. During the 2020 season, both Realmuto and Gregorius made important contributions to the team which finished in third place in the National League East.

Last year, Gregorius played in all 60 games of the shortened regular season for Philadelphia and batted .284 (61-for-215) with ten doubles, two triples and ten homeruns. He scored 34 runs and batted in 40. With his .284 batting average, Gregorius was the second best hitter of the Phillies, behind third baseman Alec Bohm, who batted .338 in 44 games.

Didi Gregorius was born in Amsterdam, the capital of the Netherlands, where he grew up, as his father Didi Gregorius (Sr.) was a pitcher for several years in the Dutch big league for Amsterdam Pirates. His mother Sheritsa Stroop then also played in the Dutch big league with the softball-team of Amsterdam Pirates. With his parents, he returned to Curaçao at a young age, where he developed into a very talented player.
Didi Gregorius, who will turn 31 on February 18, made his Major League-debut in 2012, playing in eight games for Cincinnati Reds. After the 2012 season, the short stop was traded by Cincinnati to Arizona Diamondbacks. There, he became a regular player and appeared in 103 games during the 2013 season. In 2014, Gregorius played in 80 games for the D-Backs. In December of that year, the stort stop was traded to New York Yankees in a 3-team deal, which also involved Detroit Tigers.
At New York, Gregorius was the successor of short stop Derek Jeter, who retired in 2014 after having played 20 seasons for the Yankees. After a slow start in 2015, Gregorius did great as short stop for New York, both defensively and offensively. With his bat, he did things no other short stop had done in Yankee-history. He became a popular player with the fans of the Yankees and also within the team.
In his first season with the Yankees (2015), Gregorius played in 155 games and batted .265 with 56 runs batted in and nine homeruns. In the following three seasons, his performances became better and better, setting personal highs each season. He batted .276, .287 and .268 in respectively 2016, 2017 and 2018. His run-production in these seasons increased from 68 to 73 to 89. In these three seasons, his RBI-totals were 70, 87 and 86, while his homerun-total grew from 20 to 25 to 27.
During these seasons, Gregorius set several records for short stops in the rich Yankees-history. In 2017, by hitting 25 homeruns, Gregorius broke Jeter's team-record for most homeruns by a short stop. He also is the Yankees recordholder for short stops with three consecutive seasons with 20 or more homeruns. In the 2018 season, he had the best Fielding Average of all Major League short stops with .987. In Game 2 of the 2019 American League Division Series, Gregorius became the first Yankees short stop to hit a grand slam homerun in the postseason.
In April 2018, Gregorius led the Major League in homeruns (10). The ten homeruns in the first month of the season were the most by a Yankees short stop since 1908. Gregorius then also became only the third player in the history of the Yankees to hit eight or more homeruns and has 27 or more RBI's in the first 22 games of the season. The others were legendary Babe Ruth (1921) and Alex Rodriguez (2007).
Also in 2018, he hit two grand slams to give him three while playing for the Yankees. With three grand slams, Gregorius tied the club-record for most grand slams by a short stop. The only other Yankees short stop to do so was legendary Frankie Crosetti, who played for the team in 1932-1948. Gregorius became the first Yankees short stop to hit two grand slams in one season.
After the 2018 season, Gregorius underwent Tommy John-surgery. He missed Spring Training and returned to the line-up in June 2019. The lefthanded hitting Gregorius played in 82 games, struggled and batted only .238, but he hit 16 homeruns and batted in 61 runs. After the 2019 season, his fifth with the Yankees, his contract expired, but the club did not extend a $ 17.8 million Qualifying Offer, which made him a Free Agent.
In December 2019, Gregorius signed an one-year contract with Philadelphia Phillies, meaning he was to be a Free Agent again after the 2020 season. At Philadelphia, he was reunited with Manager Joe Girardi, who led the Yankees in 2008-2017.
In 2009 and 2011, Gregorius played for the Netherlands National Baseball Team in the World Championship. In 2011, the Orange Team captured the World Championship-title in Panama. For that accomplishment, all team-members were knighted and received a Royal Decoration. He also played for the Netherlands during the 2017 World Baseball Classic and the 2010 Intercontinental Cup in Taiwan.
(February 10)