Tonight was an interesting game with a back-and-forth line score and suspense from the beginning.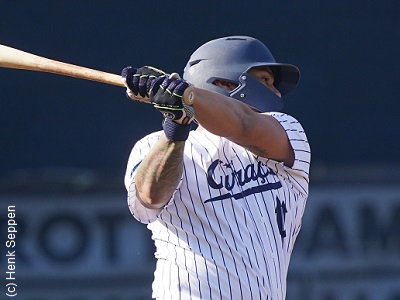 ...Christian Diaz made important contributions...
...for Neptunus, as he had two triples, scored...
...twice and batted in the insurance run...
(© Photo: Henk Seppen)

Mick Vos was the starting third baseman tonight for Amsterdam Pirates, instead of Rashid Gerard. With that, Vos played in his first Holland Series-game and he recorded a basehit in his first at bat. In 2018, Vos was on the Holland Series-roster of Neptunus, but then didn't play.

Amsterdam Pirates got its first scoring opportunity in the top of the first inning off of Diegomar Markwell, who made his third start of the Series. With one out, the lefthander gave up a single to Sharlon Schoop, who then advanced to third base on a 2-out single by Kalian Sams. But they were left behind, as next batter Sicnarf Loopstok popped out.

Neptunus then opened the score in its first at bat off of Juan Carlos Sulbaran, who made his second start. The righthander walked lead-off hitter Stijn van der Meer, then gave up a double to Roger Bernadina. A grounder by Dwayne Kemp enabled Van der Meer to score, but that was to be it. With Bernadina on second base, Dudley Leonora popped out. And after John Polonius had walked, Sulbaran closed by striking out Gianison Boekhoudt.

Pirates then struck with two runs in the top of the second inning. Both were unearned, as the at bat began with an error. The first four batters reached base safely, which could have led to a productive rally, but in the end, only two runs were scored, as two runners were eliminated at the plate. Lead-off hitter Kenny Berkenbosch reached when his grounder ended in an error by first baseman Dudley Leonora, then Mick Vos and Raydley Legito both singled to load the bases. Hereafter, Roelie Henrique walked to become the fourth consecutive batter to reach. And with that, Berkenbosch scored the tying run. With the bases still loaded, Gilmer Lampe flied out to leftfielder Christian Diaz. Vos took off to score, but he was eliminated at the plate on a throw from Diaz to catcher Dashenko Ricardo and that completed a double play. Still with runners on first and second base, Sharlon Schoop then singled. Legito scored the go-ahead run from second base, while Henrique advanced to third base. However, Henrique then tried to score when the throw from rightfielder Roger Bernadina to third base was high and off cours and ended up in foul territory. But Henrique ended up short, as third baseman Stijn van der Meer retrieved the ball and got it in time to catcher Ricardo, who then tagged out the runner. And that ended the inning and also a possible rally, but Pirates led 2-1.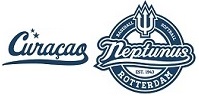 The lead was shortlived, as Neptunus answered with two runs. One of them also was unearned due to an error. Dashenko Ricardo led off with a single, moved into scoring position on a grounder by Christian Diaz, then was awarded third base on a balk. After Shaldimar Daantji had struckout, Stijn van der Meer walked and Roger Bernadina singled. On the single, Ricardo scored and Van der Meer moved to third base. However, when rightfielder Denzel Richardson made an error, he also was able to score to put Neptunus ahead, 3-2.
After Pirates was retired in order in the top of the third inning, Neptunus got a chance to add another run, but failed to do so. Dudley Leonora led off with a triple, but he stranded on third base. First, John Polonius fouled out, then Juan Carlos Sulbaran struckout both Gianison Boekhoudt and Dashenko Ricardo.
Pirates re-took the lead in the top of the fourth by scoring two more unearned runs, as the Neptunian defense committed three more errors. Kenny Berkenbosch led off and again reached on an error. He then moved to third base on a single by Mick Vos. With runners on first and third base, next batter Raydley Legito popped the ball up in the air behind second base. There, second baseman Dwayne Kemp caught the ball, then threw the ball in the ground to first baseman Dudley Leonora, who made an error, which enabled Berkenbosch to score the tying run. Pirates then got the bases loaded on two successful bunts-singles by Roelie Henrique and Gilmer Lampe. Vos then scored on a sacrifice fly by Sharlon Schoop to put Pirates ahead, 4-3. On the sac-fly, Henrique moved to third base, while Lampe took off from first base on the throw to the infield. He reached second base safely, as this time, second baseman Dwayne Kemp made an error when it was attempted to eliminate Lampe. Pirates got the bases loaded again when Denzel Richardson walked. But the three runners were left behind when Kalian Sams popped out.
In the bottom of the fourth, Neptunus scored another run to come alongside, but also stranded two more runners. Christian Diaz led off with a single, advanced via a sacrifice bunt by Shaldimar Daantji and scored on a single by Stijn van der Meer. Next batter Roger Bernadina also singled, but runners were left behind on first and second base when Dwayne Kemp (foul pop-fly) and Dudley Leonora both flied out.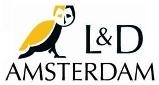 Neptunus took the lead for the third time in the bottom of the sixth inning. Again, the at bat began with a lead-off triple, this time hit by Christian Diaz. Unlike the third inning, Neptunus now scored. First, Shaldimar Daantji struckout, but then Diaz scored on a wild pitch. After next batter Stijn van der Meer had singled, Robyn Clara took over the Pirates-pitching. The righthander walked Roger Bernadina, but then struckout Dwayne Kemp (after three foul-balls) and got a force play-grounder from Dudley Leonora.
With two outs in the top of the seventh inning, Pirates got its next runner in scoring position when Sicnarf Loopstok doubled, but he stranded on second base.
Moments later, Neptunus added an insurance run in the bottom of the seventh. With two outs, Dashenko Ricardo singled and scored on the second triple in this game by Christian Diaz, who became the first player in Holland Series-history with two triples in one game. Robyn Clara closed by striking out Shaldimar Daantji, but Neptunus now led 6-4. The run batted in by Diaz indeed was the insurance run, as it was the difference in the final score.
Although he already had thrown more than 100 pitches, Diegomar Markwell returned to the mound for Neptunus in the top of the eighth. He gave up a 2-out single to Roelie Henrique, but he was forced out.
In the bottom of the eighth, Mike Groen became Amsterdam's third pitcher and retired the side.
In the top of the ninth, Neptunus also went to the bullpen, which led to some traffic at the basepaths. Aaron de Groot took over the pitching for Markwell, but he saw the first two batters reach base. Sharlon Schoop led off with a single, then Denzel Richardson walked, which led to another pitching change. Kevin Kelly took over, but he got the bases loaded when Kalian Sams singled through the left side of the infield. Last Saturday, Kelly made his first start since the 2017 season and threw a complete game one-hitter in a shutout-victory. But now, he was greeted with a single, which got the bases loaded. With that, the suspense returned again and the lead of Neptunus came into jeopardy. Kelly then struckout next batter Sicnarf Loopstok. Although the third strike was in the ground, Loopstok was out automatically, as first base was occupied. Hereafter, Pirates scored on a force play-grounder by Kenny Berkenbosch, which was the lone earned run scored tonight by Pirates. On the grounder by Berkenbosch, Schoop scored and Richadson moved to third base, while Sams was forced out on second base. When the force out was made and Sams slid into second base, second baseman Dwayne Kemp jumped up and then didn't land well. While Kemp was attended, Neptunus Head Coach Ronald Jaarsma came out to argue the situation with 2B Umpire Niek Elshof, regarding the breaking up of the double play. Shortly thereafter, the umpiring crew got together, but they hadn't see any wrong-doing and so, the inning continued with runners at the corners. The inning and the game then ended when Mick Vos popped out to short stop John Polonius.