(Story by Marco Stoovelaar; Video by MLB Video)
IN MEMORIAM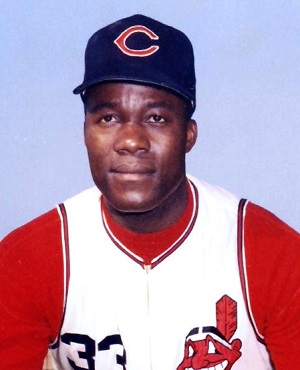 ...Jim 'Mudcat' Grant...
(1935 - 2021)

Former Major League-pitcher 'Mudcat' Grant passed away
Nederlands

LOS ANGELES, California (USA) - Jim 'Mudcat' Grant, who pitched in the Major League in fourteen seasons for seven teams and played in two All Star Games, passed away on Friday (June 11) at age 85. In 1965, Grant was the first colored pitcher to win 20 games in the American League and was also the first colored pitcher to win a game in the World Series.

James Timothy Grant was born on August 13, 1935 in Lacoochee, Florida. At Moore Academy, Grant played baseball, American football and basketball. He then got a scholarship to play baseball and American football at Florida A&M University. Grant signed a professional contract with Cleveland Indians in 1954.

After having played in the Minor League for four seasons, at age 22, Jim Grant made his Major League-debut in April 1958 pitching for Cleveland Indians for whom he played almost seven seasons. In his debut-game on April 17, the righthander threw a complete game against Kansas City Athletics (the current Oakland A's) and was the winning pitcher.

Grant got his nickname when he had a tryout during a Minor League Spring Training-camp in 1954. Another player thought that Grant was from Mississippi and named him Mudcat, which is the nickname of this state (Mudcat State). Grant corrrected that he was not from Mississippi, but from that moment on, the nickname remained and he would become known as Mudcat Grant.

In his six-plus seasons with Cleveland, Grant had hit best record in 1961 when he was 15-9. In 1963, Grant played in his first All Star Game. In June 1964, Grant was part of a trade to Minnesota Twins for whom he then played through the 1967 season.

While playing for Minnesota Twins, Grant had the best season of his career in 1965 when he also played in his second All Star Game. In that season, he was 21-7 and with that, he became the first colored pitcher to win 20 games in a season in the American League. With his dominating performances that season, Grant played an important role for Minnesota with whom he then reached the World Series. In the Championship Final, Minnesota played against Los Angeles Dodgers. All seven games were needed and Los Angeles won 4-3.

In the first game of the 1965 World Series, Mudcat Grant was the starting and winning pitcher for Minnesota in an 8-2 win. With that, Grant became the first black pitcher to win a World Series-game for an American League-team. In that game, he outdueled legendary Don Drysdale, who was the losing pitcher. Dodger pitching-ace Sandy Koufax was not starting, as the game was played on Yom Kippur, which is the holiest day in the Jewish calender. Koufax is Jewish and had said he would not pitch on this day. With the score at 1-1, Minnesota rallied for six runs in the third inning.

In Game 4, Grant and Drysdale faced each other again. This time, Los Angeles won 7-2 with Drysdale being the winning and Grant being the losing pitcher.

...Mudcat Grant hits a homerun in Game 6 of the 1965 World Series...
(MLB Video)

Minnesota won the first two games at home in Metropolitan Stadium in Bloomington, which was the home of the Twins in 1961-1981. The stadium in Bloomington, south of Minneapolis, also was the home of Minnesota Vikings (American football) in the same period. At the site of the stadium is now the Mall of America, which opened in 1992 and is the seventh largest shopping mall in the world and the largest in the USA. Minnesota Twins played its home-games in the Hubert H. Humphrey Metrodome in 1982-2009 and plays in its current home Target Field since 2010. Both these stadiums are located in Minneapolis.

The next three games were played in the huge Dodger Stadium in Los Angeles, where the home-team won each game. Back in Bloomington, Minnesota Twins won Game 6 with a 5-1 score to force a seventh game. Again, Grant had a strong outing and was the winning pitcher. He also hit a 3-run homerun.

The next day, Los Angeles shutout Minnesota 2-0 with Sandy Koufax being the winning pitcher. Jim Kaat was the losing pitcher. Kaat has a Dutch heritage and grew up in a small Dutch community in Michigan. Los Angeles scored its first run in the fourth inning on a homerun by Lou Johnson, who passed away on September 30 last year.

In 1965, Grant led the American League in wins (21), winning percentage (.750) and shutouts (6) and finished in sixth place in the voting for Most Valuable Player.

From 1967 on, Grant was more used as a reliever instead of a starter. In November 1967, together with Cuban short stop Zoilo Versalles, Grant was traded to Los Angeles Dodgers for pitchers Bob Miller and Ron Perranoski and catcher John Roseboro. Perranoski also passed away last year on October 2.

Grant played only one season for Los Angeles. In October 1968, he was drafted by Montreal Expos, which made its debut in the Major League in the 1969 season. On April 8, 1969, the Canadian team played its first Major League-game and Grant was the starting pitcher. He would throw only 1 1/3 inning, giving up six basehits and three runs, but in the end, Montreal would win 11-10.

Early June 1969, Montreal traded Grant to St. Louis Cardinals and in December of that year, Grant's contract was purchased by Oakland Athletics. Another trade followed in September 1970. This time, he was traded by Oakland to Pittsburgh Pirates. In August 1971, Oakland again purchased Grant's contract. With that, he returned to the Athletics-team, with whom he then played in the World Series against Baltimore Orioles. But shortly thereafter (November), he was released. And that also ended his Major League-career in which he threw his final regular season-game at age 36 on September 29, 1971.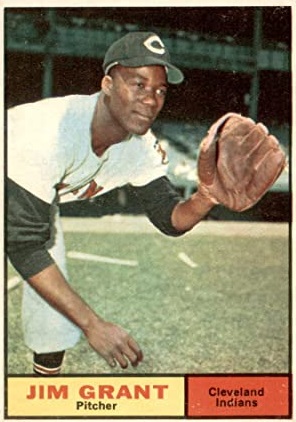 ...1961 Baseball Card...

In fourteen Major League-seasons, Mudcat Grant pitched in 571 games (293 starts) and was 145-119 with 54 saves and a 3.63 ERA. In 2,442 innings, he struckout 1,267 batters.

After having retired, in 1980, Grant was the Publicity Director of the North American Softball League (NASL), which was one of three professional men's softball leagues. The first of these leagues was the American Professional Slo-Pitch League (APSPL) in 1977. The first commissioner of this league was former New York Yankees-pitching legend Whitey Ford, who also passed away in October last year. In 1980, the NASL was founded. Grant handled the public relations, as did another former Major Leaguer, Joe Pepitone. The NASL lasted only one season and in 1981, it merged with the APSPL to become the United Professional Softball League (UPSL). This new league was abandoned after the 1982 season.

In following years, Mudcat Grant, who loved singing and dancing, also was a broadcaster for Cleveland Indians and Oakland Athletitcs. The pitcher also was an executive for Cleveland.

Later, Mudcat Grant studied the history of black players in baseball. He wrote a book about the black pitchers who won 20 games in a season ('The Black Aces, Baseball's Only African-American Twenty-Game Winners') and became closely involved in the Negro League Baseball Museum in Kansas City, which honors colored players and their history from the past. In February 2007, Grant was honored by then American President George W. Bush during Black History Month. Bush, who was the President in 2001-20009, is a baseball-enthousiast and played the sport at Phillips Academy. In April 1989 Bush became the co-owner of Texas Rangers. He left that position in 1994 when he was elected Governor of Texas. Bush is still a frequent visitor of the Texas Rangers.

On April 14, 2008, Mudcat Grant was honored at Progressive Field before a home-game of Cleveland Indians to celebrate the 50th anniversary of his debut in the Major League. He was then also given the key to the city of Cleveland.

In 2012, Grant was one of three individuals to be elected into the Shrine of the Eternals of the Baseball Relinquary, which is a nonprofit educational institution 'dedicated to fostering an appreciation of American art and culture through the context of baseball history and to exploring the national pastime's unparalleled creative possibilities'. The Shrine of the Eternals is a Hall of Fame in which three individuals are elected annually. The criteria for election are the distinctiveness of play, the uniqueness of character and personality and the imprint that the individual has made upon the baseball landscape. Elected along with Grant were Dr. Frank Jobe and former pitcher Luis Tiant. Other members of this Shrine include Pam Postema, who was the first female baseball-umpire in a Major League Spring Training-game, former softball-pitcher Lisa Fernandez and cartoon character Charlie Brown.

In 2016, Grant was awarded the Honorary Doctor of Humane Letters from Whittier College.

In his 14-year Major League-career, Mudcat Grant played with several wellknown players.

Amongst his teammates in his six-plus seasons with Cleveland Indians were Ken Aspromonte, Gary Bell, Rocky Colavito, Vic Davalillo, Larry Doby, Tito Francona, Dick Howser, Tommy John, Jerry Kindall, Harvey Kuenn, Bob Lemon, Roger Maris, Billy Martin, Sam McDowell, Minnie Miñoso, Joe Morgan, Don Newcombe, Jim Perry, Jim Piersall, Luis Tiant, Hoyt Wilhelm and Early Wynn.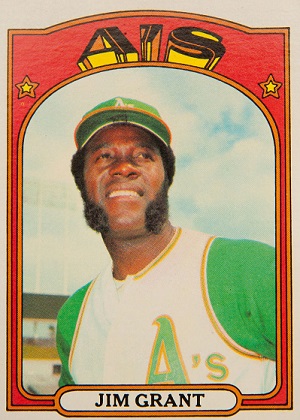 ...1971 Baseball Card...

Kindall and Perry also were teammates when Grant played for Minnesota Twins. Later, he also played together again with Davalillo at St. Louis and Pittsburgh. Francona is the father of Terry Francona, who is also nicknamed Tito and is the Manager of Cleveland Indians since 2013.

In his four seasons with Minnesota Twins, his teammates included Rod Carew, Jim Kaat, Harmon Killebrew, Graig Nettles, Tony Oliva, Camilo Pascual, Cesar Tovar and Zoilo Versalles.

In his lone season with Los Angeles Dodgers, amongst his teammates were Jack Billingham, Jim Campanis, Willie Crawford, Willie Davis, Don Drysdale, Ron Fairly, Jim Lefebvre, Claude Osteen, Wes Parker, Bill Singer, Don Sutton, Jeff Torborg and Zoilo Versalles.

Grant played only a few months for Montreal Expos in 1969. Amongst his teammates in the inaugural Major League-season of this team were Bob Bailey, Ron Fairly, Manny Mota, Steve Renko, Rusty Staub, Bill Stoneman and Maury Wills.

He also played briefly for St. Louis Cardinals in 1969. There, he played together with Lou Brock, Steve Carlton, Vic Davalillo, Curt Flood, Bob Gibson, Dal Maxvill, Tim McCarver, Vada Pinson and Joe Torre.

In 1970 and 1971, Grant played for Oakland A's and Pittsburgh Pirates in both seasons. Amongst his teammates at Oakland were Felipe Alou, Sal Bando, Vida Blue, Bert Campaneris, Tommy Davis, Rollie Fingers, Tito Francona, Catfish Hunter, Reggie Jackson, Tony La Russa, Rick Monday, Blue Moon Odom, Joe Rudi and Gene Tenace.

This season, the 76-year old La Russa returned as Major League Manager after ten seasons and heads the coaching-staff of Chicago White Sox.

At Pittsburgh, amongst his teammates were Matty Alou, Roberto Clemente, Vic Davalillo, Dock Ellis, Dave Giusti, Richie Hebner, Bill Mazeroski, Al Oliver, Jose Pagan, Freddie Patek, Bob Robertson, Manny Sanguillen, Willie Stargell and Rennie Stennett.

Unfortunately, some of these players passed away in the past few years. Minnie Miñoso passed away on March 1, 2015. Jerry Kindall, who participated in the Haarlem Baseball Week in 1974 and 1976 as Head Coach of the Arizona Wildcats, passed away on December 24, 2017. More recently, Lou Brock (September 6, 2020), Bob Gibson (October 2, 2020), Joe Morgan (October 11, 2020) and Don Sutton (January 19 this year) passed away.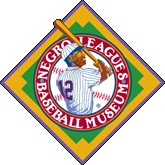 Bob Kendrick, President of the Negro League Baseball Museum, became a close friend of Grant. The former pitcher always attended events of the Museum, while Kendrick regularly attended the annual Jim 'Mudcat' Grant All-Star Golf Tournament. Kendrick said: ,,It always hurts anytime that we lose these legends of the game, friends that have been so close to you and supportive of you like Jim Mudcat Grant. He understood that his presence was going to be beneficial to helping the Negro League Baseball Museum. Every time you do those kinds of things, it is literally like a family reunion. It was about us trying to give back a fraction to what he gave all of us. So, yes, I'm taking the news a little hard, even though I knew that his health was declining. It doesn't make it any easier''.
Bob DiBiasio, the Senior Vice-President for Public Affairs of Cleveland Indians, said: ,,The Cleveland Indians family is deeply saddened by the loss of Jim "Mudcat" Grant, a true fan favorite on both the playing field and in the broadcast booth. A native of Lacoochee, Fla., he joined the Indians organization at the age of 18 in 1954, made his Major League debut in 1958, and left a legacy as large as his personality. To this day, Mudcat was a cherished member of the Indians Alumni Ambassador Program. We send our condolences to the entire Grant family, as well as to his many teammates and other organizations impacted by his 60-plus years in our game''.
Minnesota Twins stated: ,,The Minnesota Twins are deeply saddened by the loss of Jim 'Mudcat' Grant, a key part of the franchise's early years in Minnesota and linchpin of the starting rotation on the record-setting 1965 club. Though he spent just four years of his 14-year career with the Twins, Mudcat remained a beloved member of our organization well into his retirement and was a frequent visitor with fans and staff alike at TwinsFest. We send our condolences to the entire Grant family, as well as the other organizations impacted by his 60-plus years in and around the baseball world''.
The webmaster of Grand Slam * Stats & News extends his condolences to the family of Jim 'Mudcat' Grant and wishes them a lot of strength with this big loss.
(June 15)