(Story by Marco Stoovelaar)
IN MEMORIAM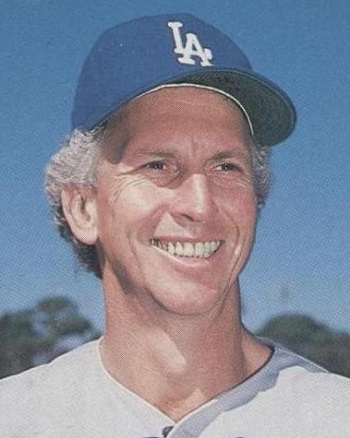 ...Don Sutton...
(1945 - 2021)

Dodgers pitching-great and Hall of Famer Don Sutton passed away
Nederlands

RANCHO MIRAGE, California (USA) - Don Sutton, who pitched in sixteen seasons for Los Angeles Dodgers, passed away in the early morning of Tuesday (January 19) at age 75. Sutton was a pitching-great of the Californian team and still holds several club-records. Sutton played in the Major League in 23 seasons (1966-1988) and then was the television/radio-commentator for Atlanta Braves in almost 30 seasons. The pitcher, who battled cancer since 2002, was inducted into the National Baseball Hall of Fame in 1998.

For the second time in a short period, both the Dodgers and Braves have to say goodbye to a beloved member. Longtime Dodger Manager and Hall of Famer Tommy Lasorda passed away at age 93 on January 7. Atlanta's knuckleball-legend and also Hall of Famer Phil Niekro passed away on December 26 at age 81. Lasorda was Sutton's Manager in six of his seasons with the Dodgers.

The passing of Tommy Lasorda followed an already tough and sad year for Major League Baseball and baseball-fans worldwide. In 2020, we had to say goodbye to several beloved and legendary players and icons for many. Amongst them were seven Hall of Famers, being outfielder Al Kaline (85, April 6, 22 Major League-seasons), pitcher Tom Seaver (75, August 31, 20 seasons), outfielder Lou Brock (81, September 6, 19 seasons), pitcher Bob Gibson (84, October 2, 17 seasons), pitcher Whitey Ford (91, October 8, 16 seasons), second baseman Joe Morgan (77, October 11, 22 seasons) and pitcher Phil Niekro (81, December 26, 24 seasons).

Donald Howard Sutton was born on April 2, 1945 in Clio, Alabama, where his young parents were sharecroppers. His father was 18, his mother 15 when he was born. From his father, Don Sutton learned his strong work ethic. Around 1950, the family moved to Florida, where the future pitcher grew up and attended J.M. Tate High School and Gulf Coast Community College, Panama City Hereafter, he attended Whittier College in California. On all three schools, Sutton played baseball. He also played basketball and American football at High School. In his junior and senior years, Sutton was named All-Conference and All-State. After attending Gulf Coast CC for one year, he played for Sioux Falls Packers in a Summer League in 1963. He then also attended Whittier for one year. Sutton signed his first professional contract in September 1964 with Los Angeles Dodgers. Next, he played in only one season in the Minor League, then made his debut in the Major League and went on to play 23 seasons at the highest level. While growing up, one of his pitching idols was Whitey Ford, who passed away in October.

In 1965, Sutton played for Santa Barbara Dodgers (Single-A) and Albuquerque Dodgers (Double-A) and was 23-7 in 31 games (all starts) with a 2.35 ERA and 239 strikeouts. After having played in his lone Minor League-season, Sutton made his Major League-debut for Los Angeles Dodgers on April 14, 1966, twelve days after he had turned 21. When he made his Major League-debut, Sutton became part of a starting rotation that included legendary pitchers Sandy Koufax, Don Drysdale and Claude Osteen. Koufax and Drysdale also were elected into the Hall of Fame. In his first Major League-season, Sutton pitched in 37 games (35 starts) and was 12-12 with a 2.99 ERA and 209 strikeouts in 225 2/3 inning. Due to an injury, he was unable to play for the Dodgers in the World Series, which the team lost against Baltimore Orioles.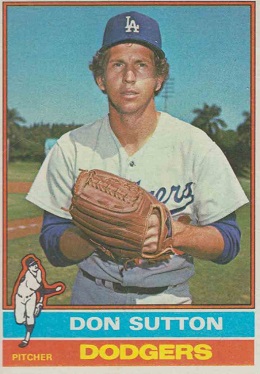 ...1976 Baseball Card...

Sutton developed into a very reliable pitcher. In the next sixteen seasons, he won ten or more games annually. Overall, he won ten or more games in 21 of his 23 seasons. In 20 of his first 21 seasons, Sutton threw at least 200 innings. The lone one with less than 200 was 1981 when the season was shortened due to a strike.

His most successful seasons probably were 1969 through 1978. In the 1969-1976 span, he won 15 or more games each season, including 17 in 1969 and 1971, 18 in 1973, 19 in 1972 and 1974. In 1976, Sutton won 21 games in what was his lone 20-win season. In that year, he lost ten games and finished in third place in the voting for the Cy Young Award. In 1974, Sutton led the National League with 40 starts and in 1980, he led the Major League with a 2.20 ERA. With Los Angeles Dodgers, Don Sutton played in three World Series (1974, 1977, 1978). The team lost each time against respectively Oakland Athletics and New York Yankees (twice).

In his sixteen seasons with Los Angeles Dodgers, Don Sutton got only two Managers. When he made his debut in 1966, Walter Alston was the Manager. Towards the end of the 1976 season, Tommy Lasorda took over. As player, Sutton of course had a lot of teammates while wearing Dodger Blue. Amongst the players with whom he played the most seasons are Dusty Baker, Bill Buckner, Ron Cey, Willie Crawford, Willie Davis, Joe Ferguson, Steve Garvey, Von Joshua, Lee Lacy, Jim Lefebvre, Davey Lopes, Manny Mota, Tom Paciorek, Wes Parker, Bill Russell, Reggie Smith, Maury Wills, Steve Yeager and pitchers Jim Brewer, Al Downing, Burt Hooton, Charlie Hough, Tommy John, Claude Osteen, Doug Rau, Rick Rhoden and Bill Singer.

In his years with Los Angeles, other wellknown players who were Sutton's teammate include Ron Fairly, Jim Gilliam, Pedro Guerrero, Tom Haller, Mickey Hatcher, Lou Johnson, Jay Johnstone, Rick Monday, Johnny Oates, John Roseboro, Mike Scioscia, Derrel Thomas, Jeff Torborg, Bobby Valentine and pitchers Don Drysdale, Terry Forster, Steve Howe, Sandy Koufax, Andy Messersmith, Ron Perranoski, Phil Regan, Jerry Reuss, Elias Sosa, Rick Sutcliffe, Fernando Valenzuela, Bob Welch and Hoyt Wilhelm. In the 1972 season, he also was a teammate of future Hall of Famer Frank Robinson.

In the years following his fifteen seasons with Los Angeles, Sutton was reunited with some of his teammates at other clubs, such as Dusty Baker, Bill Buckner, Terry Forster, Tommy John and Jerry Reuss.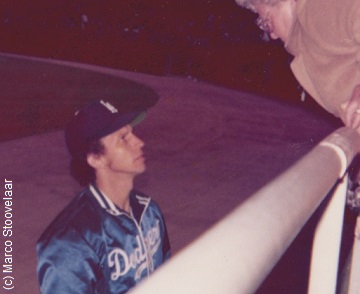 ...Don Sutton talks with a fan at Candlestick...
...Park in San Francisco before a game...
...against San Francisco Giants in 1977...
(© Photo: Marco Stoovelaar)

After the 1980 season, his fifteenth with the Dodgers, Sutton was a Free Agent and signed with Houston Astros for whom he played in 1981 (eleven wins) and started the season in 1982. Houston finished in first place in the second half of the National League West Division in 1981 when the season was split due to a strike. In the following National League Division Series Houston was eliminated by Sutton's former team, Los Angeles Dodgers, which also went on to win the World Series. In 1982, Houston finished in a disappointing fifth place.

Amongst his teammates in Houston were Alan Ashby, Cesar Cedeño, José Cruz, Phil Garner, Art Howe, Terry Puhl, Luis Pujols, Craig Reynolds, Denny Walling and pitchers Bob Knepper, Joe Niekro, Vern Ruhle and Nolan Ryan.

In August 1982, he was traded by Houston to Milwaukee Brewers for whom he was 4-1 in the remainder of the season. Milwaukee went on the win the title in the American League East Division and then defeated California Angels 3-2 in the American League Championship Series to reach the World Series. With that, Sutton pitched in his fourth World Series, but Milwaukee lost to St. Louis Cardinals (4-3). Sutton was the losing pitcher in Game 6, then St. Louis also won the next day to capture the title.

At Milwaukee, he played with some of the best players in the club's history, including Cecil Cooper, Jim Gantner, Rick Manning, Paul Molitor, Don Money, Ben Oglivie, Ted Simmons, Gorman Thomas, Robin Yount and pitchers Jamie Easterly, Rollie Fingers and Bob McClure. In December 2019, catcher Ted Simmons was elected into the Hall of Fame.

In 1983, Sutton started 31 games and was 8-13 with a 4.08 ERA. The next season, he was 14-12, but in December 1984, Sutton was traded by Milwaukee to Oakland Athletics. In 1985, he was 13-8 for Oakland, which traded him in September to California Angels.

While with Oakland, Sutton again played together with Dusty Baker and Tommy John, but also with players such as Bruce Bochte, José Canseco, Alfredo Griffin, Dave Kingman and Carney Lansford.

...Don Sutton wins his 300th game in 1986...

After the 1985 season, Sutton was a Free Agent, but re-signed with California for whom he then pitched the next two seasons. Sutton was 15-11 in 1986, then 11-11 in 1987 and was released in October 1987. On June 18, 1986, Sutton won his 300th Major League-game when he went the distance for California against Texas Rangers, allowing only three basehits. He struckout Gary Ward to end the game.

Amongst his teammates at California were Bob Boone, Bill Buckner, Rod Carew, Doug DeCinces, Brian Downing, Wally Joyner, Gary Pettis and pitchers John Candelaria, Terry Forster, Tommy John, Jerry Reuss, Vern Ruhle and Mike Witt.

In January 1988, Sutton returned to Los Angeles Dodgers, where he was reunited with Manager Tommy Lasorda, but also some players with whom he already played in the 1980 season, including Pedro Guerrero, Mickey Hatcher, Mike Scioscia and Fernando Valenzuela. Others players that season included Rick Dempsey, Kirk Gibson, Alfredo Griffin, Steve Sax and pitchers Orel Hershiser and John Tudor.

In the 1988 season, the then 43-year old righthander pitched in 16 games (all starts) and was 3-6 with a 3.92 ERA and 44 strikeouts. In early August 1988, it was stated that Sutton had spoken with someone of the Houston Astros about that club's vacant position of Assistant General Manager. The Dodgers then stated that Sutton had violated league-rules by informing about that position while being under contract with a team. Sutton said he had simply ran into the Astros General Manager during a game and had said that he was willing to talk about it later. Sutton was released on August 10 and he then retired. Later in the season, Los Angeles went on to win the World Series.

Don Sutton was one of those pitchers who were not only very reliable, but also became a workhorse. In his first fifteen seasons, Sutton threw 200 or more innings each year and became the 'iron man' of Los Angeles Dodgers. As pitcher for Los Angeles, Sutton won 233 games, which is still a club-record, as are his 2,696 strikeouts.

In his long career, Don Sutton won 324 games, threw 58 shutouts and closed with a 3.26 career ERA. In five games, he gave up only one basehit. The righthander threw 5,282 1/3 innings, which place him seventh on the all-time list. With 3,574 strikeouts, Sutton also is seventh on the all-time list in this category. There are only 18 pitchers in history who struckout 3,000 or more batters. The list is headed by Nolan Ryan, who struckout 5,714 batters.

...In Memoriam Tribute Don Sutton by Major League Baseball...

Sutton pitched in 774 games, started 756 of them and completed 178. His 756 starts are third on the all-time list, trailing only fellow-Hall of Famers Cy Young (815) and Nolan Ryan (773).

In his long career, Don Sutton played in four All Star Games (1972, 1973, 1975 and 1977).

As a hitter, Sutton batted .144 and holds the Major League-record for Most At Bats without hitting a homerun (1,354).

A year after he concluded his playing career, Don Sutton became a television broadcaster. In 1989, he provided commentary for games of both Los Angeles Dodgers and Atlanta Braves. Sutton, who always has been described as humble, became the full-time commentator for the Atlanta Braves in 1990 and went on to do so for almost three decades. He first was a member of the team's television broadcast team in 1990-2006. In 2007 and 2008, Sutton was the color commentator for Washington Nationals. The next year, he returned to Atlanta to do commentary on radio, which he did through 2018. Sutton became a fan favorite as commentator and in all these years, he always shared his (honest) opinions, but also showed he had a lot of humor while sharing anecdotes and stories. He also told stories about his hobby as a wine enthusiast and playing golf.

In 2002, Don Sutton was diagnosed with kidney cancer and lost his left kidney. A year later, part of a lung was removed. Despite his illness and despite undergoing treatment, Sutton always stayed positive and remained active as broadcaster. He was to return behind the microphone in 2019, but then fractured his left femur just before the start of the season and was unable to return.

In January 1998, when he was eligible for the fifth time, Don Sutton was the lone player to be elected into the National Baseball Hall of Fame. He was officially inducted in July of that year, along with short stop George Davis (who played in the 19th century), outfielder Larry Doby (who played in the fifties), Negro League pitching great Bullet Rogan and executive Lee MacPhail, who all were elected by the Veterans Committee.

On August 14, 1998, the Los Angeles Dodgers retired Don Sutton's uniform number 20.

In 2015, Don Sutton was elected into the Hall of Fame of the Ivan Allen, Jr. Braves Museum and Hall of Fame for his longtime service as broadcaster of Atlanta Braves.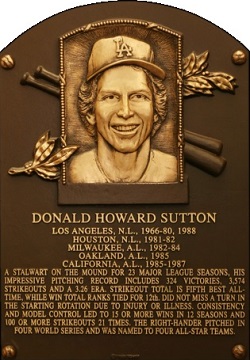 ...Don Sutton's...
...Hall of Fame Plaque...

While being an active pitcher, Don Sutton was a frequent panelist in some game-shows on television. He appeared in 20 episodes (1976-1978) in Match Game 73, three times (1977, 1979, 1981) in Match Game PM and once in Just Men!. Also appearing in this last show was actor Dirk Benedict, who is known from Battlestar Galactica (as Lieutenant Starbuck) and The A-Team (as Templeton 'Faceman' Peck). The host of Just Men! was actress Betty White (who turned 99 on January 17), who is known for her role as Rose Nylund in The Golden Girls amongst many other TV-series and movies.

Sutton also made some cameo-appearances as himself in an episode of TV-shows The Carol Burnett Show (1976) and Wonderbug (1977). In 1981, Don Sutton played the small part of Hud in an episode of the wellknown series Fantasy Island, which starred Ricardo Montalban as Mr. Roarke and Hervé Villechaize as his assistant Tattoo.

Stan Kasten, President of Los Angeles Dodgers, reacted: ,,Today we lost a great ballplayer, a great broadcaster and, most importantly a great person. Don left an indelible mark on the Dodger franchise during his 16 seasons in Los Angeles and many of his records continue to stand to this day. I was privileged to have worked with Don in both Atlanta and Washington, and will always cherish our time spent together. On behalf of the Dodger organization, we send our condolences to the entire Sutton Family, including Don's wife Mary, his son Daron and his daughters Staci and Jacquie.''

Atlanta Braves stated the following: ,,We are deeply saddened by the passing of our dear friend, Don Sutton. A generation of Braves fans came to know his voice, as Don spent 28 seasons broadcasting Braves games after a 23-year, Hall-of-Fame Major League career with the Dodgers, Astros, Brewers and Angels. Don was as feared on the mound as he was beloved in the booth. A 300-game winner who was a four-time All-Star, Don brought an unmatched knowledge of the game and his sharp wit to his calls. But despite all the success, Don never lost his generous character or humble personality. It is with a heavy heart that we send our condolences and sympathies to Don's entire family, including his wife Mary, his son Daron and his daughters Staci and Jacquie.''

Major League Baseball Commissioner Rob Manfred issued the following statement: ,,Don Sutton was one of our game's most consistent winning pitchers across his decorated 23-year career. The longtime Dodger was a four-time All-Star, a top-five finisher in Cy Young Award balloting for five consecutive years, a World Series participant four times in a nine-season span, and a model of durability on the mound. He also helped bring baseball into the homes of millions of fans as a Braves broadcaster.
Throughout his career, Don represented our game with great class, and many will remember his excitement during his trips to Cooperstown. On behalf of Major League Baseball, I extend my deepest condolences to Don's family, friends and the many fans he earned throughout a memorable life in our National Pastime.''

Jane Forbes Clark, Chairman of the National Baseball Hall of Fame and Museum, said: ,,Don Sutton's brilliance on the field, and his lasting commitment to the game that he so loved, carried through to his time as a Member of the Hall of Fame. I know how much he treasured his moments in Cooperstown, just as we treasured our special moments with him. We share our deepest condolences with his wife, Mary, and his family.''

The webmaster of Grand Slam * Stats & News extends his condolences to the family of Don Sutton and wishes them a lot of strength with this big loss.

(January 20)