(Story by Marco Stoovelaar; Videos by MLB FilmRoom)
IN MEMORIAM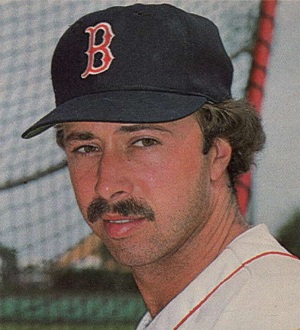 ...Jerry Remy...
(1952 - 2021)

Former Major Leaguer, Boston-broadcaster and club-icon Jerry Remy passed away
Nederlands

WALTHAM, Massachusetts (USA) - Jerry Remy, who played ten seasons in the Major League and then was the beloved Voice of the Red Sox as TV-commentator in more than three decades, passed away on Saturday (October 30), nine days before he would have turned 69. The former second baseman, who became a club-icon, fought a long and couragious 13-year battle with lung-cancer and has always been very open about his health. In early August, Remy stepped down from his work as commentator to undergo more treatment.

Remy's passing on Saturday coincided with Stand Up To Cancer, the annual moment conducted by Major League Baseball and MasterCard during the All Star Game and Game 4 of the World Series following the fifth inning. On Saturday, in Atlanta, Game 4 was played between Atlanta Braves and Houston Astros. This is always an impressive moment when spectators, players, coaches, umpires, officials, broadcasters, technicians, etc. show signs with names of loved ones or friends to support them to battle the disease or to honor the memory of those whom they lost because of this terrible sickness. Major League Baseball and all thirty clubs started the tradition more than ten years ago and since then, they have donated more than fifty million dollar to research programs.

Jerry Remy passed away two weeks after Ray Fosse, who passed away on October 13. Fosse also was a former player and was the longtime commentator for Oakland Athletics. Like Remy, Fosse stepped down from his work in early August to focus on his treatment.

Gerald Peter Remy was born on November 8, 1952 in Fall River, Massachusetts and then grew up in nearby Somerset across the Taunton River, 79 kilometers (49 miles) south of Boston. Remy attended Roger Williams University in Bristol, where he also played baseball. In 1970, he was drafted by Washington Senators, but didn't sign. In January of the following year, Remy was drafted by California Angels for whom he then signed.

Remy made his professional debut in 1971 when he played in the Rookie League-team of California. The infielder then promoted quickly in the following seasons. He first played at the Single-A level in 1972 and 1973. Next, Remy played in both Double-A and Triple-A in the 1974 season.

The following year, Remy made the Major League-roster of California Angels and made his debut in the big league on April 7, 1975 against Kansas City Royals. In his first big league at bat, Remy hit a single, but moments later, he was picked off at first base. In his first season, Remy played in 147 games and batted .258. The next season, he batted .263. He then batted .252 with 44 runs batted in and four homeruns in 1977. In June of that year, during what was only his third big league-season, Remy was named team-captain. However, after the season, in early December, he was traded to Boston Red Sox for pitcher Don Aase.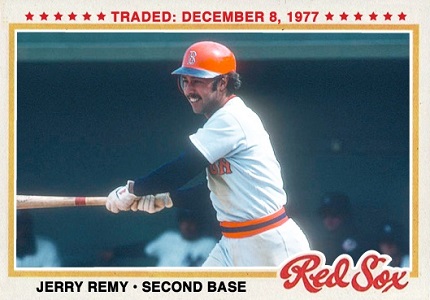 ...1978 Baseball-card...

Amongst Remy's teammates at California Angels were Willie Aikens, Don Baylor, Bruce Bochte, Bobby Bonds, Ken Brett, Dave Chalk, Dave Collins, Tommy Davis, Dick Drago, Andy Etchebarren, Ed Figueroa, Adrian Garrett, Bobby Grich, Tommy Harper, Terry Humphrey, Ron Jackson, Dave LaRoche, Sid Monge, Mickey Rivers, Ellie Rodriguez, Joe Rudi, Nolan Ryan, Bill Singer, Tony Solaita, Leroy Stanton and Frank Tanana.

For Remy, by joining Boston Red Sox, a dream came true, as he always hoped to play for his 'home-team' for whom he went on to play in seven seasons (1978-1984).

In his first season with Boston (1978), Remy batted .278 with 44 runs batted in. And he was selected for his lone All Star Game, but he didn't play in the annual Midsummer Classic, which then was played in San Diego. In this year, a wellknown moment followed when Boston had to play a tie-breaking game against New York Yankees to decide the championship of the American League East Division. In that game, played in Boston's Fenway Park, it was Bucky Dent, who then hit the deciding homerun for New York, which won 5-4. But in the bottom of the ninth, it was Remy who almost turned the game around. With Rick Burleson on first base, Remy hit the ball to rightfield, where Lou Piniella was blinded by the sun, but stuck out his arm and managed to field the ball. When that would not have happened, the ball would have rolled to the fence, Burleson probably would have scored the tying run and the speedy Remy would have end up on second, maybe third base. But after Piniellla's remarkable reaction, Burleson only reached second base and Remy reached first base.

While playing for Boston, Remy remained the starting second baseman in his seven seasons with the club. However, he was also bothered by several injuries. Because of this, he missed almost half of the season in the each of the next three seasons (1979-1981). Despite his injuries, Remy remained a solid batter.

Two injury-free seasons (1982-1983) followed. Remy played in 155 games in 1982, the most in his career in a single season and he batted .280. A year later, he played in 146 games and batted .275.

Unfortunately, he sustained a knee-injury in the early part of the 1984 season. He played in only 30 games and got his final at bat in half May as a pinch-hitter. Due to his injury, Remy didn't play in the 1985 season and was released in December of that year. He then retired during Spring Training of 1986 and then went on to coach for one season for Boston in the Minor League.

...Tribute by MLB Network...
(MLB FilmRoom)

In 1979 and 1980, one of Jerry Remy's teammates with Boston was pitcher Win Remmerswaal, who was the first Dutch-born and raised player to play in the Major League. Longtime teammates of Remy at Boston include Gary Allenson, Luis Aponte, Wade Boggs, Oil Can Boyd, Jack Brohamer, Tom Burgmeier, Rick Burleson, Bill Campbell, Steve Crawford, Dick Drago, Dennis Eckersley, Dwight Evans, Carlton Fisk, Rich Gedman, Butch Hobson, Glenn Hoffman, Bruce Hurst, Fred Lynn, Rick Miller, Reid Nichols, Bob Ojeda, Tony Perez, Jim Rice, Bob Stanley, Dave Stapleton, Mike Torrez, John Tudor and Carl Yastrzemski.
Amongst the teammates with whom he played in two seasons or less at Boston were Tony Armas, Bob Bailey, Marty Barrett, Jack Billingham, Bill Buckner, Bernie Carbo, Roger Clemens, Jim Dwyer, Mike Easler, Jackie Gutierrez, Carney Lansford, Tom Poquette, Chuck Rainey, Steve Renko, Joe Rudi, George Scott, Frank Tanana, Luis Tiant and Bob Watson.
While playing for Boston, his Managers were Don Zimmer and Ralph Houk.

In his ten Major League-seasons, Jerry Remy, who was a lefthanded batter, played in 1,154 games and batted .275 (1226-for-4455) with seven homeruns, 605 runs scored and 329 runs batted in. He was also known as a speedy runner and 208 stolen bases. Despite his injuries, Remy is regularly regarded as one of the better second baseman in history. In 5,643 chances to make an out, Remy made only 110 errors, which gave him a .981 fielding percentage.

In 1988, Jerry Remy joint the broadcast-team of NESN (New England Sports Network), which covers the games of Boston Red Sox. Remy became the so-called color commentator and he not only became very popular with the fans, but he also became a club-icon and earned the nickname RemDawg. He became known for his historic stories, but also his funny anecdotes which he told while covering the games of his beloved Boston-team. But he also told many stories about his frequent vacations to Aruba. For fifteen years (2001-2015), Remy formed the broadcast-duo with play-by-play announcer Don Orsillo. In that span, they won four Emmy Awards in the New England-region for their work. In honor of his 20th anniversary working for NESN, the network and Boston Red Sox organized Jerry Remy Day on June 24, 2008. In more recent years, Remy did the commentary together with play-by-play announcer Dave O'Brien and former pitcher (and teammate) Dennis Eckersley.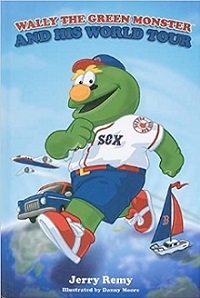 ... Cover of one of...
...Jerry Remy's books...

Through the years, Jerry Remy also owned some restaurants in the neighborhood of Fenway Park, the home-stadium of Boston Red Sox, as well as a Sports Bar at Logan International Airport in Boston. Since 2004, he also wrote several books, three with stories about his career and five children's books which starred Red Sox mascot Wally the Green Monster.

In 2009, Remy missed most of the season, as he was recovering from some complications he sustained after a lung-surgery to remove a cancerous spot he underwent in November 2008. He returned behind the microphone in August 2009. Unfortunately, cancer was found again in his lungs in January 2013. During the 2013 season, he took time off from broadcasting several times, which not only had to do with his health, but also because of personal reasons. From 2016 on, he underwent more treatments, but in November 2018, Remy announced that was cancer-free. However, in June of this year, the illness had returned again and early August, he stopped with his work for NESN to undergo more treatments. Jerry Remy returned to Fenway Park on October 5 when he threw out the ceremonial first pitch before the American League Wild Card Game of Boston against New York Yankees. He threw the pitch to Dennis Eckersley, Remy's former teammate as well as longtime colleague as commentator and studio analyst. Eckersley, who works for NESN since 2003, always filled in for Remy when he had to take time off due to his health.

Jerry Remy, who was very passionate about baseball and the Boston Red Sox, was inducted into the Boston Red Sox Hall of Fame (which was instituted in 1995) in 2006 as a player and broadcaster, alongside players Ellis Kinder, Joe Morgan (who also has been a Manager), George Scott, Vern Stephens and Dick Williams (who also was a Manager) and executive Dick Bresciani. In 2017, Remy was inducted into the Massachusetts Broadcasters Hall of Fame.

John Henry, the Prinicipal Owner of Boston Red Sox, stated: ,,We are saddened by the loss of a beloved player, broadcaster and 13-year cancer warrior. Jerry's love and connection to baseball didn't allow anything to stand between the game and him, including for many years cancer. He devoted his entire career to baseball and whether from his seat in the clubhouse or his perch above the field in the broadcast booth, he took generations of rising Red Sox stars and a multitude of fans along for the ride with him. During his lifetime, he witnessed great triumphs and terrible tragedies handling all of it with grace, dignity, and a huge heart. He left an indelible mark on this club and on an entire nation of Red Sox fans''.

Remy's longtime broadcast-partner Don Orsillo, who now is a broadcaster with San Diego Padres, tweeted: ,,Thank you for 21 years of friendship. I am nowhere without you. Showed me the right MLB way. I know I will text you 3 times a day still. I am lost''.

...Jerry Remy is honored for 30 years as commentator in 2017...
(MLB FilmRoom)

Former teammate and broadcast-partner Dennis Eckersley tweeted: ,,Red Sox nation has lost a beloved icon. I lost a longtime friend, teammate and broadcast partner. He will be remembered for his passion for the Red Sox. I will miss him most for his infectious laugh. Fenway Park will never be the same''.

Boston Red Sox-chairman Tom Werner, said: ,,On behalf of the entire Red Sox family, we send our deepest condolences to Jerry's wife Phoebe, their three children, and the entire extended Remy family. Jerry's effortless style made him the finest baseball broadcaster of the past few decades. When you listened to him, it was as if you were having a beer with your best friend, and his insight, humor, and charm lifted your spirits. I often texted him between innings to get his perspective on the game, and we enjoyed a relationship I will forever treasure. He was a valued colleague and friend, and we will miss his presence in our clubhouse and our broadcast booth''.

Boston Red Sox-infielder Xander Bogaerts reacted as follows: ,,This is a such a sad day. My thoughts are with Jerry's family and his loved ones. As a player, I always loved seeing Rem in our clubhouse at Fenway every day. He was the first person you'd see when you came in. Whether it was just to say hello or to talk baseball, he was always there. You knew he loved the Red Sox and that he was always pulling for us. He will be missed''.

Boston Red Sox-Manager Alex Cora said: ,,Like everyone else in Red Sox Nation today, I'm absolutely devastated by Jerry's passing. We connected because of our love for the game of baseball. I will miss all of our conversations about the game and just passing time together throughout the years, whether in the clubhouse or dugout. Jerry was so passionate about the Red Sox and even though he had to step away for treatment late in the season, he was with us every step of the way - especially in October. We kept in touch just about every day and encouraged each other to keep fighting. It was great seeing him at Fenway when we started our run; he was a source of inspiration for so many of our players. My condolences go out to his wife, Phoebe, and his children and their grandchildren. We will miss you, Rem!''

Remy's former teammate Carl Yastrzemski reacted: ,,In baseball he was a very, very hard worker. He made himself an outstanding player. He carried those same work habits over to the broadcast booth. We were a couple of lockers down from each other so we would talk a lot. We became very good friends. This is a sad day''.

The webmaster of Grand Slam * Stats & News also extends his condolences to the family of Jerry Remy and wishes them a lot of strength with this big loss.

(October 31)