(Story by Marco Stoovelaar; Photos by Marco Stoovelaar & Private Photo)
IN MEMORIAM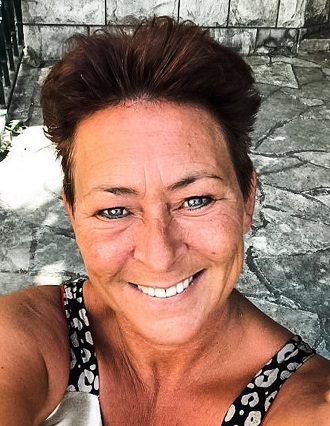 ...Mereille Hammink...
(1970 - 2022)

Former Netherlands Team- and big league-pitcher Mereille Hammink passed away
Nederlands

OSS (Neth.) - Mereille Hammink, who for several years was a power-pitcher in both the Dutch big league as well as the Netherlands National Team, passed away on Monday, June 6 at the much too young age of 52. Unfortunately, Mereille lost her battle to a severe illness.

Mereille Hammink was born on January 28, 1970 in Oss. There, she started playing softball for local club Cardinals and Mereille immediately showed that she had talent. At age 13, in 1983, she won the Riet Vermaat Trophy for Best Youth Pitcher. Three years later, Mereille became the first player to win this Award for a second time. She also was selected for the Netherlands Juniors Team and it clear that it wouldn't take long for her to make her debut in the Dutch big league.

After the 1987 season, Mereille transfered from Cardinals to Twins Oosterhout. And so, in 1988, at age 18, Mereille played in her first game in the highest division for this team. That was the beginning of a successful career.

Mereille played in nine seasons (1988-1996) in the big league and in those years, she made a name for herself. Mereille developed into a strong righthanded pitcher, who was full of emotions and passion when she was in the circle. Underscoring the force she put into every pitch were the sounds she made after releasing a pitch. Some call this moaning, but these were the sounds of her driveness and competitiveness. With that, she was one of the first pitchers who made these 'release-sounds'.

In her debut-season in the big league (1988), Mereille Hammink pitched in 19 games for Twins Oosterhout and was 8-6 with an 0.97 ERA. In 101 innings, she struckout 46 batters.

Amongst her teammates at Twins were the five sisters Helma, Henriëtte, Jacqueline, Jeanette and Marion van den Heijkant. Other players included Maya van der Hilst, Dré Hoogeveen, Nita Koning, Annelies Kuijs, Carla van den Nieuwenhof and Angela Verkerk. The team was led by coach Ilse Weststrate. After the 1988 season, Mereille tranfered to Schiedam for whom she played in three big league-seasons. In the first season for her new club, the righthander immediately became one of the pitching-aces in the big league. Mereille appeared in 30 games, threw 22 complete games, won 16 games and struckout 119 batters in 182 innings pitched. Her 16 wins were the third highest total in the league, a position she shared with Chandra Rampersad (Bloemendaal). Terrasvogels-pitchers Jacqueline van der Vlugt and Fredy van Offeren led the league with 19 and 18 wins respectively. These two pitchers also led in strikeouts. Van Offeren struckout 168, Van der Vlugt 160. With 119, Mereille Hammink also shared third place in the strikeout-category, together with Anita Bank (Onze Gezellen).

For Schiedam, it was a tough season in what was its first in the highest league. The team had a memorable start of the season, as it was no-hit in three of the first four games it played. In these first four games, the team recorded only one basehit. It was Mereille Hammink, who accounted for that basehit. She was the 62nd batter to come to bat for Schiedam in the 1989 season when she recorded the basehit. Mereille played an important role for Schiedam, which this season was coached by Ton Ebben. Thanks to Mereille's input as both a pitcher and batter, Schiedam didn't relegate again in its first year. That earned her the silver medal for the Most Valuable Player Award. The gold medal that year went to Fredy van Offeren (Terrasvogels).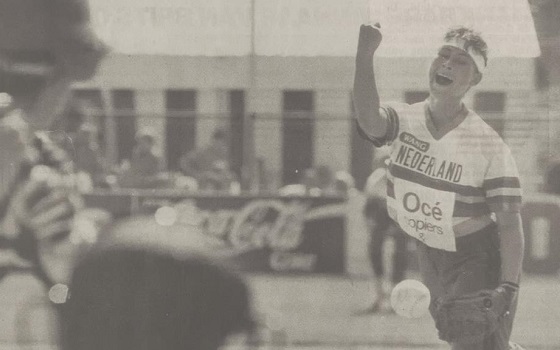 ...Mereille Hammink pitching for the Netherlands...
...during the successful 1991 Haarlem Softball Week...

In 1990, Kees Bol initially was the Head Coach, but Ton Ebben took over again halfway the season. In his absence, one game was led by Wiebe Pannekoek and Gilbert Ostiana. The latter then was the Head Coach in the 1991 season. After having played in two more seasons for Schiedam (1990,1991), Mereille transfered to HCAW.

Amongst her teammates at Schiedam were Marjolein Berkhout, Linda Bol, Sandra Bol, Jolanda Droog, Debbie de Gids, Mireille Gill'ard, Liesbeth van den Heuvel, Conny Jonkman, Gyselle Korpel, Andrea Moree, Ludy Salomons and Monique Zagwijn. Gill'ard went on to coach and also became one of the coaches of the National Team. Later, Mereille and Mireille were teammates again at Twins Oosterhout.

In her first year for HCAW (1992), Mereille had another dominating season. She threw in 20 games (15 complete), was 12-4, earned four saves, had the league's best ERA with 0.35 and struckout 82 batters in 120 innings. She not only led the league in ERA, her wins also were the most and she was named Best Pitcher of the season.

Also in 1992, Mereille participated in her first European Cup-tournament with the Bussum-club. In Prague, the capital of what was then Czechoslovakia, HCAW captured the Cup after winning 4-1 against Lazio Roma (Italy). Later that year, Mereille won the Dutch Championship-title with HCAW, which swept Twins Oosterhout in three games in the best-of-five Holland Series.

Mereille Hammink had another successful season with HCAW in 1993. Again, the team won the European Cup-tournament, which this year was organized in Nice (France). In the best-of-three Final, HCAW faced Twins Oosterhout and won 6-4 and 4-0. And HCAW also repeated as Dutch Champion via a Holland Series-sweep against Terrasvogels. In these first two seasons, Ruud Elfers was the Head Coach.

More European success followed in 1994 when HCAW won the European Cup for the third year in a row. This time, the event was organized in Bussum on the home-site of HCAW, which this season was led by Herman Thomas. There, the team met Bussolengo (Italy) in the best-of-three Final. Three close games followed. HCAW won 1-0 in the opener, then Bussolengo won the next game with a 4-3 score. In the deciding third game, HCAW recorded a 3-0 shutout. HCAW also again qualified for the Holland Series. Five exciting and suspenseful games were played, but time, HCAW was left empty-handed, as opponent Twins Oosterhout won the title.

In her three seasons in Bussum, amongst Mereile's teammates were Kate Allen, Madelon Beek, Petra Beek, Karin Brookhuis, Jennifer Cobussen, Mary-Ann Hatt (who went on to coach in the big league and with the National Team), Teri Klement, Ingrid Kroon, Soon-young Lam, Anouk Mels, Corinne Ockhuijsen, Annemarie Pot, Yvonne Schot and Martine Stiemer.

In 1995 and 1996, Mereille Hammink played again for Twins Oosterhout with whom she had made her big league-debut some years ago. With Twins, she participated in another European Cup-tournament in 1995, this time in Antwerp (Belgium), where the team finished in third place. In the 1996 season, Mereille won 13 games, sharing the league-lead with Margot Mels (HCAW). She finished with an 0.72 ERA in second place behind Sonja Pannen (Amsterdam Pirates), who set a record with an 0.07 ERA. In her first season back, Twins was coached by Hans Snel, who a year earlier had been the Assistant Coach of HCAW in what then was Mereille's last season in Bussum. In her final season, Diana Remmers (formerly Verhoef) led the softball-team of Twins as its Head Coach.

Amongst Mereille's teammates in her second stint in Oosterhout were Sandra Baart, Thally van Beijeren, Erica Bol, Luciène Geels, Mireille Gill'ard, Bianca Hageraats, Carla van den Nieuwenhof, Daisy de Peinder, Jolanda Schipper and Marjan Smit.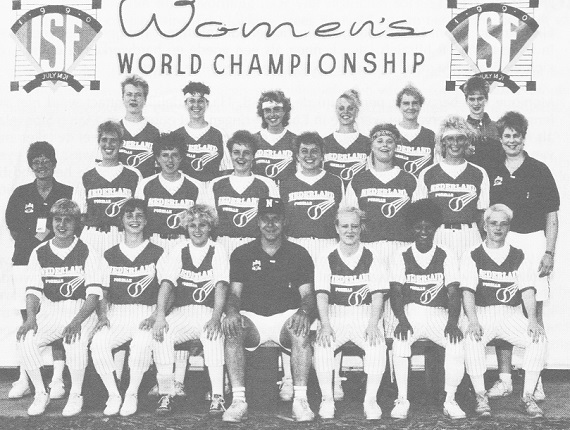 ...The Netherlands Softball Team during the...
...1990 World Championship in Normal, Illinois (USA)...
...Back: Carolien Smit, Mereille Hammink, Diana Verhoef, Yvonne Goes,...
...Annemieke van Kappel and Ingrid van Alten (Physical Therapist)...
...Center: Ans Kroon (Coach), Jacqueline Bakker, Judith van Erk,...
...Marlies van der Putten, Anita Bank, Woudi van der Molen,...
...Karin Brookhuis and Diane Schumacher (Head Coach)...
...Front: Marion van den Heijkant, Luciène Geels, Irene Nijssen,...
...Ton Hendriks (Pitching Coach), Jolanda Droog,...
...Isca Everts and Jacqueline van der Vlugt...

Mereille Hammink not only was one of the best pitchers in the big league, she also was one of the leading pitchers in the Netherlands National Team. An even before making her debut in the Orange-squad, Mereille already threw some impressing games when she participated with the Netherlands Juniors Team in the 1987 Haarlem Softball Week. In that international event, Mereille accounted for a pitching-duel with Italian pitching-ace Monica Corvino, who later went on to become the Pitching Coach of the Italian National Team. Mereille gave up only one basehit to Italy, while Monica gave up four. However, due to three errors, Italy scored one run in the first inning and that was to be the lone run in the game. Later in the tournament, Mereille also has a strong outing against the Netherlands Team. Mereille is the starting pitcher for the Juniors Team, which leads 2-1 after five innings. She then runs into problems in the sixth inning and the National Team wins only 4-3.

In 1989, Mereille Hammink makes her debut in the National Team. In the Haarlem Softball Week of that year, the team finishes in second place. Mereille pitches in two games for the Netherlands Team, which is led by American Head Coach Diane Schumacher. She is assisted by Ans Kroon, while Ton Hendriks is the Pitching Coach. Nicole Lemmink is the Physical Therapist. Truus Ruiter is the Team Manager.

A month later, the Netherlands Team (with the same staff) participates in the Intercontinental Cup in Verona (Italy). In this tournament, Mereille Hammink pitches in four games, including in the historic first-ever victory against the USA. The Netherlands wins 2-1 and Mereille shares the pitching-duties with Jacqueline van der Vlugt. Also playing for the Orange Team in this memorable game were Jacqueline Bakker, Jolanda Droog, Judith van Erk, Luciène Geels, Marion van den Heijkant, Debbie de Jong, Annemiek van Kappel, Irene Nijssen, Marlies van der Putten, Willy Rietman, Carolien Smit and Diana Verhoef. The daughters of three players of this group also went on to play in the big league. Jacqueline van der Vlugt is the mother of Babs de Jonge (Onze Gezellen), Diana Verhoef is the mother of Tess Remmers (Tex Town Tigers) and former big league-player Britt Remmers and Judith van Erk is the mother of Ilse Stoovelaar, who last season played for Hoofddorp Pioniers.

Other teammates in Mereille's first Orange-year were Renee van den Berg, Karin Brookhuis, Francis Handgraaf, Woudi van der Molen and Fredy van Offeren. Woudi's father Jan van der Molen is still very active for Tex Town Tigers.

In 1990, Mereille Hammink participates with the Netherlands Team in the World Championship and the European Championship. This year, the coaching and supporting staff are the same as in the previous year and most of the players from 1989 also return into the team. Newcomers in the team are Anita Bank, Madelon Beek, Petra Beek, Isca Everts, Yvonne Goes, Agnes van den Heuvel and Audrey Springer. From this group, Anita Bank's daughters Lisa and Jessica Waasdorp went on to play in the big league (Terrasvogels/Onze Gezellen).

During the World Championship in Normal, Illinois (USA), the Netherlands misses qualification for the Play-Offs. The team is more successful in the European Championship in Genoa (Italy) and faces a suprise finalist. In the preliminary round, Belgium accounts for an upset by winning 1-0 against the Netherlands. During the event, the Belgian squad is coached by Nol Houtkamp, who was the longtime former Head Coach of the Netherlands. In the Semi-Final, the Netherlands wins 1-0 against Italy in ten innings behind the strong pitching of Mereille Hammink. She pitches all ten innings and gives up only two basehits. With the win, the Netherlands advances to the best-of-three Final against Belgium. This time, there are no surprises. First, Orange Team wins 10-0 with Anita Bank and Mereille doing the pitching. The next game is won with a 4-0 score behind the pitching of Jacqueline van der Vlugt.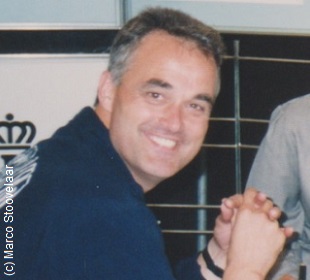 ...George Presburg led the Orange...
...Softball Team to the first-ever...
...tournament-title of the Haarlem...
...Softball Week in 1991...
(© Photo: Marco Stoovelaar)

A highlight in the Dutch softball-history follows in 1991. Led by new Head Coach George Presburg, the Netherlands Team wins the strong, international Haarlem Softball Week for the first time! How well-liked this tournament was in those years is underscored with a record-setting total of 11,000 spectators. Mereille Hammink is the pitching-ace and is used as both starter and reliever and appears in five games, including the Final. During the tournament, the Netherlands plays three games against Italy and Mereille pitches in all three. First, she throws a complete game 1-0 shutout in the prelimary round. She then also goes the distance in a 6-1 win in the play-off round. In the Final, Mereille is the starting pitcher and gives up her first basehit in the fourth inning. She is supported with one run in the first inning, but that proved to be not enough. In the seventh, Italy comes alongside and Marjolein de Jong takes over the pitching. The Netherlands then wins 2-1 in the eighth inning when Petra Beek scores on a walk-off single by Jolanda Droog.

With that, 1991 not only is a successful year for the players, but also the new coaching and supporting staff of the Netherlands Team. New Head Coach George Presburg is assisted by Marian van Deursen, Linda Landwehr and Andrea Nelson (Pitching Coach), while Marco Stoovelaar is the Media Officer and Scorer of the team. Team Manager Truus Ruiter, Physical Therapist Ingrid van Alten and Equipment Manager Toon Verzijlberg also were with the team in the previous years. Unfortunately, Truus Ruiter and Toon Verzijlberg both passed away last year. Toon Verzijlberg passed away in June, Truus Ruiter passed away three months later.

Also playing for the Netherlands Team in this memorable Softball Week were Madelon Beek, Petra Beek, Ingeborg Cleeren, Jolanda Droog, Patty Duijn, Luciène Geels, Mireille Gill'ard, Inger Goudzwaard, Agnes van den Heuvel, Inez Hollander, Marjolein de Jong, Madelon Metten, Monique Sanches, Joyce Smit, Angela Verkerk and Petra Voogt. From this group, Ingeborg Cleeren is coaching in the big league this season, as she is one of the Assistant Coaches of Olympia Haarlem.

The same coaches and supporting staff are with the National Team when it participates in the 1992 European Championship in Bussum (Netherlands). Mereille Hammink again is one of the pitchers, together with Inez Hollander, Marjolein de Jong, Anouk Mels and Margot Mels. Again, Mereille is showing her strenghth in the circle. She throws an one-hitter in an 11-0 win against what then was Czechoslovakia. Unfortunately, the Orange Team loses the best-of-three Final to Italy and thus has to settle for the Silver Medal. Amongst her new Orange-teammates this tournament are Afke Nijdam and Annemarie Pot, while Petra Goedkoop is the Pitching Coach this year.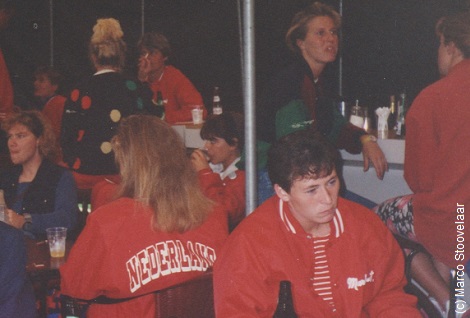 ...Mereille Hammink (front) sits with Orange-teammates...
...during the 1992 European Championship in Bussum...
...Sitting at left are Angela Verkerk, Annemarie Pot...
...and Afke Nijdam; Sitting at right behind Mereille are...
...Madelon Metten and Marjolein de Jong...
(© Photo: Marco Stoovelaar)

After not having pitched for the Netherlands Team in 1993, Mereille Hammink returns in 1994. This time, the righthander participates in her second World Championship, which is organized in St. John's, Newfoundland (Canada). Against Belgium, Mereille throws a 5-inning No-Hitter with eight strikeouts in what was an 11-0 victory.

This World Championship is memorable for the game that the Netherlands played against debuting Croatia. After two innings, the Netherlands leads with a huge 40-0 score! There was only one mercy-rule back then, which was a 10-run difference used during or after the fifth inning. However, with this big lead, the International Softball Federation lifted that rule and approved to end the game after only two innings, also to secure the safety of the Croatian players, who saw several line drives come by them. After the tournament, the ISF changed the mercy-rules. This year, Ruud Elfers was the Head Coach for the first time. He was assisted by Don Wedman, while Ton Hendriks returned as Pitching Coach. Jan Vermeer was the Team Manager and Bert Kostense the Physical Therapist. Many players of the previous years returned to the National Team. But during this event, Mereille's teammates also included Jacqueliene de Heer, Anita Kossen, Sandra Nieuwveen, Penny le Noble and Martine Stiemer.

In 1995, Mereille Hammink played in her final games for the Netherlands Team, which again was led by Ruud Elfers, while Gerjanne Treuren also joined the coaching-staff. In this year, the Orange Team finished in second place again during the European Championship in Italy. Thereafter, the National Team won the Olympic Qualifying Tournament, which was staged in Haarlem (Netherlands). The Netherlands shutout Italy 4-0 in the Final to qualify for the 1996 Olympic Games in Atlanta (USA). During the event, Mereille pitches against Botswana and Denmark. Amongst the newcomers this year as players are Sandra Gouverneur, Wendy Kort and Gonny Reijnen. Sandra Gouverneur is the current Head Coach of big league-team Amsterdam Pirates. Gonny Reijnen (now Farley) also continued in coaching and later became the Head Coach of the National Team.

In total, Mereille Hammink pitched in 31 international games for the Netherlands Softball Team.

As a player, Mereille always was a fierce competitor, was giving her all and was a good team-player. She was beloved by teammates, but also by her coaches and staff-members. And it was always fun to be with her in the same dug-out. Mereille went onto the field to win every game she was in. Unfortunately, she now was unable to win the battle of her illness. Mereille will be missed by many of us in the Dutch softball-family.

The webmaster of Grand Slam * Stats & News offers his condolences to Mereille's partner Boyke, daughter Alissa and son Kenan and other family and friends and wishes them a lot of strength with this huge loss.

(June 13)