Mokum Hawks captures Overall First Division-title
Nederlands

AMSTERDAM (Neth.) - Amsterdam Pirates-2 (or Mokum Hawks, as the team is better known) on Sunday won the Overall First Division Championship-title after a remarkable and spectacular comeback at the end of the game vs. Jeka. While the game was played in Amsterdam, the Hawks were the visiting team and trailed 6-0 when the eighth inning started! After two Mokum-runs, Jeka got a run back in the top of the ninth, but then the much experienced Amsterdam-squad came alongside to force extra innings and went on to win 9-7 to capture the title.

Both teams today had to do without some of their regulars. Jeka missed former big leagers Eddie Dix and Rox Dix, while Amsterdam had to do without Bart van Wissen and Remy Maduro, both also former big league-players.

In the first seven innings, it was Jeka all the way, as starting pitcher Caspar Dunant encountered no major problems and held the veteran Amsterdam-hitters to only six basehits.

In the first inning, Dunant gave up a lead-off triple to David Overbeek, but then struckout the next three batters, all former big leaguers, being Rikkert Faneyte, Bas Kuijer and Pavčl van Zaane.

In the second inning, Fedor Götz (another former big leaguer) reached second base on an error by leftfielder Stan Koolen with one out, but then Markus Torenstra flied into a double play. After leftfielder Koolen caught the ball, he doubled up Götz on second base to end the inning.

In the fourth, Dunant walked Pavčl van Zaane, but he was left behind. Then, Amsterdam got two baserunners for the first time in the game in the fifth. Fedor Götz led off with a double, then advanced to third on a bunt-single with two outs (!) by Hans Jonkers, but a strikeout ended the inning.

In the sixth, trailing 5-0, Amsterdam appeared to do something back, but again was left scoreless. Rikkert Faneyte and Bas Kuijer led off with singles, but then a force play-grounder and two flyouts followed. In the seventh, Dunant gave up a lead-off single to Markus Torenstra, but again three outs followed.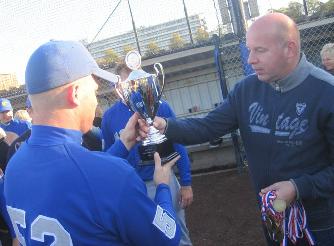 ...Bas Kuijer is handed the trophy by...
...Jeroen Bockweg of the KNBSB-Office...

In seven innings, Caspar Dunant had struckout seven batters, walked only one and had given up six hits, while allowing only two runners to reach third base. So, no problems at all for Jeka through seven innings. But when the eighth inning started, the surprise was big for almost everyone when Dunant was gone and a new pitcher took over. And then things started to go wrong for Jeka and the game turned around in favor of the Mokum Hawks.

Jeka had opened the score in the first inning. Mokum-starter Remco van der Heijden walked lead-off hitter Ernesto Lazo Lopez and unlike the Hawks, Jeka did score right away. Lopez stole second base, advanced on a grounder by next hitter Niels Brokken, then scored on a grounder by Bas Nooijens, who also is one of the coaches (besides Roy Klerks and Ron Dix).

After a scoreless second at bat, Jeka increased the lead to 4-0 in the third inning. Ernst Cremer led off with a single, then advanced on a sacrifice bunt by Ernesto Lazo Lopez and scored on a single by Niels Brokken. After the next batter struckout, Roy Klerks followed with a 2-run homerun to make it 4-0.

The fifth run was added in the fourth inning. Urlyson Martina led off with a double and moved on a sac-bunt by Mark Janssen. After a strikeout and walk for Ernesto Lazo Lopez, Martina scored on a bunt-single by Niels Brokken.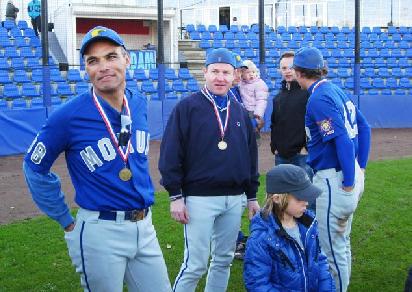 ...Rikkert Faneyte (left), who singled in the...
...winning run in the 10th inning...

But with runners on first and second base, the inning ended when Bas Nooijens was called out on strikes. Nooijens argued the call by the Home Plate Umpire and was ejected. Because of the ejection, pitcher Caspar Dunant, who was in the number 10 spot of the batting order, was brought in the batting order to hit for Nooijens, while designated hitter Urlyson Martina went into the outfield.

In the fifth and sixth inning, only one player reached base, but then Jeka added its sixth run in the seventh inning. With one out (and despite having a 5-0 lead), it was decided to put in a pinch-hitter for Caspar Dunant, but he grounded out. Next, playing coach Roy Klerks hit his second homerun in the game to make it 6-0.

But now Dunant has been batted for, he also was gone as a pitcher and so Roy Haast became the new pitcher for Jeka in the eighth inning. And that proved to be the turn-around in the game. No one at the side of Jeka expected that the 6-0 would come in jeopardy in the last two innings, but that is exactly what happened.

The new pitcher walked lead-off hitter Rikkert Faneyte and then gave up a double to Bas Kuijer. A sacrifice fly by Pavčl van Zaane then produced the first Amsterdam-run. An error on a 2-out pop-fly then resulted in the second run and after issuing a walk, Roy Haast was relieved by Adonis McDonald, who ended the inning with a forceout on a grounder by Peter Kwakernaak. Jeka got one run back in the home of the eighth when Urlyson Martina scored on a passed ball.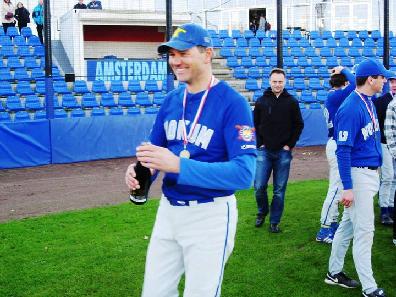 ...Peter Kwakernaak celebrates the win...

But then the Mokum Hawks struck in the top of the ninth inning, scoring five runs and force extra innings. And so again, it was proven that a game is not over until the last pitch is thrown. Anything can happen. With one out, 16-year old Adonis McDonald faced the more experienced hitters of the Amsterdam-squad. He gave up a double to David Overbeek and then walked Rikkert Faneyte and Bas Kuijer to load the bases. A double by Pavčl van Zaane then accounted for two runs, followed by an RBI-single by Rogier van de Poel. Next, an error on a possible double play-grounder by Fedor Götz made it a 7-6 score and a sac-fly by Markus Torenstra then tied the score. The inning ended when Götz was picked off.

Jeka was unable to come back off Rogier van de Poel, who started the ninth inning as new pitcher and reliever of starter Remco van der Heijden. Van de Poel retired the side, including two strikeouts.

In the tenth inning, Mokum Hawks struck with two runs with two outs. Sjam Derijks, who had just entered the game defensively, led off with a bunt-single, moved on a passed ball and an one-out grounder, then scored the go-ahead run on a single by Rikkert Faneyte, who was 2-for-4 with two walks. Next, Bas Kuijer (who was 3-for-5 with a walk) hit his second double to make it 9-7. In the home of the tenth, Rogier van de Poel retired the side again to end the game. Mokum Hawks was the overall First Division champion thanks to an amazing comeback-victory.

The roster of Mokum Hawks was filled this season with former Dutch big leaguers and players with international and professional experience. Former Major Leaguer (San Francisco Giants, Texas Rangers) Rikkert Faneyte led the team in hitting this season, going 48-for-96 to finish with a .500 batting average. Another former professional in the team is Remy Maduro, who batted .378. These two also played in the Dutch big league and the Dutch National Baseball Team.

The 10 best hitters after completion of the season all played in the Dutch big league. Faneyte (who led the team with 48 hits and 48 runs) was followed by Bas Kuijer (.429, led the team with 12 doubles and 35 RBI's), Rogier van de Poel (.406), Remy Maduro (.378), Pavčl van Zaane (.368, led the team with 6 homeruns), Kevin van Hagen (.348), Robin Franken (.348), Fedor Götz (.345), Hans Jonkers (.301) and Peter Kwakernaak (.293). The pitching included former big leaguers Bart van Wissen and Robin Franken, while former National Team-pitcher Tim Keuter was the Head Coach.

(October 20)

(photos copyright Mokum Hawks)
(thanks to teamscorer Jan van Ewijk for the statistical information)
---

Previous report Rookie League (September 28)
Previous report First Division (September 28)
Previous report Second Division (September 28)
Previous report Third Division (September 29)
Update First, Second, Third Division (October 4)
Previous report Fourth Division (October 8)
Update First, Second, Third, Fourth Division (October 12)

Coming up later this week: a lookback to the Fifth Division