Mr. Cocker HCAW announces roster changes
Nederlands


BUSSUM (Neth.) - Mr. Cocker HCAW announced their roster changes on Wednesday, confirming that four new players will come to Bussum, a player from the Rookies is promoted to the roster and four players will leave.

Earlier, L&D Amsterdam Pirates was the first team to announce their transfers (October 12). UVV then annnounced transfers on October 14, October 16 and October 17. Hereafter, Neptunus announced their changes (October 15). Earlier this week, Hoofddorp Pioniers announced their transfers (October 25).

As became clear through the announcement of the changes at Pioniers on Monday, Righthanded Pitcher Maarten Mulder and Outfielder Lennart Koster are coming from Hoofddorp to Bussum.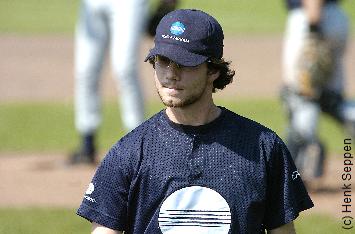 ...Maarten Mulder...
(© Photo: Henk Seppen)

Reliever and closer Maarten Mulder returns to the club where he made his big league-debut in 2003. After having pitched two seasons in Bussum, Mulder went to Amsterdam Pirates, where he was a member of the pitching staff in 2005 and 2006. In 2007, Mulder pitched in his first of four seasons in Hoofddorp. This year, he was 0-2 with a 3.86 ERA and earned one save in 11 games, while striking out 11 in 14 innings and walked only three, but gave up 12 basehits.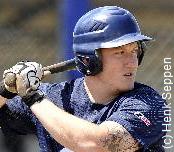 ...Lennart Koster...
(© Photo: Henk Seppen)

Outfielder Lennart Koster played in his first and only season for Pioniers this year after having played four seasons for DOOR Neptunus. This season, Koster led Pioniers in hitting with a .344 batting average (33-for-96), hit eight doubles, scored 16 runs and had 15 RBI's.
More details of both Mulder and Koster can be found in the article regarding the changes at Pioniers.

Two other newcomers in Bussum next season are Righthanded Pitcher Dennis Burgersdijk and Outfielder Wesley Bernardus, who both are coming from Almere Magpies, which withdraw from the big league on October 12.


...Dennis Burgersdijk...
(© Photo: Almere)

Pitcher Dennis Burgersdijk made his big league-debut in 2006 when he was a pitcher of ADO. In his rookie-season, Burgersdijk was 0-0 and appeared in 11 games, throwing 15 2/3 inning in which he struckout six batters, but walked eleven and gave up 13 basehits. In his second big league-year, the righthander struckout 13 and walked 33 in 27 innings, was 0-2 and threw in nine game for ADO, whom he left after the 2007 season. After having pitched for First Divisionist Sparks Haarlem in 2008, Burgersdijk returned to the big league a year later, playing for RCH. The team of Heemstede relegated that season and Burgersdijk was 0-8, while striking out 45 in 67 2/3 inning. This season, his first in Almere, he was 1-5 and led the pitchingstaff with a 4.32 ERA, while striking out 28 in 50 innings.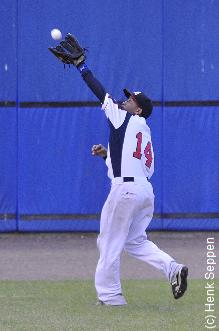 ...Wesley Bernardus...
(© Photo: Henk Seppen)

Outfielder Wesley Bernardus this season was the leading hitter for Almere Magpies, finishing with a .243 batting average (34-for-140). He also led the squad in runs (17), basehits (34), doubles (3) and walks (26), but also shared second place with 27 strikeouts. Bernardus had seven RBI's and was the lead-off hitter in the batting order for Almere, where he mostly played in centerfield, but sometimes also was used as a back-up infielder. Bernardus played for Almere since 2005 after coming over from Quick Amersfoort. In his rookie-season, the outfielder batted .125 and played in 36 games. After two more big league-seasons, Almere relegated to the First Division in the 2007 season, but Bernardus stayed with the team. Almere then won the First Division-title in 2009 and returned to the big league this year. In the 2003 season, he played with Quick Amersfoort in the Promotion/Relegation Pool.


...Rodney Daal...

Added to the big league-roster of HCAW is Rodney Daal, the younger brother of Randy (who also plays for HCAW) and Ricky Daal, who played in four games for HCAW this season and further played in the Rookie League-team of the club. The younger Daal made his debut in the Dutch big league on June 3 when he played a complete game at third base vs. Almere Magpies. In his first at bat, he reached on an outfield-error, which became a sacrifice fly, therefore collecting his first RBI. In his next at bat, Daal doubled. Two days later, he was 0-for-1 as pinch-hitter vs. Almere and finished the game as third baseman. On June 17, Daal entered the game vs. L&D Amsterdam Pirates in the eighth inning as third baseman then hit a double and scored a run in his lone at bat in the game. On June 25, he struckout in a pinch-hit appearance vs. Corendon Kinheim.

The 16-year old Daal, who also is a catcher, signed a 7-year professional contract with the San Diego Padres on August 24 and will report for Spring Training in March next year. He then will make his professional debut, meaning he will not be available for HCAW in the first part of the season. Earlier this year, Daal won the Batting Award during the MLB Academies Tournament in Regensburg (Germany), then attended the MLB Academy in Tirrenia (Italy) in August. With the Dutch National AAA-Team, Daal participated in the World Junior Championship in Thunder Bay (Canada).


...Laurens Dammers...
(© Photo: HCAW)

Four players will not return in a HCAW-uniform next year.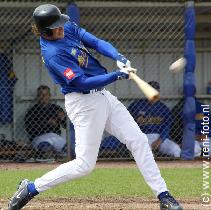 ...Sebastiaan Olgers...
(© Ph: www.reni-foto.nl)

Infielders Laurens Dammers and Sebastiaan Olgers will remain with the club, but will play on a lower level for HCAW-2 in the new season. Dammers made his big league-debut in 2006 when he played in one game for the Bussum-team. After appearing in four games the next season, he became a regular member of the big league-squad since 2008. This year, Dammers hit .228 (13-for-57), which was a career-high, and was used as a second and third baseman and short stop. He scored 10 runs and had four RBI's.

Like Dammers, Olgers also made his debut during the 2006 season, playing in seven games. In 2007, he was a regular, playing in 36 games and collected 16 basehits, but then in 2008 and 2009, he played the majority of the season for HCAW-2, appearing in only four and nine big league-games respectively. This season, Olgers played in 19 games, batted .108 (4-for-37) and had five RBI's, but didn't score a run. Olgers shared his playing time between first base and being the designated hitter.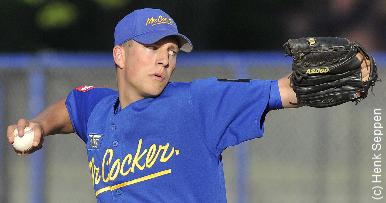 ...Robin van Eis...
(© Photo: Henk Seppen)

Righthanded Pitcher Robin van Eis will play for RCH-PinguÔns next year in the 'Overgangsklasse', one division below the big league. This season, his first with HCAW, Van Eis threw in 13 games, including four as starter, and was 1-1 with a 5.59 ERA. The righthander struckout 16 batters, walked 25 and gave up 45 basehits in the 37 innings he pitched. Van Eis made his big league-debut in 2008 when he threw in 10 games for Corendon Kinheim, finishing with a 5-4 record and striking out 25 in 52 2/3 inning. Last year, he was 1-2 and threw in only eight games, striking out only eight batters in 35 1/3 inning in which he gave up 42 basehits.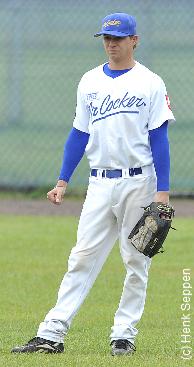 ...Bart GabriŽls...
(© Photo: Henk Seppen)

Bart GabriŽls, who was used as third baseman and outfielder, also will play on a lower level next season, as he will play for Sparks Haarlem in the 'Overgangsklasse'. For GabriŽls, 2010 was his eighth season in the Dutch big league and fifth for HCAW. In 2002, he reached the Promotion/Relegation Pool with Twins, which then promoted to the big league. A year later, he made his debut in the highest division, playing in eight games for the team from Oosterhout. After the 2004 season, GabriŽls left Twins and played for Almere Magpies in 2005. Since 2006, he played for HCAW, where he became a regular player. In 2007, he led the team with 19 RBI's, then was HCAW's best hitter in 2008 when he had a .306 batting average. This season, GabriŽls batted .326 (43-for-132) and was the second best hitter of the team, only trailing Venezuelan Wuillians Martin Vasquez. GabriŽls had seven doubles, one triple and also hit his first big league-homerun, while scoring 21 runs and having 15 RBI's.

As of now, the three Venezuelan players on HCAW's roster this season all will return next year. They will be with the team the entire season, as opposed to this year when they arrived after the season had started.

Outfielder Wuillians Martin Vasquez led the team with a .376 average (44-for-117), playing in 32 games. Vasquez scored 23 runs (second best of the team) and led the squad with 28 runs batted in, nine doubles and 23 walks. He also hit one homerun.

Short stop Dirimo Enrique Chavez played in 33 games for HCAW. While his defensive skills were sometimes spectacular, he batted only .252 (30-for-119) with five doubles and one triple. Chavez scored 16 runs and had seven RBI's, but made 69 outs and had 110 assists in 186 fielding attempts, making seven errors.

Lefthanded Pitcher Roger Luque threw in 10 games, including five as starter, was 3-3 and finished with a 3.17 ERA. In the 54 innings he pitched, Luque struckout 61 batters, walked only 18 and gave up 47 basehits.

...Wuillians Vasquez...

...Dirimo Chavez...

...Roger Luque...
(© Photos: Henk Seppen)
Earlier this month, Vasquez and Chavez both participated with the National Team of Venezuela in the Pre-Mundial in Puerto Rico, a Qualyfing Tournament for the next World Championship. Vasquez played in eight games, hitting .300 (9-for-30) with two homeruns, five runs and six RBI's. Chavez appeared in nine games and went 9-for-38 to hit .237 with one homerun and five RBI's, while scoring eight runs. Venezuela reached the bronze medal-game, which was to be played vs. USA. However, the match-up rained out and both Venezuela and the USA were awarded the bronze medal. The Dominican Republic won the event by beating Cuba 5-2 in the final.

With the team as it is now and with the availability of the three Venezuelans the entire competion, HCAW is convinced that it can qualify for the Play-Offs next season. The Bussum-club also gives much attention to its Rookie League-team to reduce the gap between this team and the big league-team.

HCAW last played in the Play-Offs in 2005 when it also reached the Holland Series. 2005 was the 12th year in a row that the Bussum-club had qualified for the top-four. It also marked the fifth consecutive time it had played in the Holland Series vs. Neptunus, which won al those Series. Between 1991-2005, HCAW played in 10 Holland Series, winning two of the championship finals (1996 vs. Kinheim and 1998 vs. Neptunus). This year, HCAW finished in fifth place with a 19-23 record, then swept Almere Magpies in the first round of the Play-Downs.

In 2011, Bill Froberg will return as Head Coach and he will be assisted again by Ronald Jaarsma (3B Coach) and Frans Groot (Pitching Coach).

(October 27)