www.grand-slam.nl
International Baseball
Headlines
Compiled and Copyright © 1997-2020 by Marco Stoovelaar

(Story by Marco Stoovelaar)




Sherten Apostel to Double-A; Games cancelled for Giants and Mariners
Nederlands








FORT MYERS / PORT CHARLOTTE / WEST PALM BEACH, Florida / PEORIA, Arizona / SAN FRANCISCO, California / SEATTLE, Washington (USA) - On Wednesday (March 11), there were 13 games scheduled in Major League Spring Training. Six in Florida, seven in Arizona. However, three games in Arizona rained out.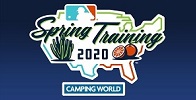 On Wednesday, six Netherlands-players got into action. Ozzie Albies (Atlanta Braves), Xander Bogaerts (Boston Red Sox) and Jurickson Profar (San Diego Padres) all started. Kenley Jansen (Los Angeles Dodgers), Carter Kieboom (Washington Nationals) and Zander Wiel (Minnesota Twins were inserted later. Albies, Bogaerts, Kieboom and Wiel all collected a basehit.
Also on Wednesday, Texas Rangers optioned third baseman Sherten Apostel to Frisco RoughRiders, which plays in Double-A.
But there was more on Wednesday.
San Francisco Giants cancelled its final exhibition game against Oakland Athletics scheduled for March 24, which was to be played at the Giants home-stadion due to the coronavirus. The decision came after the City and County of San Francisco's directive to prohibit major public gatherings for two weeks.
In a statement, the Club said: ,,The health and safety of our community is of the utmost importance to us. We have been in close coordination with Major League Baseball and our local health and government agencies to monitor and plan for any potential impacts of COVID-19. In light of the City and County San Francisco's announcement today to prohibit public gatherings of 1,000 people for the next two weeks, we will not play our upcoming March 24th exhibition game against the Oakland A's at Oracle Park in San Francisco.''
Jay Inslee, the Governor of the State of Washington, announced on Wednesday-morning that he is banning large group events through March. On March 26-29, Seattle Mariners will play its 4-game regular season home opening series against Texas Rangers, followed by a 3-game series against Minnesota Twins (March 30-April 1). The Club said in a statement: ,,The Seattle Mariners are working with the Major League Baseball Office of the Commissioner on alternative plans for our games that were scheduled for the end of March at T-Mobile Park in Seattle. While we hope to be back to playing baseball in Seattle as soon as possible, the health and safety of our community is the most important consideration. We will provide more information about our plans for the games as it becomes available.''
(March 11)
Related Articles:


10 Kingdom-players open Spring Training on Major League-rosters. (February 20)


Sherten Apostel & Zander Wiel first Netherlands-players in action in Spring Training. (February 21)


Five Netherlands-players in Spring Training-action on Saturday. (February 22)


Wiel homers for Minnesota; Gregorius makes Philadelphia-debut. (February 23)


No hits, but 3 walks for 5 Netherlands-players in Spring Training. (February 24)


Spring Training-basehits for Albies, Apostel and Kieboom. (February 25)


Good Spring Training-outings Ozzie Albies & Kenley Jansen. (February 26)


Zander Wiel hits second Spring Training-homerun. (February 27)


Jonathan Schoop hits 2-run double for Detroit Tigers. (February 28)


Carter Kieboom walks twice and scores for Washington. (February 29)


Productive outings Jurickson Profar, Andrelton Simmons & Kenley Jansen. (March 1)


Sherten Apostel contributes to Spring Training-win Texas Rangers. (March 2)


Ozzie Albies and Carter Kieboom collect two Spring Training-basehits. (March 3)


Xander Bogaerts plays in first Spring Training-game. (March 4)


Kenley Jansen allows first batter to reach base. (March 5)


Simmons singles and scores; Profar, Apostel also productive. (March 6)


Edmond Americaan hits basehit in Spring Training-debut. (March 7)


Carter Kieboom successful with 2 hits, 1 RBI for Washington. (March 8)


Albies, Gregorius, Simmons hitless in Spring Training on Monday. (March 9)


Productive afternoon for Didi Gregorius and Ozzie Albies. (March 10)

At Hammond Stadium at CenturyLink Sports Complex in Fort Myers, Minnesota Twins played at home against Atlanta Braves and lost 3-2.

Ozzie Albies started at second base for Atlanta and was 1-for-3 with a run batted in. Zander Wiel later played at first base for Minnesota and was 1-for-1.

Albies struckout in the top of the first inning, then flied out in the third.

Atlanta took a 2-0 lead in the fourth on a 2-out, 2-run homerun by Peter O'Brien. The team added an insurance run in the fifth, thanks to Albies. With one out, Pete Kozma and Ronald Acuña, Jr. both singled, then Albies followed with a runscoring single to make it a 3-0 score.

Albies was replaced by Riley Unroe in the bottom of the sixth. In the top of the seventh, Wiel came into the game, replacing Twins-first baseman Miguel Sano.

With one out in the bottom of the eighth, Wiel singled, but stranded on first base.

Minnesota then scored twice with two outs in the bottom of the ninth on back-to-back doubles by Drew Maggi and Mark Contreras.

At FITTEAM Ballpark of The Palm Beaches in West Palm Beach, Washington Nationals visited Houston Astros and won 6-2.

Carter Kieboom entered the game as pinch-runner, batted 1-for-1, walked, scored a run and also batted in one.

Houston opened the score on a double play-grounder in the bottom of the fifth inning, but Washington then rallied for six runs in the top of the ninth.

In the top of the seventh, with one out, Yan Gomes walked for Washington and Kieboom was then inserted as pinch-runner. Kieboom moved to third base on a 2-out single by Emilio Bonifacio, but the two were left behind.

In the bottom of the seventh, Kieboom became the new third baseman for Washington.

With one out in the top of the ninth, Kieboom doubled then scored the tying run on a following double by Yadiel Hernandez, which led to a pitching change. Bonifacio then also singled, then Luis Garcia delivered a runscoring single that put Washington ahead. A wild pitch and a single by Wilmer Difo accounted for the next two runs. Two walks then loaded the bases and were followed by another pitching change. Carlos Sanabria took over, but began with a runscoring wild pitch. Next, a walk re-loaded the bases and with two outs, a walk followed for Kieboom in his second at bat in the inning and that brought in the sixth run. A grounder then finally ended the long at bat.

In the bottom of the ninth, Houston got one run back when Bryan De La Cruz led off with a homerun.

At Charlotte Sports Park in Port Charlotte, Boston Red Sox played at Tampa Bay Rays and won 3-1.

Xander Bogaerts started as short stop for Boston and was 1-for-1 with a walk and run batted in.

Bogaerts walked in the top of the first inning, but was left behind. He then scored what would be the decisive run in the top of the second.

With two outs, Bogaerts singled, as did next batter Michael Chavis. Hereafter, Jackie Bradley, Jr. delivered a runscoring single that brought in Bogaerts. Next batter Jonathan Lucroy also produced an RBI-single to make it a 2-0 score.

Bogaerts left the game in the bottom of the fourth when Marco Hernandez took over as short stop.

Boston added a run in the fifth on a double by Bradley, then Tampa Ray scored its lone run in the eighth when Brian O'Grady homered.

At Peoria Stadium in Peoria, a split-squad of San Diego Padres played at home against Seattle Mariners and lost 4-2 in a game that was halted by rain after seven innings.

Jurickson Profar was the starting second baseman for San Diego and was 0-for-1 with two walks and a run batted in.

San Diego took a 2-0 lead with two outs in the bottom of the first inning. With one out, Profar walked and advanced on a grounder by Manny Machado. Moments later, Profar scored on a single by Eric Hosmer, who later scored on a single by Franchy Cordero.

Profar walked again when he led off the third inning, but this time, he was left behind on second base. Profar grounded out in the fifth inning and was replaced in the top of the sixth by Esteban Quiroz.

Seattle scored three runs in the sixth on a baseclearing, 3-run double by José Marmolejos. The fourth run was added in the seventh on an error on a force play-grounder by Jarred Kelenic.

At Camelback Ranch-Glendale in Glendale/Phoenix, Los Angeles Dodgers hosted Milwaukee Brewers and won 4-1 in a game that was halted by rain with one out and two runners on base in the bottom of the seventh.

Los Angeles opened the score in the second inning via a homerun by Cody Bellinger. Milwaukee came alongside in the fourth thanks to an RBI-double by Orlando Arcia. Los Angeles re-took the lead in the fifth by scoring three runs on three singles.

In the top of the sixth, Kenley Jansen took over the Dodger-pitching. He gave up a lead-off single, but then retired the next three batters. As he entered the game in a save-situation, he was credited with his second Hold of the Spring Training-season.

Thank you for visiting this site.
Mail your suggestions and questions to stoov@wxs.nl
Copyright © 1997-2020 Marco Stoovelaar / Grand Slam * Stats & News.