www.grand-slam.nl
Baseball
Headlines
Compiled and Copyright © 1997-2021 by Marco Stoovelaar

(Story by Marco Stoovelaar; Photo by Henk Seppen)




Jonathan Schoop plays in first game in Major League Spring Training
Nederlands








FORT MYERS / LAKELAND / NORTH PORT / WEST PALM BEACH, Florida / PHOENIX, SURPRISE, Arizona (USA) - Jonathan Schoop played in his first Major League Spring Training-game on Sunday (March 14). He was one of eight players with a Dutch passport who came into action in Sunday's games, which is the highest total so far this Spring-season. The others were Ozzie Albies (Atlanta Braves), Sherten Apostel (Texas Rangers), Xander Bogaerts (Boston Red Sox), Kenley Jansen (Los Angeles Dodgers), Carter Kieboom (Washington Nationals), Andrelton Simmons and Zander Wiel (both Minnesota Twins).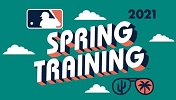 Schoop arrived late in Spring Training-camp of Detroit Tigers this year, due to visa problems. Therefore, he was unable to travel from Curašao to Florida. Earlier, Jurickson Profar (San Diego Padres) also had a visa-problem, which also caused him to arrive late in Arizona.
Now that Schoop has played, it means that all eleven players with a Dutch passport in Spring Training this year have played.
In the game between Toronto Blue Jays and New York Yankees in Dunedin, a 22-year old pitcher made his Major League Spring Training-debut, which also was his professional debut. With Toronto leading 1-0 in the top of the ninth, righthander CJ Van Eyk took over the pitching for the Canadian team, but he ran into problems quickly. After giving up a single to the first two batters, Van Eyk walked the next three batters and then gave up a 3-run double, which gave New York a 5-1 lead (and win).
Van Eyk's initials stand for Cornelius Johannes and so, with these names, he simply must have a Dutch heritage. Van Eyk was born in Florida, where he also attended Steinbrenner High School, which is named after former New York Yankees-owner George Steinbrenner. He was drafted in 2017 by New York Mets, but continued his study at Florida State University. There, he pitched in three seasons for FSU Seminoles. Van Eyk, who is listed as a talent, was signed by Toronto in June 2020, but he then didn't play, as the entire Minor League-season was cancelled due to the corona-pandemic. Last month, the pitcher was invited to Major League Spring Training as a non-roster player.
(March 14)
Related Articles:


Didi Gregorius hits grand slam HR in Spring Training. (March 13)


Bogaerts & Simmons play in first Spring Training-game; Apostel to Triple-A. (March 12)


Hits for Kieboom, Hold for Jansen in MLB Spring Training. (March 10)


Zander Wiel plays in first game in MLB Spring Training. (March 7)


Profar and Tromp successful in MLB Spring Training. (March 6)


Singles for Apostel, Albies & Gregorius in MLB Spring Training. (March 5)


Albies homers; Run & RBI for Gregorius in MLB Spring Training. (March 3)


Strong first outing Kenley Jansen in MLB Spring Training. (March 1)


Tromp, Apostel first Dutch players in action in Spring Training. (February 28)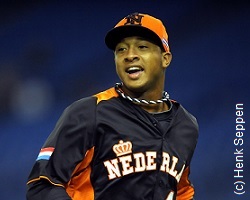 ...Schoop during the...
...World Baseball Classic 2013...
(© Photo: Henk Seppen)

On Publix Field at Joker Marchant Stadium in Lakeland, Jonathan Schoop was the designated hitter for Detroit Tigers in a home-game against Baltimore Orioles. The stadium is located in Tiger Town, which this year is the Spring Training-home of Detroit for 85 years, which is the longest such affiliation ever. Schoop batted fourth and was 0-for-2 with a walk in a 5-1, 8½ inning game against his former team.

Schoop made his Major League-debut playing for Baltimore in 2012. He played for the team through July 2018 when he was traded to Milwaukee Brewers. After the 2018 season, Schoop was Free Agent and signed a contract with Minnesota Twins. In December 2019, being a Free Agent again, Schoop signed an one-year contract with Detroit. His contract ended after the 2020 season and so, Schoop again was a Free Agent, but he re-signed with Detroit early February.
In his first at bat in the bottom of the first inning, facing starting pitcher Dean Kremer, Schoop walked with two outs and Miguel Cabrera (who had singled) on first base. But the two were left behind.
Schoop flied out in the third inning, then was struckout by reliever Bruce Zimmermann in the sixth.
In the bottom of the eighth, with the score at 1-1, one out and a runner on first base, Schoop was replaced by pinch-hitter Dustin Garneau, who was hit by a pitch from reliever Travis Lakins. Zack Short followed with a 3-run homerun to put Detroit ahead. With two outs, Akil Baddoo also homered to make it a 5-1 score.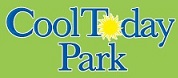 At CoolToday Park in North Port, Atlanta Braves won 8-7 at home in a 9-inning game against Tampa Bay Rays. Trailing 7-5, Atlanta scored three runs in the bottom of the ninth on an one-out, walk-off, 3-run homerun by Ehire Adrianza. This was one of eight homeruns in the game. Jason Kipnis (2-run), Ronald Acu˝a Jr. (solo), Shea Langeliers (solo) and Sean Kazmar (solo) also homered for Atlanta, which scored all its runs on homeruns. Miles Mastobuoni (solo), Dalton Kelly (2-run) and Moises Gomez (2-run) homered for Tampa Bay. This means, 13 of the 15 runs were scored on a homerun. The other two Tampa Bay-runs were batted in by Kevan Smith with a single in the second inning.

Ozzie Albies was the starting second baseman for Atlanta. With one out in the first inning, Albies singled off of starter Drew Strotman, as did next batter Freddie Freeman, but a double play followed. In the third inning, now facing reliever Nick Anderson, Albies struckout.

In the bottom of the fifth, with Tampa Bay leading 2-0, Atlanta took a 3-2 lead on back-to-back homeruns by Kipnis and Acu˝a. Hereafter, Albies singled and Freeman walked, but a flyout ended the at bat.

In the top of the sixth inning, Albies was replaced by Ehire Aldrianza. The Venezuelan went on to hit the walk-off homerun in the ninth.



In Hammond Stadium at the CenturyLink Sports Complex in Fort Myers, Minnesota Twins played at home against Boston Red Sox in an 8-inning game that ended with a 5-5 tie. Andrelton Simmons was the starting short stop for Minnesota and was 1-for-3 with an RBI. Zander Wiel was 0-for-1.

Simmons struckout in the third inning after Byron Buxton had homered to put Minnesota ahead. The team then rallied for three runs in the fourth. With one out, Miguel Sano hit a 2-run double. With two outs, he scored when Simmons delivered a runscoring single. He stranded on second base himself.

Simmons flied out in the sixth inning. Hereafter, Brent Rooker singled and was replaced by Zander Wiel as pinch-runner. In the seventh, Simmons was replaced by Andrew Romine, while Wiel became the new leftfielder. With one out and a runner on second base in the bottom of the ninth, Wiel popped out.

Xander Bogaerts started as designated hitter for Boston. He walked with two outs in the first inning, but stranded on first base. In the fourth, Bogaerts grounded out and he was replaced by pinch-hitter Triston Casas in the sixth.



In FITTEAM Ballpark of The Palm Beaches in West Palm Beach, Washington Nationals lost 5-0 in an 8½ inning away-game against Houston Astros. Carter Kieboom started at third base for Washington and was 0-for-2. He struckout, walked and flied out.

In Surprise Stadium in Surprise, Texas Rangers played at home against Colorado Rockies and won 3-1 in an 8½ inning game. In the top of the seventh inning, Sherten Apostel entered the game as new first baseman for Texas. Apostel, who was optioned to Triple-A last week, didn't get an at bat.

At Camelback Ranch-Glendale in Phoenix, Los Angeles Dodgers played at home and lost 8-4 in a 9-inning game against Kansas City Royals. With Kansas City leading 6-3, Kenley Jansen pitched the seventh inning for the Dodgers. The righthander retired the side, striking out two batters.



Thank you for visiting this site.
Mail your suggestions and questions to stoov@wxs.nl
Copyright © 1997-2021 Marco Stoovelaar / Grand Slam * Stats & News.