(Story by Marco Stoovelaar)




Jonathan Schoop homers in final Spring Training-game; Start Minor League-seasons also delayed
Nederlands






LAKELAND / PORT CHARLOTTE / WEST PALM BEACH / ST. PETERSBURG, Florida (USA) - On Thursday (March 12), fourteen games were scheduled in Spring Training. Seven in Florida, seven in Arizona.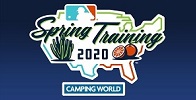 However, shortly after the games in Florida had started, Major League Baseball announced it decision to cancel all remaining games of Spring Training due to the coronavirus. With that, six games in Florida were completed and one was cancelled, while all seven games in Arizona were scrubbed.
With that, Spring Training ended today, as the remaining games that were scheduled to be played through March 24 were all cancelled. MLB also announced on Thursday that the start of the regular season will be delayed by at least two weeks. Opening Day was scheduled for March 26.


Start Major League-season delayed; Spring Training-games cancelled.

Shortly after the announcement by MLB, Minor League Baseball also announded that the start of its regular seasons would be delayed. The Minor League-seasons were scheduled to begin on April 9 for the full-season leagues (Triple-A, Double-A, Single-A). The seasons in Single-A Short Season and the Rookie Leagues open on June 17.
On Thursday, Minor League Baseball, which has its Head Office in St. Petersburg, Florida, released the following statement:
,,In light of the current coronavirus outbreak, and after consultation with medical professionals and our partners at Major League Baseball, Minor League Baseball will delay the start of the 2020 Championship Season. We will continue to monitor the developments and will announce additional information about the 2020 season at a later date. We will work with Major League Baseball and our community partners to resume play as soon as it is safe to do so. The health and safety of Minor League Baseball fans, players and executives is our top priority, and our thoughts are with those around the world who have been affected by this outbreak.''
In the final games on Thursday, three Netherlands-players saw action. Didi Gregorius (Philadelphia Phillies), Carter Kieboom (Washington Nationals) and Jonathan Schoop (Detroit Tigers) all were in the starting line-up.
Schoop hit a homerun in what was to be the final game of Spring Training.
(March 12)
Related Articles:


10 Kingdom-players open Spring Training on Major League-rosters. (February 20)


Sherten Apostel & Zander Wiel first Netherlands-players in action in Spring Training. (February 21)


Five Netherlands-players in Spring Training-action on Saturday. (February 22)


Wiel homers for Minnesota; Gregorius makes Philadelphia-debut. (February 23)


No hits, but 3 walks for 5 Netherlands-players in Spring Training. (February 24)


Spring Training-basehits for Albies, Apostel and Kieboom. (February 25)


Good Spring Training-outings Ozzie Albies & Kenley Jansen. (February 26)


Zander Wiel hits second Spring Training-homerun. (February 27)


Jonathan Schoop hits 2-run double for Detroit Tigers. (February 28)


Carter Kieboom walks twice and scores for Washington. (February 29)


Productive outings Jurickson Profar, Andrelton Simmons & Kenley Jansen. (March 1)


Sherten Apostel contributes to Spring Training-win Texas Rangers. (March 2)


Ozzie Albies and Carter Kieboom collect two Spring Training-basehits. (March 3)


Xander Bogaerts plays in first Spring Training-game. (March 4)


Kenley Jansen allows first batter to reach base. (March 5)


Simmons singles and scores; Profar, Apostel also productive. (March 6)


Edmond Americaan hits basehit in Spring Training-debut. (March 7)


Carter Kieboom successful with 2 hits, 1 RBI for Washington. (March 8)


Albies, Gregorius, Simmons hitless in Spring Training on Monday. (March 9)


Productive afternoon for Didi Gregorius and Ozzie Albies. (March 10)


Sherten Apostel to Double-A; Games cancelled for Giants, Mariners. (March 11)


Start Major League-season delayed; Spring Training-games cancelled. (March 12)