(Story by Marco Stoovelaar)
IN MEMORIAM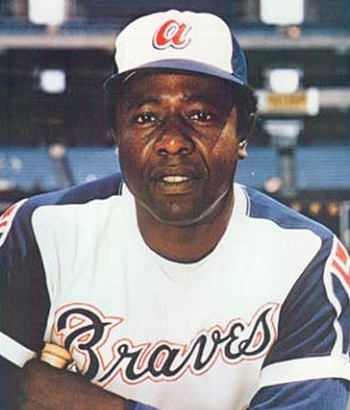 ...Hank Aaron...
(1934 - 2021)

Legendary Braves-slugger, icon and Hall of Famer Hank Aaron passed away
Nederlands

ATLANTA, Georgia (USA) - Legendary slugger Hank Aaron, who broke the all-time Homerun-record in 1974 and played in 21 seasons for Milwaukee/Atlanta Braves, passed away on Friday (January 22) at age 86. He would have turned 87 in two weeks. Overall, Hank Aaron played in the Major League for 23 seasons (1954-1976) in which he hit 755 homeruns. He is generally considered as one of the greatest players of all time. The outfielder was elected into the National Baseball Hall of Fame in 1982.

It are very sad times for the baseball-fans worldwide who follow the Major League. Last year, we had to say goodbye to several beloved and legendary players and icons for many. Amongst them were seven Hall of Famers, being outfielder Al Kaline (85, April 6, 22 Major League-seasons), pitcher Tom Seaver (75, August 31, 20 seasons), outfielder Lou Brock (81, September 6, 19 seasons), pitcher Bob Gibson (84, October 2, 17 seasons), pitcher Whitey Ford (91, October 8, 16 seasons), second baseman Joe Morgan (77, October 11, 22 seasons) and pitcher Phil Niekro (81, December 26, 24 seasons).

In the first three weeks of the new year, sadly enough, three more legends passed away. On January 7, longtime Los Angeles Dodgers-Manager Tommy Lasorda passed away at age 93. Last Tuesday (January 19), Don Sutton, who pitched in sixteen seasons for Los Angeles Dodgers, passed away at age 75. And now, we also have to say goodbye to Hank Aaron.

Henry Louis Aaron was born on February 5, 1934 in Mobile, Alabama. In this city, he grew up in the neigborhood Toulminville in a poor family. Aaron loved baseball from an early age and as his family was not able to buy equipment, he created his own. The young Aaron attended Central High School and as this school had no baseball-program, he went on to play for Prichard Athletics, then Mobile Black Bears. These were semi-professional teams in Negro Leagues with only African-American players. As Aaron was still in school, he was only allowed to play in home-games and on Sundays. In those years, colored players were not allowed to play in the Major League and had their own leagues. The color-barrier was broken on April 15, 1947 when Jackie Robinson became the first African American player to play in the Major League as player of Brooklyn Dodgers. That ended racial segregation in professional baseball. Aaron, whose idol was Robinson, immediately showed his talent and at age 15, he got a try-out from Major League-club Brooklyn Dodgers in 1949. He returned to school and attended Josephine Allen Institute.

In November 1951, Aaron signed with Indianapolis Clowns, a team that played in the Negro American League. This league was disbanded after the 1962 season and was dominated by Kansas City Monarchs for whom legendary Satchel Paige was one of its pitchers and Willard Brown was one of the outfielders. Through the years, the team had several wellknown players, including Ernie Banks, Cool Papa Bell, Jackie Robinson, Bullet Rogan, Hilton Smith and Turkey Stearnes.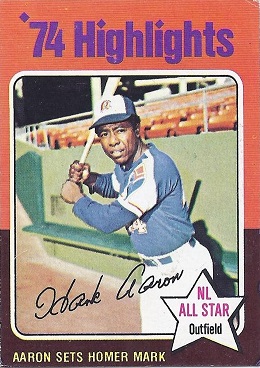 ...1975 Baseball Card...

Aaron played three months for Indianapolis, then was purchased by Major League-club Boston Braves. Aaron signed iin June 1952 and was assigned to Eau Claire Bears, which played in the then Class-C minor league. He initially was an infielder (mostly short stop) and also changed his hitting habit to the proper way. Until then, as a righthanded hitter, he always had his hands cross-handed (left hand above instead of right hand). Aaron had a great first season (.336, nine homeruns, 61 RBI's) and was named Rookie of the Year of the Northern League. But during the season, he also faced racism regularly and was homesick frequently. Aaron didn't gave up and continued his career in 1953 and was promoted to Jacksonville Braves (Class-A) with whom he won the title. Aaron was the best hitter of the South Atlantic League (.362) and also led in basehits (208), runs (115) and RBI's (125) and was named Most Valuable Player. However, racism continued in these years (mostly in the south) and due to some special (state/local) laws, Aaron often was unable to be together with his teammates in hotels or having meals.

In 1954, Hank Aaron was in Spring Training with the Braves, which had moved from Boston to Milwaukee after the 1952 season. In March 1954, Braves-leftfielder Bobby Thomson broke his ankle and Aaron filled in. On April 13, Aaron made his Major League-debut, which was the start of a legendary and impressive career. Ten days later, he hit his first homerun off of Vic Raschi (St. Louis Cardinals). Aaron mostly played in rightfield and his power earned him the nicknames of 'Hammer' or 'Hammerin' Hank'.

In his first Major League-season, Aaron played in 122 games and batted .280 with 13 homeruns and 69 runs batted in. From the next season (1955) on, he hit 24 or more homeruns annually from through 1973 (19 consecutive seasons). He is one of only two players to hit 30 or more homeruns in a season fifteen times. The other is Alex Rodriguez, who also accomplished the feat in fifteen seasons. Albert Pujols (Los Angeles Angels) can become the third, as he did it in fourteen seasons, but the last time in 2016.

In 1955, his second season in the Major League, Aaron was named to the National League All Star Team and played in his first All Star Game. In his long and successful career of 23 seasons, Hank Aaron was selected for a record 25 All Star Games. There were two All Star Games annually in 1959-1962. He played in 24 of these games, which is a record he shares with Willie Mays and Stan Musial.

In 1955 and 1956, Hank Aaron led the National League in doubles (37 and 34). In 1956, he led the entire Major League in basehits (200) and was the best hitter in the National League (.328). From here on, Aaron continued either the National League or Major League frequently in several categories. In 1957, he scored the most runs (118) and led the Majors in homeruns (44) and runs batted in (132). After the 1957 season, in which he batted .322, Aaron was voted Most Valuable Player. He barely missed the Triple Crown, as he finished in third place with his .322 average. On September 23, 1957, Aaron hit a 2-run walk-off homerun for Milwaukee against St. Louis Cardinals to win the title in the National League. He then won the World Series with Milwaukee Braves, which defeated New York Yankees in seven games. The next year, the roles were reversed, as the Yankees then won in seven games against Milwaukee.

...Hank Aaron's record-tying homerun in Cincinnati...

Hank Aaron also almost won the Triple Crown in the 1963 season. He then led the National League in homeruns (44) and RBI's (130), but again finished in third place with his batting average (.319). Hank Aaron's power continued to dominate in the sixties and he led the National League in homeruns in 1963 (44), 1966 (44) and 1967 (39).

After the 1965 season, the club moved to Atlanta and Aaron moved with the team and more milestones followed. In 1968, Aaron became the eighth player in history to hit his 500th homerun. On July 31, 1969, Aaron hit his 537th homerun to move into third place on the all-time homerun-list, which was headed by Babe Ruth (714). Willie Mays, who then also was still active, was in second place. In 1969, Aaron played in the National League Championship Series with Atlanta Braves, but the team lost to New York Mets.

In 1970, Aaron hit his 3,000th career basehit. In 1972, Aaron moved into second place of the homerun-list, passing Mays, who retired after the 1973 season.

With that, the legendary 'unbreakable' record of the legendary Babe Ruth came in sight. In the 1973 season, the then 39-year old Hank Aaron hit 40 homeruns to give him 713, one shy of equaling Ruth's record. While receiving many positive reactions, he also received a lot of racist and hate mail, including death threats from people who didn't want to see Ruth's record being broken. However, there also was an outpoor of public support, including from Babe Ruth's widow Claire Hodgson.

In 1974, Atlanta Braves opened the season with three games at Cincinncati Reds. The club wanted Aaron to break the record at home and opted not to play him in Cincinnati. But Bowie Kuhn, then Major League Commissioner, ordered that he had to play at least in two games. On April 4, 1974, Aaron homered off of pitcher Jack Billingham to tie Ruth's record.

Four days later, on April 8, a record 53,775 spectators filled Atlanta-Fulton County Stadium for the home-game against Los Angeles Dodgers. They saw Hank Aaron hit a homerun in the fourth inning off of Al Downing, which was his 715th to break Babe Ruth's record. While running the bases, two students won ran onto the field, accompanied Aaron towards third base. Aaron closed the season with 20 homeruns to give him 733 in his career.

...Hank Aaron breaks Babe Ruth's HR-record in 1974...

In his 21 seasons playing for Milwaukee/Atlanta Braves, Hank Aaron had a lot of teammates. Amongst them was his brother Tommie Aaron with whom he played together in seven seasons (1962-1963, 1965, 1968-1971).

Amongst his longtime teammates were Joe Adcock, Felipe Alou, Dusty Baker, Clete Boyer, Rico Carty, Del Crandall, Darrell Evans, Ralph Garr, Sonny Jackson, Mike Lum, Felix Mantilla, Felix Millan, Eddie Mathews, Denis Menke, Joe Torre and pitchers Bob Buhl, Lew Burdette, Tony Cloninger, Phil Niekro, Ron Reed, Warren Spahn and Cecil Upshaw.

Amongst the players with whom he played a shorter time were Sandy Alomar, Gus Bell, Ray Boone, Orlando Cepeda, Bob Didier, Tito Francona, Davey Johnson, Tony LaRussa, Billy Martin, Roy McMillan, Joe Morgan, Gene Oliver, Andy Pafko, Red Schoendienst, Enos Slaughter, Chuck Tanner, Frank Thomas, Bobby Thomson, Frank Torre, Bob Uecker, Woody Woodward and pitchers Clay Carroll, Tom House, Ernie Johnson, Denny Lemaster, Joe Niekro, Milt Pappas and Hoyt Wilhelm. During the 1972 season, Aaron's longtime teammate Eddie Mathews took over as Manager and led the team through 1974.

A month after the end of the 1974 season, on November 2, Hank Aaron was traded by Atlanta to Milwaukee Brewers. He played for this team in the next two seasons, primarily as designated hitter. In 1975, Aaron played in 137 games and batted .234 with twelve homeruns. In this season, he broke Babe Ruth's all-time RBI-record (which was 2,213). The next season, he played in 85 games and belted ten more homeruns. His last on July 20 and that raised his career total to 755. Aaron's homerun-record stood for 33 years and was broken in 2007 by Barry Bonds, who is the current record-holder with 762.

When he went on to play for Milwaukee Brewers, he was reunited with Del Crandall, who had been his teammate in his first ten Major League-seasons and was the Manager of the Brewers. In his two seasons with the Brewers, amongst his teammates were Kurt Bevacqua, Bernie Carbo, Jim Gantner, Von Joshua, Sixto Lezcano, Don Money, Darrell Porter, George Scott, Gorman Thomas, Robin Yount and pitchers Jerry Augustine, Bill Castro, Jim Colborn, Eduardo Rodríguez Jim Slaton and Bill Travers. Before making his Major League-debut, Jim Colborn participated in the international Haarlem Baseball Week in the Netherlands in 1966 as player of California Stags. Some years ago, Colborn returned as participant in this biennial event as Pitching Coach of the National Team of Australia.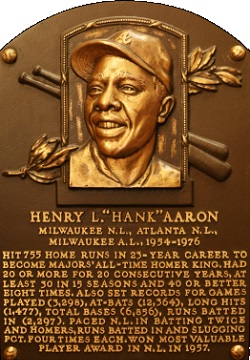 ...Hank Aaron's...
...Hall of Fame Plaque...

In his long career of 23 seasons, Hank Aaron played in 3,298 games and collected 3,771 basehits in 12,364 at bats. Besides the 755 homeruns, he also hit 624 doubles and 98 triples. Aaron scored 2,174 runs and batted in 2, 297. His career batting average is .305. He still holds some Major League-records, including his 2,297 runs batted in, 6,856 total bases and 1,477 extra-basehits. In his career, the outfielder won three Gold Gloves.

After he ended his playing career in 1976, Hank Aaron worked in different roles for Atlanta Braves. He was the club's Senior Vice-President, was Assistant to the club's President and Director of Player Development. Aaron also the Vice-President of Community Relations for television-organization TBS, which has its headquarters in Atlanta and founded CNN in 1980. TBS was founded by Ted Turner, who had become the owner of Atlanta Braves in 1976. During the 1977 season, after disappointing results, Turner took over as interim Manager and led the team for one game. He then was ordered to stop due to Major League-rules that prevents managers and players to active participate while owning stocks in their club.

On October 3, 1976, Aaron's uniform number 44 was retired by Milwaukee Brewers. On April 15, 1977, Atlanta Braves also retired number 44.

In his first year of elibility, Hank Aaron was elected into the National Baseball Hall of Fame in 1982 along with Frank Robinson. Aaron received 97,8 percent of the votes, which then was the second highest ever. Only legend Ty Cobb had gotten more (98,2 in 1936). Aaron and Robinson were officially inducted later that year with short stop Travis Jackson (who played in the 20s and 30s) and former MLB Commissioner Happy Chandler, who were elected by the Veterans Committee.

In 1980, Aaron was elected into the Alabama Sports Hall of Fame. In 1988, he was elected into the Wisconsin Athletic Hall of Fame. In 1999, the Hank Aaron was introduced by Major League Baseball to commemorate the 25th anniversary of Aaron breaking Ruth's record. Since then, this award is handed out annually to the top offensive players in both leagues. Also in 1999, Aaron was named to the Major League Baseball All-Century Team.

In 1996, the games of the baseball-tournament of the Olympic Games were played in the stadium of Atlanta Braves. After the Olympics, the Centennial Olympic Stadium, where the Olympic Flame stood and was located besides the stadium, was converted into the new stadium of the Braves. The stadium was named Turner Field and an avenue besides the stadium was named Hank Aaron Drive. Also, a statue of Aaron was located in front of the stadium. The new stadium of the Braves Double-A team in Mobile was named Hank Aaron Stadium.

On January 8, 2001, Hank Aaron was presented the Presidential Citizens Medal by President Bill Clinton. In June 2002, he received America's highest civilian honor when he was presented the Presidential Medal of Freedom by President George W. Bush. President Bush had been the co-owner of Texas Rangers in 1989 through 1994. In January 2016, Aaron received the Order of the Rising Sun, Gold Rays with Rosette from Japanese Emperor Akihito. Former Presidents Clinton, Bush, Jimmy Carter and Barack Obama as well as new President Joe Biden also shared their thoughts about their friendship with Hank Aaron or his legacy.

In 1999, Hank Aaron was one of the first four players to be inducted into the Hall of Fame of the Atlanta Braves. Also elected into the Ivan Allen, Jr. Braves Museum and Hall of Fame then were former players Eddie Mathews, Phil Niekro and Warren Spahn.

In 2001, Aaron also belonged to the inaugural class that was elected to the American Family Field Walk of Fame, which commemorates players, coaches and others who made a significant contribution to Major League Baseball in Milwaukee. The Walk of Fame is located at American Family Field, which is the home of Milwaukee Brewers. Also inducted together with Aaron in 2001 were former players Rollie Fingers, Paul Molitor and Robin Yount.

...In 2004, RTV Noord-Holland looked back to...
...Hank Aaron's visit to Haarlem in 1977...

After Hank Aaron had retired in 1976, the famous slugger visited the Netherlands in the following year. Rob Muller, who then headed employment agency Aktie '68 and was the sponsor of Dutch big league-club Kinheim, took the initiative to invite Aaron to participate in an exhibition game and homerun-contest. The all-time homerun-leader accepted the invitation and traveled to the Netherlands in June 1977. On Sunday, June 26, 1977, Aaron was in Bussum to attend a Dutch big league-game between HCAW and Haarlem Nicols, but the game rained out. It was in Bussum that the author of this In Memoriam, who then was a young baseball-fan starting his journalistic career, met Hank Aaron and was able to shake the hand of this legend.

The following Tuesday-evening, Aaron took part in a practice session of Kinheim at its old site at the Badmintonpad in Haarlem. During his stay in the Netherlands, Aaron was accompanied by Karel Crouwel, who then was the Assistant Coach of Kinheim. Crouwel did sightseeing with Aaron, which included a trip to the fisher's town of Volendam.

On Wednesday-afternoon, June 29, 1977, Aaron attended a peanutball-happening (t-ball) at the site of Amsterdam Pirates in Amsterdam. In the evening, more than 10,000 spectators filled the Pim Mulier Stadium in Haarlem. Hank Aaron first participated in a homerun-contest, then was a guest-player in the National Team of the Netherlands. In the homerun-contest, Aaron and legendary Dutch player Hamilton Richardson shared the lead after the first round. Both hit five homeruns in 15 at bats. Also participating in the homerun-contest were Kevin Keith, Hudson John (both Kinheim) and King Zschuschen (ADO). In a tie-breaker, both Aaron and Richardson got three more at bats. Aaron then hit his sixth homerun off of Bill Thurston, who then was the Head Coach of Sparta and did the pitching in the contest.

Next, the Netherlands Team played an exhibition game against the Dutch American All Star Team, which was compiled from American players who played in the Dutch leagues and players from the visiting California Stags. The Dutch Team was led by Manager Ernie Myers, while Kinheim's Head Coach Bob Brommage led the All Stars, who won 8-3. All runs in the game were scored on homeruns. Bill Kelly (Haarlem Nicols), Craig Montvidas, Steve Matthew (both Giants Diemen), Kevin Keith (Kinheim) and Marc Scott (Stags) homered for the All Stars off of pitchers Bart Volkerijk, Bertil Haage and Martin Ronnenbergh. Boudewijn Maat hit a solo-homerun for the Netherlands in the second inning off of his Haarlem Nicols-teammate Douglas Morton. In the seventh inning, Harm Horeman hit a 2-run homerun, which also scored Ben Richardson. Hank Aaron was the designated hitter for the Netherlands and was 1-for-3. When he was replaced in the game, he got a standing ovation from the spectators. And yes, of course the author of this article was amongst them, along with his brother and father.

After the game, Joop Köhler, the editor-in-chief of Dutch baseball/softball-magazine Inside, spoke with Aaron and wrote an article in the magazine in July. Regarding the racist difficulties in the fifties, Aaron said: ,,Since Jackie Robinson, a lot changed in many sports. In baseball, you had to perform as an individual, but also as a team-player. That gave us colored players an equal position within the baseball-community''. Looking back to his career, Aaron said: ,,I have been able to play for 23 years and then you can do a lot when you have some talent. I never have been in a slump. I had patience and above all confidence in my own capabilities at bat''. What the game of the Netherlands Team was concerned, Aaron said: ,,In the Netherlands Team, I really have seen players who could play in Double-A or Triple-A and there are a few who can reach the big leagues''.

...In Memoriam Tribute Hank Aaron by Major League Baseball...

In August 1992, Hank Aaron and Japanese homerun-king Sadaharu Oh established the World Children's Baseball Fair (WCBF). Since then, this international youth-event (boys and girls) is held annually to expand baseball throughout the world and help chidren to learn the game. Sadaharu Oh hit 868 homeruns in his long career playing for Tokyo Yomiuri Giants (1959-1980) and is the world record-holder.

Hank Aaron was a living legend, who always had a big smile on his face. He was described as humble and a true gentleman and through the years, he also did a lot for civilian rights. Despite some health problems and difficulties walking, Aaron remained a frequent visitor of games of Atlanta Braves.

Some two weeks ago, on January 5, Aaron received a COVID-19 vaccination at Morehouse School of Medicine. He was then accompanied by former United Nations Ambassador Andrew Young and former US Health and Human Services Secretary Louis Sullivan.

Terry McGuirk, Chairman of Atlanta Braves, reacted: ,,We are absolutely devastated by the passing of our beloved Hank. He was a beacon for our organization first as a player, then with player development, and always with our community efforts. His incredible talent and resolve helped him achieve the highest accomplishments, yet he never lost his humble nature. Henry Louis Aaron wasn't just our icon, but one across Major League Baseball and around the world. His success on the diamond was matched only by his business accomplishments off the field and capped by his extraordinary philanthropic efforts. We are heartbroken and thinking of his wife, Billye, and their children Gaile, Hank, Jr., Lary, Dorinda and Ceci and his grandchildren.''

Rob Manfred, Commissioner of Major League Baseball, said in a statement: ,,Hank Aaron is near the top of everyone's list of all-time great players. His monumental achievements as a player were surpassed only by his dignity and integrity as a person. Hank symbolized the very best of our game, and his all-around excellence provided Americans and fans across the world with an example to which to aspire. His career demonstrates that a person who goes to work with humility every day can hammer his way into history - and find a way to shine like no other.
Hank eagerly supported our efforts to celebrate the game's best and to find its next generation of stars, including through the Hank Aaron Award, which recognizes offensive excellence by Major League players, and the Hank Aaron Invitational, which provides exposure to elite young players. He became a close friend to me in recent years as result of his annual visit to the World Series. That friendship is one of the greatest honors of my life. I am forever grateful for Hank's impact on our sport and the society it represents, and he will always occupy a special place in the history of our game. On behalf of Major League Baseball, I extend my deepest condolences to Hank's wife, Billye, their family, the fans of Atlanta and Milwaukee, and the millions of admirers earned by one of the pillars of our game/''

Jane Forbes Clark, Chairman of the National Baseball Hall of Fame and Museum, stated: ,,Hank Aaron's incredible talent on the baseball field was only matched by his dignity and character, which shone brightly, not only here in Cooperstown, but with every step he took. His courage while pursuing the game's all-time home run record served as an example for millions of people inside and outside of the sports world, who were also aspiring to achieve their greatest dreams. His generosity of spirit and legendary accomplishments will live in Cooperstown forever. On behalf of the Board of Directors and the entire staff of the Hall of Fame, we send our deepest sympathies to his wife, Billye, and his entire family.''

The webmaster of Grand Slam * Stats & News extends his condolences to the family of Hank Aaron and wishes them a lot of strength with this big loss.

(January 22)