(Story by Marco Stoovelaar)




Ozzie Albies closes Major League Spring Training with homerun
Nederlands



FORT MYERS, Florida (USA) - Four players with a Dutch passport came into action on Tuesday (March 30), which was the final day of this years Spring Training. No games are scheduled on Wednesday. The regular season opens on Thursday, April 1. All 30 teams will then play their first game.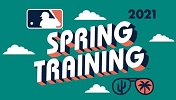 On Tuesday, only seven games were played, three of them in a Major League-stadium. Sixteen teams already played the final Spring Training-game on Monday.
On Tuesday, Ozzie Albies (Atlanta Braves) was 2-for-3, which included a 3-run homerun, which was his third this Spring Training. With an 1-0 lead, Albies hit his homerun in the fifth inning in a 5-3, 7-inning, win against Boston Red Sox in Fort Myers. Xander Bogaerts was 0-for-3 for Boston.
Jonathan Schoop was 1-for-2 for Detroit Tigers in a 5-0 shutout-loss (7 innings) against Tampa Bay Rays. Andrelton Simmons was 0-for-2 for Minnesota Twins in a 7-inning game against Pittsburgh Pirates, which ended in an 1-1 tie.
On Thursday, all teams will begin the regular season with a 26-man roster. Seven of the eleven Dutch players in Spring Training this year will be on these rosters. Ozzie Albies (Atlanta Braves), Xander Bogaerts (Boston Red Sox), Didi Gregorius (Philadelphia Phillies), Kenley Jansen (Los Angeles Dodgers). Jurickson Profar (San Diego Padres), Jonathan Schoop (Detroit Tigers) and Andrelton Simmons (Minnesota Twins) are all on a Major League-roster. Sherten Apostel (Texas Rangers), Carter Kieboom (Washington Nationals), Chadwick Tromp (San Francisco Giants) and Zander Wiel (Minnesota Twins) all begin the season in Triple-A.
(March 30)
Related Articles:


Carter Kieboom will begin new season in Triple-A. (March 27)


Chadwick Tromp hits grand slam HR on birthday in Spring Training. (March 21)


Sherten Apostel hits first homerun in Major League Spring Training. (March 19)


Albies homers, Jansen strikes out three in Spring Training. (March 17)


Albies, Gregorius, Schoop collect Spring-hits; Tromp to Triple-A. (March 16)


Jonathan Schoop plays in first game Spring Training. (March 14)


Didi Gregorius hits grand slam HR in Spring Training. (March 13)


Bogaerts & Simmons play in first Spring Training-game; Apostel to Triple-A. (March 12)


Hits for Kieboom, Hold for Jansen in MLB Spring Training. (March 10)


Zander Wiel plays in first game in MLB Spring Training. (March 7)


Profar and Tromp successful in MLB Spring Training. (March 6)


Singles for Apostel, Albies & Gregorius in MLB Spring Training. (March 5)


Albies homers; Run & RBI for Gregorius in MLB Spring Training. (March 3)


Strong first outing Kenley Jansen in MLB Spring Training. (March 1)


Tromp, Apostel first Dutch players in action in Spring Training. (February 28)